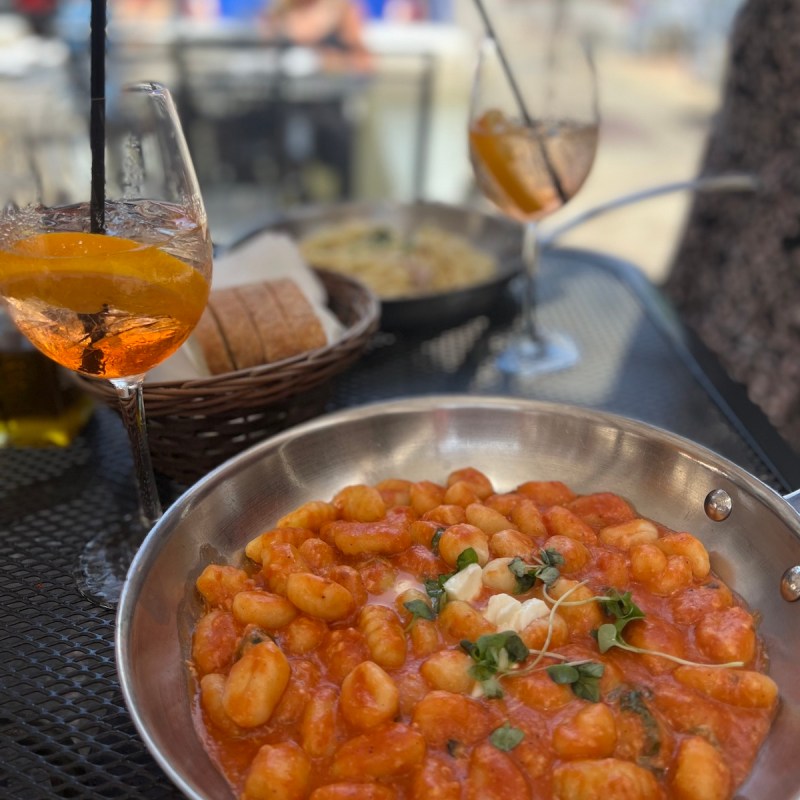 Boston is well-known for its vibrant and ever-evolving culinary scene, with new chefs and new openings making headlines on the regular, but it's the city's oldest neighborhood, the North End, that is its most food-centric. Settled in the 1630s, the single-square-mile neighborhood is a study of 5 centuries of architectural development, from the circa-1680 Paul Revere house on North Square (downtown Boston's oldest building) to the four- and five-story turn-of-the-century tenement buildings.
But it's just too easy to get distracted from the history and significance of the North End as the wafting scent of garlic, fresh-baked bread, and brewing espresso permeates the streets. You'll find restaurants with striped awnings and neon lights, refrigerated bakery display cases lined with eclairs, flaky lobster tail pastries (known locally as sfogliatella) and cannoli, and outdoor hostess stands staffed with welcoming, usually apron-clad staff. It all adds to the palpable, intangible energy of Hanover Street and its cramped offshoots.
From the buzz-worthy, reservation-required hotspots to the hidden gems in narrow alleyways you might easily miss if you weren't in the know, we rounded up some of the best must-try restaurants and eateries in the North End of Boston.
1. Trattoria Il Panino
For more than 35 years, Trattoria Il Panino has been a favorite of locals and visitors alike. Head to the entrance on Parmenter Street, where you can be seated on the year-round covered and heated brick patio (in the warmer months, you can dine outside as well). Owned by restaurateur and Italian immigrant, Frank DePasquale — the proprietor of a number of restaurants in the neighborhood — Trattoria Il Panino's menu offers classic Italian dishes made with a modern touch, including appetizers like "Mom's Meatballs" or the mozzarella caprese with locally grown tomatoes.
What To Order At Trattoria Il Panino
I had to try the zucchini flowers stuffed with whipped fresh ricotta and prosciutto cotto, which were highly recommended and have now become a family favorite. For entrées, I'm wild about the pasta arrabbiata, because I love spicy foods; as well as the gnocchi alla Sorrentina, in which the pillowy, potato-filled pasta puffs perfectly absorb the sauce. It's served in the steel skillet it's prepared in.
Pro Tip: Pasta pairs perfectly with an Aperol spritz — and there's nothing better than the combo on the patio!
2. Galleria Umberto
It's fitting that Galleria Umberto is housed inside a space that used to be a church (two, actually), as some might say sinking their teeth into one of their square, old-school Sicilian-style slices is a religious experience. Fun fact: The space also served as a sailor's house — a boarding house for seamen to get a good night's rest. When the Deuterio family opened the lunch-only, no-frills eatery in 1974, they kept the murals from that chapter of the building's rich history.
Truth is, the menu and decor (and the prices!) haven't changed all that much at Galleria Umberto over the past nearly 50 years. And that's just how folks, many of whom line up when the pizzeria opens at 10:45 in the morning, like it.
What To Order At Galleria Umberto
The thick, cheesy square slices served on paper plates are a steal at just $2.25. While the must-have arancini — a softball-sized, deep-fried rice ball filled with meat, cheese, and peas — is just $4.50. My family and I like to get a few of each, and friends rave about the panzerotti, pizzettes, and calzones.
Pro Tip: Galleria Umberto is cash only, the lines can go out the door, and they serve food until 2:30 p.m., or when the food runs out, so plan accordingly. Also, the restaurant is closed on Sundays and for the entire month of July.
3. Mare Oyster Bar
While pasta, pesto, and pecorino are synonymous with the Old Country, Mare Oyster Bar takes pesce, or fish, to the next level. The Italian seafood concept restaurant is hidden from busy Hanover Street, tucked away in an unassuming alley, and juxtaposed from its surroundings by its sleek decor and next-level menu (think caviar service). But the vibe is more playful than pretentious. Mare only serves dinner but is also ideal for indulging in a raw bar, crudo, sunset drinks, or a pre-dinner light bite.
What To Order At Mare
Italian chef Nello Caccioppoli is best known for standouts like his Cioppino — a classic Italian seafood stew with a tomato-broth base, black squid linguine, clams, lobster ravioli, and branzino, a whole fish that is fileted tableside.
Pro Tip: While half of the restaurant is indoors, the other half is a chic outdoor space with couches surrounding fire pits and a view of the city's downtown skyscrapers. Mare claims to have sold more than a million of their "famous" espresso martinis, so keep this in mind if you're looking for a nightcap!
4. Modern Pastry
If you ever want to get an unapologetic opinion about the sweet stuff, ask a North End native where to get the most highly coveted cannoli, and you're sure to get some definitive answers. While a ton of travelers flock to Mike's Pastry just down the street, which indeed has serious street cred and decidedly delicious delights, Modern Pastry is on its way to marking 100 years in business. Seemingly endless trays of butter cookies, raspberry bowtie cookies, rainbow Venetian cookies, cheesecake, and lobster tail pastries are just the start. All around the neighborhood, you'll spy folks carrying Modern Pastry's to-go boxes tied up with the ubiquitous red and white bakers twine.
What To Order At Modern Pastry
On my last visit to Modern Pastry, or just "Modern" as I've learned some people refer to it, I kept it simple with a pair of filled-to-order cannoli. If time allowed, I would have perched myself at a table to enjoy my sweet treat with a mid-afternoon espresso or another specialty coffee drink.
Pro Tip: Modern Pastry is cash only, and there's a good chance the tray of treats will tempt you to add to your order at the very last moment you approach the counter, and that's okay.
5. Al Dente Ristorante
It's a small, unassuming restaurant on narrow Salem Street you might otherwise miss if not for the green awning out front. Warm, intimate, and unfussy, Al Dente's authentic traditional Italian fare has the vibe that the recipes were passed down from generation to generation and would earn Nonna's approval. Established in 1993, expect to be greeted by a smiling server and a basket of freshly baked bread thereafter, and prepare to bring home a to-go box as portions here can be generous (see: the bolognese).
What To Order At Al Dente
The pasta here is cooked to order, so allow a little time, and pay the extra few bucks for the fresh pasta — it's worth it. If you like veal, there are more than half a dozen veal dishes here, in addition to seafood and chicken dishes.
Pro Tip: Al Dente is your go-to spot if you're looking for gluten-free options, including gluten-free bread.
6. Mamma Maria
In a neighborhood that can seem particularly crowded (the North End was the most densely populated neighborhood in the mid-1700s, and today, its population hovers around 10,000, give or take), Mamma Maria enjoys a rare gift of breathing room. Perched at the top of North Square just steps from Paul Revere's home-turned-museum, the restaurant boasts a picture-perfect exterior with colorful blooms cascading from the window boxes and architectural details as far as the eye can see.
What To Order At Mamma Maria
Mamma Maria's menu is absolutely upscale and it changes daily. To give you a good idea of what to expect, think rabbit pasta, osso buco, and mushroom carpaccio made with hand-forged king mushrooms with black truffles, Parmigiano crisp, red bell pepper coulis, and Osetra Caviar Malossol. Another upscale giveaway: A server will swing by to sweep your table to rid it of the crusty bread crumbs that have fallen.
Pro Tip: While white tablecloth-dressed tables are sprinkled across the cobblestoned square — the oldest of its kind in the country — the stones are uneven. If you prefer sturdier ground, request a table on the second floor of the restaurant, where the opening floor-to-ceiling windows afford breathtaking skyline views.
7. Bricco Salumeria And Pasta Shop
When exploring the North End, you'll likely spot the "Bricco" name in more than one spot. The flagship restaurant, "Bricco," on Hanover Street is best known for rustic dishes including their daily risotto. But it's the Bricco Salumeria, in the alley around the corner, where you can get savory made-to-order deli sandwiches. With cured Italian meats hanging from the ceiling, wooden crates stacked with fresh tomatoes and peppers, and shelves lined with olive oils, dried pasta, and imported specialty foods, the salumeria embodies the epitome of authentic flavors of the North End.
What To Order At Bricco Salumeria And Pasta Shop
It's the most simple sandwich on the menu, but the panino with prosciutto, fresh buffalo mozzarella, tomato, basil, and olive oil on a roll from Bricco Panetteria — the neighboring subterranean bakery with rows of just-out-of-the-oven crusty Italian bread — is heavenly.
Pro Tip: There's a picnic table or two in the alley where the aromas from the two eateries converge, making lunch a feast for the senses.
8. Quattro
Best known for serving one of the only Neapolitan pizzas in the North End, Quattro keeps it cozy and casual. On one of Hanover Street's most iconic corners with a signpost dotted with arrows pointing toward major Italian cities and towns, the aroma of fresh pizza baking in the custom-made brick oven imported from Naples and rotisserie chickens waft through the space, making a menu selection a challenge. Hearty portions, a lively spirit, sliding doors that open onto the street when the weather cooperates, and a panoramic view of the North End make this much-loved eatery a favorite.
What To Order At Quattro
Get the brick oven pizza. Keep it old school by ordering the Napoletana with oregano and garlic, or savor one of my favorites, the white pizza with figs, arugula, and goat cheese.
Pro Tip: Dining solo or for two? Sit at the marble counter where you can take in all the action of the kitchen.
Find out what else there is to do in Boston: