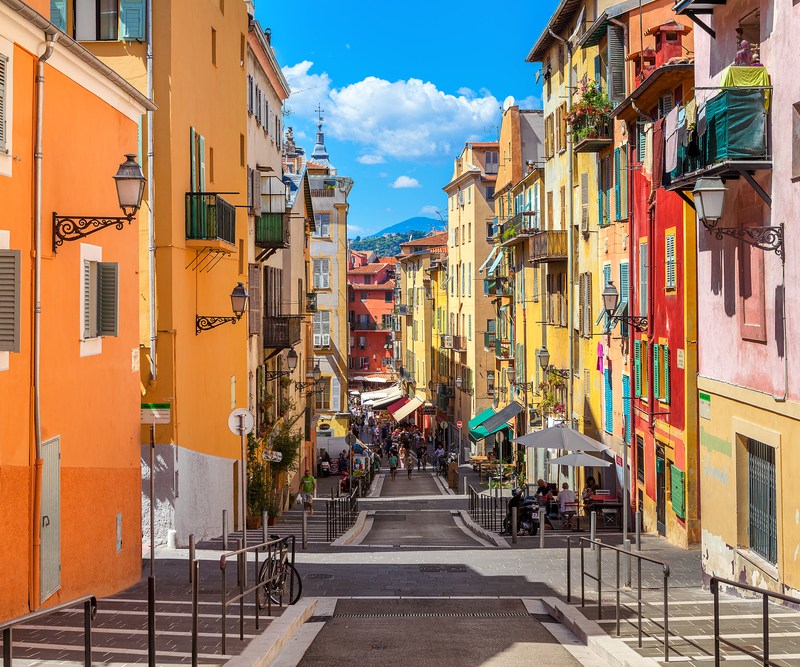 The prefecture of the Alpes-Maritimes department of France, Nice was founded by the Greeks and later became a popular destination for artists and the European elite during the 19th century.
With its favorable climate and scenic beauty — the city is located on the famous French Riviera — Nice is a luxurious destination perfect for travelers looking for a relaxing getaway featuring walks on the beach, tasty local food, and exceptional views of the Mediterranean Sea.
Beyond its natural beauty and reputation as an opulent vacation destination, Nice is well known for its museums and open-air markets. The city is home to the second-largest collection of museums in all of France.
Here are the best things to see and do during a vacation in Nice, France.
Promenade Des Anglais
One of France's most well-known thoroughfares, the Promenade des Anglais extends 4.3 miles along the Mediterranean Sea, from the airport on the west end to the Quai des États-Unis on the east.
Nice became famous as a vacation destination when Queen Victoria began vacationing at the Excelsior Régina Palace. Visitors began walking along the shoreline that is now the Promenade des Anglais, and plans were drawn up for a formal walkway.
The promenade has continued to be a popular area and is used for many cultural events, including the Nice Carnival. The promenade is lined with restaurants, bars, and cafés and is frequented by people from all walks of life, including tourists, artists, skaters, wanderers, and street performers.
Musée Matisse
A municipal museum dedicated to the work of the French painter Henri Matisse, Musée Matisse contains one of the largest collections of the artist's works. The collection includes works from Matisse's early days as an artist, works from the end of his career, and everything in between.
Situated in a 17th-century villa in the posh neighborhood of Cimiez, Musée Matisse opened in 1963. The museum's permanent collection includes 68 paintings and gouaches, 236 drawings, 218 prints, 95 photos, 57 sculptures, and 13 books illustrated by Matisse. There are also a variety of objects on display that were owned by Matisse, such as prints, tapestries, stained glass, and various documents.
Musée Matisse is open from 10 a.m. to 6 p.m. Wednesday through Monday and is closed on Tuesdays. Note that from November through April, the museum closes at 5 p.m.
Guided tours in English are available for 6 euros at 3:30 p.m. on Mondays, Thursdays, and Fridays.
Musée National Marc Chagall
Another well-known museum in Nice, Musée National Marc Chagall, is devoted to the work of the painter Marc Chagall, particularly to his works inspired by religion.
Marc Chagall was a Russian-French artist of Belarusian Jewish origin. His works include everything from paintings, book illustrations, and stained glass to stage sets, fine art prints, ceramics, and tapestries.
Chagall was highly involved in the museum's life up until his death in 1985. He attended exhibit openings and had a say in the construction of the building.
From November through April, the museum is open from 10 a.m. to 5 p.m. Wednesday through Monday, and from May through October, the museum is open from 10 a.m. to 6 p.m. Wednesday through Monday. The museum is closed on Tuesdays. Admission costs 8 euros.
Saint Nicholas Russian Orthodox Cathedral
Saint Nicholas Russian Orthodox Cathedral is the largest Eastern Orthodox cathedral in Western Europe. It currently belongs to the jurisdiction of the Moscow Patriarchate.
The cathedral was ordered built by the Russian royal family to honor the young Tsesarevich Nicholas Alexandrovich, who had died in Nice in 1865, and to provide a spiritual home for the growing Russian community in Nice. By the mid-1800s, the Russians, like the English, had begun living on the French Riviera during the winter months. The Old Russian-style church, which was completed in 1912, is one of the most significant Orthodox buildings outside of the Russian Federation.
The cathedral is open daily from 9 a.m. to 6 p.m., and admission is free.
Castle Of Nice/Castle Hill
A formidable walled fortress constructed in the 11th century, the Castle of Nice, once overlooked the bay of Nice. Though it was thought to be impenetrable, the fortress was attacked many times throughout its colorful history, and it was finally conquered and dismantled by the French King Louis XIV in the 18th century. Many of the castle's stones were later used to pave the Promenade des Anglais.
Today, the former site of the Castle of Nice is now a park, Castle Hill. It is the most famous public garden in the city. Castle Hill offers unparalleled panoramic views of the city and the French Riviera and is especially beautiful at sunrise and sunset.
Vieux Nice
Vieux Nice is the city's old town, a picturesque area of cobblestone streets lined with pastel buildings and quaint boutique shops selling soaps, textiles, meats, and cheeses. The area is home to the Cours Saleya market, an open-air market with fantastic shopping opportunities.
Vieux Nice is also teeming with pubs, restaurants, and outdoor eateries — it's an ideal place to sit back, relax, and people-watch during the warm spring and summer months.
Eating In Nice, France
It's no secret that France has some of the most delectable cuisine on Earth, and there are several local dishes that you must try when visiting Nice.
Socca, also known as farinata, is a chickpea-based pancake or crêpe that originated in Genoa, Italy, and that later became popular in Nice. A common street food, socca can be easily obtained from vendors in sidewalk stalls at Nice's open-air markets.
Another local favorite, salade Niçoise ("salad from Nice"), is traditionally made from tomatoes, hard-boiled eggs, Niçoise olives, anchovies, and olive oil. This refreshing salad is best eaten during the summer months and is great for lunch or dinner. For the best salade Niçoise in Nice, check out Chez Pipo and Nomad Bar.
If you've spent the day sightseeing in town or swimming in the Mediterranean and need to fill up for lunch, try pan bagnat. A filling sandwich that can be found pretty much anywhere in Nice (food stalls, bakeries, cafés, etc.), pan bagnat is made with wheat bread, anchovies or tuna, hard-boiled eggs, raw vegetables, and a drizzle of olive oil. It's essentially a salade Niçoise sandwich! For the most authentic pan bagnat, head to La Gratta Keka or Chez Tintin.
Shopping In Nice, France
Some of Nice's most intriguing features are its innumerable open-air markets, from farmers markets to flea markets and outdoor antique shops. You're guaranteed to come across some unique finds ideal for bringing back home to friends and family!
The Cours Saleya market is situated in the heart of Vieux Nice and is arguably the city's most popular open-air market. Open every morning from Tuesday through Sunday, Cours Saleya offers the freshest produce, cheese, olives, herbs, and flowers. This charming market has a rich history and a welcoming atmosphere.
On Mondays, the Cours Saleya market transforms into an antique market, or a brocante. If you want to avoid returning home with boring and typical souvenirs from Nice, do your shopping at Cours Saleya on a Monday. This market invites visitors to get lost in its array of antiques, collectibles, and fascinating knickknacks.
Other popular open-air markets in Nice include Palais de Justice and Place Garibaldi.
Photo Credit: Roman Borodaev / Shutterstock
Photo Credit: Rostislav Glinsky / Shutterstock