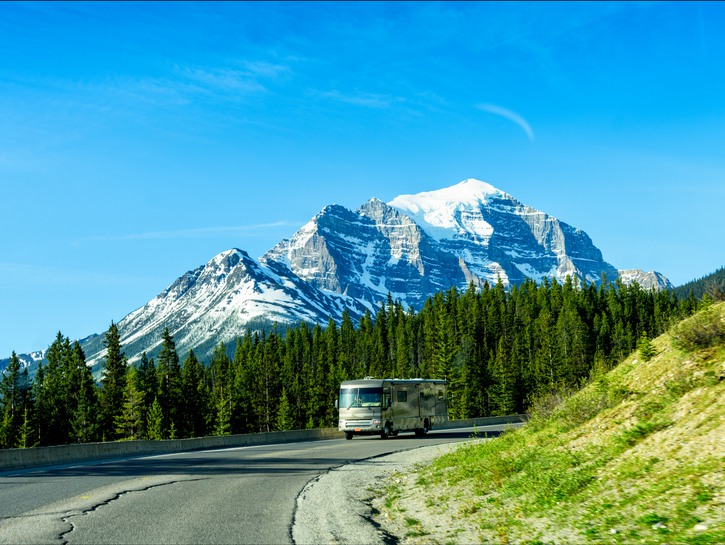 Selling everything you own to downsize into an RV may not be as crazy you think.
For some, the thought of exchanging a curbside mailbox for the open road is enough to cause a major anxiety attack. Can one really live like a permanent nomad, exploring the countryside, and still be seen as a responsible adult?
For others, it's more of a bucket list item than a fear-inducing scenario. Many have dreamed about living full-time in an RV at some point in life, whether now or in the golden years of retirement. One of the most common statements from couples regarding RV life is this: "I would do it in a heartbeat, but my partner isn't on board with the idea." Ahhh, the dilemma of choosing between adventure and your life-partner!
Maybe your sweetheart would be more open to the notion of downsizing into a home with wheels if you showed him or her the following 5 RVs! Gone are the days of clunky travel trailers. In today's world, you don't need a house with a foundation.
These 5 luxurious RVs can easily take the place of a home.
1. Furrion ELYSIUM
This penthouse on wheels has its own helipad! So who says an RV is necessarily downgrade? It comes with a lounge, fireplace, and 75-inch flat screen TV. You can cancel your spa membership when you own this rig because its shower also includes a steam room! And while it's still in the concept phase, you and your partner should start planning your rooftop deck party now!
Take a tour of the RV here. But bring your check book with you; not only will you need to dig deep for the Furrion, but it's kind of pointless unless you buy a helicopter to go with it.
2. Mercedes Vario Alkoven 1200
This luxurious ride sleeps four to six people. Its sleek German design makes for an efficient motorhome inside and out. This RV has a unique feature that is rare to find in a recreational vehicle: a garage! Owners don't have to tow their vehicles, helping improve maneuverability on winding scenic roads. The downside: only a miniature sportscar, like a Porsche, can fit in this streamlined garage. Don't forget to add THAT into your budget!
3. 2019 Tiffin Phaeton Luxury Motorhome
Ranging from $350-400K, this motorhome is the price of a modest house! (Or a very nice house, depending where you call home.) You might balk at the price tag, but know that it affords its buyer all the comforts of home, while still being able to travel. With its outdoor TV, washer/dryer, and dishwasher, you'll wonder why you didn't get packing sooner.
Take a tour of the RV here.
4. Volkner Mobil Performance S
In case you thought car garages in RVs were rare, this vehicle has one too! You'll have all the luxuries you'd expect with a rig this fancy — technology, crystal glasses, gorgeous interior –but for a significant price. For this motorhome's price tag, you could buy8 brand-new Aston Martin sports cars! So you'll have to get your priorities settled.
Take a tour of it here.
5. 2017 Prevost
At 45-feet long, this monster coach is no small ride. Its open floor plan boasts a lounging area, kitchen, 1 ½ bath, washer/dryer, and a master bedroom with a king-sized bed. Top of the line Viking appliances, large tiled shower, fireplace and LCD TV help drive the $1.2 million dollar price tag.
So what if you're interested in dipping your toes into the RV life, but don't want to spend your entire life's savings on the venture?
We figured there may be quite a few of you out there who don't have a quick mil to drop on an RV. If that's you, try one of these lower-priced ideas.
A school bus
Many are opting for the skoolie life, renovating old school buses into pseudo RVs. With enough construction and design work, they can be just as comfortable and luxurious! Check out this video to take a tour of a modest skoolie reno.
A 5th wheel
Some opt for the purchase of a travel trailer instead of an RV. They prefer the freedom of being able to detach from their home-on-wheels to explore destinations in-depth. Here is a luxurious example of a Grand Design 5th wheel floorplan. The only thing you'd need before hitting the road in this rig is a truck large enough to tow it.
Living the full-time RV life
While there are people who have regretted the purchase of their RV, there are droves of people who are REALLY loving their full-time RV and travel trailer travels. This nomadic way of life is not just for recreational campers, and it's not so unusual. Regular people are creating their own version of home, proving a happy house doesn't always require a concrete foundation, but could be built on the open road.