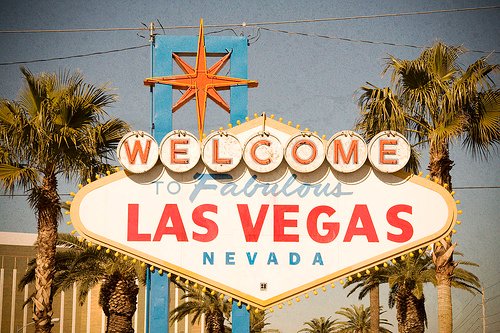 Everyone loves a great travel bargain and Vegas is full of them. But you have to know where to look and how to play the game. It's not your run-of-the-mill destination and, as such, you need some insider tips about the best things to see and do on your tight budget.
Lowest prices on Helicopter Tours in Las Vegas
Las Vegas Hotels On A Budget
Accommodations in Vegas can be cheap. I don't mean frugal or budget-friendly or value added. I mean downright cheap! It's not unusual to find a room for under $40 a night and under $20 isn't impossible. But you have to do some legwork. Your first step is to review this list of what hotels in Las Vegas charge a resort fee. A resort fee is a non-negotiable daily charge that gives you…. Nothing. But they can cost up to $45 a day, plus tax, and are never included in online quotes. They're the enemy of any budget traveller so narrow down your short list of hotel choices accordingly.
With your short list selected, sign up for the promotional newsletter of each property you're interested in. Great deals are often advertised only to insiders or fans and this is the best way to find the best prices.
Timing matters in Vegas. The cost of accommodations on weekends or holidays can be astronomical compared to the frugal offerings of weekdays. If you're vacationing in the area, consider spending the weekend at one of the many nearby national parks. Pricing at national park lodges is usually set seasonally, not day to day.
Unless the price is truly too good to be true, book directly with the hotel, not a third party website, and choose the option that allows you to cancel a booking without penalty. On several occasions, I've booked what I thought was a killer deal – only to see a better price or a bonus offer for food credits a few weeks later. I simply cancelled the first reservation and booked a new one!
Finally, remember that in Vegas it pays to gamble. In my experience, it might not hurt to fold a fresh $20 bill in thirds, put it under your hand, and smoothly slide it across the counter and ask the clerk if they would mind checking if there are any nicer rooms available for complimentary upgrades. I'm serious! If the hotel has availability and you've been sincerely kind and friendly to the clerk, chances are you will be upgraded at no extra cost beyond your $20. If they can't do it, they'll likely slide the $20 bill back. No, it's not a bribe. It's a tip – and Vegas runs on tips. Anywhere else in the world this would be slimy. Not in Vegas. It's how I moved from a standard room to a one bedroom apartment at the MGM Signature!
Dining Deals
In a Venn diagram of phenomenal Las Vegas eats and cheap Las Vegas eats, there's little overlap. But enterprising travellers can find great bargains. If you're a true night owl or a very enthusiastic early bird, several casual diners and casino cafes have excellent deals between midnight and 5:00 am – perfect for when you're up late hitting a show or waking up early to travel for a desert hike. One example: The Sundance Grill at the Silverton offers biscuits and country style gravy for $2.95 and steak and eggs for $4.99.
Casino restaurants also offer great deals for members of their player's clubs or loyalty programs. For instance, at the Sourdough Cafe at Arizona Charlie's, your player's card means $3.99 unlimited pancakes and a $8.99-weekday special. If you google "players club dining perks" and the name of the hotel or casino, you'll find a host of online resources and tips.
And, depending on your point of view, there's no dining bargain quite like the all-you-can-eat buffet. Getting the best value from a Vegas buffet is a work of art and everyone has an opinion on which one is the best. Locals flock to the Garden Court Buffet in the Main Street Station Hotel, where the breakfast buffet is $9, lunch is $10, and dinner is $13. One of my fondest Vegas memories is when I was stocking up on pasta there and a local directed my attention to a basket of garlic bread at the end of the station, saying it was fantastic. To be truthful, it was average at best, but I always respect people who have strong opinions about bread! If you're REALLY into the buffet scene, pick up a copy of Frommer's Las Vegas guidebook. They go into great detail about things like which buffet has the best homemade desserts (a Vegas rarity).
If you're keen to explore off the beaten path – essentially anything you'll find beyond The Strip – you'll find a nice list of low-cost dining options. At a 24 hour diner called Badger Cafe, everything on the menu is under $10 and robust meals like a roast beef dinner are less than $8.
What To See And Do
If your travel motto is "If it's free, we go and see", Vegas has plenty to keep you occupied for days at nary a cost. The Strip is an attraction in and of itself if people watching is your thing. You never can tell what you'll see! But there are more organized events and activities too!
Nearly every major hotel along The Strip has an attraction that everyone can enjoy, not just guests. The Bellagio Hotel, for instance, puts on a delightful light and water show every night at its fountains. The volcano at the Mirage has nightly 'eruptions" and the Venetian offers – you guessed it – a little taste of Venice right in the heart of Vegas.
If you have a sweet tooth, M&M World and Hershey's Chocolate World are tons of fun to check out. But take note: They usually don't offer samples and there's plenty of temptation to shop. However, if your travels take you to nearby Henderson, the Ethel M's Chocolate Factory has free self-guided tours and a higher chance of nabbing a sample.
There are a lot of strategies for getting free beer in Vegas – and most of them involve excessive gambling to 'earn' complimentary drinks at casino bars or buying an expensive souvenir glass in exchange for free refills. But at the Banger Brewing Company, a rare craft brewery in the city center, visitors enjoy great tours that end with sampling up to four beers! Times book up quickly – you can reserve a slot here. If wine is more your thing, check out the schedule for Wine Lounge Thursdays – part free wine tasting, part music series, 100% fun.
And if museums, art galleries, or outdoor excursions are your thing – Vegas has a host of options for each. You can see a long list of Vegas freebies here. One that's especially easy for nearly all travellers to enjoy is the Aviation Museum at McCarran Airport.
Bonus Tips For Super-Cheapskates
Don't be afraid to ask for discounts. If you're a teacher, first responder, a military veteran, student, senior, a member of an automobile association or service club, you could very well get a 10% discount at many hotels, restaurants, and attractions.
If any big-ticket items are on your bucket list, search a guidebook or the web to get advice on how to save. There's no need to pay full price for tickets to see magicians, gourmet meals, and guided tours. Often all it takes is a willingness to do some advanced research and have a bit of flexibility.
Flex your coupon muscle. Sure, you're keen to leave the airport and hit the city but don't leave the terminal without grabbing a handful of tourist brochures and magazines. Using 2-for-1 coupons is a Vegas right of passage.
Speak up if service isn't great. Sure, all hotels and restaurants should be receptive to customer concerns but Vegas is particularly service oriented, especially in the large casino businesses. Lead with courtesy and don't settle for just 'good enough'.
Photo Credit: Flickr / ADTeasdale