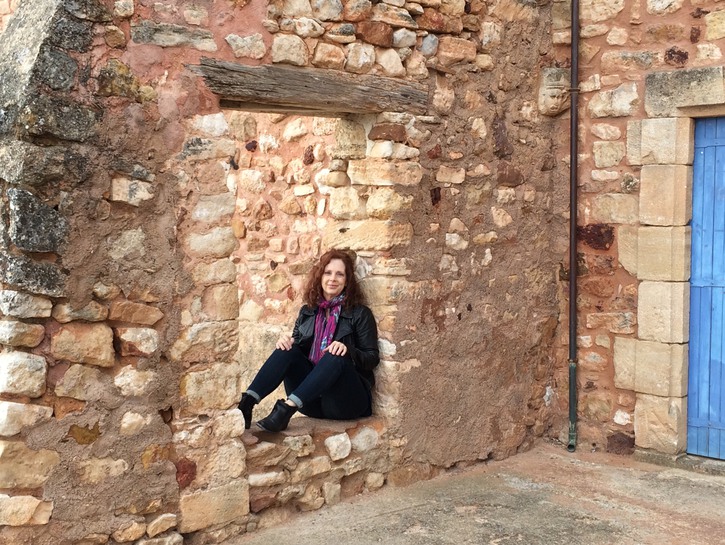 Penny Sadler is a freelance makeup artist and writer on a quest to find adventure and beauty through travel and wine. She has picked grapes in Italy, explored a 2000 year old wine cave in France, and recently fulfilled her dream of living in California's most famous wine region, Napa Valley.
Penny's a WSET certified wino who loves to help people find a wine they love—and a lip color to match. She prefers Riesling over any other varietal, except, perhaps, when playing the flute.
Check out Penny's blog at Adventures of a Carry-On.
Penny was kind enough to spend time answering our questions below.
TA: How many years have you been traveling and what got you hooked?
Penny: In 2006, I took my first solo trip — and realized how easy it is to travel alone; suddenly, nothing was holding me back! A sense of adventure and a curious spirit drive me to keep exploring the world.
TA: Do you specialize in a particular type of travel?
Penny: I specialize in wine and cultural travel, but I'm game to try new things that challenge me.
TA: What is the best vacation you've ever taken?
Penny: This is a really hard question to answer. The best vacation I've ever taken is usually the most recent, because I only travel to places I am sincerely interested in.
That said, I loved Alsace, France. The wines are my favorite, and the people are so lovely. I'm also crazy for Rome! I loved it from the moment I first saw it — and I always will.
TA: What's one place you've always wanted to visit?
Penny: There are so many places — how can I pick just one? I will say that a trip I've always wanted to make is to take the Orient Express from London to Venice. It looks so glamorous and old world. Of course, I'd have to buy a vintage wardrobe to match the experience.
TA: What's one thing you ALWAYS pack when you travel?
Penny: I never travel without peppermint essential oil. Peppermint oil is good for any number of ailments, from an upset stomach to a headache or a stiff neck.
TA: If you could only give a traveler one piece of advice, what would it be?
Penny: Try not to rush around and do everything. Talk to people. I know — that's two!
TA: What's the strangest thing you've ever eaten overseas?
Penny: I was in Cuernavaca for a language immersion homestay. I'd gone to dinner with a friend at a very high-end restaurant, and they had huevos de ormigas on the menu — ant eggs. They are considered quite a delicacy in Mexico, so we tried them. As I recall, they were crunchy and didn't have much taste…that might be a good thing.
TA: What is the best piece of travel advice you've ever been given?
Penny: If you're traveling to a foreign country, learn at least some basics of the language. Know how to say 'please,' 'thank you,' 'good morning,' 'I need help,' etc. A few well chosen words can go a long way toward an excellent experience.
TA: Is there something you think most travelers worry too much about?
Penny: I think people worry too much in general; if you are traveling, leave that piece of luggage behind.
TA: What's a travel scam travelers should be wary of?
Penny: Oh yes, I was scammed once, in Rome. There were some guys wearing orange robes who had a great trick — they appeared to levitate. I watched them for a very long time, and then I gave them money. Later, a local explained to me how they did it. I was so disappointed!
TA: Have you ever met someone while traveling who changed your life?
Penny: My first time in Rome, I stayed at a B&B and the owner was so kind and helpful. My luggage was lost, I couldn't speak any Italian, and I'd never been to Rome before. Once I had located my luggage, he offered to wait for the delivery for me so I could spend the day exploring Rome. He also arranged my first scooter tour of Rome. It was not my last!
From that experience I realized that I would always be ok no matter where I am. Also because of that first fab experience, I've been back to Rome about ten times. I love it!
TA: Have you ever taken a class while visiting a foreign city? If so, can you tell us a bit about the experience? And would you recommend people take that class?
Penny: I have taken language classes in Italy and Mexico. I stayed with a host family, which I recommend over staying on your own, or with English-speaking friends. You can make friends for life, and get a really deep insight into the culture. I'd do it again.
TA: What's something that other tourists do when traveling that drives you crazy and why?
Penny: Something other tourists do when traveling that drives me crazy is expecting everything to be same as it is as home. Why bother to travel if you just want the same experience you can have at home? So what if the electrical outlet is different? Leave the curling iron at home!
Learn more about Penny:
Visit her website Adventures of a Carry-On.
Follow her on Twitter here.
Find her on Facebook here.
See her photos on Instagram here.
Or connect with her on Pinterest here.