Our family is pretty big on the less-is-more, hand-me-down, and old-is-gold mentality, so when we recommend new products, it's because they're really something. If you're looking for the perfect gift for the toddler in your life (and especially if you need something that will ship fast) we've got you covered. Check out our picks for the best screen-free gifts for toddlers, from a high chair to beach toys, a balance bike, and even a tot-approved kitchen gadget. Happy gifting!
Buy Now
$39.92
This last-minute purchase for our family's Jersey shore beach vacation is hands-down one of our favorite pieces of gear. Little had just turned a year old and was doing really well eating in her high chair, which wouldn't be available at our Airbnb.
We used it for meals at the rental and also at the beach. Since coming home, it's been perfect for breakfast at the farmers market, snacking on spring rolls at a festival (while seated safely on top of a picnic table!), and even picnic-style dinners in the living room when getting the table cleared off just isn't going to happen.
It folds up super well in its carrying case and pops right in the bottom of our stroller. The case also has a shoulder strap that makes it usable when the stroller isn't coming with us, plus a zipper pouch perfect for stashing an extra bib.
Every time we're out with our hiccapop, we have parents and especially grandparents ask us for details. A grandpa at the farmers market even took a picture so he'd remember exactly what he wanted to get his grandson for Christmas.
Buy Now
$38.99
According to British fellwalker A. Wainwright, "There's no bad weather, just unsuitable clothing."
What's a fellwalker, you might ask? Well, according to the Cambridge Dictionary, it's "someone who takes part in the activity of walking on hills and high land, especially in northwest England," which sounds downright delightful. And thanks to her HAPIU (Happy You, get it?) Waterproof Muddy Buddy, our little is well on her way to becoming a mist- and vale-loving fellwalker, even if we haven't made it across the pond yet.
This suit is easy to get her into and out of, is super cute, and comes in sizes 12 Months through 5T, plus seven color options. She currently wears the 18-month size in pink and we already have the next size up in yellow.
The Muddy Buddy isn't particularly warm on its own, but if you layer appropriately, it's the perfect outerwear for cooler days.
Want a matching parent gift? Consider Wainwright's Coast to Coast Walk, the source of his "no bad weather" quote, or Scandanavian mama Linda Åkeson McGurk's There's No Such Thing as Bad Weather: A Scandinavian Mom's Secrets for Raising Healthy, Resilient, and Confident Kids.
Buy Now
$21.99
Our baby went straight from breast to straw cup, and we have tried a lot of them as we searched for one that packs well and isn't plastic. These are our go-to, and we get compliments on them all the time. We also love that Mason Bottle makes the majority of its products in the States (the stainless steel mason jar component is made in China) and provides great customer service (just email care@masonbottle.com and a real person responds!).
Buy Now
$29.99
Beach toys are essential. But a set that can be squished down in your luggage without cracking, features adorable colors, and can be popped in the dishwasher? Perfection.
Baby received this set for her first birthday, and we had a great time both traveling and playing with it. The cotton carry bag is an especially nice touch, and the trowel is super sturdy, so kids and kids at heart can dig away!
Buy Now
$18.99
Our baby and her grandma both love this mini handheld stroller fan. Little has a now-discontinued forest green stroller, and before she was born, I had to find a fan to match. We're still using this fan (on the stroller, in our beach tent, and beyond), and it's still going strong — so strong that after using it during a festival outing one muggy evening, Grandma decided she needed one for herself!
Buy Now
$28.99
If you know a kiddo who loves bananas, this is the weird kitchen gadget they'll want to "play" with again and again. I was skeptical at first, but now Little and I enjoy making bananas "stuffed" with pudding, peanut butter and jelly, yogurt — you name it — a couple of times a week. She is totally engrossed by the process, and we're looking forward to involving her more in coring, straightening, and filling as she becomes more dextrous (and less wiggly!).
Pro Tip: Watch the video tutorial and follow the instructions closely! There is a learning curve, and you may have a few blown-out bananas. That's just part of the fun!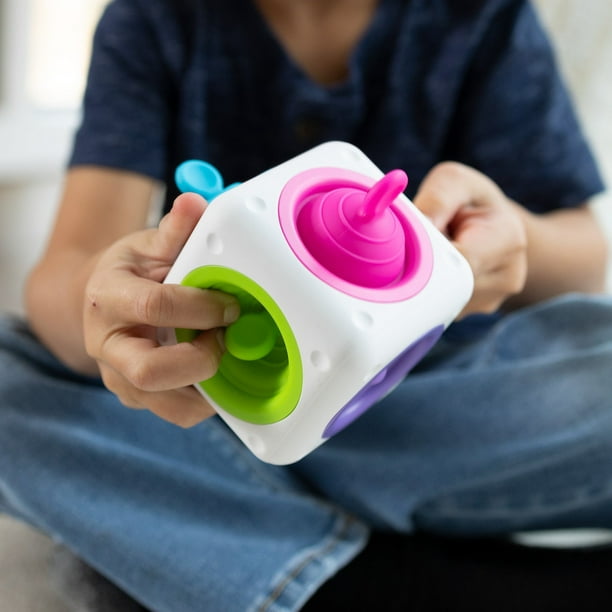 Buy Now
$26.44
If you hadn't picked up on it already, I am pretty anti-plastic. Of course, this is currently Little's favorite toy, gifted to her by her Auntie, who's a physician assistant.
I couldn't immediately see its value, but as the weeks have gone by, it's been a lifesaver during diaper changes (Who wants to lay still when they could be running, rolling and climbing? — Tugl to the rescue!) and more and more fun to watch her master popping (easier) and pulling (a lot harder!) the Tugl bubbles. Auntie's won the gift-giving game as this easy-to-pack toy has helped Little hone her fine motor skills and start learning her colors.
Bonus: This one isn't just for the tinies! Wherever we take it, older kids are drawn to the Tugl Cube, too!
Buy Now
$79.99
We don't own a balance bike yet, but lots of parents' and caregivers' recommendations have landed this sweet, simple, and super-affordable balance bike on our wishlist. It has over 1,300 reviews earning it a 4.7-star rating, and we also appreciate the nods to UK-based Banana Bike's great customer service. Also a win: The fact that you can easily buy replacement parts.
To continue your gift shopping, check out: