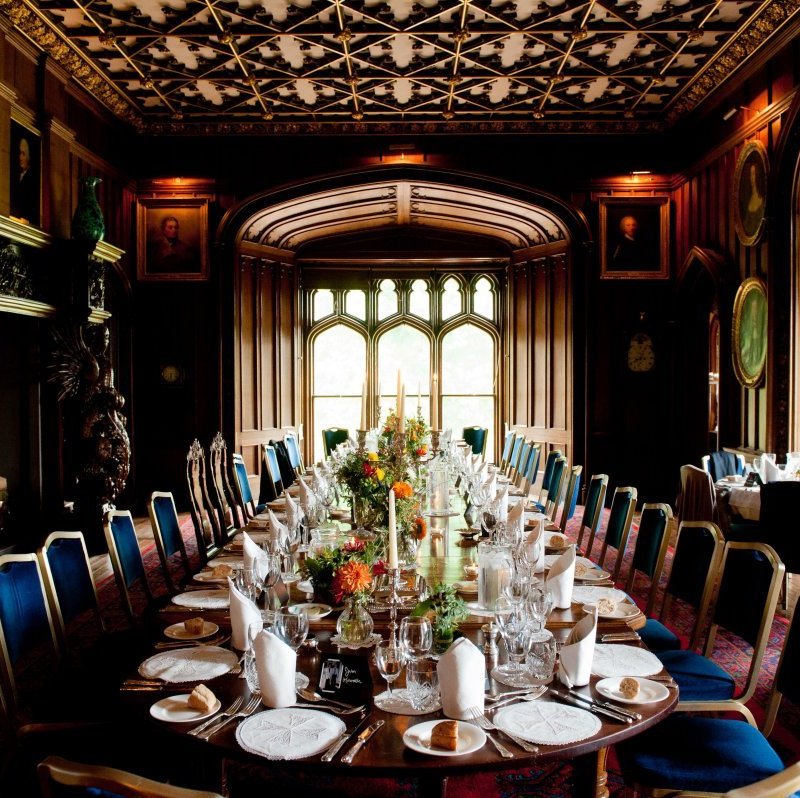 If there's one thing every Hallmark Christmas movie has in common, it's that sense of Christmas magic. You can stay in towns all over the world that have that Christmas magic, but there's perhaps nothing more magical than a historic Scottish castle at Christmastime. The grand halls, the sweeping staircases, the turrets — at every turn it feels like you've stepped into a Hallmark Christmas movie.
There are castles you can stay in all over Scotland, and Christmas is a great time to visit and catch that cozy Christmas vibe. Here's my pick of Scottish castles that feel like a Hallmark Christmas movie.
Rent Now
$1,573/nightly avg
Perthshire
This 16th-century castle was completely rebuilt from its ruins after being left to decay for many years. This means that Forter Castle now walks the perfect line between traditional and modern. I love how every space has been reimagined for modern visitors. 
You can rent Forter Castle in its entirety, and it sleeps up to 16 people, making it the perfect place for a large family gathering at Christmas. Although it's a spacious castle, it still feels cozy, with narrow stone spiral staircases, real fireplaces, and four-poster beds. Next to the kitchen is a small breakfast room with a bench and table, and a tiny old window. It's fun to imagine what that little space once was! 
The castle is only a one-and-a-half-hour drive from Edinburgh, so it is within easy reach of the city's Christmas markets. You can enjoy Christmas lunch at the large dining table, wander the frosty, wintry grounds, and generally feel like you're living inside a movie. 
If you want a secluded Christmas in the castle without the hassle of cooking or leaving the castle at all, you can book catering, meal delivery, and even have someone drop off your food shopping.
Rent Now
$223/nightly avg starting
Glasgow
Crossbasket Castle is a 17th-century castle that has been transformed into a five-star hotel just 20 minutes from Glasgow. Steeped in history, it has nine bedrooms, one of which is a four-story tower suite dating back to the 16th century. Each bedroom is uniquely decorated but maintains period features. For extra privacy, there is also the two-bedroom gate lodge with its own hot tub, sauna, and steam room. 
The castle is transformed at Christmastime into a haven for relaxing with a dram of whisky amid Christmas decorations. The grounds of the castle are beautiful, and when the castle is lit up at night time, the view from the grounds feels more like a French chateau. There are plenty of large public areas, but it manages to feel intimate at the same time. The castle's Christmas package includes a 3-day stay over the festive period with food served in the restaurant that's overseen by famed chef Michel Roux.
Rent Now
$386/nightly avg starting
Fort William
Inverlochy Castle is an outstanding 19th-century castle in Fort William, nestled in the foothills of the mighty Ben Nevis, the highest mountain in Scotland. Each of its 17 rooms and suites, plus their two-bedroom gate lodge, have been uniquely designed and all enjoy stunning views of the surrounding countryside or private loch. I love the individuality of the rooms. On top of that, one of the bathrooms has a grand tiled fireplace in it. 
The restaurant, Seasgair, is also headed up by Michel Roux. Seasgair is Gaelic for cozy, warm and comfortable, which is exactly how you feel when you're inside Inverlochy Castle. 
The scenery around the castle is enough alone to make you feel like you're in a movie, but at Christmas, you're made to feel even more special. On Christmas day, guests are served a glass of Champagne at 11 a.m. in their rooms as they await the arrival of Santa. Santa visits each guest's room and delivers gifts to them. At 3 p.m., everyone gathers in the front hall to watch the king's speech. It's a real Christmas experience that makes you feel like you're starring in your own movie.
Rent Now
$218/nightly avg starting
Pitlochry
Fonab Castle is a magical Scots baronial castle, originally built as a private residence and once the home of the Sandeman port and sherry empire. But after serving as a Red Cross hospital in 1915, the castle fell into disrepair. It has now been lovingly restored into Pitlochry's only five-star hotel and spa. 
Nestled in woodland above Loch Faskally, it perfectly combines comfort, style, and breathtaking views over the grounds and beyond. This is a big old castle, with 42 bedrooms, two restaurants, and a woodland spa. Since being saved from ruin, the castle now has a modern extension at the back, which houses the spa and brings modernity right to the walls of the 19th-century castle. This perfectly marries the two eras together and provides an unusual castle stay. As I love a spa, I didn't mind the castle sitting right next to a historic spa — in fact, I liked it. It's a contrast, a pretty stark one, but it gives you the best of both worlds. 
The rooms have views over the woodland and the loch, which is extra magical in wintertime. A stay at Fonab Castle over Christmas goes from Christmas Eve to December 27 and includes festive dinners, drinks, a falconry display, and a cocktail-making class. But there's no pressure to do anything, and if you want to, you can simply lounge around by the fire with a good book and enjoy a relaxing Christmas.
Rent Now
$290/nightly avg starting
Ayrshire
Glenapp Castle is a magnificent five-star hotel in Ayrshire, a sprawling pile of a castle that really does look and feel like the set of a movie. This truly is an estate, and it's hard to believe it was originally built as a private home. It has 21 bedrooms, all with beautiful period furniture, and an award-winning restaurant that boasts views across the Ayrshire coastline. 
With a rich history that dates back to 1870, this Scottish baronial-style property is the perfect place for a magical Christmas. If you've ever dreamed of wafting through a Scottish castle like you're in a Hallmark movie, this one is ideal. From the tall Christmas tree in the foyer by the staircase to the fairy lights and the real fire crackling in the grate, Glenapp encapsulates the spirit of Christmas and transports you to another world. As you wander around this vast castle, you'll find Christmas trees in every room, and sometimes more than one in each room. A 3-night stay over Christmas includes the chance to take part in clay pigeon shooting, archery, and treasure hunts — or you can just relax by the fire with a dram of whisky.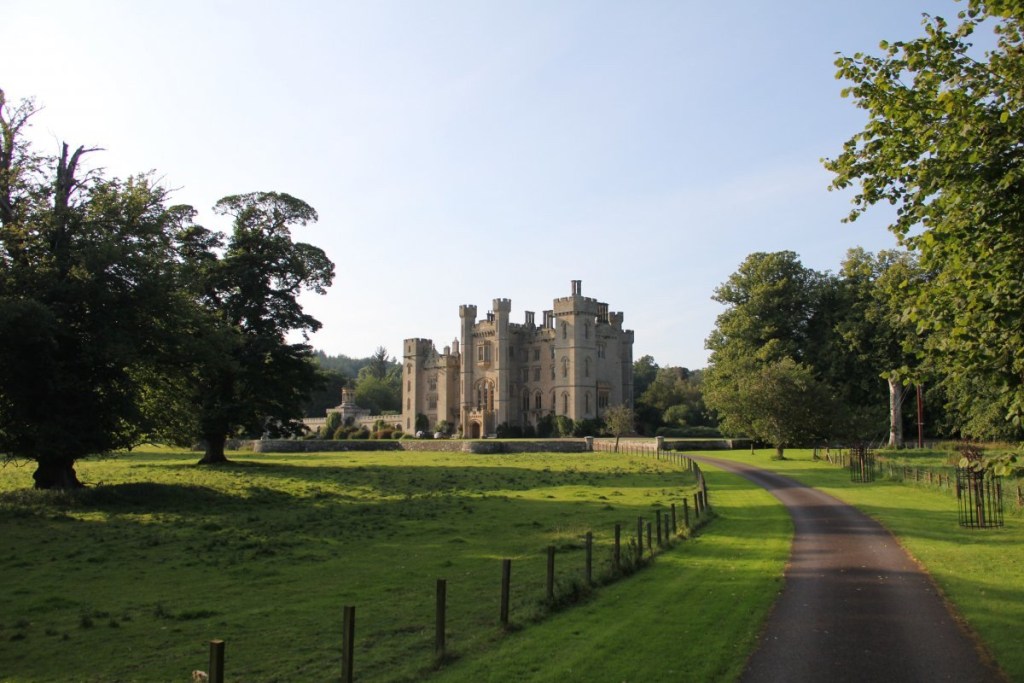 Rent Now
$405/starting weekly
Berwickshire 
Dating back to 1320, Duns Castle is one of the oldest surviving Scottish castles that you can stay in. It was gifted to the Earl of Murray by Robert the Bruce, and the family who owns it today have been there since 1696. For such an old building, it's incredibly well preserved and looks just as it did years ago. It is a big castle, sleeping 23 people in the main castle and a further 39 people in the lodges and cottages on the grounds. 
Amazingly, guests rent out this self-catering castle in its entirety. While you might not have a Christmas party that large, you will have a lot of space for family and friends to enjoy Christmas together. The castle is set in 1200 acres of woodlands, fields, and hills near the Scottish border, about an hour from Edinburgh and an hour and a half from Newcastle. Staying at this castle really is like stepping back in time and could easily be the setting for a Hallmark Christmas movie.
Argyll And Bute
Kilmartin Castle is a 16th-century castle with a lot of character. It sleeps 10 people if you want to book it in its entirety, and when it's not booked out, the castle runs as a bed and breakfast; so you can book a quiet stay for close family or have the whole castle to yourself. Lopsided walls and sloping stone ceilings tell a story of what this place would have been like back in 1550 when it was completed. Today the interiors are the perfect mix of original features and modern amenities.
This castle offers a cozy intimate Christmas amid its old stone walls. The dining room has a vaulted ceiling and is lit by candlelight for your Christmas dinner. Outside, a wander around the grounds gives stunning views and the castle is beautiful when lit up at night. It's a real fairy tale castle and staying here makes you feel like a movie star.
Dreaming of Scotland – your dream vacation awaits you
To discover even more places that feel like a Hallmark Christmas movie, check out: