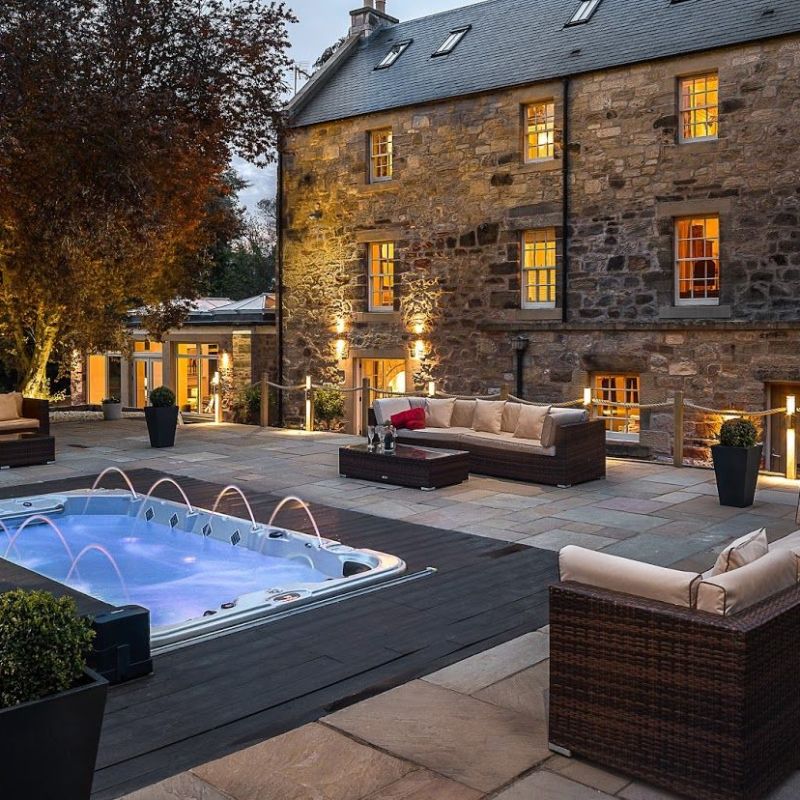 If you've ever dreamed of being laird of your land in Scotland, well, you might not get to be an actual laird, but you can replicate the feeling by renting one of the country's incredible historic houses. From castles to old mill houses and country estates, Scotland has some stunning historic houses that you can now rent for your vacation. Some of these historic houses are very old and have fascinating stories while others are more modest and a little more modern.
Experience what it would be like to live in your own Scottish manor house, or manse, and enjoy the beauty of the Scottish countryside on beautiful grounds at one of these amazing historic houses to rent in Scotland.
Rent Now
$919/nightly avg starting
Just 20 minutes from Edinburgh, in the small town of Dalkeith, The Old Millhouse dates back to 1703 and was in a state of dereliction when the current owner found it. The house, originally a commercial building but converted into a private house in 1852, had no roof and no windows and needed a lot of love and attention. Luckily, the current owner fell in love with this ramshackle old mill house and could instantly see its potential.
Today, this is a luxurious historic house with its own private hot tub pool on the grounds and beautiful decor and design inside. The house sits within 3.5 acres of gardens, which are yours to use while you stay. The River Esk runs through the grounds, and you can fish in the waters, play croquet on the lawn, or just enjoy the peace and quiet.
If you thought you were staying in the grandest house in Dalkeith, almost, but not quite. Dalkeith Palace sits in Dalkeith Country Park. You can take a walk in the park and view the palace from the outside, but unfortunately, visitors are not allowed inside. For a little more hustle and bustle, drive the 20 minutes to Edinburgh and enjoy the old city.
If you have a fascination for castles and all things medieval, you'll love a stay at Burns Castle. It feels like the knights and the royalty have only just left and you're walking into a time slip. There's even a suit of armor standing guard by one of the staircases, complete with ax and shield.
Built in 1545, this castle has been continually occupied, so it's never been left to ruin at all. Its upkeep is impressive and it really does feel like a home, though this is an old building and it does still very much feel like an old building. Some rooms may feel stark with bare stone walls and it does get cold in winter.
Turrets and gun loops show the character of the castle on the outside, and inside, the bathrooms and bedrooms are authentic — and that means not luxurious. The castle is set within 10 acres of grounds, so there are plenty of lawns and wooded areas to explore.
The nearest town is Arbroath, which is a lovely former fishing village by the sea. Don't miss trying the Arbroath "smokies," which are hot smoked haddock. You'll smell them while walking through the streets. When you see the puff of smoke coming from one of the smokehouses, head in that direction. They're a local delicacy and very unique.
Dreaming of Arbroath – your dream vacation awaits you
Top guest reviews
Colliston Castle was just perfect for our family holiday. Loads of room inside and out. Charming, comfortable and surprisingly cosy. AGA was great for warming croissants and pastries for breakfast. The hot tub and sauna were both used well. We've rebooked and looking forward to next year already
Straightforward comms with very helpful John & Sue – both pre stay and during . No job too small!
A unique venue. Fabulous amenities and accommodation. Just right for our group celebrating a 50th birthday. John and Sue have a fantastic castle. The owners are a joy to deal with. The castle is steeped in history and gives an almost magical impression, set in stunning grounds – what is not to like? It is larger than life and does not disappoint. My advice? – just book it!
Great location for our family gathering. Quiet, spacious, historic and entertaining. The local bunnies and the two robots helped us smile and get a laugh or two. Our hosts were most gracious and the gardens and grounds are extensive and beautiful. Kitchen is well outfitted and stocked with utensils and cooking needs. It has a delightful AGA to cook along with two traditional ovens and a ceramic top Hob. Highly recommended.
Wonderful castle, beautiful property. Sue and John were great hosts. Many large meeting areas and nice bedrooms. The perfect Castle to rent for a week ! Thanks for a great time !
Read Less ∧
Read More ∨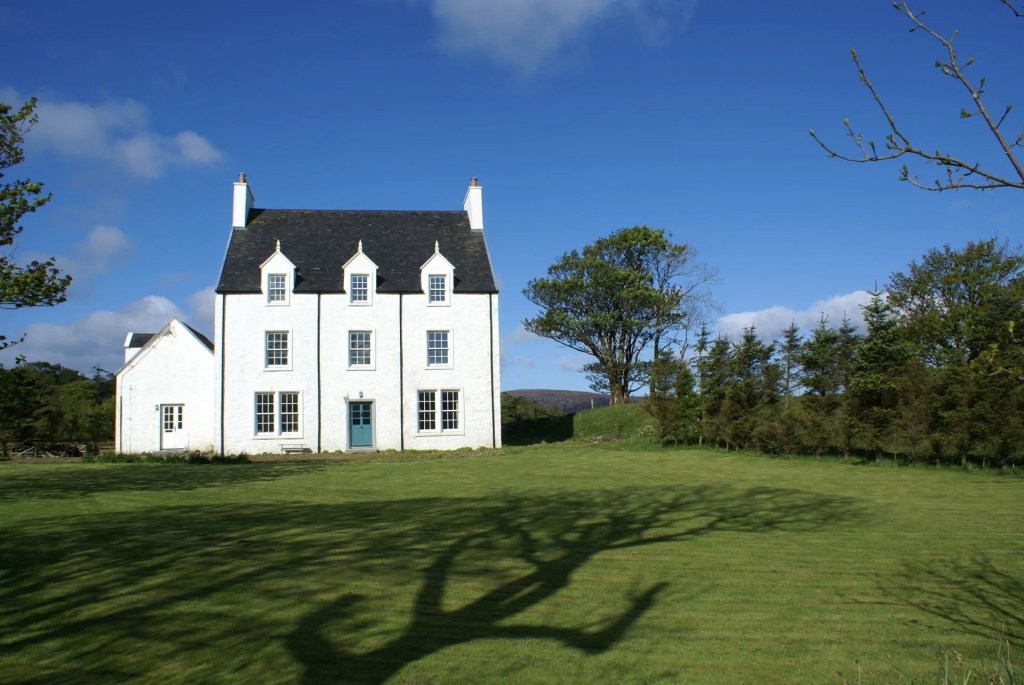 Rent Now
$350/nightly avg
Uiginish Lodge might look like a rather modest house compared to some of the historic houses on this list, but it's no less important. This house was built in the 18th century as the dower house to nearby Dunvegan Castle. A dower house was a specially built house for the widow, or dowager, of the lord or duke of the castle. These houses were also built for widows of estate owners of stately homes and other important properties.
The widow would have to move out of the castle or manor house on her husband's death to let his heir take over the estate, and so these dower houses were built for the widow to live in. The widow would have commanded a property fitting her status, and this is still a large house, even if it is smaller than the castle she would have previously lived in.
It's been beautifully renovated to create a bright and modern space, with a farmhouse kitchen, a baby piano, and a game room. The house is perfectly positioned with the sea at the front and a stream at the back. It sits within 3 acres of its own grounds, but be aware, the neighboring farm's livestock do have access to the rear garden. The area has some lovely walks and is ideal for wildlife spotting.
Rent Now
$660/nightly avg
If you fancy stepping straight into a fairy tale, the Pink Castle is the place to stay. This 14th-century castle had been left to ruin for many years before it was rescued and renovated in 2013. The renovation has been done with great attention to detail and the results really are stunning.
Original stone walls and beams have been brought back to their former glory, while beautiful stained glass windows have been added and the decor and soft furnishing feel luxurious. An original stone walkway takes you to a small sauna, and an old stone spiral staircase takes you up to the fifth floor for some stargazing in a cozy nook.
There's loads to explore within this castle, including animal trails for children, and outside there's a private lawn with an outdoor hot tub overlooking the sea.
This coastal castle has everything you need, but when you want to venture out, Largs is a lovely seaside town with a pier, a busy seafront, and an interesting Viking history. Every year, at the end of August, Largs hold its Viking festival, which includes parades, bands, and talks on the Vikings in this area. Visit Vinkingar, a Viking visitor center, to learn all about what happened when the Vikings tried to land in Largs. Spoiler: It didn't go so well for the Vikings!
Rent Now
$520/nightly avg
Don't be deceived by the gray exterior of this 19th-century castle; Inside you'll find bright and airy rooms that have been renovated to a very high standard. Kilchrist Castle is quite young by Scottish castle standards, and this could go some way to explaining how modern it feels inside. This is a 19th-century castle, and it does still have a history and stories in its past, but it also has the benefit of never going to ruin. There are original features, like the wonderful spiral staircase, original fireplaces in many rooms including the bedrooms, and the magnificently high ceilings, but there's also a modern fully equipped kitchen and modern bathrooms with roll-top tubs and jacuzzi baths.
The decor manages to be modern and bright, and classic at the same time, making this castle feel like somewhere royalty might live today. The castle sits within 8 acres of grounds, including lawns and woodland and an outdoor hot tub. You're never far from coastal walks and beaches in this part of Scotland, and you also have Campbeltown, the famous whisky town, nearby. Take a day trip to visit the three remaining distilleries and enjoy a dram or two.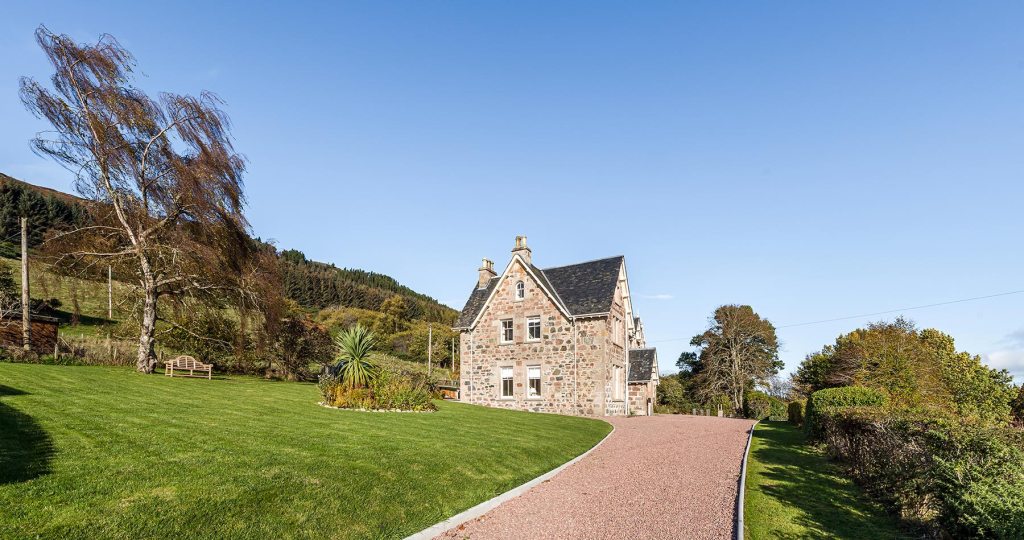 Rent Now
$927/nightly avg
At Highland Escape, you get two properties in one. The main house is an old Victorian manse house that's been lovingly renovated and decorated. And next door, attached to the manse house, is your own private church. This does make it a perfect choice for weddings, and many couples looking for an intimate wedding come here, but it's also a tranquil place, overlooking the water of Loch Ness, where you can relax in the house and explore the old church in private.
The house is decorated and designed in a classic way, using natural light and soft colors. The entire house has a lovely calming atmosphere to it, and it's the perfect place to get away from it all and just enjoy the peace of the area. The house has a small lawn of its own, but it's surrounded by so much natural beauty, you'll feel the whole area is your garden.
There's plenty to do at Loch Ness, both around the loch itself and further afield. You can get out on the water on one of the boat rental options on the loch, go for a walk in the beautiful countryside, or do a spot of Nessie spotting. To give you a better idea of the area, take a look at 10 Things To Know Before Visiting Loch Ness, Scotland.
To discover the best things to do while in Scotland, check out: