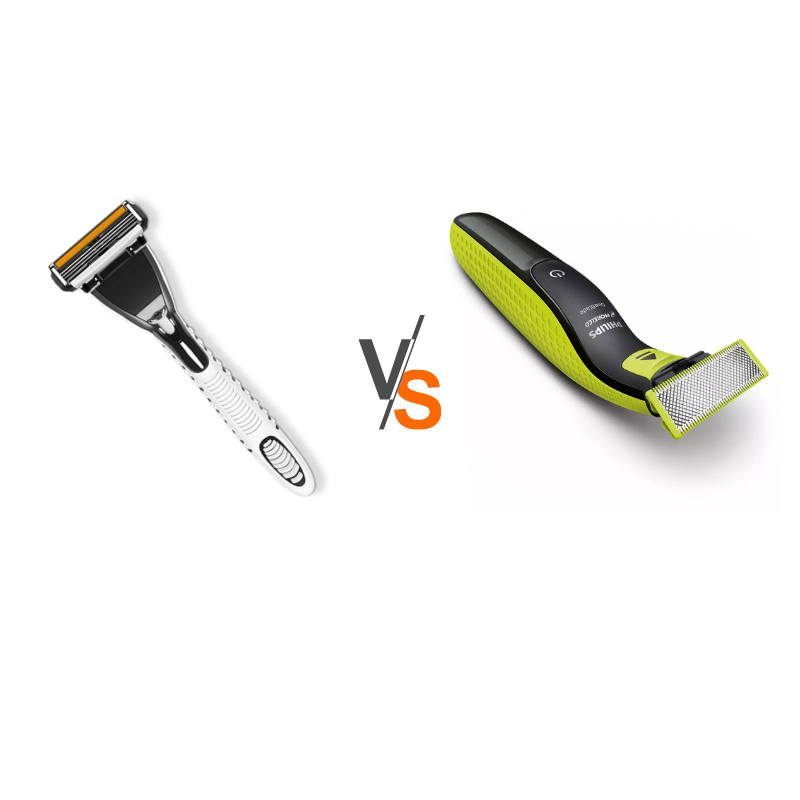 Boys with beards, listen here! Dudes with goatees, listen to me! Men with mustaches, well, I must ask you: Would you believe there's an all-in-one grooming tool that can shave, edge, and trim your facial hair?
Forget about using multiple tools! Philips Norelco OneBlade is a revolutionary new hybrid personal care product that can trim, shave, and create clean lines and edges on any hair length. In a shaving showdown, traditional razors like the ones from Dollar Shave Club and other subscription services really can't compare to this all-in-one product. But we're gonna give it a go just in case you're not convinced yet.
Face And Body
Not only does the Philips Norelco OneBlade work great on your face, but it's also designed for body grooming, so you can use it in regions where regular razors dare not go. Unlike Dollar Shave Club razors, it comes with three guards in 1, 3, and 5mm to protect sensitive spots.
In its article, "The Best Razors, According to Barbers," The Strategist calls Philips Norelco OneBlade the "best electric-cartridge hybrid razor." GQ says the multitasking "trimmer-shaver can handle just about every hair-taming task you assign." No Dollar Shave Club razor can say that!
Trimming Stubble
Like to leave some facial hair? Philips Norelco OneBlade's three guards let you choose your preferred stubble length. Dollar Shave Club razors do have a built-in trimmer for detailing, but they don't come with combs so you can select 5 o'clock, tight trim, or long stubble.
Razor Sharp
Dollar Shave Club razors have a trimmer blade on the back of the razor for sideburns and under the nose. Philips Norelco OneBlade has a dual-sided blade so you can see every hair you're cutting. Both create sharp lines and precise edges, easily shaving and trimming the contours of your face. However, Philips' dual-sided blade lets you shave in all directions so you can get the perfect lines in seconds.
No Shaving Snags
Dollar Shave Club may say its products won't cut or nick you, but with Philips Norelco OneBlade, cutting yourself is practically impossible. It avoids drawing blood by not shaving as close as a regular blade. However, the OneBlade gets your skin just as smooth by going against the grain to easily shave off any length of hair. This hybrid styler is perfect for sensitive skin. Say goodbye to razor burn and ingrown hairs!
A Name You Can Trust
With a name like Norelco, you know you're getting a good shave. Philips has been in the electric shaver game since 1939. With over 80 years of experience, Philips probably knows a thing or two more than the new kids on the shaving block.
But don't take our word for it. All you have to do is compare the 2.5 stars that reviewers have given the Metal Handle with Rubber Grip in the Dollar Shave Club's 6 Blade Start Kit to the Philips Norelco OneBlade's 4.4 out of 5 stars.
Wet Or Dry
Unlike Dollar Shave Club razors which require lather, the OneBlade can be used with or without water. You can even use it in the shower! And unlike most electric razors, you can use shaving foam with it. It's also easy to clean.
Value
Dollar Shave Club's subscription is fairly affordable, but the OneBlade is a much better value. Currently, the 6 Blade Starter Kit, including two six-blade razor cartridges and a metal handle is going for $10, and a four-pack of refills will run you about the same.
Philips Norelco is a bit more of an up-front investment, but a much better deal overall. The OneBlade Starter kit currently costs $27.99 when you sign up for a replacement cartridge subscription. For $19.99, you'll get a two-pack of replacement blades every 8 months. I'm no mathematician, but for the same low price of $10, two razors that last 8 months sound better than four razors that last a month. Would you rather pay $80 for razors for eight months or $20?
Flexible Subscription
Both Dollar Shave Club and OneBlade offer free delivery and you can cancel your razor subscription at any time. Both allow members to change their delivery frequency or ship date and cancel an upcoming order for replacement blades.
OneBlade — A Cut Above
Philips Norelco OneBlade hybrid razor is better than Dollar Shave Club all around. Not only can the OneBlade trim or shave your face body, but its dual-sided blade won't cut or nick you. Plus, it can be used wet or dry. It's a better deal than Dollar Shave Club overall, and the blade replacement subscription is flexible.