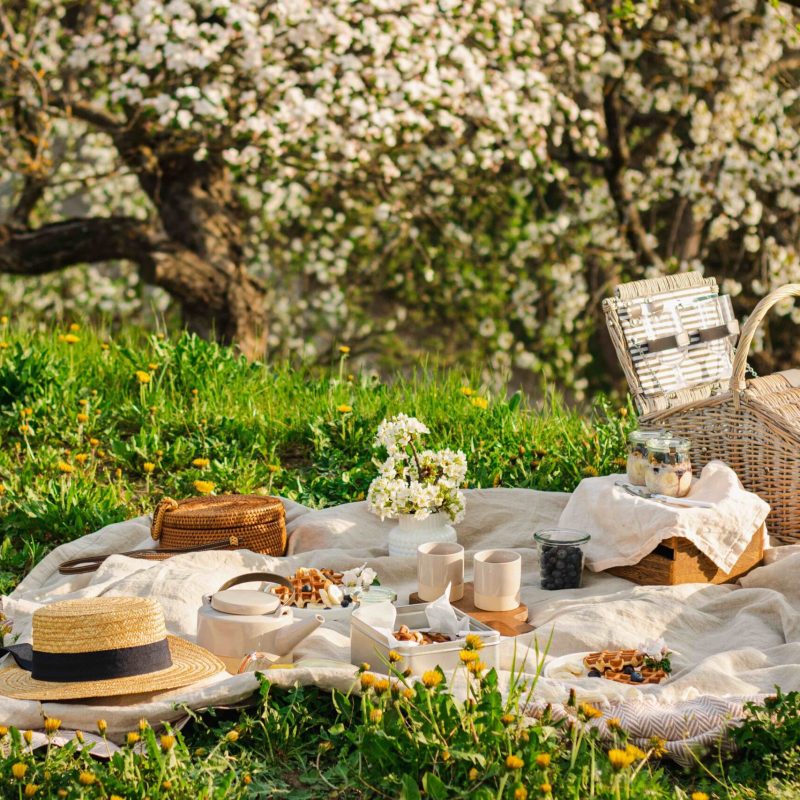 Once the leaves start to change colors and you can feel a bit of a chill in the air, it's time to plan for your favorite fall activities.
Whether you have a scenic fall road trip planned or want to soak in the views of your vacation while enjoying an outdoor meal, spending the afternoon picnicking under the trees is a terrific way to make the most of the fall.
There are plenty of essentials to pack for a picnic, but there's one item you need most: a high-quality picnic basket to hold all of your supplies (and the yummy food). Below, I've put together a list of my favorite picnic baskets. There's no wrong choice, so take a look and see which one fits you best!
The Best In Picnic Baskets
Below, you'll find the top picnic baskets for leisurely days at home or for extended road trips to new destinations. You'll discover which picnic basket will be the highlight of any romantic evening for two, the budget basket of choice, and ones with extra storage.
No matter which you choose, they all have something unique to bring to the (picnic) table.
Buy Now
$49.99
The Willow Picnic Basket is a great choice for any occasion. It comes with plates, wine glasses, napkins, two sets of cutlery, and one wine bottle opener for the bubbly. The basket is made from handmade wicker and is strong, lightweight, and portable.
Buy Now
$83.95
The Piccadilly Picnic Basket has a vintage look with its durable hand-woven wicker, and I love how it evokes the feel of a simpler, more relaxed time. There are also leather accessories and plates, wine glasses, and flatware inside. Last but not least, the interior features a classic red gingham pattern.
Buy Now
$59.99
The Large Willow Hamper features a jumbo insulated cooler compartment and has a waterproof blanket attached on the side to make for an easy clean-up after my picnic. As a bonus, the picnic basket comes with tableware, plates, wine glasses, napkins that match the interior, and an outdoor picnic blanket.
This basket is suitcase-style, so you can carry it easily up a rocky shore or across a field of wildflowers.
Buy Now
$110.11
This basket is English style with a green interior, wicker exterior, and leather accessories — and it looks ultra-stylish. The basket includes wine glasses, napkins, a corkscrew, a cork bottle stopper, a cutting board, and a cheese knife.
It has a dual-lid barrel design with leather straps for easy carrying. If you're craving some wine and cheese outdoors, this is the perfect basket to pack.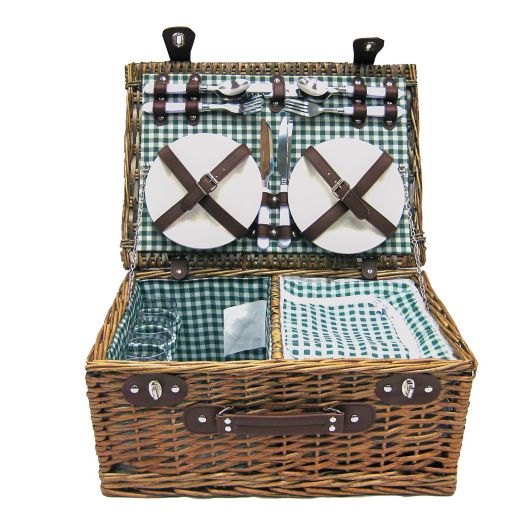 Buy Now
$65
Inside the Bee and Willow basket, you will find a handy insulated section that will keep your drinks and food ice cold for hours. The exterior features a classic wicker build, and the interior includes plates, wine glasses, flatware, and a bottle opener.
Buy Now
$274.99
This Picnic At Ascot Ultimate Cooler has an exterior made of olive green canvas rather than wicker, so it's a refreshing take on a classic look. I think the olive is well-suited to forested environments, while the navy variation would shine by the Cape.
The cooler comes with a corkscrew, napkins, a cheese knife, cutting board, salt and pepper shakers, and flatware. There's also an extra pocket on the front for storage, an adjustable shoulder strap, and a zippered lining.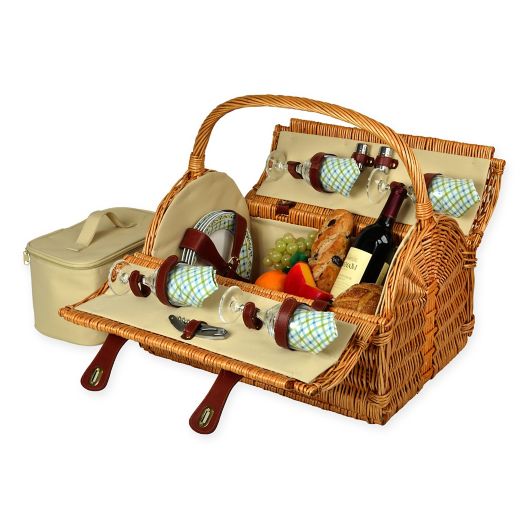 Buy Now
$324.99
The Yorkshire Picnic Basket is made from full reed willow and features a stylish curved top to complete the look. The interior features a cooler to keep the food and drinks nice and chilly and includes plates, wine glasses, flatware, napkins, a corkscrew, and salt and pepper shakers.
There's also a comfy handle for carrying and a hinged closure to keep everything secure. You can customize this basket, too — the dishes and napkins come in blue or brown. This is my basket of choice for fine outdoor dining for local open-air theatrical productions or romantic evenings.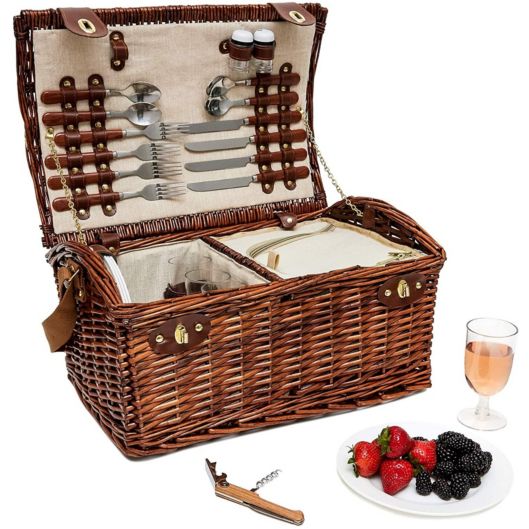 Buy Now
$83.99
The wicker exterior is designed to give the Juvale Large Wicker Picnic Basket an antique, rustic feel, and it works! The Juvale comes with an insulated cooler bag, a cutlery set, salt and pepper bottles, corkscrew, plates, and glasses. It has an open lid design for easy access, separate internal compartments, and a sturdy carrying strap.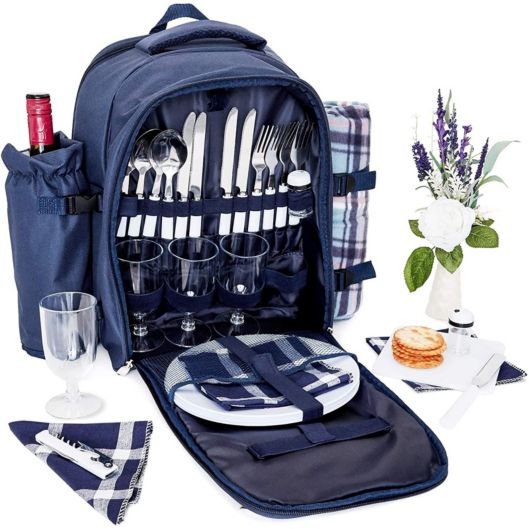 Buy Now
$56.99
The Juvale Picnic Backpack is a best-selling new twist on a picnic basket.
It has two padded straps, so you can easily sling it over your back and go picnicking in the park.
Inside the backpack, you'll find cutlery, plates, napkins, wine glasses, salt and pepper shakers, a cutting board, and a bottle opener for enjoying drinks al fresco.
This nifty backpack comes with a fleece blanket that can be strapped to the side, as well as a detachable bottle/wine cooler. If I'm taking a brief walk up to a scenic point to watch the sunset, this is my go-to option.
Buy Now
$194.99
This Vineyard Willow Picnic Basket features a woven wicker exterior and elegant detailing for a classy look. It comes with plates, napkins, wine glasses, flatware, a corkscrew, and two bottle carriers for wine. This is another customizable basket that features several different color options, so feel free to match it to your overall aesthetic.
Which Picnic Basket Should I Get?
Now that you have my list of favorite picnic basket picks, you might be wondering which is the ideal choice for you.
Here's how I pair a picnic setup for each event:
For a Romantic Evening
If you're looking to plan a special date night while on a fall vacation with your partner, a picnic might be in order. It's a fantastic way to spend quality time together while sharing a romantic meal on the go and taking in some lovely vistas.
If you are going to be using your picnic basket mostly for date nights, I highly recommend choosing a basket designed for two people:
The Piccadilly Picnic Basket comes with two of everything, including cutlery, wine glasses, and plates. The design of the basket is oh, so romantic, with leather details and a curved handle that's reminiscent of a picnic in an old Audrey Hepburn movie.
The Vineyard Willow Picnic Basket (along with two of each dish) has separate storage to fit two wine bottles — maybe one red and one white. You can use the wine glasses and corkscrew that also come with the basket to pop open a bottle and sip on a glass in the fall breeze.
For The Best Budget Option
Picnic baskets often feature an impressive level of detail and craftsmanship — giving them a high price tag. However, there are plenty of options that give you everything you want in a basket without breaking the bank.
The Willow Picnic Basket is a picnic basket for two that includes dishes, glassware, an insulated cooler bag, a picnic blanket, and more for under $50. If you have found yourself spending a little bit too much money on your summer vacations (I totally understand), this basket will give you everything you need without buyer's remorse.
If you'd prefer a reasonably priced picnic basket that serves four instead of two, check out the Bee & Willow picnic basket. When you choose this one, you get four porcelain plates, four plastic wine glasses, four sets of stainless steel flatware, and a wine bottle opener for only $65.
Best Options For The Most Storage
If you have a hefty amount of picnic supplies or want to store personal items in your basket, too, you will enjoy an option with maximum storage.
Consider these picks if you need a particularly spacious basket:
The Large Willow Hamper is 17.8 x 12 x 7.5 inches and can serve up to four people. This basket uses the space with dish storage inside the lid, plus leather straps on the side to carry a picnic blanket. The entirety of the bottom of the basket doubles as an insulated cooler, meaning you have plenty of room to pack all of the fall-themed snacks and drinks you need.
The Yorkshire Picnic Basket measures to be 17 x 20 x 13.5 inches. This is the biggest basket on this list, and the exterior is durable enough to hold as much as you can fit into it. The dishes and glasses are stored on the sides of the basket's interior, leaving the rest of the space to be filled with your food, drinks, entertainment, and personal items.
Best For Long Trips
If you're going to be walking a few miles or exploring your vacation spot before a picnic, you need a comfortable basket that is super easy to carry.
Here are my picks:
The Picnic Backpack is designed with comfort as the top priority. Feel free to pack your bag, have a picnic in a scenic spot, then take your picnic with you. Head to a pumpkin patch, on a scenic walk, or to a football game — there's no place you can't take the backpack! You won't have to worry about the basket getting in the way or becoming too heavy to carry with one hand.
The Ultimate Picnic Cooler is designed for versatility and comfort. The exterior of this bag is canvas rather than wicker, and it has an adjustable padded strap that can be worn on the shoulder or cross-body. It's stylish and functional, which is one of my favorite combinations.
The Best Picnicking Ideas
Once you have the picnic basket of your choice, it's time to put it to good use!
While you can always have a picnic in a park around your house, it's always fun to dedicate an afternoon or evening on vacation to a picnic in a picturesque spot.
Go On A Road Trip
What's wonderful about road trips is the amount you can throw in your car without filling it up. Rather than being limited to one carry-on or 50 pounds for a checked bag, you can bring as much as you can fit in your car.
Fall is a classic time for road trips; the weather is perfect, the scenery is beautiful, and major cities are less busy than they are in the summer. Why not hop in the car and head somewhere you've never been?
Once you have chosen a road trip, I recommend bringing the Vineyard Willow Picnic Basket if you are traveling with one other person, or the Large Wicker Picnic Basket if you are traveling with more. Both of these baskets have charming good looks and will make for an amazing fall picnic.
Be sure to pack some pumpkin bread, apple cider, and maybe even a pecan pie, and find a park in your road trip destination that has the space for a long picnic under a yellow or orange tree.
Bring It Abroad
While you might think that bringing a picnic basket on a trip out of the country will be clunky and cumbersome, the picnic baskets I picked for long trips will make the process easy and painless.
The Picnic Backpack and the Ultimate Picnic Cooler are both easy to carry and can be used for packing food and drinks or personal items on the plane. That means you won't have any trouble flying with one of these options.
Happy Picnicking!
Whether you are trying to have an autumn picnic in the UK or a picnic in Paris, you won't regret adding an outdoor meal to your vacation itinerary.
To discover some of the best wine and food for your picnic, check out: