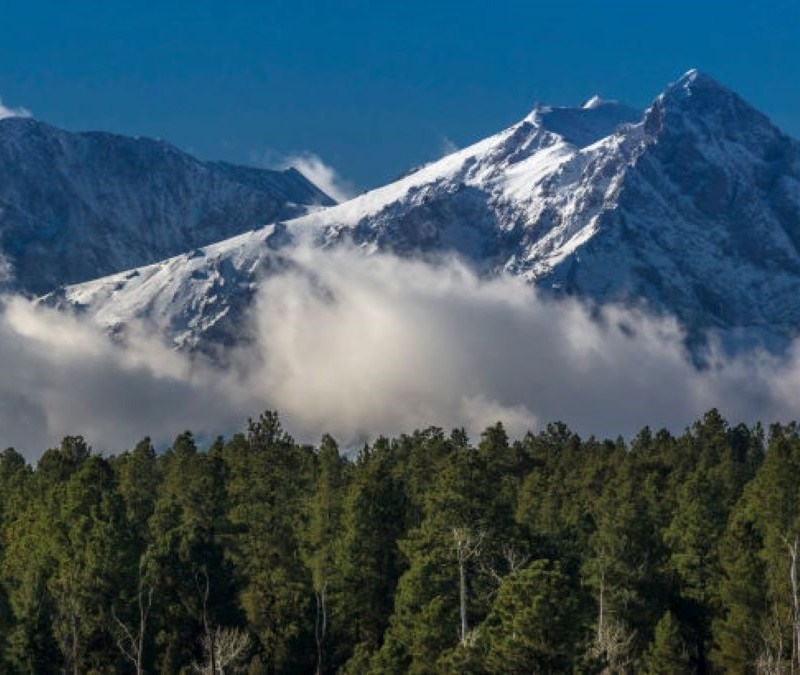 Excitement is in the air as you finalize your plans for your long-awaited trip to the mountains — you're eagerly anticipating breathing in some fresh forest air and taking in the breathtaking views. With your bags packed and your itinerary set, there's just one more crucial aspect to consider for a seamless and enjoyable journey: understanding altitude sickness. Whether you'll be trekking through the Rocky Mountains in Colorado or exploring high-altitude cities in Nepal, being informed about how to recognize, manage, and even better, prevent altitude sickness, is key to ensuring your adventure is as enjoyable and safe as possible. 
Let's dive into what you need to know about this high-altitude challenge to make your trip memorable for all the right reasons.
What is altitude sickness?
According to the Cleveland Clinic, altitude sickness occurs when your body hasn't had time to adjust to the lower oxygen levels higher in the atmosphere. There are three different types of altitude sickness, according to the U.S. Centers for Disease Control and Prevention (CDC): acute mountain sickness (AMS), high-altitude pulmonary edema (HAPE), and high-altitude cerebral edema (HACE). 
Acute mountain sickness is the mildest and most common form of the illness and includes the following symptoms:
Headache (the most common symptom)
Tiredness
Lack of appetite
Nausea
Vomiting
In children who cannot yet speak, general fussiness
High-altitude pulmonary edema is a rare but more severe type of altitude sickness in which the lungs are affected, filling with fluid. Although it is not the most severe form of altitude sickness, it can become life-threatening more quickly than the other forms. Symptoms of this condition include the following:
Shortness of breath
Weakness
Cough
High-altitude cerebral edema is very dangerous and the most severe form of altitude sickness, in which the brain swells. It includes the following symptoms:
Extreme fatigue
Drowsiness
Confusion
Loss of coordination
How common is altitude sickness?
Altitude sickness is rare below 8,000 feet (2,348 meters) above sea level, but it is common at higher altitudes among those who aren't acclimated (used to breathing at those altitudes). According to the Cleveland Clinic, the condition will affect almost everyone who ascends quickly to 11,000 feet (3,352 meters).
Who is at risk of altitude sickness?
Certain factors can increase a person's risk of developing altitude sickness. Going to higher altitudes is one contributing factor — the higher you ascend, the greater your risk. Ascending quickly also increases the risk of developing the condition. A good rule of thumb is to spend a few days ascending to 9,850 feet (3,000 meters), notes the Icahn School of Medicine at Mount Sinai, and then to ascend no more than 990 feet to 1640 feet (300 meters to 500 meters) daily thereafter. 
A previous history of any form of altitude sickness, and particularly the more severe forms, also increases a person's risk in the future. Drinking alcohol and using certain types of drugs, and particularly sedatives, also greatly raises the risk of developing altitude sickness.
Contrary to popular belief, a person's physical fitness does not contribute to the risk of altitude sickness. However, altitude sickness can make symptoms of certain conditions, such as anemia and chronic obstructive pulmonary disease (COPD), worse, and conditions involving the heart, nervous system, or lungs can increase a person's risk of developing altitude sickness.
According to the CDC, diabetes may be more difficult to manage at higher elevations, and those with conditions such as sickle cell anemia and severe pulmonary hypertension should not travel to high elevations under any circumstances. (Read "High Elevation Travel & Altitude Illness" from the CDC for more information on medical conditions that require extra caution for travel at altitudes.)
How can you prevent altitude sickness?
With this condition being at best, unpleasant, and at worst, potentially deadly, it's worth taking every precaution you can to avoid developing altitude sickness in the first place. Prior to your trip, be sure to visit your physician for a pre-travel checkup and to get tips and advice for any conditions you have that may be affected by or put you at higher risk for altitude sickness. Those with heart or lung disease should speak with a doctor who is familiar with high-altitude medicine prior to their trip, the CDC recommends.
The CDC highlights that the human body can adjust to certain altitudes but requires time to do so. If possible, you should avoid flying or driving directly to a high altitude. Instead, choose a lower elevation to arrive at and stay for 24 hours before ascending higher. As noted above, higher than 9,850 feet (3,000 meters), experts recommend ascending no more than 990 feet to 1640 feet (300 meters to 500 meters) each day. Avoid traveling from a low elevation to one higher than 9,000 feet (2,750 meters) above sea level in one day, says the CDC. Additionally, be sure to avoid heavy exercise for 48 hours after arriving at an altitude over 8,000 feet (2,438 meters). Also, if possible, consider taking day trips to higher elevations and then returning to lower elevations to sleep.
Maintaining healthy habits can also help prevent altitude sickness. Avoid smoking, drinking alcohol, and taking sleeping pills during your time at higher elevations. (However, if you are a regular caffeine user, you should continue using it to avoid developing a withdrawal headache that could be confused with an altitude sickness headache.) It's also important to eat plenty of healthy carbohydrates such as fruit and whole grains. This is because being at altitude raises levels of hormones such as adrenaline and cortisol, which increase the body's use of carbohydrates for energy. Lastly, be sure to drink plenty of water. Being at altitude increases the risk of dehydration due to increased losses of water through breathing and urination, and dehydration can worsen some altitude sickness symptoms.
How can you recognize and manage symptoms of altitude sickness?
It is important as you embark on your travels to be aware of whether you or your travel companions are developing any of the signs or symptoms of altitude sickness. As outlined above, for milder forms of the condition, these may include headache, fatigue, loss of appetite, and nausea or vomiting, while more severe conditions may cause shortness of breath, weakness, cough, extreme fatigue, drowsiness, confusion, and loss of coordination.
The CDC notes that mild cases of altitude illness can be treated by easing symptoms (such as using a pain reliever to treat a headache, for example). Symptoms should go away on their own within a couple days. Those who are experiencing altitude sickness should not travel to a higher elevation until they no longer have symptoms, and people whose symptoms get worse while resting should travel to a lower elevation to prevent serious illness or death.
In cases of high-altitude pulmonary edema and high-altitude cerebral edema, the person must immediately move or be moved to a lower elevation. Those with high-altitude pulmonary edema will likely need to be treated with oxygen.
How should you treat altitude sickness?
The only way to truly "cure" altitude sickness is to descend to a lower altitude. For cases that aren't as severe, or in cases where an immediate descent isn't possible, certain approaches can help:
Acclimate. Stopping and resting can help your body acclimate to the lower oxygen levels at higher elevations.
Supplemental oxygen. Breathing the higher oxygen concentrations of supplemental oxygen can help offset some of the symptoms.
Medications. Using certain medicines, and in particular acetazolamide, dexamethasone, or nifedipine, can help treat symptoms and delay more serious symptoms and complications. (Dexamethasone and nifedipine are usually used for moderate or worse cases.) Avoid alcohol, sleeping pills, and narcotic pain medicines, notes Howard E. LeWine, MD, of Harvard Health Publishing, as these slow breathing, which is very dangerous in a low-oxygen environment.
Hyperbaric therapy. This involves breathing pure oxygen in a pressurized environment, notes the Mayo Clinic, and is used to treat scuba divers who are experiencing "the bends." At high altitudes, this therapy is possible using portable hyperbaric bags (also known as "Gamow bags").
Descend. In cases where symptoms are more severe (for example, dizziness, fatigue, nausea) or are getting worse, descending is the priority. According to the Cleveland Clinic, this typically involves a decrease of at least 984 feet (300 meters) and as much as 3,281 feet (1,000 meters) until symptoms resolve.
How long does altitude sickness last?
According to Harvard Health Publishing, if you are climbing and do not return to an elevation where you felt well, symptoms can worsen and may potentially be deadly. After two or three days of rest at a lower altitude, symptoms from acute mountain sickness will go away as your body gets used to the elevation. The more severe conditions can take weeks to resolve and will require medical attention and possibly hospitalization.
Maintaining peak performance at altitude
As we reach the summit of our journey to understand altitude sickness, remember that the key to enjoying your high-altitude adventure lies in preparation, awareness, and respect for your body's limits. Whether you're scaling the heights of Colorado's Rockies or exploring the elevated terrains of Nepal, keeping these tips in mind will help ensure your trip is memorable for its scenic beauty, not for altitude woes.
Remember, ascending to new heights is as much about enjoying the journey as it is about reaching the destination. By taking it slow, staying hydrated, and listening to your body, you're setting yourself up for peak performance at high elevations.
Safe travels and happy trails to you — may your mountain memories be as lofty as the peaks you aspire to conquer!
Disclaimer of Medical Advice: This information does not constitute medical advice or recommendation of any kind, and you should not rely on any information contained in such posts or comments to replace consultations with your qualified healthcare professionals to meet your individual needs.