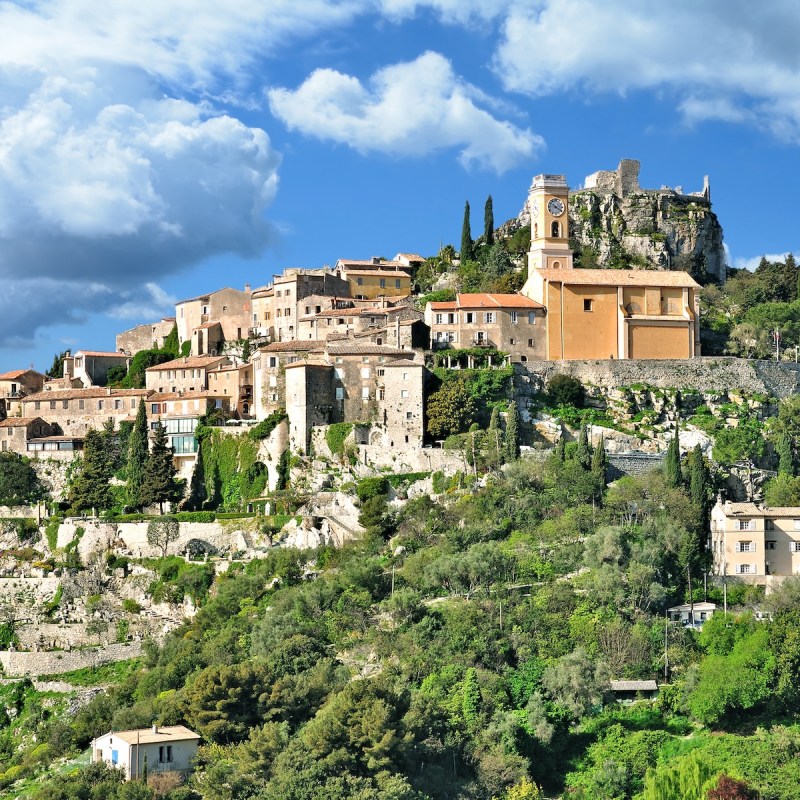 France is home to some of the most fascinating villages in the world, each with unique charm and character. From the picturesque cobblestone streets of Eguisheim to the red sandstone buildings of Collonges-la-Rouge, these villages offer visitors a glimpse into France's history and culture.
Whether enjoying a glass of wine in the vineyards of Alsace or wandering through the narrow streets of Cordes-sur-Ciel, each village has a distinct personality and beauty. A trip to any of these villages is an experience that will leave you with memories lasting a lifetime.
5 Most Beautiful Villages & Towns In France Anyone Can Visit
1. Eze, French Riviera
Eze is a beautiful village located in the French Riviera and has captivated visitors for centuries. This lovely village is perched on a rocky hilltop, with views of the Mediterranean Sea and the surrounding mountains. The town is characterized by its winding streets, charming stone houses, and beautiful gardens filled with fragrant flowers.
Its medieval architecture and rich history make it a popular tourist destination that attracts visitors worldwide. Apart from the outstanding views, Eze is also home to museums, art galleries, and boutiques.
You can walk through the village and explore its hidden corners or enjoy a drink at one of the cafés while relishing the Mediterranean scenery. A visit to Eze is an unforgettable experience that will leave you with lifetime memories.
2. Eguisheim, Alsace Region
If you plan a trip to France's Alsace region, consider adding Eguisheim to your itinerary. This picturesque village is located in the heart of Alsace's wine country. It is known for its cobblestone streets, half-timbered houses, and productive vineyards.
Eguisheim is a great place to explore on foot. You can take a leisurely stroll through the village and admire its cherished architecture and lovely atmosphere.
In addition to its beauty, Eguisheim is famous for its wine. There are plenty of opportunities to sample the local varieties at the village's many wineries and wine bars. Whether you're a wine aficionado or simply looking for a relaxing and scenic destination, Eguisheim is your French village goal.
3. Cordes-Sur-Ciel, Southwestern France
Cordes-sur-Ciel is a beautiful medieval town located in the southwestern region of France. It is perched high on a hilltop overlooking the countryside. The town is known for its architecture, including well-preserved Gothic and Renaissance buildings, like the Church of Saint-Michel and the Maison du Grand Veneur.
You can wander through the narrow, winding streets of the town, admiring the picturesque houses and charming cafés. It also has several museums, like the Museum of Modern and Contemporary Art and the Charles Portal History Museum.
In addition, Cordes-sur-Ciel is a hub for artisans, with numerous galleries and studios displaying their creations. With its rich history, vibrant culture, and breathtaking views, Cordes-sur-Ciel is a lovely destination for anyone traveling to southwestern France.
4. Ploumanac'h, Brittany
Ploumanac'h is a quaint village located in the heart of Brittany. It is known for its stunning pink granite cliffs that line the coastline, providing astonishing views of the sea and the surrounding landscape. The village is also home to a beautiful beach, where visitors can soak up the sun and enjoy the unspoiled waters.
The village has a rich maritime history, with a bustling harbor that was once a major center for fishing and trade. Today, Ploumanac'h is a popular tourist destination that attracts visitors from all over the world. The village has inviting cafés, restaurants, and shops where you can sample desserts, such as Kouign-Amann — a pastry made with bread dough, butter, and sugar. It is crispy on the outside and soft and buttery on the inside. Try local cuisine and browse handmade crafts. A visit to Ploumanac'h is an experience that will leave you feeling relaxed and rejuvenated.
5. Collonges-La-Rouge, Central France
Collonges-la-Rouge is a delightful village located in the heart of central France. It is known for its distinctive architecture, with most buildings constructed from the red sandstone that gives the community its name. Collonges has a rich history, dating back to the Middle Ages. Its ancient buildings and narrow streets provide a glimpse into France's past.
Lush green forests, rolling hills, and magnificent countryside views surround the village. You can enjoy a promenade through the village, admire the distinctive buildings and local museums, or try some delicious local cuisine, such as potée corrézienne — a stew made with pork, beef, and lamb, along with cabbage, carrots, and turnips. A visit to Collonges-la-Rouge is a grand trip for those interested in history, architecture, and natural beauty.
Conclusion
Visiting French villages is an experience that offers a wealth of benefits. From the varied architecture and inspiring landscapes to the delicious local cuisine and fascinating history, there is something for everyone to enjoy.
French villages are perfect for a relaxing getaway, where you can escape city life's hustle and bustle and enjoy a slower pace. You can wander through the narrow, winding streets, admiring beautiful buildings and soaking up the local culture. You can also sample the local wines and cuisine or appreciate the stunning countryside views. Visiting French villages is truly a unique and unforgettable experience.