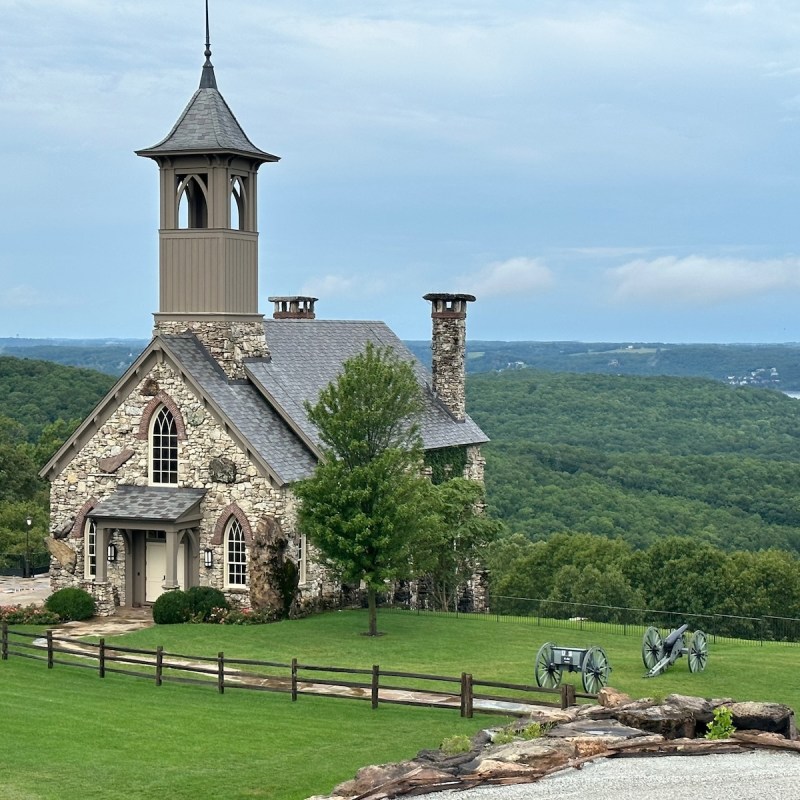 Nestled in the Ozark Mountains of southwestern Missouri, Big Cedar Lodge is beloved by families, golfers, and couples looking for the perfect getaway. Just a few minutes south of Branson and located on Table Rock Lake, Big Cedar Lodge feels worlds away from the bright lights and live entertainment for which Branson is famous.
Big Cedar, as those who've visited call it, offers an events- and activity-filled calendar each day, multiple restaurants on property and nearby, and several golf courses designed by some of golf's greats.
Big Cedar, and the entire Branson area, is known for showing its love and respect for veterans. Flags, too many to count, decorate the property on holidays and special parking spots are reserved for veterans all year long.
Amenities
Check-in: 4 p.m.
Check-out: 11 a.m.
Complimentary internet access
Free onsite parking
Designated parking for veterans
Fitness center
Multiple swimming pools
Lazy river
Sand volleyball court
Pickleball court
Shuffleboard
Pedal boats, canoes, and kayaks
Mini-golf
Complimentary shuttle service throughout property
Paved 5k trail
DVD and board games
Electric car-charging stations
Restaurants
Fitness studio
Firewood provided for cottages and cabins with fireplaces
Iron and ironing board
Laundry services
Meeting space
Room Types
Big Cedar Lodge offers 362 lodging options including log cabins, cottages, and lodge rooms. One-of-a-kind rooms, like a cozy cottage just steps from the spa, are also available on the property. Each room is designed to connect guests to the outdoors with a rustic elegance. Some rooms offer a small fridge while others include a kitchenette or even a full kitchen. Some cottages and cabins also include wood-burning fireplaces, private patios, and gas grills.
Hotel Class
Big Cedar Lodge is a sprawling resort located on 4,600 acres and is owned by Johnny Morris, the founder of Bass Pro Shops. Big Cedar is known as one of the best family-friendly resorts in the U.S.
How To Get To Big Cedar Lodge
Big Cedar Lodge is located just south of Branson, Missouri. It's west of Highway 65, off Highway 86. Many guests drive to Big Cedar, but you can fly into the Branson Airport or Springfield-Branson National Airport and rent a car. Airports in Little Rock, Kansas City, and St. Louis are between 3 and 4 hours away.
Parking
Parking at Big Cedar is free and located throughout the property. There are designated parking spots for veterans — just one way Big Cedar shows its gratitude for veterans. On holidays, parking on the property is restricted to guests because of the events happening on the property.
Why I Chose Big Cedar Lodge
My family and I have been visiting Big Cedar every year for the past decade. It's been the setting for the most amazing vacation memories for my boys with their grandparents and cousins; grabbing a milkshake at Truman's, learning the art of casting and patience during kids' fishing, playing mini-golf and pickleball, splashing in the pool, movie night under the stars, roasting s'mores, and tubing on Table Rock Lake.
What's wonderful about Big Cedar is that it can be exactly what you want it to be. A relaxing weekend with girlfriends enjoying the spa and dinner at one of the many restaurants, a golf getaway with buddies, a couple's retreat, or the perfect family vacation.
It's difficult to beat the holidays at Big Cedar. Memorial Day, Fourth of July, and Labor Day weekends are event-filled and the property is decorated with thousands of American flags. Red, white, and blue bunting can be seen throughout the resort. Starting in November, the property is filled with Christmas lights and special holiday events are offered to guests including ice skating and visits from Santa and his helpers.
Shuttles run throughout Big Cedar, which allow family members to enjoy different experiences without having to worry about driving and sharing a car. In fact, it's often easier to use the shuttles rather than using a car on the property. The shuttles are also perfect for family members who have difficulty walking.
History Of Big Cedar Lodge
Big Cedar Lodge began as a getaway for businessman Jude Simmons and Frisco Railroad executive Harry Worman in the 1920s. The pair bought 300 acres along the White River and each built a home still on the property today, known as The Worman House and Devil's Pool Restaurant.
The two families sold the property to a logging business, and in 1947, hotel operator Dan Norris bought the property and turned it into Devil's Pool Guest Ranch. The ranch included a lodge, stable, and swimming pool.
In 1987, Bass Pro Shops founder, Johnny Morris, decided to buy the property and has developed it into what it is today. His focus is on conservation and being environmentally conscious, which can be seen throughout the property. There are recycling areas near guests' rooms, making them easy to access. Big Cedar also creates its own soil and has a linen reuse program. Morris also restored the Worman and Simmons homes, which are now restaurants on the property.
Activities At Big Cedar Lodge
One of the best parts of staying at Big Cedar Lodge are the number of complementary activities offered each day. There are also activities in which guests can pay to participate.
Pedal Boats, Canoes, And Kayaks At Bent Hook Marina
Enjoy a peaceful paddle or pedal back into the cove behind Bent Hook Marina. The pedal boats, canoes, and kayaks are available for all guests to use on a first come, first served basis. If you need a bit more power, look into renting either a pontoon, ski boat, or wave runner from the marina to take out onto Table Rock Lake.
Volleyball, Pickleball, Mini Golf
Branson is filled with mini-golf options, but why leave Big Cedar to play when there's a free nine-hole course on the property? It's beautifully landscaped and tons of fun with its signature Giant Bass. Big Cedar is also where we fell in love with playing pickleball. Pick up the equipment for pickleball and sand volleyball at the guest services desk next to check in.
Pro Tip: Guests need to go to the reservation desk in person to reserve a time slot to play pickleball. Spots can fill up fast, so the earlier, the better starting at 7 a.m. each day.
Swimming Pools, Lazy River
Big Cedar has several pools on the property to take a dip or relax in a lounge chair. Devil's Pool, Lakeside Pool, and the Swimmin' Hole are all salt water. At the Brushy Creek Clubhouse, guests can find an indoor pool as well as one of our family's favorite spots, the Lazy River.
Lady Liberty And Goin' Jesse
Lady Liberty is a beautiful 62-foot yacht offering dinner and brunch cruises. She holds up to 41 guests, so it creates a wonderful, intimate experience and can be rented for private cruises. Goin' Jesse is the most unique way to see Table Rock Lake. It's an exact replica of an iconic 1934 Chris Craft boat. It's a trip that will transport you back in time.
Cedar Creek Spa
If you run out of time to get your nails done before your visit, or simply want to pamper yourself with a massage or facial, Cedar Creek Spa is the perfect getaway within a getaway. If you know you're going to want a spa treatment during your stay, make an appointment before you arrive.
Daily Activities Calendar & Events
Each day at Big Cedar comes with a unique list of experiences. Events during the week include kids' fishing, family bingo, yoga, bakery wars, and movies under the stars, just to name a few. I recommend looking at the calendar a few weeks before you arrive and make reservations then because events do fill up. However, if an experience you're interested in is booked, be sure to check with guest services when you arrive to see if something has opened up.
Lost Canyon Cave & Nature Trail
Top of the Rock deserves at least one visit during a stay at Big Cedar Lodge. The Lost Canyon Cave & Nature Trail is a 2.5-mile golf cart tour past beautiful waterfalls and through Lost Canyon Cave. One highlight is the ride across a covered wooden bridge. It's a relaxing ride and one family members who may not be as active will really enjoy.
Top Of The Rock Sunset Ceremony
This is a special event you won't want to miss when staying at Big Cedar. Every evening during daylight saving time, bagpipes play as the sun disappears behind the hills surrounding Table Rock Lake. During the ceremony, a Civil War cannon fires near the chapel.
It's a popular event and can get very crowded. One way to avoid the crowds is to plan dinner near the time of sunset, at either the Osage Restaurant or Buffalo Bar for a better view of the ceremony. Or, visit the Wine Cellar one level below the Buffalo Bar and enjoy a glass of vino or whiskey while taking in the ceremony. Access to Top of the Rock is free for Big Cedar guests. A shuttle can be requested at the registration desk.
Shopping
My mom seems to always find time to browse the shops at Big Cedar and my boys are eager to oblige. They usually return with a new hat, t-shirt, or pajamas. The main shop is located next to registration and has a little bit of everything including clothing, jewelry, wine, home décor, snacks, and souvenirs.
The store at Bent Hook Marina sells lakeside necessities like hats, sunscreen, and water toys. At Top of the Rock, Arnie's General Store, named after golf legend Arnold Palmer, is a great spot to pick up a golf shirt, a sweet treat, or even a candle or two.
Restaurants At Big Cedar Lodge
Devil's Pool
Devil's Pool restaurant is located in one of two original structures on Big Cedar property. It's open from breakfast through dinner and is a delicious way to start or end your day. Options range from country skillets in the morning to trout and prime rib for dinner.
Buzzard Bar
Just downstairs from Devil's Pool restaurant, you'll find the Buzzard Bar. Its patio overlooking the pool is a perfect place to enjoy lunch. At night, it's the best, and only, spot for live music on the property. Don't miss Big Cedar's most famous performer, the singing cowboy Clay Self, if he's performing during your visit.
Osage Restaurant
Over the last decade, I've dined at every restaurant at Big Cedar. I've enjoyed them all, but the Osage Restaurant is my family's favorite, especially Sunday Brunch. It's a beautiful buffet of prime rib, seafood, made-to-order omelets and crepes, and other breakfast favorites. The restaurant is located at Top of the Rock and overlooks Table Rock Lake. Just be sure to save room for one of each option on the dessert table. Osage Restaurant also serves a delectable dinner and I love listening to the frogs when walking back to the shuttle at night.
Buffalo Bar
The Buffalo Bar has the best patio of any restaurant at Big Cedar. Overlooking Table Rock Lake, this is the place for the sunset ceremony. It is only open for dinner and includes a selection of delicious steak, seafood, pasta, and chicken dishes. The large fireplaces on the patio are a perfect spot to enjoy an after-dinner drink.
Arnie's Barn
When dining at Arnie's Barn, you're actually eating in golfing great Arnold Palmer's 150-year-old barn from his property in Latrobe, Pennsylvania. Johnny Morris had the barn meticulously taken down and then rebuilt at Top of the Rock. Arnie's Barn serves upscale Mexican fare. Don't miss the trio of salsa and queso fundido. Hours vary by season, so be sure to check before you visit.
The Worman House Bistro
The Worman House is one of two original buildings on the property. Originally the vacation home of Frisco Railroad executive Harry Worman, Johnny Morris restored the home when he purchased the land. It's now the fine-dining destination at the resort. Lobster Thermidor, Roasted Quail, Filet of Bison, and a Seafood Tower are just a few of the menu items that make this a special dinner out.
Truman Cafe & Custard
This is the perfect spot to grab breakfast, lunch, or a sweet treat. Truman's is open from early in the morning through the mid-afternoon. In the summer, a walk-up window that serves ice cream stays open through the evening hours.
Uncle Buck's Fish Bowl & Grill
Uncle Buck's is the ultimate in family comfort food. Located in Fun Mountain, the restaurant offers giant pretzels, fried pickles, pizza, and burgers. This is a great spot to order a pizza and pick it up if you want to eat in one night.
Types Of Travelers At Big Cedar Lodge
When I first traveled to Big Cedar Lodge, it was very much a multigenerational family or couple's getaway. Recently, I've noticed more groups of girlfriends enjoying the relaxed location, and of course the spa, as well as guys visiting to play the courses designed by some of golf's greatest players.
Pet-Friendly Information
Big Cedar Lodge does not allow pets.
Tips On Booking Accommodations
Online booking is available and easy to do. When booking, be sure you're choosing a room that's directly on the Big Cedar property if that's what you desire. Lodging options are also available at Camp Long Creek, Payne's Valley, and Angler Lodge. While all are near the resort, each would require a short drive to access Big Cedar.
What Is Near Big Cedar Lodge?
Branson
Big Cedar is located just 9 miles south of Branson, which means you're close to an immense amount of live entertainment. Before Johnny Morris bought the Big Cedar property, my family vacationed in Branson and loved seeing the Baldknobbers and Presleys' Country Jubilee. They're still performing as are dozens of other entertainers that many people travel to Branson specifically to see each year.
Historic Downtown Branson
A trip to Branson really isn't complete without a visit to Historic West Main Street. One of my favorites is Dick's 5 & 10 which has been attracting visitors for 60 years. You step back in time when you walk through the front door and you'll leave with items you didn't know you needed.
Branson Landing
While exploring Branson, shoppers won't want to miss Branson Landing. Anchored by its signature fountains, Branson Landing is home to an eclectic combination of shops and restaurants, including Paula Deen's Family Kitchen, Bass Pro Shops, Ozark Home, and Smith Creek Moonshine.
Silver Dollar City
Silver Dollar City has something for everyone — roller coasters to thrill, crafts, and comfort food. It's a great way to spend a day and the kids will love it. It's especially amazing in the fall and winter when it's decorated for the holidays. If you visit, be sure to enjoy a delicious loaf of Clara Belle's Cinnamon Bread. Simply sinful!
Dogwood Canyon Nature Park
Dogwood Canyon sits 25 minutes west on Highway 86. It's 10,000 acres of wildlife-filled rolling hills. There's trout fishing, horseback riding, biking and hiking trails, and wildlife tours. Before you leave, enjoy a bite to eat at the Mill & Canyon Grill Restaurant, which sits next to one of the park's waterfalls.
One Thing I Would Change About Big Cedar Lodge
Cookies! When we first visited Big Cedar, a highlight of each day was the delivery of fresh cookies. Every day, staff carried a basket full of goodies and delivered them to each room. To be honest, the cookies were just alright. But they never went to waste, at least in our room, and it was a moment the kids looked forward to every afternoon. During our most recent stays, we received cookies when we first checked in, but not again.
One Thing You Absolutely Can't Miss At Big Cedar Lodge
It's practically impossible to pick just one thing, but we make time to enjoy brunch at Osage Restaurant every time we visit. I also love the sunset ceremony at Top of the Rock. The crowds have become a bit much, so get there early or see one of my tips above for better viewing.
Would I Stay Here Again?
I've visited Big Cedar every summer for the last 10 years. While we've traveled to Europe and throughout the U.S. and Canada, Big Cedar holds fond family memories and I often envision the years to come as the boys get older. Hopefully, we'll bring new generations to Big Cedar.
For more hotel reviews, check out these articles: