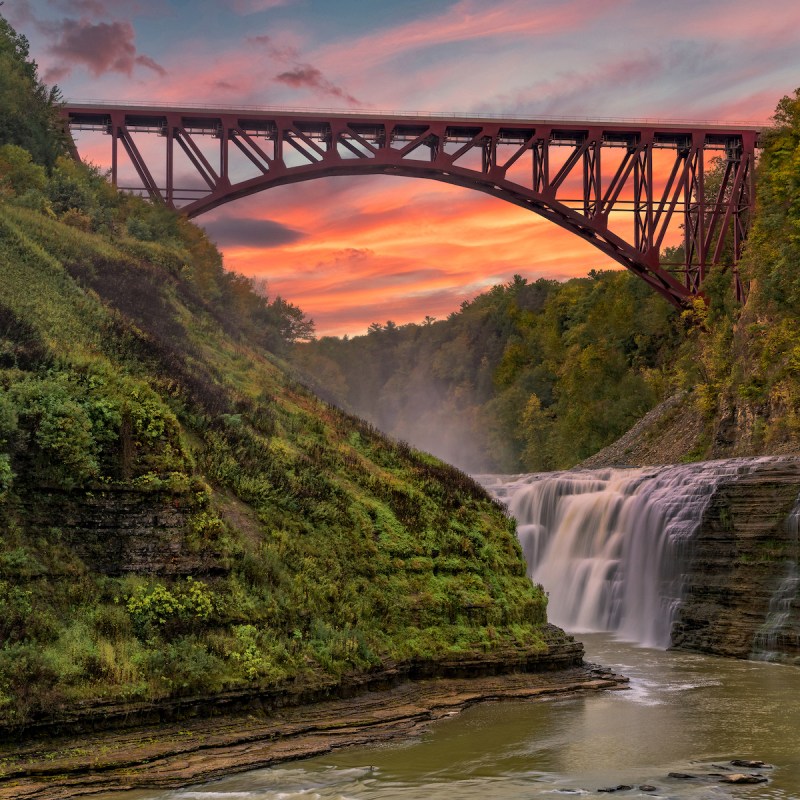 Night was creeping up quickly in the deep forests of Letchworth State Park in central New York's famed Finger Lakes region. Our trail ride with Nunda Ranch Resort near Mount Morris ran longer than expected, so we didn't get to the park until dusk.
This was our last full day in New York's Finger Lakes region, the last chance to hunt down jeweled waterfalls on our 10-day hosted road trip through the area. The day was gray with misty rain, but when the Upper and Middle Falls of Letchworth came into view, everything else disappeared.
During those 10 days exploring the Finger Lakes, we jumped from state park to state park hunting waterfalls, speeding down mountains on zip lines and mountain coasters, apple picking, sipping the exquisite wines of the region, soaring over the changing leaves in a glider, and learning about New Yorkers who changed the face of history.
The Finger Lakes region of New York is home to more than 130 wineries and 9,000 square miles of Mother Nature's prettiest shorelines, waterfalls, and gorges. Here were my four favorite experiences on a road trip through the Finger Lakes.
1. Rochester
Rochester, New York is the biggest city in the Finger Lakes region and home to the Frederick Douglass International Airport, which is the easiest way to fly into the area. With a wide range of culinary offerings, festivals, shopping, family-friendly attractions, historic sites, and museums, it's a perfect spot to spend a couple of days before embarking on the road.
Explore And Kayak The Erie Canal
Even in my home state of Oklahoma, I had heard of the 200-year-old engineering marvel that is the Erie Canal. Dug out by hand and completed in 1825, this 362-mile canal runs east to west between the Hudson River and Lake Erie.
In the pretty little suburb of Fairport, we had the option to kayak the canal with Erie Canal Boat Company, which is also the only adaptive kayak and bike center in the United States. Even those with mobility issues or spinal cord injuries can enjoy the canal on bikes, trikes, and kayaks especially designed for inclusive adventures.
One of the most popular features of the Erie Canal through central New York is the Erie Canal towpath, part of the Empire State Trail. This trail goes through all kinds of parks and villages and is a great way to know more about this historic feat of engineering.
Play And Learn At Rochester's Museums
Who knew that a museum dedicated to the art of playing could be so much fun for adults as well? One of my absolute favorite stops in Rochester was the Strong National Museum of Play, which explores the history and importance of play in our society. From a new installation that highlights the evolution of pinball and video games to a vast collection of historic toys and dolls, I could have spent all day here simply playing.
Gearing up for the April 2024 full solar eclipse — which spends the longest time in totality in North America over Rochester — the Rochester Museum and Science Center and its Strasenburgh Planetarium have plenty of ways to learn more about the universe and other fascinating wonders.
Other museums to check out include the Rochester Contemporary Art Center, Genesee Country Village and Museum, the photography legend of George Eastman at the George Eastman Museum, and the Susan B. Anthony House and Museum.
Hunt Down History
As a modern woman enjoying the right to vote, I am ashamed to say I didn't know as much about women's rights and suffrage activist Susan B. Anthony as I should. That all changed with a visit to the Susan B. Anthony House and Museum in Rochester.
A guided tour through the house is an eye-opening experience into the life of the person credited for helping women get the right to vote.
A self-guided Frederick Douglass Walking Tour in Rochester brings visitors to 13 life-size replicas of the famous Frederick Douglass Monument in Highland Park at various locations around Rochester. The tour celebrates his work to end slavery and push for equal rights.
In Auburn, we discovered more equal rights and freedom at the William Henry Seward House Museum and the Harriet Tubman Home. Both museums were eye-opening explorations about the bravery and sacrifices of those who fought against slavery.
Pro Tip: To see the graves of Susan B. Anthony and Frederick Douglass, a tour through historic, gorgeous, and vast Mount Hope Cemetery is a must. Wear good shoes, as this resting place is hilly and has uneven historic paths.
2. The Flavors Of The Finger Lakes
As we ventured to explore the Finger Lakes region, our first stop was at Lagoner Farms, a fifth-generation farm and orchard selling apples and produce in Wayne County since 1909. Besides picking giant apples right from the trees, we also sampled a selection of hard ciders at the Embark Craft Ciderworks taproom.
The Finger Lakes region is famous for its wineries and we explored those as well. While there's no way to hit all 130 wineries, we did sip crisp rieslings and smoky cab francs at Weis Vineyards and Living Roots Wine + Co — the two newest wineries on Keuka Lake. The darling purple and teal Inspire Moore Winery in Naples, New York, also tickled our palates with joy.
More apple picking can be done at the Apple Barrel Orchards in Penn Yan, but a stop at Seneca Farms for their fall-inspired homemade ice cream flavors is also a treat.
Pro Tip: If you are staying anywhere near Penn Yan or Naples, you must book a night at The Wine Trail Covered Wagon. This glamping wagon comes with heat and air, a queen-size bed, and a full bathroom; hearing the rain on canvas at night was magical. When you get to Naples, be sure to check out the Naples Hotel for brunch and a stay in this restored (and haunted) hotel.
3. Sky-High Adventure
Fall may just be the perfect time to visit the Finger Lakes and thousands flock to the area to take in the changing colors of the trees during an annual leaf-peeping pilgrimage. But, on this road trip, we went beyond the road for a more adventurous look at the blazing hues.
Fly High In A Hot Air Balloon
Balloons Over Letchworth gives the best views of the changing colors and stunning waterfalls at Letchworth State Park. Soaring above the canyon and along the roaring walls of Letchworth Park's waterfalls in a hot air balloon is a bucket-list adventure.
Pro Tip: The hot air balloon adventure is weather-dependent. Be aware and understanding if rain or wind causes rides to cancel.
Glide Like A Bird In Elmira
Keeping to the skies is easy in the Finger Lakes, thanks to Harris Hill Soaring in Elmira. After learning all about the history of gliding at the National Soaring Museum, we took our own glider-plane excursions over Chemung County. Seeing the region from a two-seat, zero-engine glider was both heart-pounding and almost zen-like.
Zip Through The Air At Greek Peak Mountain Adventures
After spending a charming night at the Greek Peak Mountain Resort in Cortland County and its fully equipped loft hotel room, we kept the blood rushing with a fun and easy zip line ride at Greek Peak Mountain Adventures. The gravity-fed mountain coaster spun through the gorgeous mountain terrain.
Pro Tip: For a reward for your adrenaline-filled fun, stop at Hollenbeck's Cider Mill just up the road for freshly baked donuts and pies, candy, an apple cider slushie, and great souvenirs. Also, don't forget to book a calm and relaxing trail ride with the horses at Nunda Ranch Resort to see the forests on horseback.
4. Natural Adventures
By far, the waterfalls and natural areas in the Finger Lakes were my favorite parts of the road trip. We spent hours hiking through gorgeous gorges and forests at Buttermilk Falls State Park, Watkins Glen State Park, Letchworth State Park, the newly-restored Camp Beechwood State Park, the Keuka Outlet Trail, the Cummings Nature Center, and Fillmore Glen State Park. Each park had stunning views of the fall foliage, waterfalls so pretty they make you cry, and lots of opportunities to hike.
While fall is apple-picking and leaf-peeping season in the Finger Lakes region, it's an astonishing road trip adventure any time of year.