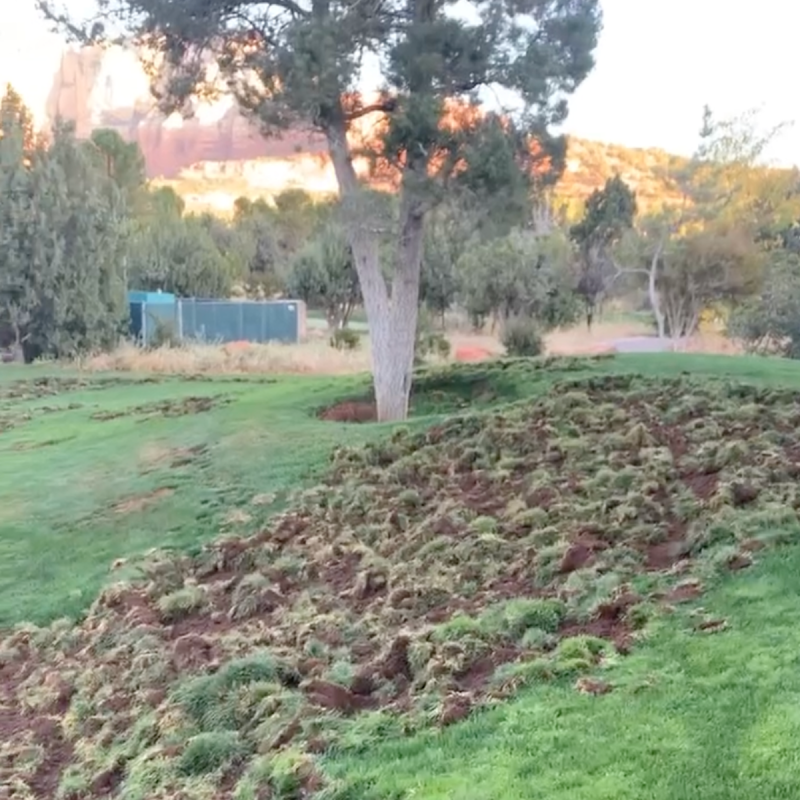 A video surfaced Monday showing parts of a top-rated golf course in Sedona, Arizona, after they were destroyed by Javelinas, pig-like creatures with a name that sounds similar to a type of missile. 
In a video posted to X, Em Casey, the assistant superintendent at the Seven Canyons Golf Club, showed how the javelinas ripped up grass along the course.
"Come along with me on my carnage (I mean course) check this morning. What should be one of the most beautiful golf courses in the country is being destroyed by herds of javelina," Casey wrote as an introduction to her video. 
According to the more than 1,300 comments, Casey explained that she's "100%" sure it's javelinas doing the damage and not wild hogs because she's "watched them do it." 
"We've got between 100-150 of them. Somewhere between 4-5 herds surround the golf course property," she added. 
Although javelinas primarily eat plants — they're actually known for eating cacti — they sometimes eat insects, garbage, and grubs.
Casey explained that she thinks the javelinas might be trying to dig up earthworms because she and her team spray the grounds multiple times a year and they don't find any evidence of grubs in the damaged grass. 
While Casey asked followers on X for help finding a solution, she also said that she's been in contact with the Arizona Fish & Game to find a non-lethal solution to the problem. 
"I wouldn't wish this in my worst enemy…it's been rough to say the least," Casey said, adding, "Hopefully we find some kind of solution soon! I know y'all are tired of it too."
Article updated Wednesday, Oct. 25, 2023 at 2:16 p.m. Eastern