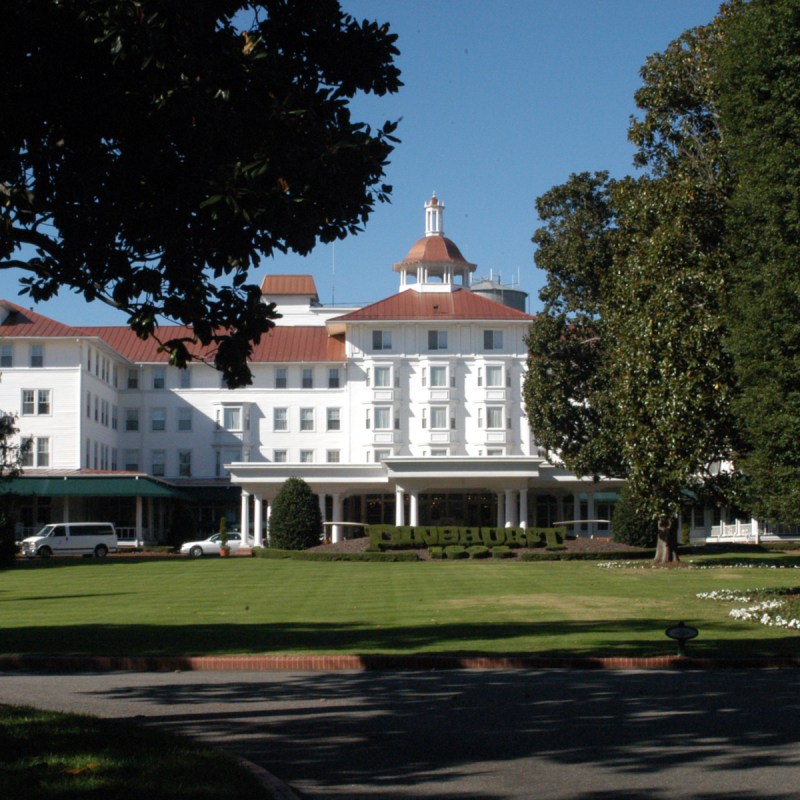 Pinehurst is the original golf resort. It has been open for more than 125 years and yet the idea is still being copied around the world: Find a great piece of land, develop lodging around multiple golf courses, and welcome visitors who want to experience a golf getaway.
The concept worked in other locations 100 years ago (like The Greenbrier in West Virginia, built in 1913) and it works today (like Bandon Dunes in Oregon, developed in the last 20 years). The original, though, is Pinehurst in North Carolina.
James Walker Tufts purchased nearly 6,000 acres in south-central North Carolina back in 1895, where he built an inn first and then started to develop golf courses. What was originally one golf course grew to nine courses on the property. The most famous, and the site of so much golf history, is the famed Pinehurst No. 2.
Designed by Donald Ross, Pinehurst No. 2 remains one of the greatest golf courses in the world. The 1999 U.S. Open, staged at Pinehurst, remains one of golf's greatest moments, with Payne Stewart sinking a putt on the 18th hole to defeat Phil Mickelson. Stewart would tragically die in an airplane accident only months later, and a statue of Stewart's celebration on the 18th green after sinking the putt is now one of the most well-known attractions at Pinehurst.
But Pinehurst is so much more than just its most famous course. Here's what you need to know before you visit Pinehurst.
Fly Into Raleigh-Durham
Pinehurst is located in a fairly remote area of North Carolina. As a result, it's not within an hour of any major airports. Drive-wise, Pinehurst is 100 miles from Charlotte, 125 miles from Wilmington, and 75 miles from Raleigh-Durham.
If flying in for your trip to Pinehurst, Raleigh-Durham is by far the best choice, not only because it's the closest airport, but also because the resort has a shuttle service that will provide transportation to and from the airport. If you're staying at the resort (and you should), ask about the shuttle timing when you make your reservation. If the times can be aligned, it's possible you won't need a rental car for your trip. All transportation to and from the airport (and to and from the golf courses) can be provided by the resort.
Now, it's possible you'll want to explore other parts of the state on your visit, and if that's the case, you'll want a rental car. But if it's just a quick trip to get in a few rounds, let the resort provide all of your ground transportation.
Stay At The Carolina Hotel
There are four places to stay on the property. There's the original hotel, the Holly Inn, built in 1895. The recently renovated Manor Inn is a smaller, more secluded property. And then there are two- and three-bedroom condos available if you have a larger group.
But the crown jewel of the property is the Carolina Hotel. The hotel is closing in on 120 years in operation, so you're stepping into history when you exit your vehicle under the porte cochere. The hotel has 240 guest rooms, ranging from a single bed to massive suites, so you're certain to find the room type that will fit your needs.
The main reason to stay at the Carolina Hotel, however, is the experience. Pinehurst isn't just a golf trip — it's a journey back in time. Sitting on the veranda of the hotel with a drink after your round, much like someone might have done in 1920, connects you to all the history at Pinehurst. Or visit the Ryder Cup Room and take in the history of the 1951 Ryder Cup, which was held at Pinehurst. So much of golfing history is found right here.
Pinehurst No. 2 Has Been Restored To Its Original Design
Many golfers have visited Pinehurst several times. And most of them have played the world-famous No. 2 course. But some might not know that it underwent a major renovation in 2011 and has been returned to its original Donald Ross design.
Pinehurst No. 2 hosted the 2014 U.S. Open, and in anticipation of that event, the resort decided to undergo a major renovation to the course. Over the years, design changes to No. 2 had taken it away from Donald Ross's original vision. So Bill Coore and Ben Crenshaw were hired to return the course to a design as close to the original as possible. Sandy "waste areas" that had been removed over the years were put back in, returning the course to its pine-trees-and-sand roots.
If you watched the 2014 U.S. Open on TV, you know how radical the changes were. The course looked nothing like the famous 1999 U.S. Open also hosted there. And golfers who have played it since the renovation have stated the same. It's still Pinehurst No. 2 — now it's simply better.
Explore The Area In A Complimentary BMW
As mentioned above, a rental car isn't required for your Pinehurst trip. You can take the shuttle from RDU airport and use the local shuttles from your hotel to the courses. If you're wanting to explore central North Carolina, then yes, you should rent a car. But if you just want to get out and explore for an afternoon, there's a third option: the BMW Guest Drive program.
This program allows guests and members at Pinehurst to use a complimentary BMW for three hours. You more or less get a three-hour BMW test drive, free of charge. So if you took the shuttle from the airport but you want to drive into Southern Pines for dinner one night, the BMW Guest Drive program is your solution.
Vehicles are available on a first-come, first-serve basis, so talk to Resort Services at the hotel about the times when you would need the vehicle.
It's Best To Book A Package
The best way to book your trip is to book your lodging, golf, and other resort services as part of a package. There are multiple packages available on the Pinehurst website for you to peruse. Some examples:
The Bed And Breakfast Package can be booked for just one night or as many nights as you want. Each night purchase includes your room, breakfast, and a round of golf. Stay three nights and it's three rounds of golf and three breakfasts (plus three nights at the hotel).
The Donald Ross Package includes three rounds of golf and two nights. A common itinerary for this package would be to arrive in the morning and play one course, spend the night, play a second course the next day, spend a second night, and play a third course before departing the following afternoon. Both breakfast and dinner are provided with this package as well, so all you'll have to worry about is lunch out on the course.
Pinehurst Now Has A Putting Course
In 2012, Pinehurst added an 18-hole putting course called Thistle Dhu (meant to sound like "this'll do"). So if your group only includes a few golfers, but everyone wants to try something golf-related, this is the perfect opportunity.
Thistle Dhu is not a mini-golf course. You won't find windmills or astroturf. It's a massive putting green with hills and valleys and 18 holes laid out in succession. Much like a typical golf course, some holes are short and some are long. So you'll get a variety of "hit a slow putt down the hill" and "hit the putt as hard as you can over that next hill over there."
Pinehurst No. 4 Is The Newest Gem
One of the biggest questions asked when visiting Pinehurst: "I know that No. 2 is the course that everyone has to play when they're there, but I'm planning to play two rounds, so which course should be the second round?" Since the recent overhaul, the answer is likely No. 4.
World-famous golf course architect Gil Hanse was hired to redesign the course. In 2018, Pinehurst No. 4 reopened with a design very similar to the redesign of No. 2. Many say that what Bill Coore and Ben Crenshaw did for Donald Ross's design of No. 2, Hanse did for Ross's No. 4.
The original character of the course has been restored with many of the similar sandy "waste areas" around the course. So much like No. 2, the sand-and-pine-trees feel that has been the history of Pinehurst has been brought back to No. 4 as well.
It's Not Just Golf
Pinehurst is a fully functioning resort, so even though golf is at the center of it all, golf isn't the only activity on the table when you're staying at the resort.
For starters, Pinehurst's spa is almost as famous as the golf. There are spa packages just like there are hotel packages, so many couples put together a package where one person spends the day golfing while their partner spends the day at the spa and they meet up for dinner (also included in the package) after their separate activities.
There are many activities beyond the spa and golf packages as well. Pinehurst has competition croquet and lawn bowling courts, tennis courts, a shopping village, pools, bicycle rentals — you name it, they have it. You can review all of the activities at Pinehurst here.
As you can see, Pinehurst has everything you need for an amazing getaway. Even if they don't golf, bring the whole family; there's something for everyone.
Want to golf further north? Read our planning tips for a Nova Scotia golf adventure at Cabot Links.
Planning a North Carolina getaway? Don't miss the five best ways to spend a day in Charlotte, NC.