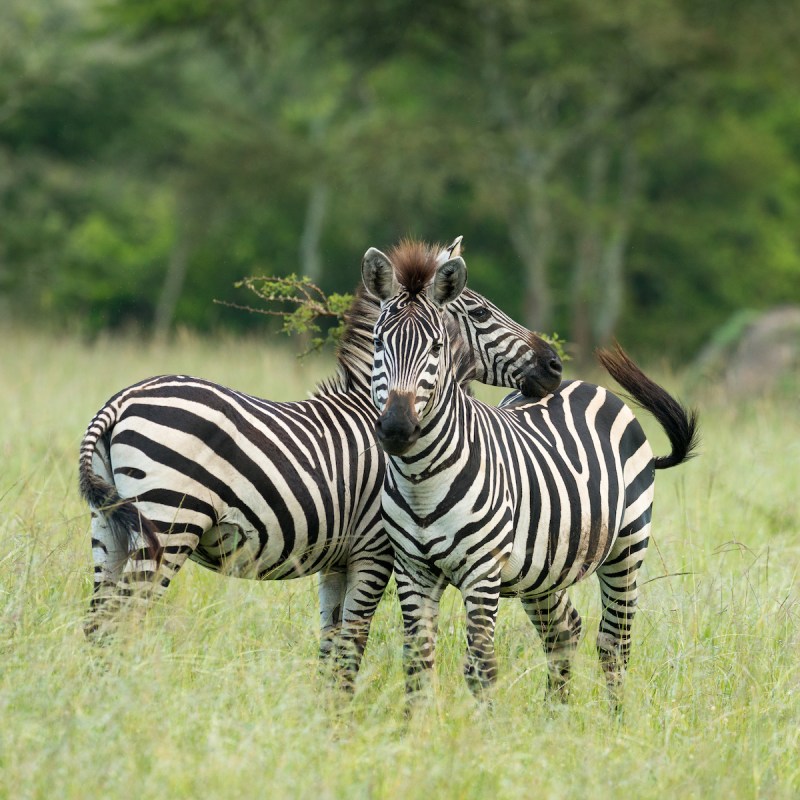 When I booked my brief trip to Uganda, I have to admit that I had no interest in spending my time trekking through the jungle to see gorillas. But I did want to see some animals; after all, this was Africa. One tour seemed to offer not only a game drive but also a boat trip on Lake Mburo. They picked you up from the hotel, allowed you to hop between two hemispheres, and offered the chance to see various local animals, from zebras to hippos to countless birds.
With Lake Mburo National Park lying more than 150 miles to the southwest of Entebbe, it was going to be a long day: a scheduled 16 hours, with some 12 hours of that driving, and a very early start (a scheduled 5 a.m. pick-up, even if our driver did not turn up until 6 a.m., which was somewhat annoying). But, in the end, quite a few boxes were checked.
Here are my favorite experiences of the day.
1. Hopping Across Hemispheres
I had crossed the equator before, but I had never done it on foot, being able to have one leg in the northern hemisphere and the other in the southern; summer to winter in one easy step. Silly, but fun, and combined with a great breakfast of a Rolex (one of my favorite food experiences in Uganda), it was a great little break. This being a tourist hotspot in Uganda — but still hardly anybody there — there was also a good selection of arts and crafts shops for those essential gifts and souvenirs from your trip.
2. Safari Drive
Just a few 100 yards after turning off the main road, there were zebras even before we entered the official national park. Within the park, standing on the backseat of the minivan — which had a roof that could be opened just for this occasion — there were countless gazelles and antelopes, water buffalo near the lake, warthogs, and what looked like a ground squirrel. There are normally giraffes near the route we used, but there had been some controlled burning of the bush recently. The giraffes had moved to the further-away side, so I did not see any on this trip. But the many zebras, impala, and gigantic elands made a good impression.
Overall, this game drive was very different from the one I went on in the Masai Mara in Kenya. The drive was in a little open Jeep with the wide-open savannah ahead, where animals were so much easier to spot. Here, the land is quite overgrown, making it easier for animals to hide, so you have to keep your eyes peeled.
3. Lunch By The Lake
Despite being a little rushed due to the late start in the morning, the setting of this basic open restaurant right by the lake was lovely, with hippos grunting and snorting nearby. Having previously fallen in love with the local tilapia fish, the fish filet with a freshly grated coleslaw was perfect: light, refreshing, and healthy.
Sitting by the table, I watched a very lazy family of warthogs moving along on their bent elbows, snouts plowing through the sand and patchy greenery of the car park. They were obviously too lazy to walk on all fours and occasionally bend down. They weren't shy, either, and people snuck up to them despite their fearsome-looking tusks.
4. Hippos
You would not believe quite how excited an old(er), well-traveled woman could become upon seeing her first hippo. I admit it, I clapped my hands and shouted, and the grin on my face did not relax until much, much later. Not only were there countless bloats of hippos — yes, that's what a group of hippos is called — but also, my very first one was mere steps away from the beach of the lake. It kept popping its head up, wriggling its little ears, and looking at me as if to say: "What? Never seen a hippo?" No!
During the boat trip, I saw many more; whole families with the little ones surrounded by the larger members of the group, looking out for those gigantic crocodiles that reportedly eat baby hippos. The ones I saw certainly were big enough to tackle a small hippo. Overall, this was my personal highlight of the day, as I had seen many animals in the wild before, but never hippos. I now have a little carved soapstone hippo on my bookshelf as a souvenir.
5. Boat Ride
After the brief lunch interlude, it was time for the boat trip. There are two types of boats: one larger boat with two floors and a small one with just enough seating for 8–10 people. I went on the smaller boat as the place was certainly not overrun with tourists despite my visit coinciding with the tail end of the best seasons to visit (December–February and June–August). The other travelers were a couple from Italy and three friends from Finland, all dedicated birdwatchers.
6. Birds
Being surrounded by enthusiastic twitchers, or birdwatchers, I soon realized that I should have been more organized and brought binoculars. Everybody else had them, plus enormous lenses on their cameras, whereas I tried to zoom in on my cell phone. But all in all, I saw lots of birds, some huge, like the Marabou stork, and others small, like darting kingfishers. The easiest to spot, even if they were supposed to be elusive, were the beautiful African fish eagles, always in pairs and sitting at the top of their trees, guarding their vast nests. The ranger dedicated to our group told us about all the different species, even pointed out the many crocodiles, and talked about the unique habitat that makes Lake Mburo National Park such a haven for birds and other animals. He was open to questions and very knowledgeable indeed.
7. Longhorns And "Normal" Cows
I know that many countries, including the U.S., have longhorn cattle, but apart from the hippos, I was most taken back by the Ankole longhorns of Uganda. Their horns were unlike anything I had ever seen before, truly impressive. But what I loved most is that they seemed to live next to and intermingle with quite normal cows, belonging to farmers living on the outskirts of the national park, mixing up the wild with the domesticated and the "normal" with the exotic.
At one stage, we had to stop because five or six longhorn calves had settled down in the middle of the track and we could barely get past, especially not with their family — and their horns — watching us closely. I never thought I'd be impressed by some cows, but there you have it.
Overall Verdict
This is a long day trip, especially if you start from Entebbe instead of Kampala, which adds an extra 45 minutes or so to the drive each way. And, while I really enjoyed all my experiences during the day, I have to be honest with you. Basically, long hours in the car or not, the tour really lives and dies with your driver. Mine was a lovely, very chatty, and friendly guide, but he not only turned up late, risking the day's timeline so that we nearly and quite literally missed the boat, but he was also a truly awful driver.
Driving in Uganda is not for the faint-hearted, so the occasional recklessness was not the problem. Instead, it was the fact that he accelerated, then braked, accelerated, then braked. Sitting in the back, I felt sick all day long. Then, he "knew" a shortcut to get back to the hotel faster, but immediately started to ask for directions and got utterly lost, adding an hour or so to the day. In the end, it was my husband who guided us home using international roaming on his phone.
I went on other tours, with other drivers, and the rides were smooth and enjoyable. So, beware. The driving on this tour could be comfortable, or it could be quite torturous. But overall, the experiences, in my mind, were still worth it.