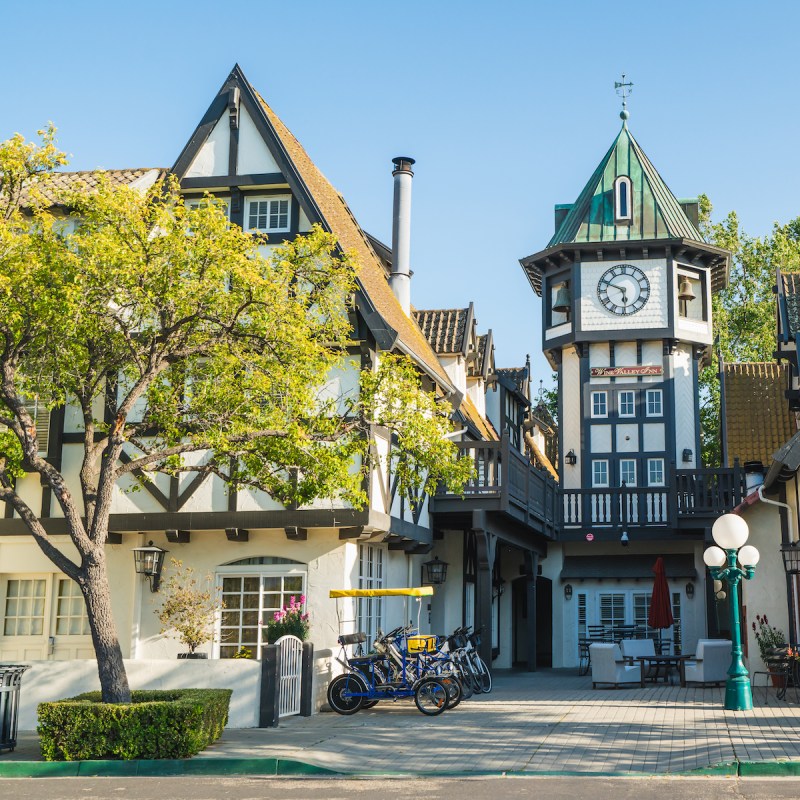 I love international travel and am always eager to hop on a flight to explore another country. But the combination of costs and jet lag often make international travel unappealing. Fortunately, there is an alternative. With a short drive — or sometimes a quick flight — it is possible to get a taste of another culture.
When I need an international travel fix, I have a handful of cities in mind. Each evokes memories of far-off destinations with food, music, art, and architecture that transport me.
These are my go-to cities when I want to feel like I'm on a different continent.
1. Solvang
A few years ago, I was fortunate to visit Denmark and fell in love with the country. But I'll admit, it was one of my most expensive trips. So when I need a bit of Danish culture, I take a drive to Central California to visit the small town of Solvang.
Started in 1911 by a community of Danish Americans, this small town is home to a variety of museums, bakeries, restaurants, shops, and wine-tasting rooms, making it the perfect place to spend a day. Stroll the village streets where you'll see half-timbered buildings with wood-shingled roofs, colorful shops selling Danish goods, and of course, windmills.
My favorite thing to do in Solvang is eat. I specifically come here to eat all the traditional Danish pastries including aebleskivers, flodebollers, and stroopwafels. If you need a break from eating, pop into the Hans Christian Andersen Museum to learn more about the man who wrote those childhood classics like The Ugly Duckling and The Emperor's New Clothes.
2. Santa Barbara
Several years ago, my husband and I spent a lovely week in Barcelona, Spain, and we didn't want to go home. Fortunately, there is an American city that was settled by the Spanish in the late 18th century and has maintained its Iberian culture. Santa Barbara features Spanish Colonial-Revival architecture, easily recognized by its red-clay tiled roofs.
Stroll through El Presidio de Santa Barbara State Historic Park, where the city began in 1782, and then head downtown for some shopping and dining in the historic Presidio neighborhood. If you're ready for traditional tapas and paella, be sure to make a reservation at Loquita.
3. New Orleans
If you're eager to visit a place reminiscent of France, but also want to party, then New Orleans is definitely your destination. And there's no better place to start than in the city's legendary French Quarter. Here, you'll find red-brick buildings accented with decorative wrought-iron railings.
Start your day at the French Market to grab a bite to eat or shop for souvenirs. Explore Jackson Square, check out the New Orleans Voodoo Museum, and take a break for beignets at Café Du Monde.
But New Orleans really comes to life after dark. If you're feeling brave, book a ghost tour to learn about the city's paranormal activity. And no matter what else you do, definitely spend some time listening to live jazz at one of the French Quarter's numerous bars.
4. Quebec City
Many people believe Paris to be the most romantic city in the world, but quite frankly, I haven't been back in over a decade. It's a long flight for someone based in California and it's seriously expensive. I prefer to visit Canada's province of Quebec; more specifically, Quebec City (though I also adore Montreal).
Unlike the other cities on this list, the locals actually speak French, so it really feels like another country. Anytime I'm here, I start by strolling through the streets of Old Quebec, designated a UNESCO World Heritage Site in 1985. The narrow streets are lined with small shops and homes with the famous Le Château Frontenac frequently in the background.
After all that walking through the old town's hilly streets, I'm ready to eat. My favorite bakery is Paillard, selling a wide variety of delicious, flaky croissants. For a heartier meal, head to Le Lapin Saute, a cozy spot specializing in French food, but with a focus on a Quebecois specialty — rabbit.
5. San Juan, Puerto Rico
If you're craving a taste of Spain with a Caribbean influence, then Old San Juan in Puerto Rico is for you. Alternatively, if you've always wanted to visit Old Havana, but don't want to deal with the hassles of getting to Cuba, San Juan is the perfect option. Whatever your reason for visiting, U.S. citizens don't need a passport, so travel here is much quicker and easier.
The current location of Old San Juan was built around 1521, so there are centuries of history here that won't be completely experienced in just one trip. But I recommend starting with a casual walk through the blue brick streets lined with brightly colored buildings. You'll find a mix of Gothic, Renaissance, and Baroque architecture.
While this neighborhood feels like Spain, the food is definitely Puerto Rican. So take the time to pop into a restaurant like Deaverdura for a popular traditional plate of mofongo. And don't leave Old San Juan before visiting the purported home of piña coladas — Barrichina.
When you're craving an international experience, but have neither the time nor budget, consider an option closer to home. There are plenty of North American cities that will provide that far-away-from-home feel, but with far fewer hassles.