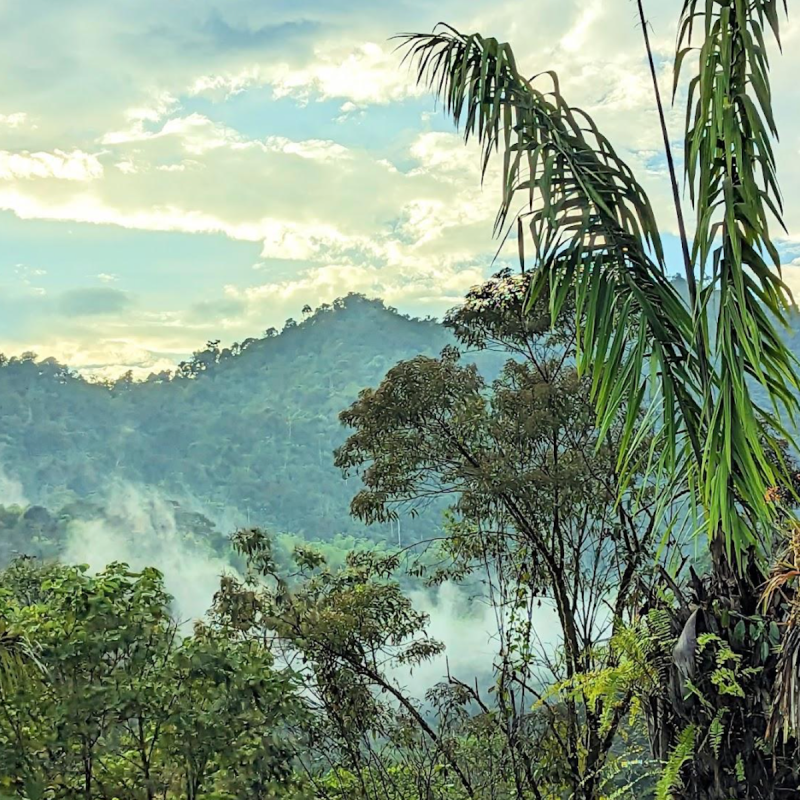 Even though Ecuador occupies a small landmass — roughly the size of Colorado — it is one of the most biodiverse countries in the world. There are four distinct geographic regions: the Andes mountains, Amazon rainforest, 1,200 miles along the Pacific Coast, and the famous Galapágos Islands.
The Andes, which run like a spine through the middle of the country, are dotted with pockets of picturesque ecosystems called cloud forests. These lush, verdant "tropical jungles in the sky" occur at higher elevations and host abundant flora and fauna.
For nature lovers, and particularly ones interested in birding, we highly recommend a visit to Ecuador's magnificent cloud forests. To stimulate your imagination, here is a look at two very special ways we have had the opportunity to experience this breathtaking slice of paradise.
We were hosted by these properties. All opinions are our own.
1. Mashpi Lodge
Located within the remote Mashpi Rainforest Biodiversity Reserve about a 3-hour drive northwest from Quito, Mashpi Lodge is Ecuador's most unique luxury property.
The site of a former logging camp, the triplex lodge featuring 22 rooms and three suites was conceived with such passion for maintaining the pristine environment that not a single tree was cut. To minimize disturbance of the land, much of the structure was prefabricated in Quito and assembled on site.
The visually striking design is modern and minimalistic. "We want the lodge to be quiet but dramatic," owner and former Quito mayor Roque Sevilla says of the concept. "We don't want to compete with Mother Nature."
Accommodations feel like spacious treehouses with a dense jungle landscape literally right outside floor-to-ceiling windows. All meals are served in the towering two-story dining room and bar. The SAMAY Wellness Center, with an outdoor yoga deck and open-air hot tub, offers a wide variety of beauty and body treatments.
Mashpi provides highly-trained naturalist guides to ensure your experience exceeds expectations. After arriving and settling into our room, we hiked to the Life Center where native butterflies are studied and bred. The wings of one species were remarkably about the size of your two hands!
Getting up at dawn the following morning was not our normal schedule, but going bird watching from the rooftop terrace required an early start. Professional equipment was provided, as well as warm, freshly-baked treats, hot coffee, and tea. This special viewing opportunity just steps away from our room and hearing the concert among the trees was a lovely way to start the day.
After breakfast, we were off again, this time on a challenging hike to the Healing waterfall, one of the most beautiful on the reserve. Upon arriving, some of our group jumped in to cool off, but the temps were a bit chilly for us.
The toughest part of a long hike is that, upon reaching your destination, you have to walk back. We were exhausted when we returned to the lodge, so while the others attended a lecture on Andean bears, our afternoon agenda consisted of napping and taking a trip to the hot tub with a nice bottle of wine.
The Dragonfly, an open-air cable car system across the forest canopy, offers an unforgettable, 360-degree view of the reserve. Each gondola can carry up to four guests and is accompanied by a guide. Being surrounded by wildlife in the treetops is a highlight activity not to be missed.
A final unexpected adventure was in store as we departed. Stopping near the entrance gate at the Hummingbird Garden, it seemed like all 31 species that have been identified were zipping around the feeding stations.
Out of curiosity, Cynthia placed a red petal in her hand from roses we had been given at checkout. Almost immediately, a hummingbird perched on her palm. What a memorable ending to an exceptional experience!
2. Mindo
Mindo, a longtime backpacker landing place, has blossomed into a popular destination for outdoor enthusiasts all over the world. Only 2 hours north of Quito, the mountains around this small village offer a cornucopia of bountiful nature, adventure, relaxation, and — chocolate.
Friends of ours who we met in Cuenca years ago bought a large parcel of land outside of town and have labored tirelessly to create their own Ecuadorian version of Shangri-la. They invited us to come stay in their riverside jungle retreat and, boy, are we glad we did!
What an ideal spot to combine Mindo's many activities with luxurious comfort, epic views, and total solitude. Located on a cliff overlooking the union of two rivers, the hand-built, thatched-roof bungalow is fully equipped and features surprising amenities like an outdoor shower and soaking tub. Wake each morning to the songs of Mindo's choir of 550 bird species.
Speaking of our feathered friends, hats off to Sandy Patiño at Bird Paradise Tours for flawlessly coordinating all of our activities and excursions. Like at Mashpi, our birdwatching started at dawn, and with Sandy's sharp eye, we were constantly spotting all sorts of birds, including two species of toucans.
After a "tailgating" breakfast set up on the back of our driver's pickup truck, the next stop was a hummingbird park. This time, both of us had the chance to feel the tiny birds shyly sitting on the palms of our hands drinking nectar from teensy cups.
From there we drove to Mariposas de Mindo butterfly garden, a large netted facility where thousands of butterflies flutter all around you. After a short film explaining the group's mission and the life cycle of these beautiful insects, we were free to roam the grounds.
More than simply an exhibit, Mariposas de Mindo calls itself a "farm" that has helped sustain the many species of butterflies in the cloud forest through reproduction and conservation for over 25 years. One section has hundreds of chrysalises hanging in rows. We stared in wonder watching a new butterfly emerge, while others flexed their wings before taking their first flight.
It was quite magical to wander through the flower gardens with all these colorful creatures flitting about. We could have stayed for hours, but our packed itinerary required moving on to learn about artisanal coffee production at Quinde Coffee and Chocolate.
Our knowledgeable guide at this small family business took us through all the stages involved, beginning with receiving beans from select growers to enjoying the final product in your morning cup.
This was literally a hands-on demonstration, as we helped shake husks from the beans drying in wire trays. Then, after a much needed caffeine jolt from our coffee tasting at the end of the tour, we were off to the final stop of a very busy day — Yumbos Chocolate.
Did you know that chocolate originated in Ecuador? We learned that, at the artisanal level, the process of creating this delicious confection requires numerous labor-intensive steps.
We tried our hand at winnowing — letting nibs (small pieces of roasted cocoa beans) drop through our fingers while furiously fanning with the other hand to separate the husks. Our amateur efforts were amusing to watch but not very fruitful.
Before returning to Quito, we stopped at Armonia Orchid Garden on the grounds of the Cabanas Armonia hostel. This private collection of around 250 orchids focuses on tiny species at risk by human activity, some so small they are best viewed through a magnifying glass. Fascinating!
Mindo is not just about birdwatching and educational tours. Travelers seeking more of an adrenaline rush can soar over the cloud forest on 10 different ziplining circuits. Other exhilarating activities include tubing (go during the wet season, November through February, for maximum action); canyoning from the top of a waterfall; mountain biking; and even jungle paintball.
The unassuming town of Mindo offers so many ways to learn about and explore the rich biodiversity of Ecuador. Some find the natural world here so inspiring. Like our friends, they feel a deep connection and decide to make it their home. A visit to Mindo will certainly create lifelong memories.