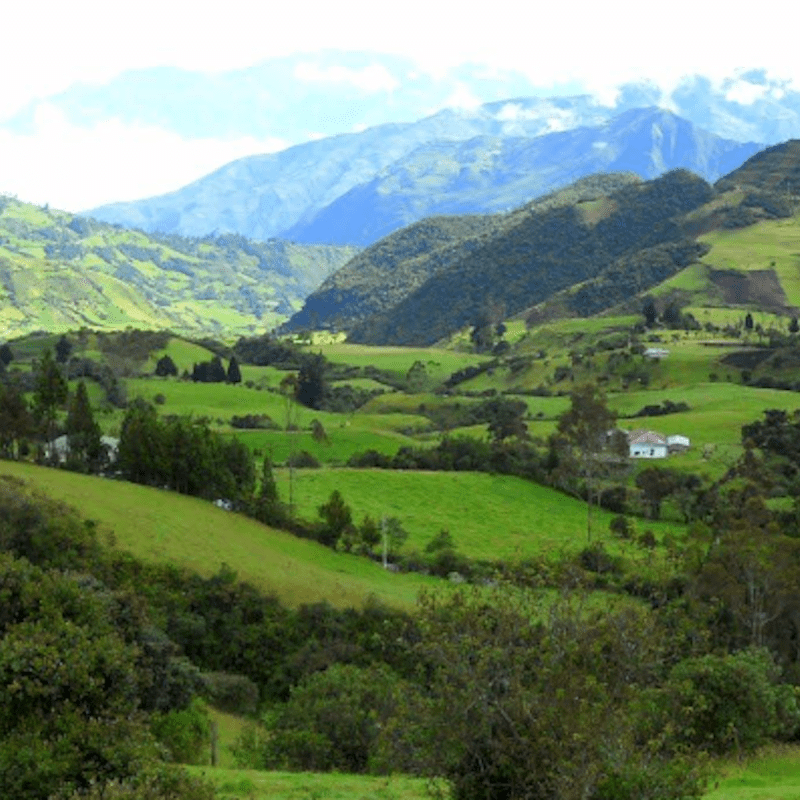 Quito, Ecuador, was the first location in the world recognized as a UNESCO World Heritage Site. With South America's largest and best-preserved Colonial center, there are a myriad of attractions vying for your attention.
If you have an extra day on your itinerary, consider venturing beyond the city's borders to experience even more of this country's rich culture and biodiversity. You will be rewarded with unexpected memories that will be cherished and long remembered.
Here are seven of our favorites.
Pro Tip: While intrepid travelers can try tackling these excursions on their own, we suggest letting a professional tour operator handle all the details so you can relax and enjoy the day.
1. Mitad Del Mundo
Ecuador got its name because the equator runs right through the country. Less than an hour outside of Quito, the Mitad del Mundo ("Middle of the World") attraction is a quick, fun trip with unique appeal.
Snap a photo while you are straddling the equator with a foot in each hemisphere. Amaze yourself as you balance an egg on the end of a nail. Go inside the Middle of the World Monument and virtual reality planetarium.
Did you know chocolate originated in Ecuador? Check out the Cocoa Museum to learn all about it and sample some of the world's best chocolate.
Here's some surprising news, especially if you've been overindulging in the fresh and flavorful food during your visit to Ecuador. Because of the combination of gravity and centrifugal force at the equator, you weigh as much as 2 pounds less than at other places. Not a viable long-term weight loss program, but still…
2. Termas Papallacta
Looking for a totally rejuvenating experience? Join the Quiteños (as citizens of Quito are called) who have been flocking to Termas Papallacta for over 30 years to soak in the resort's volcanic thermal pools. Surrounded by impossibly green Andes Mountains only an hour outside of the city, Termas Papallacta feels a world away from hectic civilization. The minerals found in thermal water have been known for centuries to stimulate blood circulation, ease joint and muscle pain, and improve chronic skin conditions.
Choose from two daily admission options (half price for 65+): $10 for the general pool complex or $23 for exclusive smaller pools with special features at the spa.
Whichever you select, the soothing therapeutic waters and serene, secluded environment are guaranteed to induce a state of profound relaxation. Deepen your tranquility by opting for the spa's signature chocolate body wrap.
Try traditional Ecuadorian cuisine like locro de papa (potato soup with avocado and cheese) at the Sunfo restaurant, which overlooks the Spa pools and nearby mountains.
Stay Overnight
Too blissed out to leave? Book a cozy cabin complete with a fireplace and heated floors. Private, intimate, beautifully landscaped pools right outside your door are available 24 hours a day for overnight guests.
3. Mindo
A trip to Mindo is an exceptional experience you must book if you are a nature lover. Located 2 hours northwest of Quito in a cloud forest ecosystem, this tiny village offers a supersized lineup of outdoor activities.
Situated in a valley with lush tropical mountains in all directions, Mindo's spectacular scenery alone is worth the drive. Rivers, waterfalls, hummingbirds, butterflies, and 550 species of birds are everywhere.
Book excursions through Sandy Patiño at Bird Paradise Tours for a flawless itinerary. Thrill seekers can climb into a Tarzan swing or go white-water rafting, ziplining, and canyoning. More leisurely pursuits include hiking, coffee and chocolate tours, orchid gardens, and butterfly sanctuaries.
Stay Overnight
Birdwatching is the #1 activity in Mindo. Because of the early morning start required for optimal viewing, an overnight stay is necessary. We highly recommend a completely unique accommodation a short distance outside of town. The view, amenities, and food are so special that you won't want to leave!
4. Otavalo
Find the perfect gifts and souvenirs to take home from your trip to Ecuador at the world-famous Otavalo Market. Known to locals as Plaza de los Ponchos, this is the largest Indigenous market in South America.
Ancestors from the area have been weavers since pre-Incan times. While colorful alpaca textile products are the main attraction, almost any artisan product you can imagine is on display — embroidery, jewelry, Panama hats, guitars, leather items, paintings, and so much more.
Although the market is open 365 days a year from 7 a.m.–6 p.m., try to go on Wednesday or Saturday when the most vendors, and the biggest crowds, are there. Take your time, compare items at different booths, then gently haggle (it's expected) to get the best prices.
Stay Overnight
Worn out after all that shopping? Treat yourself to a stay at Hotel Otavalo, the town's only luxury boutique hotel. The almost 100-year-old building has been completely renovated with a harmonious blend of old and new.
5. Cotopaxi National Park
At an elevation of over 19,000 feet, Cotopaxi is the highest active volcano in Ecuador and one of the highest in the world. A 2-hour drive from Quito, this magnificent snow-capped peak is one of Ecuador's most iconic landmarks and a must-see day trip.
While climbing activities have been halted due to recent eruptions, as of this writing, the Cotopaxi National Park is open each day from 8 a.m.–3 p.m. Enjoy hikes tailored to your needs, beginner-to-expert-level horseback rides, and biking. Spot Andean gulls, hummingbirds, and even wild horses at Limpiopungo Lagoon, a stunning glacial lake at the base of the Cotopaxi Volcano.
Stay Overnight
Secret Garden Cotopaxi offers a variety of one-of-a-kind accommodations, from glamping to "birdhouses" to hobbit homes. Three meals are included daily, as well as assistance with the booking of many activities offered in the area.
6. Quilotoa
An off-the-beaten-path destination well-worth visiting is Quilotoa Lake, a 3-hour drive from Quito. The 2-mile-wide lake was formed after the summit of an active volcano collapsed following an eruption in 1280, which is considered the most violent on the planet in the last 1,000 years.
The unusual emerald green tint of the water is due to a high concentration of volcanic minerals. The color changes throughout the day with the movement of the sun.
Dress warmly for this excursion because, at an elevation of 13,000 feet, the weather at Quilotoa is quite chilly. Breathtaking views and fantastic photos are guaranteed from a lookout platform above the lake.
Walk down to the water only if you are in great shape. Don't be fooled by the easy half-hour trek along the sandy path on the way down. The hike back up is extremely challenging due to the steep slope and thin air from the high altitude.
7. Baños
Extreme sport enthusiasts flock to Baños, the adventure capital of Ecuador. Think ziplining, class-IV-plus white-water rafting, canyoning, rock climbing, and bungee jumping off a bridge over a roaring river.
Since Baños is a 3-hour drive from Quito, most of these exciting excursions are not possible on a day trip. However, this recommended tour is well-worth taking. The views on the way, including a quick stop for pics of the Cotopaxi volcano, are breathtaking.
High above the town at La Casa del Arbol, you'll hop on a swing and go way out over the valley for a thrilling view of Tungurahua Volcano. Then, get up close and personal with the powerful Devil's Cauldron waterfall. It is an absolute beast!
Stay Overnight
Add another dimension to your Baños visit with an overnight stay at Samari Spa Resort. The hotel's history dates back over 300 years to the Jesuit community and much of the original architecture has been maintained. After all of those adventures, you will appreciate restorative treatments available at their onsite spa.