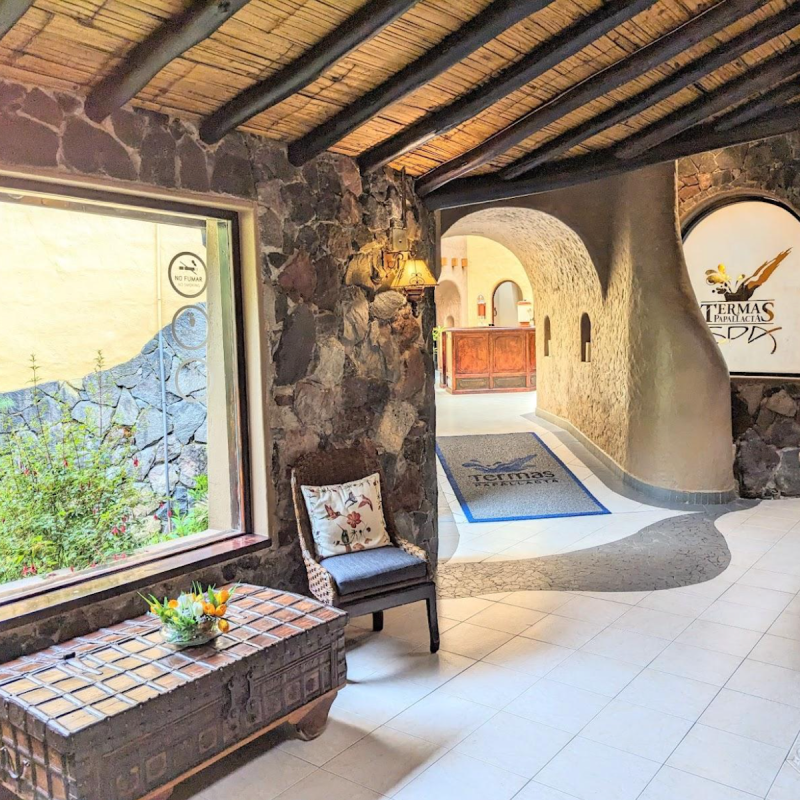 Quito, Ecuador — the world's first UNESCO World Heritage site and largest, best-preserved Colonial center in South America — is a history buff's dream destination. There is plenty on offer for nature lovers too, as the breathtakingly beautiful Andean countryside nearby teems with activities for every interest.
Accommodation options in Quito and the surrounding area range from back-packer hostels to international chain hotels. In between these two extremes is an enticing category of luxury boutique hotels with unique "personalities," distinctive service, and elevated cuisine.
We've had the opportunity to stay in six of the best — three in the city, plus three nearby — and are pleased to share this review for planning your exciting trip to Quito.
We were hosted by these properties. However, all opinions are our own.
1. Casa Gangotena
Located in the center of the historic district, Casa Gangotena is Quito's top luxury hotel and the only prestigious Relais & Châteaux property in the city.
Each of the hotel's 31 guest rooms is uniquely designed and sumptuously decorated with period antiques. Ours had ornately crafted 20-foot ceilings and large windows overlooking an intimate garden.
Adjacent to the palatial lobby, a glass-ceilinged interior courtyard is filled with plants, orchids, and cozy seating areas so inviting we didn't want to leave this oasis. However, Casa Gangotena's daily "experience" beckoned. Free to guests, on this day, it was a chocolate tasting at The Bar — an old-school gentleman's space complete with leather seating and dark-wood paneling throughout.
An elaborate breakfast buffet is provided in the restaurant each morning and dinner selections reflect a contemporary vision of Ecuadorian cuisine. Choices include a signature pork dish slow-roasted for 72 hours (incredibly flavorful and tender) and duck with apple purée and fennel confit.
Be sure to visit the rooftop terrace for a spectacular view of Quito's historic center and beyond. At night, illuminated churches surrounding Old Town create a truly magical panorama.
2. Hotel Mama Cuchara
Art Hotels is a family-owned company with three properties in Ecuador — Quito, Otavalo, and our hometown of Cuenca. This luxury brand has a mission to integrate Ecuadorian culture into the guest experience through art, architecture, and cuisine.
Hotel Mama Cuchara ("Mother's Spoon") takes its unusual name from that of the 17th-century neighborhood in which it is located. The shape of the district resembles a long wooden spoon once used to stir food in large pots.
The interior of the light-filled central courtyard and restaurant is visually stunning. Huge yet airy chandeliers with colorful sconces created from recycled plastic sway gently from the ceiling. Rising from the floor below are two metal sculptures representing the highly endangered Andean condor.
Everywhere you look — the private art collection, intricately carved headboards, stained glass — it seems there is a story to be told. Our bedroom, one of 26 total, was beautifully understated with exquisite fabrics and wall coverings, a perfectly coordinated color palette, and French doors opening onto a Juliet balcony. Outstanding!
The focus on art extends to the food service. Breakfast began with a meticulously created "Rubik's Cube" of individual sections of fresh local fruits. Dinners were similarly plated with so much color and creativity that we were reluctant to ruin the presentation with cutlery.
On our last night, we were invited to a cocktail workshop at the rooftop bar. Well, sure! We took turns going behind the bar and making elaborate, signature drinks with the bartender. Not sure exactly what ingredients we measured, poured, and shook, but the results were delicious.
3. Illa Experience Hotel
The elegant Illa Experience Hotel aims high by seeking to transform the traditional hotel stay through integration of Ecuadorian traditions and culture.
A decorative pool welcomes you as you descend the stairs of the lovely 10-room mansion. Our luxury suite in muted neutral colors featured a separate sitting area and spacious bath complete with a clawfoot tub. The expansive windows in the bedroom revealed an excellent view of the iconic statue of Virgin de El Panecillo overlooking the city from a nearby hill.
Every night, a different cultural experience is presented in the lobby. We learned how a popular meringue confection served in ice cream cones called espumilla is made by hand. The second evening featured a woman demonstrating the weaving of a Panama hat followed by an Ecuadorian rum tasting.
The restaurant serves dinner and a complimentary breakfast buffet. There is also a rooftop bar and seating area.
4. Termas Papallacta
Tucked into the Andes an hour outside of Quito, Termas Papallacta provides an unparalleled hotel stay. While the accommodations are spacious and comfortable, the emphasis is more about what's on the outside than the inside.
Volcanic thermal pools surrounded by gorgeous scenery are the main attraction that has been drawing visitors to its therapeutic waters for over 30 years.
Termas Papallacta sits at an elevation of 11,000 feet. Plan to spend a few days in Quito beforehand to acclimate to the higher altitude. Be aware that the average temperatures are in the mid-40s year round, so pack accordingly.
All accommodations have upscale, rustic décor and heated floors. Each overnight area features private, beautifully landscaped grounds and intimate, exclusive pools available 24 hours a day.
Suites in the South Cabin section, where we stayed, have fireplaces that the staff will happily light for you. Book one of these without hesitation. You're welcome!
We were blown away by the service and cuisine in both the Sunfo and Sucus restaurants. Food presentation is artistic and the flavors superb. Be sure to try the traditional locro de papa soup.
After relaxing in the thermal pools, enjoy one of the spa's special treatments. Edd indulged in the chocolate and Cynthia the grape mousse head-to-toe body wraps (yes, you read that right). What a delicious way to spend an afternoon!
5. Hotel Otavalo
Otavalo, 2 hours northeast of Quito, is home to a world-famous Indigenous market, the largest of its kind in South America. While a wide range of hand-crafted products such as jewelry and leather goods are available, the stars of the show are a dizzying array of colorful alpaca scarves, ponchos, blankets, and sweaters at incredibly affordable prices.
Hotel Otavalo, another member of the Art Hotel group, is a special 29-room property that offers Otavalo's only luxury lodging. Originally constructed in 1930, renovation revealed gorgeous brick beneath the arched stucco walls and it has been meticulously restored. The result is an interior that more resembles a European castle than an Ecuadorian mansion.
True to the parent company's name, art is an integral design element of the hotel. A bronze sculpture of galloping horses by famed American artist Remington sits in the lobby. Common areas are adorned with the third largest collection of art in the world from renowned Ecuadorian painter Oswaldo Guayasamin.
Like at Hotel Mama Cuchara, our suite was impeccably decorated. It included a Jacuzzi large enough for two and a terrace with an impressive view of the nearby extinct Imbabura Volcano.
The restaurant menu is a culinary tour of the different regions of Ecuador. We chose to go coastal with succulent prawns the size of chicken wings and, in honor of all the volcanoes in the area, a chocolate lava cake for dessert.
Complete your evening with cocktails at the Ñukanchikwan Taki rooftop bar — an Indigenous phrase from the local Kichwa language meaning "Come to celebrate with us."
6. La Mirage Garden Hotel And Spa
This secluded 23-room resort is located in the town of Cotacachi, 2 hours north of Quito. Opened in 1985 and built on the property of a 200-year-old hacienda, La Mirage Garden Hotel & Spa is a delightful trip to a bygone era of grandeur and refinement.
As you stroll through lush flower gardens beside lily ponds, you come upon peacocks wandering the grounds. Each of the rooms or suites has a unique personality based on its size or location within the property.
While being escorted to the Daisy Suite, we learned that the Queen of Spain also stayed there during a visit to Ecuador in 2009. We felt like royalty ourselves as we were surprised to find red rose petals strewn on the goose down duvet on our canopy bed.
Our suite was elegantly appointed with crystal chandeliers, oriental rugs, and a French-style fireplace. The only hint of modernity was a flat screen TV discreetly hidden inside a cabinet.
The restaurant at La Mirage is a handsome space that, particularly at night, exudes an intoxicatingly romantic atmosphere. The menu is filled with classic Continental favorites accented with a hint of Ecuadorian flair.
Dinner service is filled with surprises. A goldfish bowl sat atop our table with a note introducing our aquatic companion for the evening. An amuse-bouche was delivered in a music box, a nod to the opening scene of Phantom of the Opera.
We were located right next to the La Mirage Spa. A large indoor pool invites relaxation and specific treatment rooms are available for an extensive selection of traditional and exotic services.
Cynthia opted for the Purification Treatment led by a local female shaman. The 90-minute healing ritual involved crystals, candles, smoke, eggs, and herbs. Suffice to say, Cynthia felt like she was floating the rest of the day.