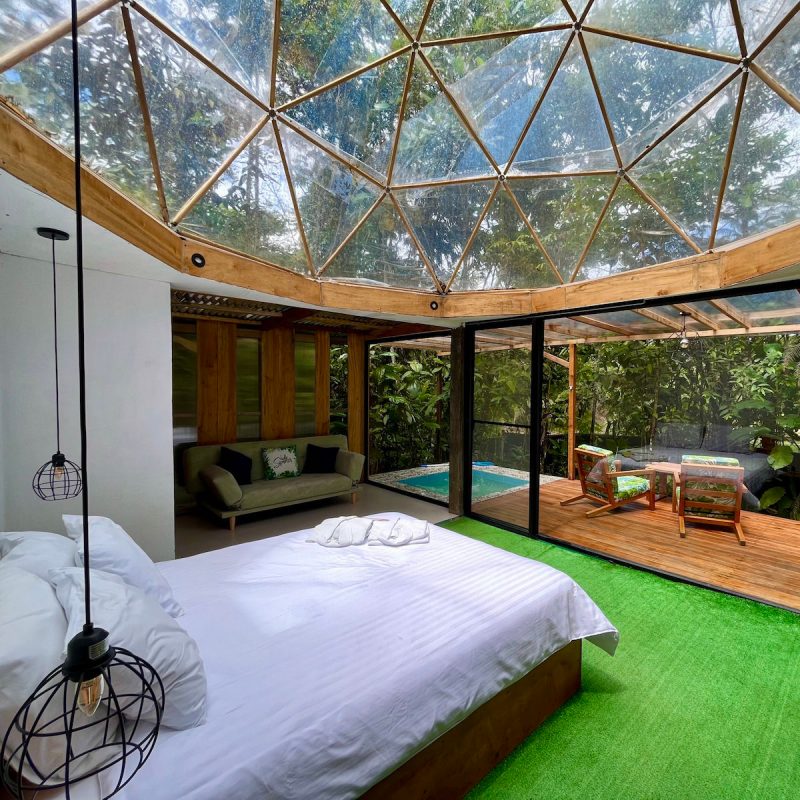 When we received an invitation to visit Macas Glamping in the Amazon jungle, it seemed an unlikely adventure.
Even though we've lived in Ecuador for over 13 years, we had never visited the rainforest that occupies almost one-third of the country's land area. The promise of a great experience was always overshadowed by visions of swarming insects coupled with oppressive heat and humidity.
Still, glamping (a combination of the words "glamorous" and "camping") sounded intriguing. And the opportunity to be immersed in an exotic environment with luxurious accommodations and gourmet food was too enticing to pass up. So, putting our preconceived notions aside, off we went for a two-night stay. And boy are we glad we did, because we came away with a wonderful lifelong memory.
Here are our 7 favorite experiences while glamping in the Amazon jungle of Ecuador.
We were hosted by Macas Glamping. All opinions are our own.
Macas is located on the western edge of the Amazon in southeastern Ecuador. Although it is the capital and largest city (population approximately 40,000) in the Morona Santiago province, there is only a small airport for charter and commercial flights. The drive from our hometown of Cuenca is 4.5 hours and 6 hours from Quito — Ecuador's capital.
Our destination, Macas Glamping, is across the Upano River several miles from town. The entrance is marked by a sign near the road with a picture of a toucan on it.
1. Andes Scenery
From the Galapagos to the Pacific coastline to the Andean highlands to the Amazon, Ecuador is jaw-droppingly beautiful. After an early departure, we were treated to spectacular views of the magnificent countryside as we zigzagged through the Andes before descending into the lowlands of the Amazon region.
The shifting scenery as the sun reflects off the mountains creates hundreds of different landscapes just waiting to be painted.
2. The Boat
Macas Glamping has five unique accommodation options, each surrounded by the jungle for total privacy. The rooms offer a comfortable queen bed; large walk-in shower; coffee station; complimentary mini fridge stocked with beer, water, and soft drinks; welcome bottle of private label wine; robes and slippers; Jacuzzi; fire pit; and Wi-Fi. A gourmet breakfast is also included.
Our first night, we stayed in Las Barcas, which in Spanish means "The Boat." Designed to suggest a voyage on the high seas (without the waves), the unit features a net on the bow, round porthole windows, nautical décor, and an LED "sail" that can light up at night. A glass ceiling lets you lie in bed and enjoy the Amazon sunrise, sunset, and starry skies.
After a long day of travel and delicious filet mignon dinner, the rhythmic sounds of the jungle lulled us into the deepest sleep we've had in a long time.
3. Visiting The Shuar
The next morning, our guide — Leo Salgado, owner of local tour company Tsuirim Viajes — had an exciting day planned for us. We drove into the countryside to visit the Shuar, an Indigenous group once known as feared headhunters who shrunk the heads of slain enemy warriors.
We had no idea what to expect. What would they look like? Were they still fierce? To the contrary, the Shuar are gentle, beautiful people who greeted us warmly to their Kintia Panki community.
As a welcoming gesture, our cheeks were decorated with achiote, a reddish-orange spice. We then were shown a variety of colorful necklaces and bracelets, plus natural creams, lotions, and perfumes made from Amazon plants. One interesting fragrance contained non-hallucinogenic ayahuasca.
Next, a young Shuar man led us up a steep, rocky trail to two waterfalls considered sacred in their religion. Upon our return, an initiation ceremony involving spears and much shouting was performed on Edd. For the grand finale, we all got up and did a Shuar "jungle boogie" line dance together. It was great fun!
4. Quilamo Mirador
After a traditional lunch prepared by our hosts (more on that later), Leo drove us high into the mountains to Quilamo Mirador, an overlook with sweeping views of Macas and beyond.
An icon for the city, the lookout point is dominated by a 60-foot statue of the Immaculate Virgin of Macas, a symbol of protection and devotion to the locals whose origin dates back almost 500 years.
5. The Dome
Our second night was spent in The Dome, an over-the-top structure crowned by — you guessed it — a massive geodesic dome with incomparable views of the Amazon vegetation and sky.
In addition to the extensive amenities previously listed, this accommodation has Alexa-controlled lights, a Jacuzzi, and window shades. One of the shades serves as a screen for a projector with a Bose surround-sound system.
We didn't come all the way to the jungle to watch Netflix, but instead, we definitely glamped the night away taking full advantage of the wine, hot tub, and fire pit.
6. Food
Especially considering its remote location, Macas Glamping serves some fabulous food. Beef in the Amazon is considered the best in Ecuador and that filet mignon dinner the first night was exceptional. Our shrimp and pasta meal the following evening was outstanding as well.
Breakfast began with artistically presented yogurt, granola, and fresh fruit, followed by eggs, ham, local cheese, rolls, and coffee.
Lunch with the Shuar community was an unexpected treat. Whole fish fresh from the nearby river was seasoned, wrapped in banana leaves, and roasted over hot coals. Wow!
7. Canoeing On The Yuquipa River
Our final morning, we braved the Amazonian version of a thrill ride as Leo drove miles over a remote, pothole-riddled dirt road to reach Cabañas Etsa for a canoe trip on the Yuquipa River.
July through December is the dry season, so the crystal-clear water was only a few feet deep. As we slowly motored along, the dense tropical vegetation was nothing short of stunning. We asked for our ride to be extended a bit longer because we were enjoying ourselves so much.
Is Jungle Glamping For You?
What about the bugs, heat, and humidity we were so concerned about? Our glamping trip provided a great lesson of ignoring those "what-ifs" and just going for it.
Of course, a rainforest has insects and we used insect repellent as advised. We're glad to report we didn't get bitten once and there were never swarms of flying critters, even around the lights at night.
Yes, it was hot and humid during the day, although not oppressively so. The evenings, on the other hand, were surprisingly cool and comfortable; enough to leave the screened-glass door open, light our fire pit, and thoroughly enjoy the hot tub.
Glamping in the Amazon jungle was a unique adventure that we'll never forget.