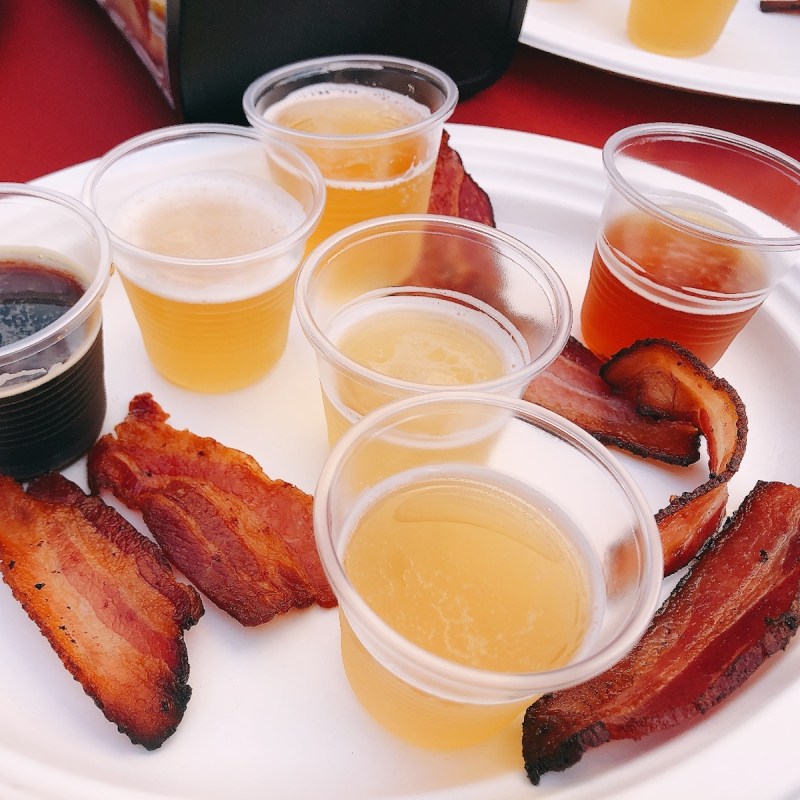 Are you a pork-lover looking for a chance to "go hog wild?" Join the fun at The PA Bacon Fest in Easton, Pennsylvania. It is the perfect place to let your inner bacon-lover run free! Get ready to try nearly everything imaginable made with bacon. Unique contests will have you grinning from ear to ear as you explore what this celebration has in store.
I'm a bacon-lover and I attended last year's Bacon Fest with my husband, and we loved it. You could say I was in "hog heaven!" I'm planning to return this year for more bacon treats.
My visit to Easton to attend the PA Bacon Fest was hosted. All opinions are my own.
What Is The PA Bacon Fest?
The PA Bacon Fest is one of the most popular events in the Mid-Atlantic region. Celebrating its 12th year in 2023, the 2-day Bacon Fest boasts delicious food (most include bacon as an ingredient), family-friendly activities, live music, cooking demos, and fun contests. There is also "swine swag" for sale.
Bacon Festival Treats To Get Your Taste Buds Going
One of the main attractions at the PA Bacon Fest is all the delicious bacon treats available throughout the festival! Over 150 food vendors will be on hand offering bacon delights from classic BLTs to creative new concoctions like maple-glazed bacon donuts and bacon ice cream. There's something for everyone here.
You can't imagine all the bacon-flavored treats available at the PA Bacon Fest. Some of my favorites were:
Chocolate Chip Cookies with Bacon
Elvis Ice Cream: Banana ice cream with a peanut butter ripple and bacon coated in peanut butter
Chocolate Covered Bacon
Candied Bacon
Bacon Sticky Buns
Other unique bacon treats included:
Bacon-Infused Sweet Potato Parfait
Bacon Cheddar Waffles
Fried Pork Belly
Bacon Crab Cakes
Bacon Funnel Cakes
Bacon Cookies
Bacon S'mores
Bacon Corn Dogs
Pork Belly Chili
Bacon Curry
What To Expect At This Year's Festival — From Music To Pig Racing!
Live Music
Nothing goes better with bacon than some live music! The PA Bacon Fest features live bands throughout the day on four stages (Hog Wild Stage, Farm to Fest Stage, Piglets Stage, and Swine Stage). There will be over 35 musical performances over the 2-day festival.
You can enjoy some great tunes while chowing down on delicious bacon treats. 
Bacon Eating Contest
A highlight of the PA Bacon Fest is definitely the bacon-eating contests! Competitors race to eat a pound of bacon. The person who eats the entire pound first is the winner. This event was a crowd-pleaser last year and hilarious to watch. Everyone was cheering for their favorite contestant!
Other Contests
Wear your best bacon-wear to participate in the Bacon Costume Contest and practice your best squeal for the Hog Calling Contest.
Local Vendors
The PA Bacon Fest also features local vendors selling all sorts of bacon treats and pig-related items such as t-shirts, hats, stuffed animals, and more! So, if you're looking for unique souvenirs or gifts, you'll find them here. You can even test your skills throwing an ax at the ax-throwing booth.
Family-Fun Zone
Activities for all ages include a rock climbing wall, bungee jumping, and pig and wiener dog races. Balloon creations and face painting are available.
Racin' Bacon 5K
This fun 5K includes three people dressed like pigs leading the race. If you pass all three lead pigs, you receive a special prize at the end. Registrants receive a long-sleeved t-shirt, bacon, and beer.
Bacon & Brew
Bacon pairs with everything: cocktails, desserts, other meats, and beer! For an extra fee ($30), you can attend Bacon & Brew, a tasting session of several kinds of bacon and six craft beers. Look for the Bacon & Brew tent for this event from noon–4 p.m. Last year, those attending the Bacon & Brew tasting also received a Bacon Fest mug.
Pro Tip: Tickets for Bacon & Brew can be purchased online or on site while supplies last. You must show a photo ID (ages 21+ only).
How Can You Attend?
This year's festival is scheduled for November 4–5, 2023, from 10 a.m.–5 p.m. on both days. There is a $5 fee to enter the festival and the funds raised support the Greater Easton Development Partnership.
Bacon Fest attendees are encouraged to avoid the traffic and stress of driving into the city and park in the shuttle lots. The shuttle runs every 15–45 minutes. A cash-only fee covers parking in the shuttle lot and riding the shuttle for everyone in your vehicle. Get your wristband and continue wearing it for your return trip.
Tips For Making The Most Out Of This Fun Event
Ride the Bacon Shuttle. Be sure to figure out where you'll park before the festival day. You'll waste valuable festival time trying to find a parking spot! Save time and stress by parking in the shuttle lot. The shuttle drop off and pick up location is located at Northampton and 5th Streets.
Wear comfortable walking shoes. You will be doing lots of walking.
November can bring a mixed bag of weather. Dress in layers for the weather.
The festival is held rain or shine and there are no refunds.
Pets on leashes are welcome, but they may be happier at home if they don't like crowds or loud music.
When you arrive, take a quick lap around the festival to check out all the bacon food options and know where restrooms are located.
Go back to your favorite vendors for your bacon delicacies and other treasures.
The PA Bacon Fest is stroller-friendly.
Diaper-changing stations are available.
Pace your eating. While all the bacon treats are delicious, you don't want to make yourself sick.
Plan to spend several hours at the festival. I was there all day and enjoyed every minute!
Parking garages and the festival are ADA-accessible.
Shuttle buses do not have ramps or lifts. Those needing a chair lift should utilize downtown parking.
Plan to arrive the day before and spend the night so you have the entire day to enjoy the festival. I stayed at The Townley House on North 3rd Street, which was very convenient since it was just a few blocks from the Bacon Festival.
Have fun: The PA Bacon Fest is such a fun day, you might find yourself squealing with joy like a piglet!
November is your chance to do something truly wild and indulge yourself with some delicious porky goodness at the PA Bacon Fest this year!
Learn about other Pennsylvania Fall Festivals: