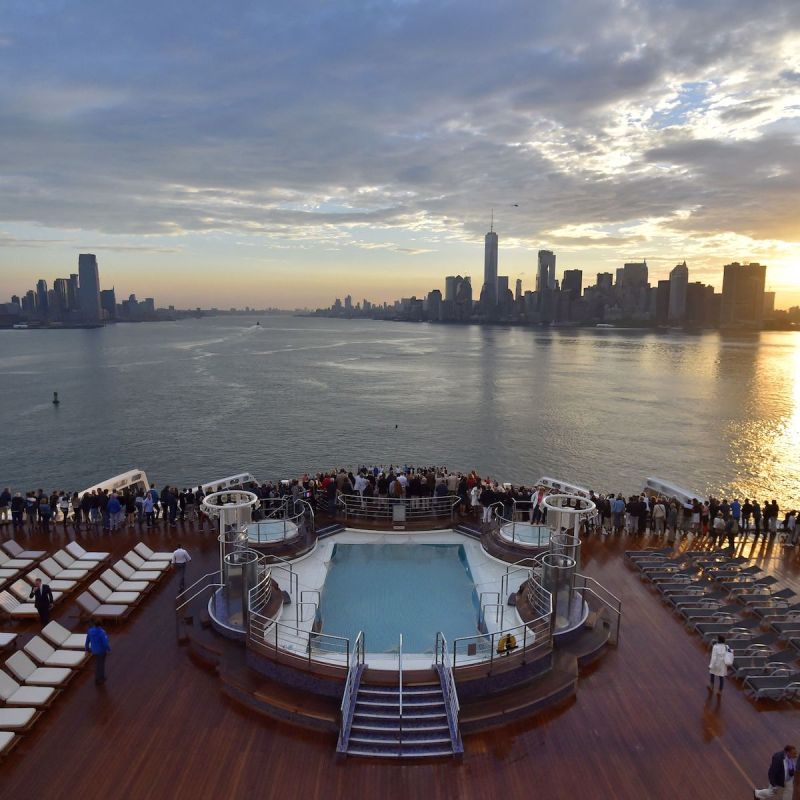 Most adventurers have some type of a travel bucket list. Taking Cunard's Queen Mary 2 across the Atlantic had been on my list for nearly 25 years. Recently, my husband and I treated ourselves to the "crossing" of a lifetime. I've taken several cruises but this was my first voyage! A transatlantic crossing is called a voyage because there are no port stops.
Cunard's transatlantic history goes back to 1840. Cunard developed into a cruise line advertised as "floating palaces" and had design features that mirrored the opulent décor of The Ritz. The Queen Mary 2 (QM2) was built in 2004 and is the only transatlantic ocean liner with regular service from Southampton, England, and New York City. She is a ship built and designed specifically for the rough seas of the northern Atlantic and is the flagship of Cunard Line. She embodies old-world charm, class, style, and a British flair that we just don't get to experience in the U.S.
I had no preconceived ideas or expectations but felt the trip would be opulent and special since it was with the Cunard Line. Our passage from Brooklyn to Southampton was remarkable, relaxing, luxurious, and exciting. I never expected the Atlantic Ocean to look so different each day of the voyage. I felt like a queen! Here are several things you'll love about cruising with Cunard.
1. The Price
Surprisingly, it is at times more affordable to take this luxurious ship to Europe from the States than buying an airline ticket! I was quite surprised to meet and chat with many guests who opted for the luxury, food, and experience of crossing the Atlantic in lieu of flying, which cost them less than an airline ticket. If time isn't an issue to get to Europe, why not enjoy an experience of a lifetime. The voyage takes seven nights and can cost as little as $799 per person in an interior cabin. Prices vary depending on the time of the year as do airline ticket prices.
2. An Interior Room Or A Balcony Room
I booked our balcony room after my husband explained a British idiom to me called POSH. Originally, I thought he meant a "fancy pants room." But he was really referencing the room's location on the ship. He suggested we book the room on the right side (starboard) of the ship since she will be sailing eastbound to Europe. The afternoon sun would shine on our side longer. POSH, according to British folklore and ocean travel, references ships traveling between England and India. It stands for "Port Out, Starboard Home." POSH might just be a tongue-in-cheek colloquialism, but it was exciting to reference that lingo as I selected my cabin. Reflecting on my choice, I should have chosen an interior room. At the time of our crossing in the fall, I never went on the balcony because it was too cold.
3. Level Of Service
There are three levels of service you can purchase for your voyage. The Britannia level is chosen by 85 percent of guests. Included in all levels is cabin accommodation, all meals and afternoon tea, all entertainment on the ship, films, the library, pools, and the King's Court (buffet). Alcohol, the spa, and Wi-Fi are extra. The two other pricier levels have their own private dining room, the Queen's Grill and Princess Grill Suites, plus different amenities and service levels associated with their rooms.
The Britannia Room is a decadent, two-floor dining room with a double spiral staircase that makes you feel like you are descending down stairs into culinary heaven. It has a social, lively, white-glove-service atmosphere with a nightly five-course dinner. Certain nights, guests are invited to wear their finest evening wear. Jackets and ties are required a few nights, so plan ahead and pack a tie! Breakfast and lunch are also served in this room. You can dine alone or ask to sit at a larger table with other travelers. They also cater to all your dietary needs. I prefer this level of service. The other levels are nice, but you miss the grandeur of this dinning room if you decide to dine in the smaller restaurants.
4. Dress Code
Some people like to go all out on "formal" nights. Men wear their tuxedos and ladies don sequins and feathers. At a minimum on "formal" night, men must be in a coat and tie. Ladies should be dressed up without jeans or flip flops. If formal night isn't your fancy, you can eat at the King's Court or order room service.
5. Time Changes
After you settle in on your first day at sea and acclimate with the ship and the laid-back atmosphere, you will hear a subtle daily chime throughout the ship indicating it's time to move your watch ahead 1 hour. Because of the time zone change, 5 hours is spread out over your journey, but it is almost unrecognizable. I travel in multiple time zones almost daily and this was the easiest experience I've had!
6. Accommodation For Your Dog Or Cat
The QM2 is the only ship in the world that allows passengers to bring dogs and cats on board for a voyage. Cunard offers the only kennel service on transatlantic sailings. To make the animals feel like they are more at home, either from England or the U.S., the company installed an American fire hydrant and an English lamp post on the "Dog Deck." A "Kennel Master" is on board and assists in caring for the animals, responsible for feeding and walking, and cuddling is included as well. Owners can visit the animals, walk them, or snuggle in cuddle rooms but can't bring the pets back to their rooms.
Pro Tip: Head up to the Kennel Deck to see hand-cut leftover filet mignon served at feeding time! Book early to reserve a coveted kennel spot for your four-legged friend.
7. Customs
A very unassuming pop-up table with a customs officer sets up in the afternoon for passengers to get their passports updated. Once the ship docks, you are free to leave!
8. Museum
Many floors on the QM2 pay homage to the Titanic. Titanic photographs and memorabilia are displayed all throughout the ship. White Star Cruise Line owned the Titanic but later merged with Cunard. Both companies display such interesting history making it easy to stroll about the large ship finding more nuggets of the past down every hall.
Pro Tip: Listen up! The ship makes an announcement when passing nearby where the Titanic went down.
9. Entertainment
There are more activities on this voyage and not enough time. There are nightly Broadway shows, dance lessons, guest talks, a planetarium, tours, a casino, a spa, art classes, and live music to enjoy.
Pro Tip: The Carinthia Lounge is a great place to relax, read, and enjoy coffee and handmade patisseries.
10. Exercise
The QM2 has an enormous workout facility with fitness classes and spin bicycles. The best exercise is the outdoor, open, large teak deck. Three laps around equal just over a mile. On this deck, there are old-world teak deck chairs with blankets if you want to catch your breath and look for whales.
11. Food
The food in the Britannia Room was superb. I love a five-course meal! I don't know what I liked more, the entrée or the delicious dessert. I wasn't too keen on the buffet but they did offer fresh sushi daily. And breakfast room service is free!
I spent my days rarely looking at a clock. We walked the decks and strolled through the many floors of quality museum history. I really enjoyed having an afternoon, classic British tea service while I read my favorite books in a gorgeous room: the Carinthia Lounge. I loved the elegantly refined British rooms and waited daily for my scrumptious feast nightly in the Britannia Room.
Pro Tip: After two crossings, you "earn" a coveted Cunard pin to wear proudly on the ship.