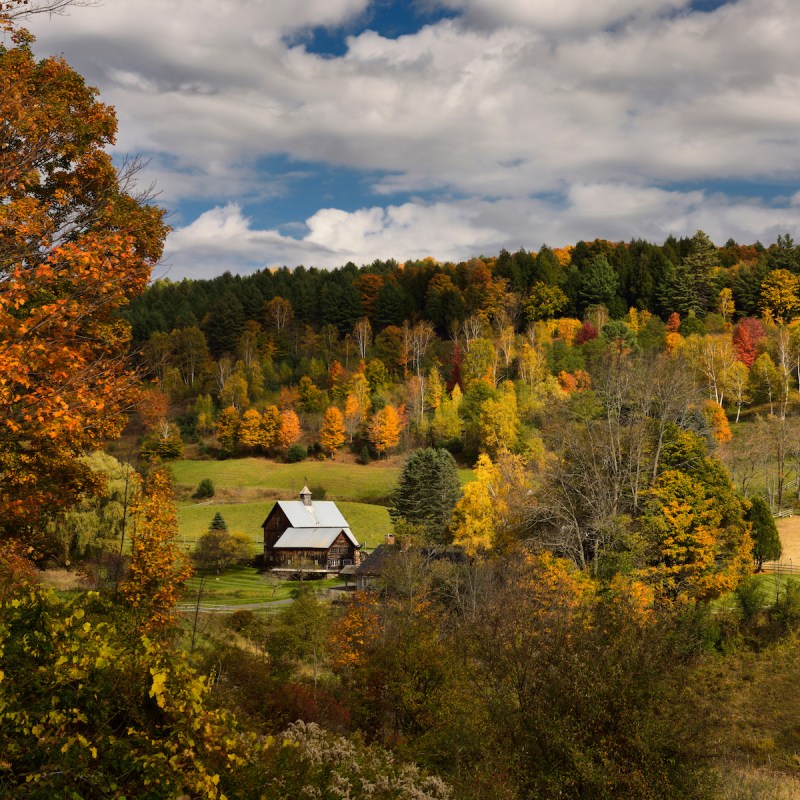 Vermont, and really all of New England, is known for its amazing fall foliage. With forests made up of mostly maple, beech, and birch trees, tourists flock to the state to drive along the idyllic tree-lined roads while feasting their eyes on the brilliant red, yellow, and orange leaves each year.
But one town is saying "Enough is enough."
Pomfret, near Woodstock, is banning leaf peepers from driving and parking along a section of road in town. The issue centers around the beautiful Sleepy Hollow Farm, which, according to the Vermont Standard, is the most photographed spot in Vermont each fall. NewEngland.com described the spot saying "with its big barns, late-1700s Cape Farmhouse, and knack for catching the light just right, Sleepy Hollow is catnip for photographers."
While professional and amateur photographers, and those who learned about the spot by word of mouth, used to make up the majority of visitors, the privately owned property has grown in popularity thanks to social media. It's become such a social media hotspot that neighbors describe significant traffic jams around the location and have expressed concerns about emergency equipment being able to get through. In an August memo detailing the traffic management plans, the Pomfret Selectboard stated, "Foliage season traffic in this area has steadily increased during the last several years, causing significant safety, environmental, aesthetic, and quality of life issues."
A GoFundMe account, created to help pay for the additional sheriff patrols and signage needed to close the area, went into even greater detail about the issues residents face.
"Cloudland and surrounding roads become impassable during the fall, and roads and poorly behaved tourists have damaged roads, had accidents, required towing out of ditches, trampled gardens, defecated on private property, parked in fields and driveways, and verbally assaulted residents," explained the account.
"We've had a lot of stories of folks just being very disrespectful," Windsor County Sheriff Ryan Palmer told NBC 5 News. "Walking on property that wasn't theirs. Sitting on porches, swimming in their ponds, those types of things."
Cloudland Hill Road, the road on which Sleepy Hollow Farm sits, closed to visitors on September 23 and will remain closed through October 15, when fall foliage is predicted to be past its peak. Residents, their guests, and contractors are still allowed to use the road.