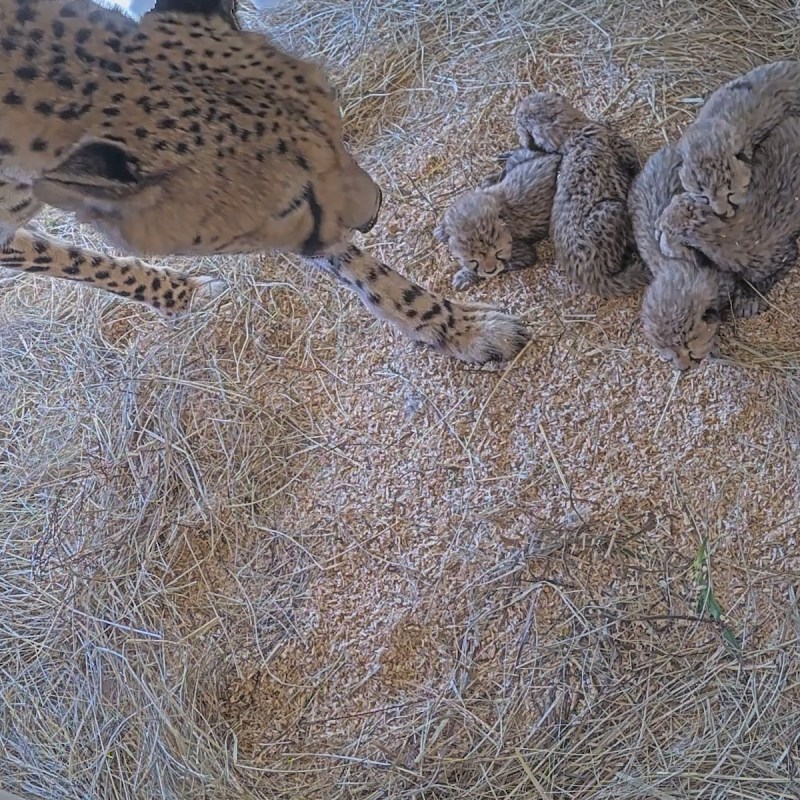 Smithsonian's National Zoo & Conservation Biology Institute in Washington, D.C., has some exciting news. Five cheetah cubs were born recently and you can watch them on the Cheetah Cub Cam.
Streaming live, the Cheetah Cub Cam features 8-year-old cheetah mother Echo and her five cubs, who were born September 12, 2023.
"Tune in to watch your regular dose of cuteness as the cubs eat, play, sleep, and snuggle in their den," Smithsonian's National Zoo & Conservation Biology Institute explains. "Don't see any cheetahs? They might be outside. Check back later!"
You can see the cubs on the Cheetah Cub Cam and in this YouTube video.
"Animal care staff will leave Echo to bond with and care for her cubs without interference, but as opportunities arise, staff will perform quick health checks," the Zoo explains. "During a recent weight check, staff confirmed there are three males and two females. The cubs appear to be strong, active, vocal, and eating well."
Echo is a second-time mother; her first litter of cubs was born in 2020.
There are two potential sires — either Asante or Flash, the Zoo explains. Scientists will perform genetic testing to determine the sire when the cubs are old enough to have blood collected.
All About Cheetahs
Cheetahs, which are the world's fastest land animals, have a narrow and lightweight body as well as long slender legs that help them achieve astounding speeds.
So, how fast are they?
Cheetahs can accelerate from zero to 45 miles per hour in just 2.5 seconds. Amazingly, at top speeds, they can cover 23 feet in a single stride and take four strides per second, according to the Cheetah Conservation Fund.
A cheetah's top speed, which can be maintained for around 300 yards, averages between 60 and 70 miles per hour.
Adult cheetahs weigh between 75 and 125 pounds, and their body generally is between 40 and 60 inches in length. Their tails can add another 24–32 inches to their body length.
In the wild, cheetahs prey on gazelles (especially Thomson's gazelles), impalas, and other small-to-medium-sized antelopes, hares, birds, rodents, and the calves of larger herd animals, the Cheetah Conservation Fund explains. Meanwhile, cheetahs at Smithsonian's National Zoo & Conservation Biology Institute are fed 3.5 pounds of ground beef each day, however, frozen rabbits and beef femurs are sometimes added as well.
Today, cheetahs are found in Kenya and Tanzania in eastern Africa, and Namibia and Botswana in southern Africa. Sadly, however, cheetahs have become extinct in at least 13 countries over the past 50 years.
Indeed, due to human conflict, poaching, and habitat and prey-base loss, there are only an estimated 7,000–7,500 cheetahs left in the wild. As a result, the International Union for Conservation of Nature considers cheetahs vulnerable to extinction.
Know Before You Go
You can watch Echo and her cubs on the Cheetah Cub Cam.
If you would like to visit the zoo and see other cheetahs and animals, the Smithsonian's National Zoo is open every day except December 25. Its hours are 8 a.m.–4 p.m. Although the Zoo is free to visit, entry passes are required.
You can learn more about visiting the Smithsonian's National Zoo at its Visit the Zoo webpage.
For more about animals and their babies, be sure to read our Zoo content, including: