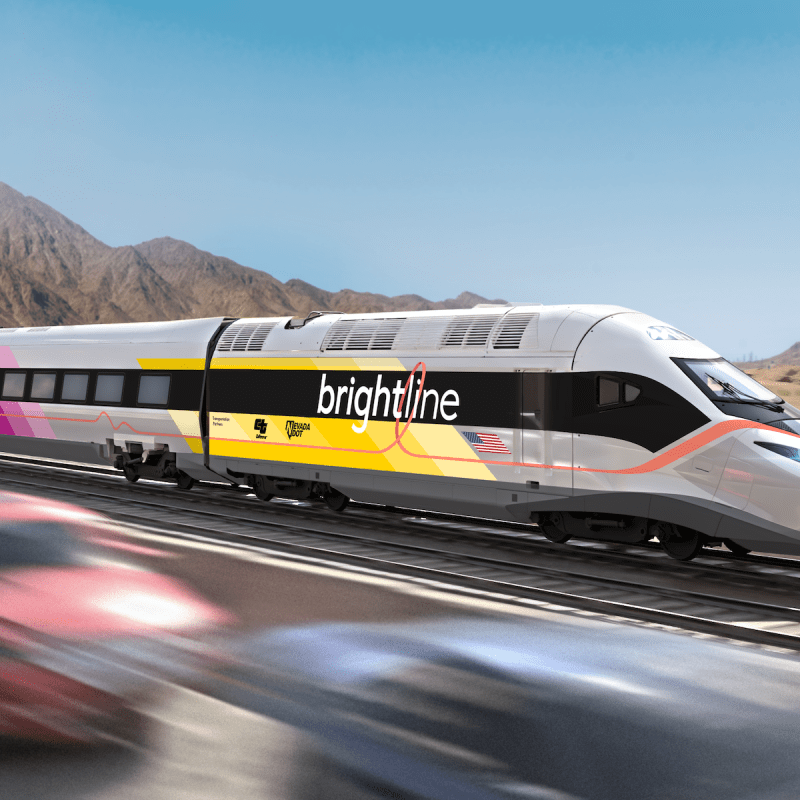 It may not be here yet, but the eagerly anticipated prospect of a high-speed train linking Las Vegas to Los Angeles just got closer to becoming a reality.
Brightline West has been working on a project to build a rail line for its zero-emission electric trains to connect Las Vegas with various stops in southern California.
The project recently received environmental review approval from the Federal Railroad Administration, according to ABC 7 News (Los Angeles). That approval allows the plan to progress.
Importantly, the U.S. Department of Transportation has also announced that the San Bernardino County Transportation Authority received a $25 million grant to fund the design and construction of Brightline West intercity passenger rail stations and associated facilities in Hesperia and Apple Valley, California. Those stations will provide rail service to downtown Los Angeles and beyond through a connection with Metrolink's San Bernardino Commuter Rail service.
"The High Desert stations are an integral component to our 218-mile system and will connect millions of residents with America's first true high-speed rail system," Sarah Watterson, president of Brightline West, said in a statement.
When the $12 billion project is completed, the electric high-speed rail service will include a flagship station in Las Vegas, as well as the stops in Apple Valley, Hesperia, and Rancho Cucamonga, California. The trains, which will travel at speeds of around 186 miles per hour, will transport passengers from Las Vegas to Rancho Cucamonga in 2 hours and 10 minutes — half the driving time by car, Brightline explains.
By using Southern California's regional Metrolink service, travelers will be able to continue from Rancho Cucamonga to downtown Los Angeles. The total travel time from Las Vegas to Los Angeles is expected to be right around 3 hours, according to Brightline West.
Building On Success
Brightline is the only private provider of eco-friendly intercity passenger rail service in the United States.
The company currently serves Miami, Aventura, Fort Lauderdale, Boca Raton, and West Palm Beach, Florida, in the part of its operations known as Brightline Florida. It also recently completed construction in Orlando, which will enable high-speed rail transit to link central and southern Florida.
In the meantime, Brightline continues to test the use of high speed trains between West Palm Beach and Orlando. Those trains will be tested at speeds of up to 110 miles per hour.
Las Vegas To SoCal
Approximately 50 million trips are made each year between Los Angeles and Las Vegas, and more than 85 percent of those trips are made by car, according to Brightline West. By offering rail service, the company expects to serve more than 11 million passengers on one-way trips.
Construction on the project — which is expected to create 40,000 new jobs, 1,000 permanent jobs, and take 3 million cars off the road annually — is expected to be completed in about 4 years.
Ground is expected to be broken later this year, Brightline West explains.
For more about traveling by train, be sure to read all our Rail content, including: