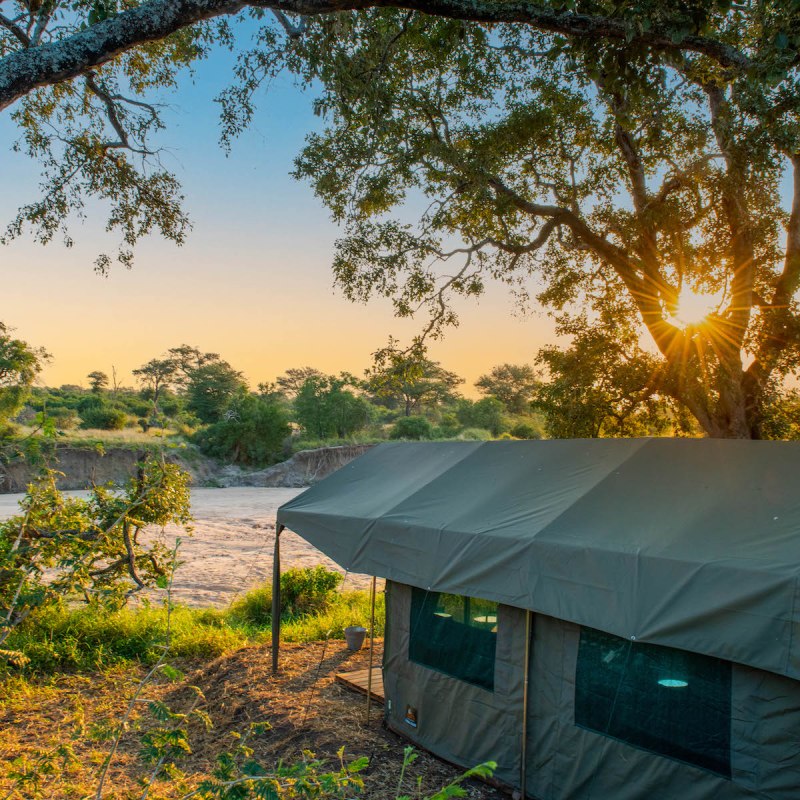 Anybody who would love to explore Kruger National Park in South Africa while staying in a luxury-tented camp needs to add this new experience to their bucket list.
You'll need to act quickly, however. For 2023, the camp will only be open from July 1–September 30. Then, for 2024 through 2032, the camp will be open from May 1–September 30.
Here's why the camping experience — Kruger Untamed: Tshokwane River Camp — is only open for limited times.
During the summer season, the Ripape riverbed near the camp is filled with water. In winter, which is happening now in the Southern Hemisphere, "the once dry riverbed undergoes a magical transformation, becoming an enchanting spot," Kruger Untamed told TravelAwaits in a statement.
At the end of the season, the "pop-up" camp will disappear, leaving no trace it was ever there.
Since Tshokwane River Camp is located in a dry riverbed part of a previously unexplored area of Kruger National Park, it "truly is a haven for those seeking a profound connection with the untamed wilderness of the iconic Kruger National Park — allowing guests to disconnect and rediscover their connection to Mother Earth in the wild," Kruger Untamed continued.
"We wanted to offer guests the opportunity to experience the Kruger like never before, amid nature and completely enveloped in the sheer beauty of the bush," Allan Johnston, co-founder of Chiefs Tented Camps, told TravelAwaits in a statement. Chiefs Tented Camps is part of the Motsamayi Tourism Group.
"Once you've experienced luxury camping in the Kruger, just reconnecting with yourself or a loved one in a setting of sheer luxury and comfort, you'd be hard-pressed to find a better way to get that close to nature," added Lysta Stander, a fellow co-founder.
Days To Remember
As you would expect from a camp in Kruger, the days begin with a morning game drive when the animals are most active. And, of course, there's an evening game drive for another chance to see wildlife.
Walking safaris accompanied by a ranger with a rifle may also be arranged in lieu of the game drives.
Back at camp, the day's other activities will include lounging, playing yard games, and relaxing in the camp's swimming pool.
In the evening, guests will be able to lounge by the communal campfire.
The camp also features an "elegant communal dining area," where a full English breakfast; light lunch; afternoon tea, coffee, and biscuits; and dinner will be served. There will also be a "safari bar" serving house drinks, soft drinks, teas, and coffees. Premium drinks will be available from the cash bar.
Equally Memorable Nights
Tshokwane River Camp's large tents are really suites that feature front and rear doors, side windows, and a covered patio.
"The tents are specifically designed for a peaceful night's rest for guests by providing fresh linen, comfy duvets, warm soft blankets, and hot-water bottles for added warmth in winter," according to Kruger Untamed. "Each tent also has a hot shower and toilet en-suite, further extending guests' comfort."
In addition to carpet, a queen bed with a mattress, bedside tables, and a vanity mirror, each tent also features electrical outlets to charge mobile devices or for devices deemed medically necessary.
Know So You Can Book
Kruger Untamed: Tshokwane River Camp will be located 60 minutes away from Skukuza airport and about a 6-hour drive from Johannesburg, South Africa. The camp will be able to accommodate 60 guests in 30 luxury tents.
Rates for Tshokwane River Camp start at ZAR 5,950 (currently about $493) per person per night sharing a tent.
You can learn more about the camp and even book reservations at Kruger Untamed.
While you're thinking about camping and seeing the park's wildlife, be sure to read all our Kruger National Park content, including: