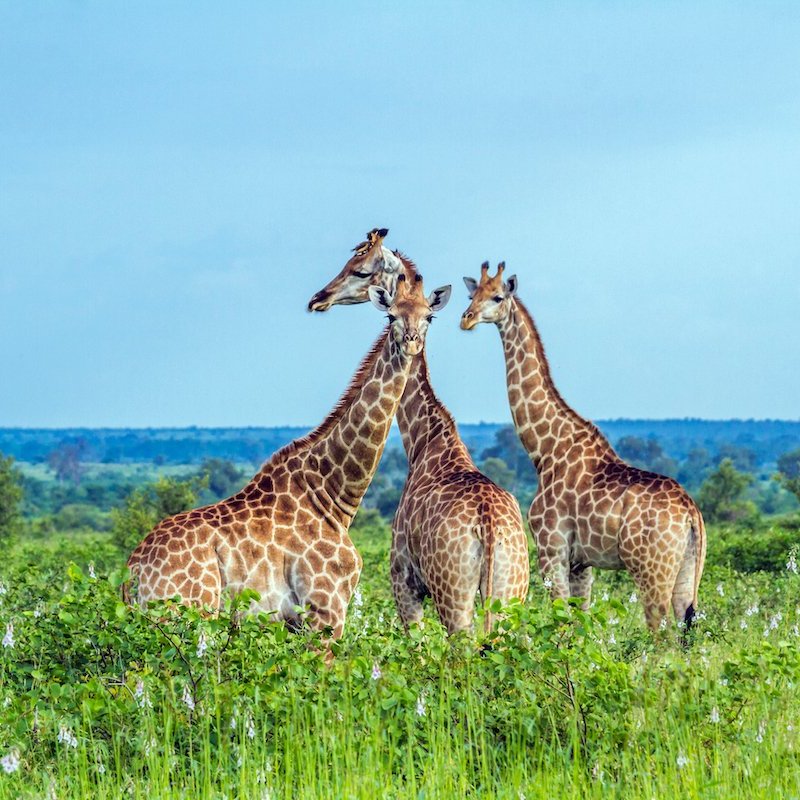 For wildlife lovers, there's truly no place on earth that compares with Kruger National Park. Located in the far northeast corner of South Africa, the 7,500-square-mile reserve spans 16 distinct natural environments. It is home to not only the Big Five of safari lore — lion, leopard, elephant, rhinoceros, and cape buffalo — but also myriad fascinating wild animals that dazzle and delight. And you won't just see one or two zebra or a few wildebeests. Being in the "bush," as it's referred to here, means witnessing hundreds of water buffalo moving across the plains, families of dozens of elephants heading to the river, a pride of lion tracking prey together, an entire baobab tree filled with monkeys chattering, or dozens of plains animals such as giraffe, antelope, and zebra coming to drink at a waterhole.
I've been writing about African safaris for more than two decades and I still get the same thrill and rush of adrenaline every time I spot an animal in the wild that I had previously only known in a zoo setting. And it's not just the "big" animals that are amazing. I once spent a wonderful 30 minutes watching baby porcupines run in circles that I still laugh about. That said, the first time I spotted a lion from the back of an open-air jeep in Kruger, the roar reverberated through my body as though someone had hit a gong next to my ear, and I can feel it in my chest still.
Although every safari drive is different, and animal sightings can never be guaranteed, the Sabi Sand Game Reserve along Kruger's southwest border is famed for both its luxury lodges and its incredible game viewing with one of the highest densities of wildlife per acre in South Africa. These lodges employ some of the most highly trained guides in their field; working with trackers, you'll be driven right into the heart of the bush to track wildlife, and on a visit of two or three nights, most guides at private spots around Kruger should be able to track down almost any animal you want to see.
The private safari lodges below are all known as premier spots to see wildlife; to narrow down the list, we spoke with safari experts and combined their advice with personal experience to create this ultimate viewing list below.
Note: Although you may be able to spot rhinos at these camps, these properties are all conservation-oriented and working to protect rhinos from poachers (a full-time endeavor, unfortunately), so those sightings won't be mentioned here or on the safari lodge's digital sites. Here are some incredible spots to see wildlife in Kruger National Park:
1. Cheetah Plains, Sabi Sand
Micato Tours has a long history of booking exceptional African safaris; in fact, they've won Travel and Leisure's World's Best Safari Outfitter award nine times. When I reached out to see where their favorite spots for wildlife viewing in Kruger were, their South Africa specialist didn't hesitate to say her absolute favorite camp is Cheetah Plains, saying, "It is perfect for those looking for well-imagined luxury and a dedication to solar-powered sustainability." Adding a note on one of the special parts of the property: A contemporary gallery space, a vivid showcase of some of Africa's most celebrated artists, one of the personal passions of owner Japie van Niekerk. Eco-luxe Plains Houses accommodations offer spacious private spaces for groups of up to eight people, along with private pools that provide views over a watering hole.
The Wildlife
One unique element of safari drives here is that they utilize Land Cruiser electric safari vehicles, an eco-friendly, zero-emissions offering that not only is part of larger conservation efforts but also delivers near silent, unobtrusive, and smooth travel. Cheetah Plains is known as a prime Big Five viewing for its abundance of leopard, lion, rhino, elephant, buffalo; also here, perhaps not surprisingly, large coalitions of cheetah, plus zebra, giraffe, antelope, and 500 species of birds.
2. Castleton, Singita Sabi Sand
Singita is the penultimate destination for both conservation and luxury safaris in Southern and East Africa. The company has 15 properties across several countries. The safari lodges in the Sabi Sand — Ebony and Boulders — were the company's original locations, and the attention to detail, as well as the ability to spot not just the Big Five but smaller creatures such as birds and reptiles, is beyond compare.
Reminiscent of an African farmhouse, Singita Castleton is designed for exclusive use. Its new light and airy contemporary interiors include six double en-suite cottages that spill onto tree-shaded lawns. This former home of the grandfather of Singita's Founder, Luke Bailes, combines old-world charm with modern features, including state-of-the-art wellness facilities such as a fitness center, yoga pavilion, and even massage treatment rooms.
The Wildlife
Singita Sabi Sand was one of my first safari destinations and is still one of my favorites. It was here that I realized you didn't have to rush from sighting to sighting (as is the case at some lodges that only want to show you the most "important" animals), but to slow down and enjoy spending time with gorgeous bid life or search out wild dogs and other elusive hunters. Guests of Castleton have their own private field guide and tracker with a private Land Rover for the duration of your stay. You are likely to spot a great variety of wildlife, including leopards. They are elusive creatures, but the Sabi Sand Reserve, in which Singita has a 45,000-acre concession, is very well known for its leopard activity. These cats form an important part of the area's diversity, with Singita guides and trackers becoming familiar with various resident leopards that have established territory near the Sand River.
3. Saseka Tented Camp, Thornybush Game Reserve
Saseka, another Micato selection, has a setting that's an African classic: Thornybush Game Reserve, 35,000 sweeping acres of private nature reserve sharing a fenceless border with Kruger National Park. In addition to traditional lodges located in the reserve, Thornybush also offers unique stays at its Saseka Tented Camp, one of the rare luxury tented camp options in Kruger. Each of the spacious tents opens up to its own private deck, swimming pool, and outdoor shower with views of the bush.?
The Wildlife
Set on a bend on the Monwana River, Saseka has unimpeded views of the riverbed for unique animal sightings even without going out on a game drive. However, the area is also known for its outstanding Big Five encounters, especially leopard and lion, and for showcasing a wide diversity of wildlife that freely crosses from Thornybush into Kruger and back again.
4. Ulusaba, Sabi Sand
Full disclosure, Ulusaba was the very first safari lodge I visited when I first started writing about Africa 20 years ago. I have a special spot in my heart for Sir Richard Branson's sumptuous property. I stayed in the main Safari Lodge, where I was enchanted by the swinging rope walkways that connected the treetop chalets under leafy foliage. The other option for overnights here is Rock Lodge, set 800 feet on a rocky hill above the plains, which affords special views of wildlife on the move below. Micato, who also recommends Ulusaba, suggested the newer Cliff Lodge, comprised of two special suites a short walk from the main section of Cliff Lodge for the ultimate in luxurious privacy (this is where Sir Richard stays when he visits).
The Wildlife
Known for their storied open-air jeep safaris, guests cap their ultimate Africa trip watching at waterholes for everything from lions and elephants to leopards and giraffes, plus hippos, spotted hyenas, and rare species such as wild dog.
5. Singita Lebombo Villa, Kruger National Park
Singita Kruger National Park is located northern peak of the park, a little off-the-beaten-path from lodges in the southern Sabi Sand. The extra effort to get here is well worth the effort. Staying here feels like you've been tucked into an incredible nest of contemporary comforts, with eagle-eye views over the riverine woodlands.
The highlight of lodging here is Singita Lebombo Villa, which is a light, sculptural private villa ensconced under mature trees on the banks of the picturesque N'Wanetsi River. Two spacious two-bedroom suites, each with a private pool, link together to create a spectacular four-bedroom offering with an open plan kitchen and exclusive boma. All views provide a front-row seat to a rich and diverse habitat teeming with game.
The Wildlife
The game here is more reclusive than the southern Sabi Sand, but the rewards are worth the effort. Singita Lebombo is especially well known for its lion population, including the large Shishangaan pride. Northern Kruger is also where the fences have been dropped with neighboring Mozambique as part of the creation of the Great Limpopo Transfrontier Park, which means the opportunity to see large herds of elephant, buffalo, and rare antelope species including eland and tsessebe.
Related Articles: