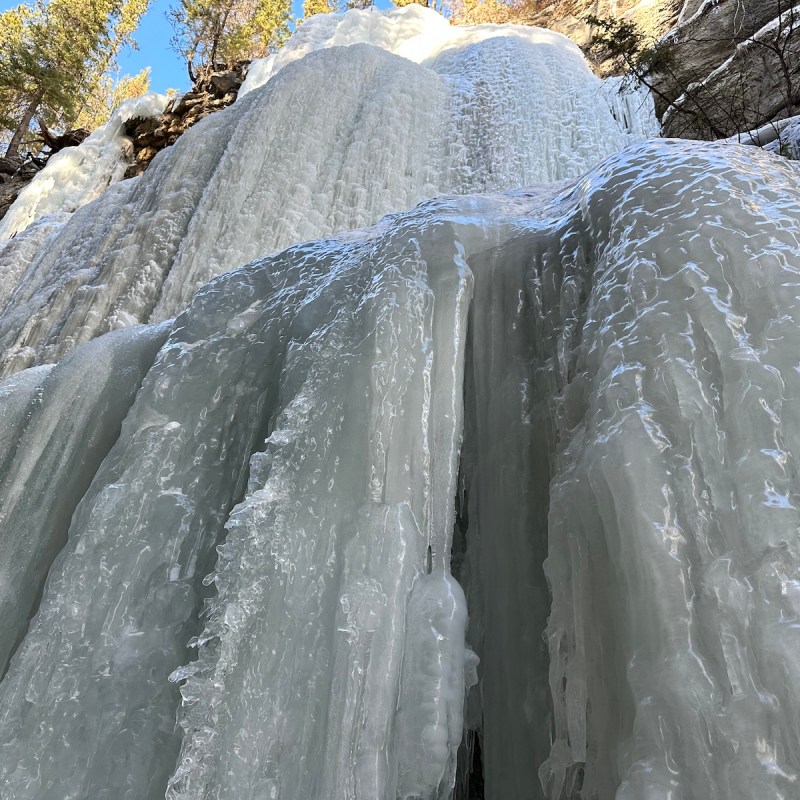 Are you ready to have an exhilarating experience? Imagine hiking to a canyon, descending to the bottom, and onto a gleaming river of ice, as walls of rock and ice stand guard on either side. Welcome to Maligne Canyon in Jasper National Park — home to one of Canada's most incredible natural treasures.
I visited in early March with four other travel journalists. During our visit, we had the opportunity to explore the breathtaking Maligne Canyon on an unforgettable guided icewalk! Following a local guide along its frozen pathways and marveling at the spectacular formations that lurk within its depths was a journey through a winter wonderland! It was still winter but warmer than the previous months.
Pursuit Collection hosted my Banff/Jasper experience. All opinions are my own.
Jasper National Park's Natural Wonder
Maligne Canyon is a natural wonder in the heart of Jasper National Park in Alberta, Canada. It's the deepest canyon in the park and stretches for miles. During winter, the running water in the canyon freezes, creating a striking icescape that is simply breathtaking. The icewalk through Maligne Canyon is an awe-inspiring adventure. Its magnificent landscape will captivate you, illuminated by crystal-clear frozen waterfalls and jagged limestone walls rising high against Alberta's serene winter sky backdrop!
Glaciers Shaped The Landscape
Maligne Canyon is truly a stunning geological wonder. Its history dates back millions of years, beginning with the retreat of the last glaciers in the last ice age. As the glaciers melted, they carved narrow pathways through the soft limestone rock, forming the deep and narrow canyon we see today. Erosion from the Maligne River then continued to shape the canyon. Today, visitors can explore the canyon's depths through hiking trails and steel catwalks suspended above the rushing waters, taking in this incredible natural beauty and geological history.
Maligne Canyon Is A Four-Season Adventure
Maligne Canyon in Jasper National Park is a breathtakingly beautiful natural wonder that draws visitors from far and wide during every season. You can enjoy a magnificent display of waterfalls, pools, and rock formations during spring, summer, and fall. Hiking along the canyon's trails provides a thrilling adventure, with majestic views around every bend. You may also see elk, bighorn sheep, and other wildlife.
Maligne Canyon is gorgeous in all seasons but especially beautiful in winter when the water freezes and the hike becomes an icewalk.
What Is A Guided Icewalk Tour?
A guided icewalk tour in Maligne Canyon allows you to experience the canyon's beauty up close and personal. Our Maligne Canyon Icewalk Tour by Banff Jasper Collection by Pursuit began at the Maligne Canyon Wilderness Kitchen. Lunch is included in the tour. After lunch, we were fitted for our gear.
Our tour included all the necessary equipment, including rubber boots that come up to your knees, crampons for your boots (a crucial traction device similar to cleats for walking on firm snow and ice), and a helmet for safety.
You'll also be accompanied by a knowledgeable guide who will ensure a safe and enjoyable experience. Guides know the safest paths, shortcuts, problem areas, ice thickness, and depths of water beneath the ice. They also provide help when needed as you traverse the difficult canyon spots.
As you venture deeper into the canyon, you'll walk across suspended walkways, peer down into the icy depths, and learn about the geology and wildlife unique to the area.
We hiked about a half-mile to get to the icewalk area, then descended to the bottom into the ravine, surrounded by frozen waterfalls, rugged limestone walls, and sparkling icicles. There are plenty of opportunities to take photos, so remember your phone or camera.
As you go through the canyon, you're surrounded by the stunning beauty of nature's artistry. The sound of water trickling beneath the ice, the transparent walls of ice that have formed into unique shapes, and the cool air on your skin combine to create a sensory experience unlike any other.
The tour suits healthy, active travelers who can walk for 3 hours, climb stairs, and maintain good balance. I would not recommend it for people with mobility problems or knee or hip issues.
Icewalk tours run from December to the beginning of April. Check the website for available tours and to make reservations.
Can You Visit Without A Guide?
Hikers can do the icewalk without a guide, but you should be experienced. I would not do the icewalk on my own. Hiking during other seasons would be fine, but going with a guide for the icewalk is the safest thing to do in winter.
What To Wear On An Icewalk
You may be wondering what to wear on an icewalk. Maligne Canyon (or any ice canyon, for that matter) is cold. The key here is to wear layers. Start with a base layer, add a fleece or sweater, and then a warm jacket.
I recommend a warm jacket that is mid-thigh length. You will notice in the photos that my coat was knee-length. I selected it because I thought it would be warmer. While it was warm, it limited my movement when making wide steps or climbing.
Remember that you'll be walking on rugged terrain, so comfort is key. You'll want pants that stretch and won't constrict your movement.
Boots that reach your knees are essential. So bring along a pair of sturdy, waterproof boots that will keep your feet dry and comfortable.
You will need crampons or ice cleats for walking on the ice, and be sure you wear a helmet in case ice, rocks, or tree limbs fall from above.
If you go on a guided tour, boots, crampons, and a helmet will be provided.
How Long Does The Maligne Canyon Icewalk Take?
The icewalk can take anywhere from 2–4 hours, depending on the tour company, weather conditions, the speed at which you hike, how many photos you stop to take, and the route you take. But don't worry: The experience is well worth the time.
Safety Considerations When Venturing Into Maligne Canyon
This awe-inspiring canyon is a natural wonder that draws countless visitors each year. Knowing the potential dangers of exploring a natural environment is essential.
Ice can be slick and dangerous to traverse.
Running water that you have to wade through even in winter can reach depths up to your knees in some areas of the canyon, creating an added risk of slipping or getting trapped in a current.
Ice, rocks, or branches can fall from overhead.
Despite these risks, with some preparation and awareness of your surroundings, venturing into Maligne Canyon can be a safe and rewarding experience.
If you love exploring the great outdoors, you must experience ice walking in the Maligne Canyon. The frozen waterfalls, towering ice columns, and iced river immerse you in a winter wonderland like no other. Whether you're an adrenaline junkie or simply looking for a unique experience, ice walking in the Maligne Canyon should be on your bucket list.
Tips For Enjoying An Icewalk
Go With A Guide
Unless you are skilled at ice walking, opt for going with a guide for safety reasons and the fact that they provide not only the guided hike but boots, ice cleats, and helmets.
Check Weather Conditions
The icewalk is only open when weather conditions are safe, so check the forecast before you head out. If the weather is warm, there is a risk of falling through the ice, so it's best to wait for cooler temperatures.
Dress In Layers
Even if the weather isn't freezing, dressing warm for the icewalk is essential. Wear layers that you can easily remove if you feel too warm.
Wear Appropriate Footwear
Wear waterproof boots that reach your knees and ice cleats for traction on the ice.
Bring Your Camera
Remember to bring your camera because you'll want to take photos. The scenery is absolutely stunning and you'll want to capture it to show your friends and family.
Plan To Unplug
There is no cell service in most of the canyon area, so plan to be unplugged and enjoy nature.
Be Prepared For A Strenuous Hike
The icewalk is a challenging hike. There are some steep sections and you have a distance to walk.
Look But Don't Touch
It may be tempting to touch the ice sculptures or slide down an icy slope, but it is vital to resist the temptation as it can be dangerous.
Pay Attention To Your Surroundings
The icewalk can be disorienting because of all the white snow and ice, so paying attention to where you are and what is around and above you is essential.
Have Fun!
The icewalk is a once-in-a-lifetime experience, so enjoy every minute of it!
Related Reading: