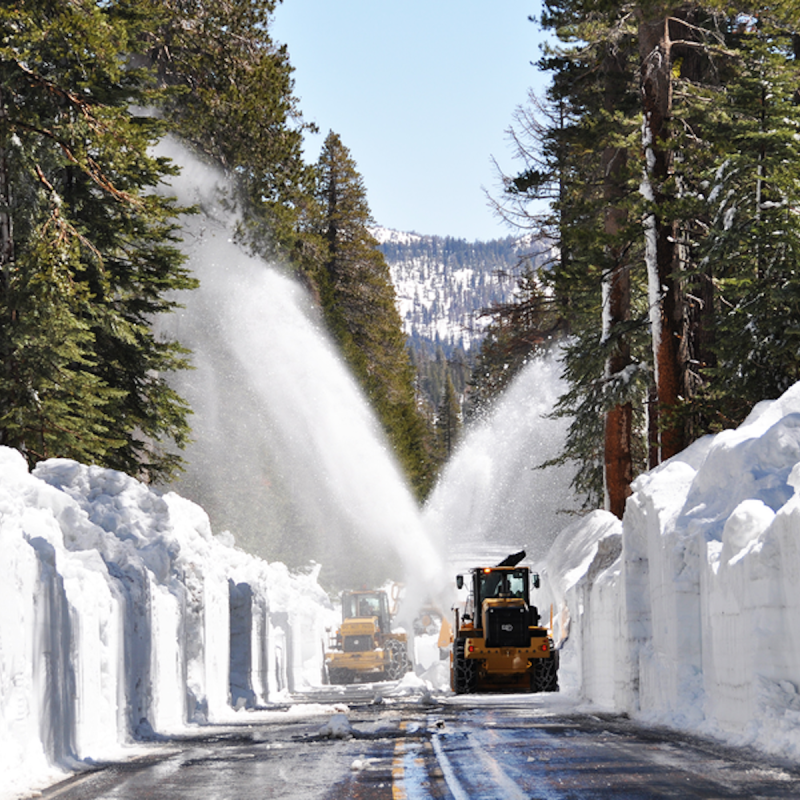 Yosemite National Park, like some other parts of California, received a record-breaking amount of snow last winter. Now that the snow is beginning to melt, it's causing problems.
Indeed, the melt-off is causing rivers to rise, which in turn, poses a risk of flooding. And as temperatures warm, additional melt-off is on the way as well.
Consequently, the National Park Service (NPS) has announced that some popular recreation areas at Yosemite National Park may be closed for part of the summer.
"There is still a lot of snow to melt, so there may be some periods between now and early July when Yosemite Valley is inaccessible due to flooding," the NPS wrote on Facebook. "River-related recreation, like rafting, swimming, and picnicking in picnic areas along the river, is likely to be unavailable until sometime in July even when Yosemite Valley is open."
It isn't just snowmelt that's causing delays at Yosemite. Staff is still trying to clear roads of snow while also assessing damage and beginning road repairs.
"Snow is flying on Tioga Road this spring!" the NPS wrote in another post on Facebook. "After an unprecedented winter, much of Yosemite's high country is still covered in several feet of snow, and the park's dedicated road crew really has their work cut out for them."
In fact, there's so much snow that the NPS can't estimate when Tioga Road will open. However, in other years, with very heavy snowpack, Tioga Road did not reopen until late June or early July.
"Much of Yosemite's wilderness will likely be covered in snow well into summer," the NPS explains.
Here's what you need to know about road closures at Yosemite this year.
Tioga Road Buried Under Snow
Each spring, Yosemite's crews work to plow 45.5 miles of road between Crane Flat and the entrance station at Tioga Pass. As of May 13, plows have cleared the first 11 miles of road, "cutting a deep corridor through the snow," the NPS explains. Progress is nearing White Wolf, where the rooftops of bathrooms and other structures are just starting to be visible.
"As the crew works their way up the road, climbing to over 9,000 feet in elevation, conditions continue to grow more challenging. They will face many more miles of road buried beneath at least 10 feet of snow, much of it heavily compacted, and they will have to carefully navigate several hazardous avalanche zones," the NPS notes. "Plowing 7 days a week, the road crew is working as quickly as they can to clear Tioga Road — though the safety of the team remains the highest priority."
Big Oak Flat Road Damage
Big Oak Flat Road, or the continuation of Highway 120 west into Yosemite, remains closed from just inside the park boundary to Merced Grove. The road will be closed at least until mid-June, and possibly into July, as the NPS works with the Federal Highway Administration to repair structural damage to the road.
"The road has a crack that is about 200 feet long and up to 4 feet deep. The road surface has moved 2 to 3 inches vertically and horizontally and is continuing to move," the NPS notes. "The embankment below the road has moved as much as 15 feet downslope and has significant water flow through it. It is not safe to open the road even to limited traffic, and doing so would likely lead to additional road failure."
Here's what that means.
First, visitors entering Yosemite on Highway 120 from the west can reach Hodgdon Meadow and Hetch Hetchy, but not other areas of the park, such as Yosemite Valley.
If visitors reach Yosemite Valley on Highways 41 and 140, they can then drive on Big Oak Flat Road to reach the Tuolumne and Merced Groves of Giant Sequoias.
Glacier Point Road Safety Issues
Glacier Point Road will open "no earlier than July, probably later," due to heavy snow and construction, according to the NPS. Once the road does open, there will be 30-minute delays.
The existing road, which was built in 1936, is subject to high traffic volume all year because it provides access to Bridalveil Creek Campground, Glacier Point, Badger Pass Ski Area, and numerous trailheads. The ongoing Glacier Point Road Rehabilitation Project will address multiple significant safety issues, including pulverizing and repaving 10 miles of road between Badger Pass and Glacier Point, repairing narrow hairpin turns between Washburn Point and Glacier Point, and building more parking areas and new toilets near the Sentinel Dome Trailhead.
No facilities or services will be available at Glacier Point until the road opens.
Mariposa Grove Road Storm Damage Repairs
Yosemite's Mariposa Grove of Giant Sequoias, which is the largest sequoia grove in Yosemite, is home to more than 500 mature giant sequoias.
If you want to visit Mariposa Grove, it'll take some extra planning and more work to get there.
That's because Mariposa Grove Road is closed due to storm damage. However, repairs are scheduled to begin this month.
In the meantime, since the road is closed, shuttle services to Mariposa Grove have been stopped. Instead, visitors who want to see the giant sequoia grove will need to hike there. That hike, which is 2 miles each way, gains 500 feet in elevation.
Know Before You Go
If you plan to visit Yosemite soon, you'll want to know about road work and the conditions of trails and wilderness areas. Of course, you'll also need to be aware of possible flooding and campground information.
The best way to learn about those alerts is to visit Yosemite's Current Conditions webpage.
While you're thinking about the park, and possibly planning a trip there, be sure to read all of our
Yosemite National Park content, including: