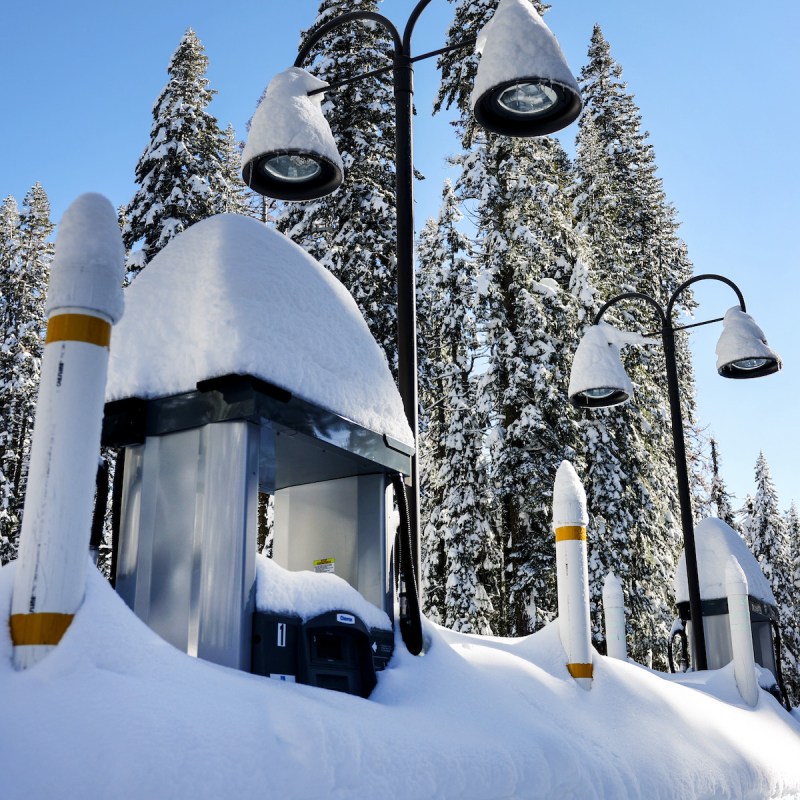 The calendar may read March but it looks like the middle of winter at Yosemite National Park. Or, more accurately, it looks like the middle of winter after a record-breaking amount of snow has covered the ground, mountains, roads, and buildings.
Park officials closed Yosemite National Park last weekend to prepare for a major winter storm. Then, the storm arrived on schedule, bringing blizzard-like conditions and dumping tons of snow in the Sierra Nevada mountains.
Now, as a result, the National Park Service (NPS) has closed Yosemite indefinitely.
"Yosemite has experienced significant snowfall in all areas of the park, resulting in snow depths up to 15 feet in some areas," explains a notice from the NPS on the park's website. "Park crews are working to restore critical services so visitors can safely return. There is no estimated date for reopening."
Now, in what may further complicate the situation, Brian Ochs, a meteorologist with the National Weather Service, said that, while the Yosemite area is no longer under a blizzard warning, the area could see more snow, according to the Sacramento Bee.
Ochs said the Yosemite area could get between 6 and 12 inches of snow this weekend. Furthermore, locations at higher elevations could get as much as an additional 15 inches.
Is This Much Snow At Yosemite Unusual?
Yosemite National Park is located in California's Sierra Nevada mountains, so heavy snowfall isn't unusual. What is unusual, however, is the recent amount of snow from back-to-back winter storms.
In the Yosemite Valley, for example, where summer tourists travel to see the park's world-famous granite cliffs, Half Dome and El Capitan, the snow accumulation has broken a 54-year-old daily record, according to the Los Angeles Times.
"In all of my years here, this is the most snow that I've ever seen at one time," said Scott Gediman, a spokesperson for Yosemite and ranger for 27 years, the Los Angeles Times reports. "This is the most snow any of us have ever seen."
Know Before You Go
Although crews are working to clear Yosemite's roads, the park remains closed for the foreseeable future. In a Facebook post, park officials have even reiterated that "there is no estimated date for reopening."
If you are planning to travel to Yosemite soon, be sure to check out the park's Current Conditions for updates.
For more about the park, be sure to read all of our Yosemite content, including: