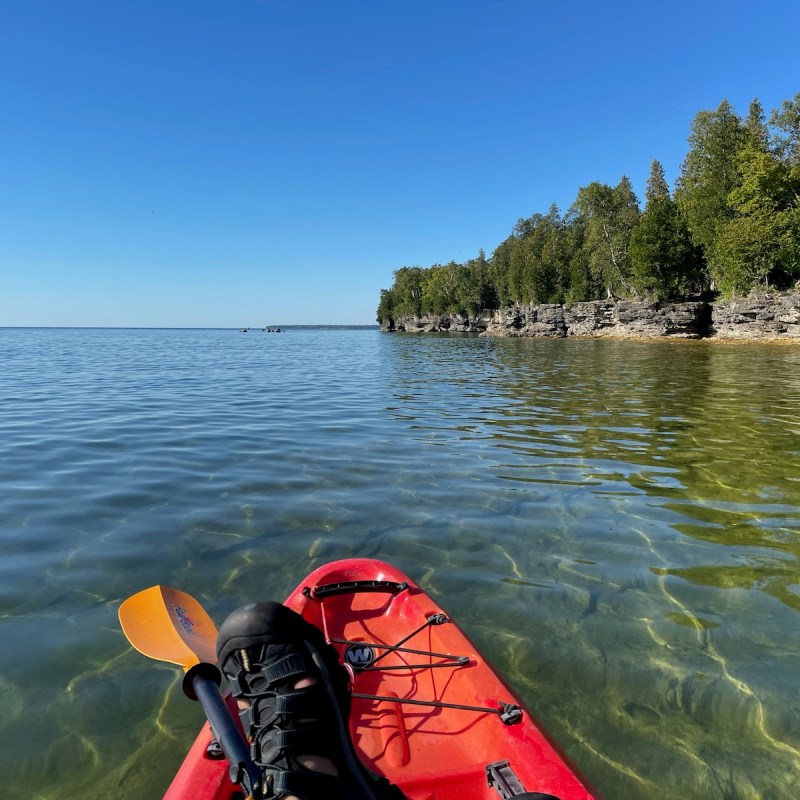 There's something about being on the water in a kayak that is, oddly enough, grounding. It's a simple joy to paddle peacefully over still water and soak in the sights and sounds from that unique vantage point.
As part of our many adventures in Door County, Wisconsin, my husband Dean and I took a kayaking trip at Cave Point County Park. Cave Point, one of 19 county parks on the Door Peninsula, is perched on a cliff about 30 feet above Lake Michigan. Over many years, Lake Michigan waves have eroded stone from these cliffs, naturally carving out sea caves that can be seen at water level.
When the water is calm, it's a perfect place for kayak exploration. We loved kayaking at Cave Point County Park and here are some reasons why I think you will, too.
1. Lake Michigan
Located about 3 hours north of Milwaukee and 4 hours north of Chicago, Door County is a 70-mile-long peninsula in northeastern Wisconsin that has earned the nickname "The Cape Cod of the Midwest." With water on both sides (the bay of Green Bay to the west and Lake Michigan to the east), it's no surprise that Door County is popular for water sports of all kinds, including kayaking.
Lake Michigan has many faces, but here at Cave Point County Park, water in these coves rivals the color of the Caribbean, making it popular with kayakers and scuba divers alike. The views from on the water in a kayak, or in it with scuba gear, bring new meaning to the words "crystal clear."
We took our kayak tour on September 15, which was the last day of kayak tours for the season. The morning was calm and clear, and the water sparkled like glass. We dipped our paddles in the water and moved quietly through it. This was a leisurely paddle, but when we needed a break, we floated and gazed at the bottom, remarking to each other how clear and vivid everything was.
2. The Rocky Dolostone Shoreline
Another unmistakable part of kayaking here is the rocky shoreline. I'm no geologist, but from what I understand, Cave Point County Park's unique landscape is the product of complex geological forces over a long period of time. Web research tells me these dolostone rock formations that we could see everywhere are part of the Niagara Escarpment. Yes, the rock we looked at here connected in some way, above and below the water, all the way to Niagara Falls!
3. The Caves Of Cave Point
The stars of the show are the caves. I guess it's the fury of Lake Michigan's waves (sometimes as high as 30 feet) on a rough day that makes for some amazing sculpting work, creating sea caves along this shoreline. But on this kayaking trip, we saw only beauty, no fury.
Although most of the caves are shallow or submerged, they can still be viewed from a kayak because the water is so clear. We kayaked about 4 miles along the coastline and its jagged edge, and the naturally carved caves were a continual wonder.
Paddling Into Two Caves
Kayaking along the caves of Cave Point is one thing but kayaking inside a couple of caves is another. This can always change, but when we went, two caves could still be explored from the inside — if conditions are calm and you know where to find them (another reason to go with a guide).
Our guide showed us where to enter these caves and it was easy access — no ducking or scraping the sides. One of the caves was big enough for all three kayaks to be inside at the same time. Being inside these caves is a unique and amazing experience.
4. Peninsula Kayak Company
Another reason we loved kayaking Cave Point was that we had a guide. There are several outfitters that lead tours here, but we took the 2-hour Cave Point Kayak Tour from Peninsula Kayak Company.
The tour description was appealing: "Join us for a beautiful kayak trip along Door County's pristine Lake Michigan coastline. The trip will take you along Cave Point County Park, and Whitefish Dunes State Park. With the unique vantage point of your kayak, you'll be able to experience the beauty of the dolostone caves and observe the beautiful karst landscape on crystal clear Lake Michigan."
The outfitter provides a guide, all equipment, and the necessary transportation. We signed waivers (standard practice), were issued life vests and paddles, loaded up the kayaks for our tour, and drove us in a shuttle van to the "put-in" point at nearby Schauer Park.
Pro Tips: The water is usually the calmest in the morning, so earlier is better (we took an 8:30 a.m. tour). If you go without an outfitter, know that launching kayaks from Cave Point County Park is not recommended due to the rocky shoreline. Wear comfortable swimwear or wicking clothes and shoes that can get wet (flip-flops or water shoes). Bring water, a hat, sunscreen, sunglasses, and something (cell phone, camera, GoPro) to record the moments.
5. Devil's Cauldron
A natural, curved rock formation near the Cave Point County Park parking lot has earned the nickname "Devil's Cauldron." Easy access makes it one of the most popular rocky formations in the park. Although it was calm when we were there, apparently, rogue waves crashing upward have been likened to a cauldron and earned it the colorful moniker.
6. Lakeside Trail
Whitefish Dunes State Park
Cave Point has a unique relationship with Whitefish Dunes State Park. It is a county park that's located within a state park, and hiking from Cave Point to Whitefish Dunes is beautiful. The Lakeside Trail is accessible from the parking lot and is about a mile and a half out and back along the shoreline.
You'll know you've arrived when the Lakeside Trail takes you to the water's edge overlooking Whitefish Dunes State Park. Whitefish Dunes features some 860 acres of forest and sand dunes (the highest in Wisconsin) and offers a mile of sandy beach and almost 15 miles of hiking trails. Growing up in the Green Bay area, I spent many a summer weekend enjoying the beaches and water here.
Pro Tip: Plan for at least 30 minutes of hiking; longer if you linger (and no one would blame you if you did).
Get Grounded
Kayaking Cave Point County Park is a unique experience. When you head to Door County, don't miss the opportunity to get on the water in a kayak and get grounded. You'll see for yourself the simple joy of peacefully paddling over (what I hope are) still waters and soaking in the sights. Appreciate the beautiful Cave Point County Park from a whole new perspective.
Pro Tip: A friend from the area said that traffic and crowding in Door County during summer are getting excessive. In September, however, we didn't see any of that. Shoulder season travel for the win!
Related Reading: