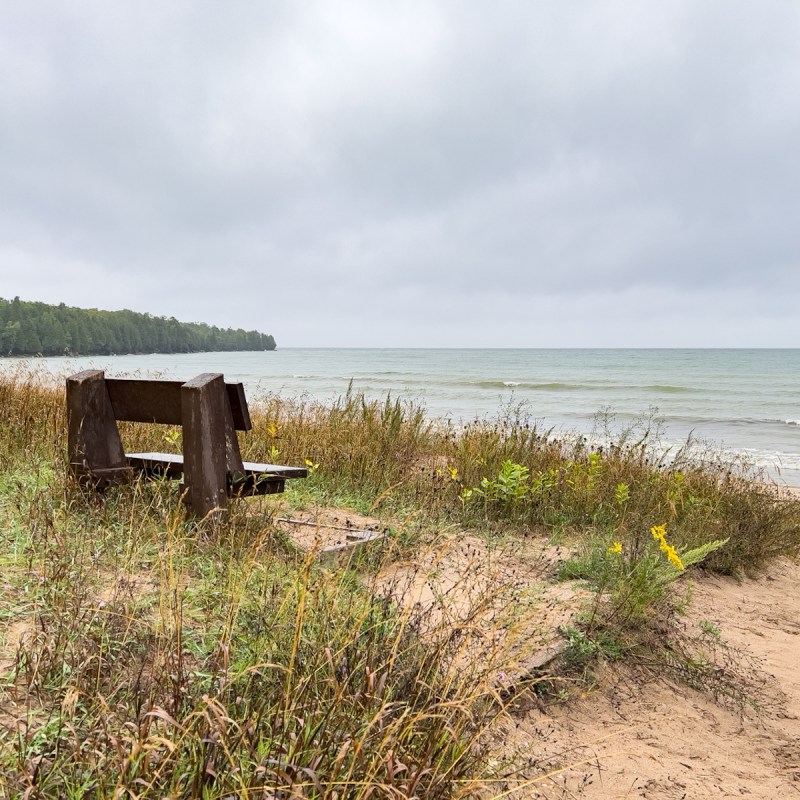 Five beautiful state parks vie for your attention in Door County, and they are the top attractions year-round. Each state park is unique and offers exciting options for outdoor recreation, scenery, and amenities.
Newport, Peninsula, Potawatomi, and Rock Island State Parks are open year-round from 6 a.m. to 11 p.m., and Whitefish State Park is open from 6 a.m. to 8 p.m. year-round.
Pro Tips: Daily or annual admission stickers are required. Admission fees correspond to the license plate of the vehicle. Many services operate from May through October and are closed during the winter.
1. Newport State Park
Ellison Bay
Newport State Park, located on the east side of the peninsula, protects 11 miles of the Lake Michigan shoreline. The park earned wilderness-designated status in 1974 from the Wisconsin Department of Natural Resources. Roads are limited to preserve the wild quality of the park, and campers must backpack into sites.
This 2,400-acre park is known for its undeveloped shoreline with rocky headlands, hidden coves, sandy bays, and dark skies.
Dark Sky
Newport State Park was designated as Wisconsin's first Dark Sky Park in 2017. When I was there, I discovered a wide shore close to one of the few parking lots — perfect for photographing the night sky.
Europe Lake
Europe Lake is a 300-acre inland lake accessed by hiking and biking trails. It's only 10 feet deep, so it warms up faster than Lake Michigan.
Camping
Campers must bike or hike all gear to any 17 backpack campsites, which can be reserved. Distance from the parking lots is one to two and a half miles.
The only amenities at the campsites are a pit toilet, a fire ring with a flip-up grill, a lockbox for food, and a bench or two.
Hiking
Newport State Park offers 26 miles of hiking trails.
Biking
Most 14 miles of off-road bike trails are dirt, not paved or graveled.
Picnicking
A picnic area with water, tables, grills, vault toilets, and a reservable shelter building is located near the shore at Parking Lot 3.
2. Peninsula State Park
Fish Creek
Peninsula State Park is considered Wisconsin's most complete park, with high bluffs that are part of the Niagara Escarpment (a UNESCO World Biosphere Reserve) and a view of Green Bay. It's the third-largest state park.
History
Almost 4,000 acres were set aside to become a state park in 1909, and it officially became Peninsula State Park in 1910. By 1919, Door County and Peninsula State Park became the premier outdoor playground in the Midwest.
During the Great Depression, the Civilian Conservation Corps established a camp at Peninsula State Park. Fish Creek was the site of a German POW camp in 1945.
The Park Today
With over 468 campsites, three group camps, a professional summer theater, an 18-hole golf course (open late April to late October), a sand beach, hiking, ski, and bike trails, a lighthouse, and 8 miles of Door County shoreline, outdoor enthusiasts have many opportunities to experience the beauty of Door County year-round.
Eagle Tower
Eagle Tower, open seasonally from May 1 to October 31, is one the most popular attractions in Door County. It was a fire lookout tower in the early 1900s.
In May 2021, the tower reopened after years of reconstruction. Located on the top of Eagle Bluff, the tower offers bird's eye views of the park, surrounding islands, the Upper Michigan shoreline, and the village of Ephraim.
The handicapped accessible 60-foot-high tower allows visitors an incomparable view 253 feet above Green Bay. You can climb 100 steps or enjoy the 850-foot, fully-accessible canopy walk that winds above the tree line on an accessible ramp that never exceeds a 5 percent slope.
Eagle Bluff Lighthouse
The Eagle Bluff Lighthouse near Fish Creek was listed on the National Register of Historic Places in 1970. Eagle Bluff Lighthouse is open for guided tours and has a gift shop.
Pro Tip: Get a lighthouse stamp in your passport in the gift shop.
White Cedar Nature Center
Originally built as a warming house in the winter for the toboggan run and ski jump, it's used now for educational programs year-round.
Northern Sky Theater
Original-written musical comedy shows are performed every night but Sundays during the summer in the 249-seat theater. The theater has been featured on Wisconsin Public Television many times.
Sunset Bike Trail
At 9.5 miles, the Sunset Bike Trail takes about an hour to bike and 3 hours to hike.
Peninsula Golf Course
One of Wisconsin's most scenic golf courses, Peninsula Golf Course sports two courses — an 18-hole regulation course and a six-hole short course designed for golfers of any ability and age.
3. Potawatomi State Park
Sturgeon Bay
Potawatomi State Park, located on the shore of Sturgeon Bay, is on the southwest side of the Door County peninsula. The park was named after the Potawatomi tribe that lived along the shores and islands when Europeans first settled in the area.
History
In the 1800s, Door County's first industry began in the waters of Sturgeon Bay. Because the limestone bluffs were so close to the water, Door County's Stone Fleet flourished in the late 1800s with four quarries in Sturgeon Bay. The quarried stone was loaded onto ships and economically carried to ports around Lake Michigan. By 1917, Sturgeon Bay limestone made up almost every pier and breakwater in harbors around Lake Michigan.
The Park Today
1,200 acres offer visitors camping, hiking, biking, picnicking, fishing from the accessible pier, and launching boats. Birders and hobby botanists also find Potawatomi State Park appealing. I was amazed at the otherworldly, rugged terrain with trees growing out of the limestone rocks.
The observation tower, like the one in Peninsula State Park, provides a stunning bay view 225 feet above the ground over the tree line. However, a chain link fence blocks all access to the tower because it has fallen into disrepair and is hazardous. I parked close to the building and discovered the Ice Age Trail, Sturgeon Bay Segment.
Ice Age National Scenic Trail
The Sturgeon Bay Segment of the Ice Age National Scenic Trail is easy to access at the trail's eastern terminus, with plentiful parking near the observation tower in Potawatomi State Park.
Camping
Camping at Daisy Field Campground offers flush toilets, vault toilets, an amphitheater, a playground, a shelter building, showers, and handicapped-accessible campsites.
Cabin by the Bay provides fully accessible indoor camping for people with disabilities in the south campground and accommodates up to six people.
Park Store
The park store runs the concessions for the park, and is open May through October, with shorter hours after Labor Day.
Services include:
Fresh groceries
Snacks and ice cream
Drinks — coffee, hot chocolate, and cappuccino
Souvenirs
Camping and fishing supplies, including ice and firewood
Bike rentals — mountain or hybrid
Kayak, rowboat, canoe, or paddleboard rentals
4. Rock Island State Park
Washington Island
Rock Island State Park is off the northeast coast of Washington Island at Jackson Harbor and is only accessible by passenger ferry. No vehicles are allowed on Rock Island. The Karfi Ferry runs Memorial Day weekend through Columbus Day in early October.
Rock Island was first discovered in 1679 by Robert de La Salle, a 17th-century French explorer and North American fur trader. It's now considered Wisconsin's best-kept secret.
An inventor, amateur botanist, conservationist, and Icelandic native named Chester Thordarson made Rock Island a retreat for the rich and famous in 1910.
Rock Island is 906 acres and offers 10 miles of hiking trails, a swimming beach, and miles of shoreline, plus 40 primitive, walk-in tent sites with picnic tables and fire rings.
Pottawatomie Lighthouse, the oldest lighthouse in Wisconsin, is at the northern tip of Rock Island. It was built in 1836, before Wisconsin became a state. The lighthouse was rebuilt in 1858 and placed on the National Register of Historic Places in 1979.
DNR ranger Randy Holm says the best thing about Rock Island is its remoteness, quietness, and beauty.
5. Whitefish Dunes State Park
Sturgeon Bay
Whitefish Dunes State Park encompasses 867 acres of dunes and forest in the southeast corner of the Door County peninsula on Lake Michigan. It was established in 1967 primarily to preserve and interpret the dunes, the highest in Wisconsin.
3 miles of shoreline stretch from the sand beach along the dunes to rocky cliffs as you near Cave Point.
14 miles of hiking trails take you through a variety of habitats, from the exposed dolomite limestone to the sand bar formed between Clark Lake and Lake Michigan 4,000 years ago.
Nature Center At Whitefish Dunes State Park
The Nature Center educates visitors with videos, a self-guided nature trail, and booklets that offer educational activities for days on the beach, rainy days at home, or starry nights. Return the completed booklet to any state park, forest, or recreation area, and you'll receive a certificate and patch for completing the activities.
Village Site
A village site outside the Nature Center recreates what life used to be like at Whitefish Dunes. Archeological digs uncovered settlers from AD 100 to AD 1400.
Pro Tip: If you want a flush toilet experience, be there before the Nature Center closes at 4 p.m. Otherwise, your only other option is the unsavory pit toilets in the changing rooms on the other side of the parking lot.