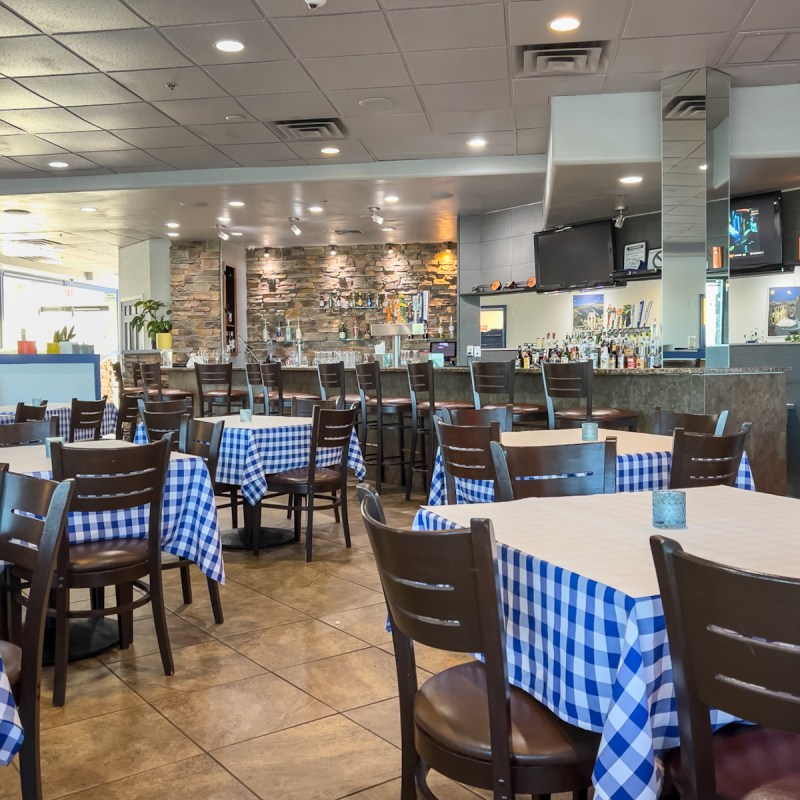 From adventure to relaxation, Fountain Hills is an exciting destination. It has scenic vistas, flourishing desert landscapes, countless outdoor recreation activities, and rich arts and culture.
The "fountain" from which Fountain Hills gets its name is one of the world's tallest artificial fountains. The fountain sprays water from the center of Fountain Lake every hour for about 15 minutes and reaches 560 feet, which is 5 feet taller than the Notre Dame Cathedral in Paris, France.
No matter how often I visit, I make it a point to watch the fountain spray, whether I'm strolling on the street or sitting at a prime table in a restaurant.
Dining Options
Fountain Hills has over 60 dining options. Restaurants in Fountain Hills include popular cuisines like Asian, Mexican, Italian, and American. With plenty of bars, cafés, and coffee shops to catch up with friends for a quick bite or a recharging drink, you will find something to satisfy your appetite.
While I haven't tried them all, the following are my favorite Fountain Hills restaurants from personal visits. They range from casual to upscale, and while they are numbered, there is no particular order.
Arrivederci Cucina Italiana and Adero Scottsdale Resort hosted me, but all opinions are my own.
1. Alexander's Greek Kitchen
I felt like I had stepped onto a Greek Island when I walked in the door of Alexander's Greek Kitchen. Greek music set the mood, as did the blue and white checkered tablecloths with white paper table protectors. Outdoor seating on the front deck provided an unobstructed view of the Fountain Lake and a ringside seat to see the fountain launch on the hour.
What To Order At Alexander's
Alexander's offers a traditional menu with hot and cold appetizers, salads and soups, and sides of Greek-style potatoes or green beans. Their skewers, house-made daily with pork, chicken, or lamb, can be ordered with pita, on a plate with a side, or vegetarian.
I had a black-eyed pea soup that was homemade that afternoon. Freshly toasted pita bread and a lemon wedge to squeeze over the soup were perfect for my appetite. I felt like I was in Mamma's kitchen.
Select from various California, French, and Spanish wines at the bar. Many red, white, and rosé wines and champagnes hail from Greece, along with Greek beer on draft and bottled.
2. All American Sports Grill
I wanted to eat at All American Sports Grill because they have the best seat for the fountain viewing in the neighborhood. I wanted an adult beverage to go along with a nice fresh salad. I wanted to relax and enjoy the heat of the summer in the shade. I got everything I asked for, including the blueberry cucumber salad.
All American Amenities
All American Sports Grill isn't just a regular sports bar; it offers a covered patio with a clear view of the fountain, an energetic happy hour, live music, various craft and domestic beers, a full bar with handcrafted cocktails, over 50 HDTVs throughout the restaurant, and access to every available sports package. These features make it an ideal spot for sports fans to gather in a welcoming neighborhood environment.
3. Arrivederci Cucina Italiana
Italian cuisine is my favorite, and I appreciate good Italian food. When I stopped by Arrivederci Cucina Italiana and entered the lobby, I was immediately impressed with the dining room, the ultra-premium wine racks, and the sophisticated atmosphere. The view from the large windows of Fountain Lake was appealing. Strolling paths with public art surround the lake and make a great place to build up an appetite or walk off the calories after a delicious meal at Arrivederci.
What To Order At Arrivederci
Angelo made sure I had large portions of their signature dishes. When I requested their signature dish, I received pappardelle bolognese, lasagna, bread and pesto, and Choccamisu. It was enough for two people.
My authentic experience at Arrivederci matched the hospitality.
4. Cielo Restaurant
Cielo Restaurant is located at the Adero Scottsdale Resort, technically in Scottsdale. However, the restaurant features prominently in the Fountain Hills Official Visitor's Guide and must be included here. I've visited several times and it never disappointed.
Clinging to the side of McDowell Mountain, Adero Scottsdale Resort commands outstanding views of the Sonoran Desert, Four Peaks Mountain, Mount McDowell, and the fountain in Fountain Hills. The panorama windows from Cielo Restaurant and the sprawling outdoor terrace make the perfect setting for a cocktail, snack, or dinner.
Every meal at Cielo is artfully prepared, colorful, and appealing. The service is outstanding, and the servers are attentive and accommodating.
Adero Scottsdale Resort
The best time of year to visit Adero Scottsdale Resort is spring and fall when the temps are pleasant and you can sit outside on the terrace. However, I was there in the summer once, and they have refreshing misters to counteract the triple-digit temperature. In winter, globes arranged on the grounds include champagne and music to create a unique outdoor experience overlooking the valley.
5. Crowning Glory
We think tea is a "girlie" thing, and primarily women participate, relishing this overabundance of carbs. However, I can't imagine why anyone wouldn't enjoy the flavors and textures of a world-class high tea at Crowning Glory Tearoom.
My friend and I were fortunate to be served by the owner, Sherry Boas. Sherry's passion is unmatched in any other tea ritual I've seen. With religious overtones (it's the only Catholic tearoom in the world), you don't have to be a believer to enjoy the names and understand the history of every dish lovingly described to our eager ears. The décor reflects the lives of the saints and where they came from.
Crowning Glory Tea Services
The heavenly tea service at Crowning Glory consists of three courses and endless tea. The first course includes a small salad with poppyseed dressing and tiny finger sandwiches like cucumber pimento cream cheese on white bread. The second course is two scones with Devonshire cream and cherry jam. The third course is cake (with gold frosting), tarts, and French cream with sugared grapes.
Crowning Glory offers a wide selection of black, green, oolong, and white teas. Several all-natural fruits, flowers, and caffeine-free teas are also available.
Pro Tip: Crowning Glory is only open on Saturdays for high tea dining and you must reserve 48 hours in advance. It's worth the wait for the Saturday experience.
6. Desert Canyon Golf Club
Perched high in the hills of Fountain Hills and with an unlimited view of the mountains, Desert Canyon Golf Club was the first golf course in Fountain Hills. You don't have to make a tee time or be a golfer to enjoy the food offerings.
What To Order At Desert Canyon
Boasting the best street tacos in Fountain Hills, the chef takes pride in uniquely presenting basic food. I couldn't resist and was glad I tried the tacos. They were fresh, crunchy, and served on little taco racks. The chef sliced the avocado into flawless, creamy, green, and healthy fats.
7. Georgie's
Georgie's is the quintessential coffee shop where locals and visitors are warmly welcomed. Giant scrabble letters decorate the wall, spelling "Georgie's, good, food, breakfast, lunch." Coffee mugs sport bumblebees with the phrase "bee kind."
What To Order At Georgie's
Because I was there for breakfast, I was delighted with the extensive offering of skillets, sandwiches, griddles, and omelets. I chose the banana and Nutella pancakes. How can you miss when you go with chocolate, fruit, and pancakes?
8. Oka Sushi
Oka Sushi is a casual yet upscale Japanese restaurant. With a gorgeous pink flowering tree in the middle of the restaurant, one can imagine being in Japan during the spring cherry blossom festival.
What To Order At Oka
In addition to the classic rolls, sashimi, and nigiri, Oka Sushi offers crafted rolls with an assortment of specialty sauces, including eel, soy mustard, spicy mayo, and yuzu vinaigrette.
I loved the simplicity of the poke bowl with crisp wontons and hot sake during Happy Hour. It's perfect for a light lunch or a late afternoon snack.
9. Wicked 6 Bar And Grill
Shady canyons, rugged ridges, and impeccable green grass is the landscape enjoyed while dining in Wicked 6 Bar and Grill at Sunridge Canyon Golf Club. This Southwest restaurant offers a variety of delicious options, such as build-your-own gourmet burgers, steaks, wraps, sandwiches, and artisan pizzas. Whether you dine inside with a view or outside at the firepit, you'll have a great experience.
What To Order At Wicked 6
When I was there, I couldn't resist the Hawaiian breakfast. It's not just for breakfast, however. The Hawaiian breakfast is featured and is back by popular demand. This delectable dish is house-braised kalua pork with steamed jasmine rice and cabbage. Eggs any way you like them — I requested poached eggs — and the sweet soy glaze make this a savory meal in a bowl.
Where Is Fountain Hills
An official Dark Sky Community, Fountain Hills is in the East Valley of Metropolitan Phoenix. It is 30 minutes from Phoenix Sky Harbor International Airport, and Scottsdale Airport, and only a 40-minute drive from downtown Phoenix.
For more to see and do in Arizona, check out these articles: