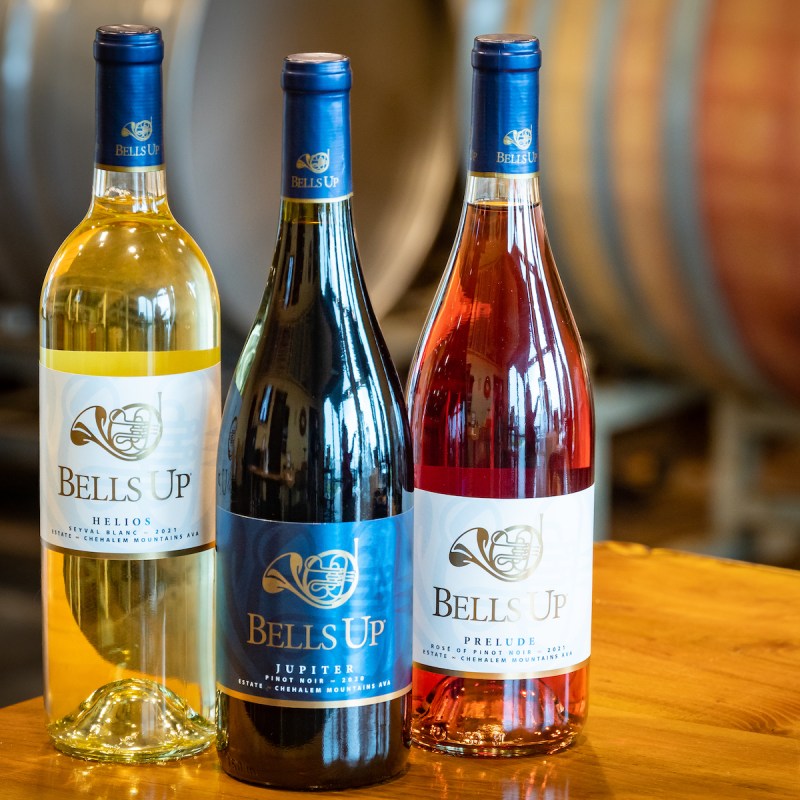 The Willamette Valley is Oregon's wine country. Affectionately known as "Oregon's answer to the Napa Valley," these rolling hills span from Eugene in the south to Portland in the north, or around 150 miles.
Snaking through the valley, the Willamette River nourishes these fertile lands while mountain ranges protect the valley from extreme weather creating a more temperate climate all year long. It is essentially these conditions that make growing cool-climate grapes such as the pinot noir, Oregon's premier grape, so perfect. It is easy to see why over 700 wineries call this valley home.
If you prefer a small, winemaker-direct experience, try these four amazing boutique wineries we visited on our day trip through the Willamette Valley.
While my visit to each winery was hosted, all opinions are my own.
1. Lenné Estate
Yamhill, Oregon
Lenné Estate sits on a 15.5-acre, south-facing hillside that was once an old cow pasture. Owners and winemakers, Steve and Karen Lutz purchased this rather barren property in 2000 with a vision of transforming it into a prosperous vineyard. After several years of toiling the land, their vision began to take shape and the first vintages from Lenné Estate were born.
According to Steve, there are four criteria to make a superb pinot noir: orientation, elevation, rocky soil, and a steep slope for proper drainage. He found all four. One sip of Lenné Estate Pinot Noir reflects the terroir of this land and the struggle to survive in this dense marine soil, giving a dense, full-bodied flavor.
The namesake and face of Lenné Estate belong to Karen's father who passed away in 1999, leaving Karen and her sisters a small inheritance. It was this nest egg that hatched the vineyard and winery; only fitting that it be named after him.
After Note
After our visit to the Willamette Valley, we learned that Lenné Estate had been sold. As of 2023, their vintage collections will be sold at the Distaff Wine Company tasting room in Newberg, Oregon. It's well worth a trip to secure a bottle of this full-bodied, fruity, and big-flavored pinot.
2. Bells Up Winery
A French horn features prominently on the sign of Bells Up Winery, signaling to us we are indeed at our destination. Dave and Sara Specter, owners and winemakers, greeted us and led us inside their cozy tasting room.
The Specters moved out West from Ohio and began their winery in 2012 with 9 acres of vines. Dave, a French horn player, borrowed from the musical term "bells up" to christen his winery. The term is used in a classical music score instructing French horn players to raise their instrument bells and project music with maximum intensity. It is a dramatic moment in any musical piece, and for Dave, the winery felt like his "bells up" moment.
Much like putting many notes together to make a song, the Spectors took an old tree farm and transformed it into a working vineyard and winery, with all its moving parts.
Hosting up to eight guests for a tasting allows for a very approachable winemaker experience. In fact, I found the Spectors extremely enjoyable, putting me at ease right away.
Due to the downpour of rain, we sipped our pinot inside the winery barrel room, but when the weather is fair, a tasting outside on the deck with sweeping views of the vineyard is the perfect place to be. The south-facing hillside allows for basking in a full day's sun in the Chehalem Mountains AVA.
The Wine Tasting
Wine tastings are conducted by Dave, pouring each wine separately as he tells their accompanying story — from their beginnings to each deeply fruity characteristic. As in music, the wines not only tell a tale but also evoke a feeling of well-crafted art. It is no wonder Dave names his classic wines after the great symphonies. What better way to idle away an afternoon than by marrying wine and music?
Pro Tip: Bells Up Winery does not charge a tasting fee. Instead, due to the personally-guided tastings at this small winery, each guest is requested to purchase a minimum of three bottles. A $100 non-refundable fee is charged at the time of booking and then applied back to the minimum purchase. Keep in mind, it may be difficult to select only three wines to take home.
3. Potter's Vineyard And Clay Art Gallery
Continuing on our tour, we drove through the rolling pastoral hills of this portion of the Willamette Valley near Newberg, Oregon, where we visited Potter's Vineyard and Clay Art Studio.
We stepped away from the rainy, grey skies and into a warm, beautifully decorated oasis of sun-kissed walls and homemade earthen pottery lining every shelf. It felt as if we left the Pacific Northwest for Italy as we sat down with the owners and winemakers Bill and Sandy Sanchez.
The combination of art gallery and winery pairs extremely well in this homey environment where Bill is the winemaker, grower, and potter, while Sandy runs the tasting room. It was over a decade ago that this delightful couple purchased an existing 3.5-acre vineyard situated here in the Willamette Valley in what is known as the Laurelwood AVA.
Adding their finesse to the property, they combined their passions into creating an art gallery, pottery studio, and tasting room. They brought forward their expertise from life, synthesizing it artfully into the old-world-style crafting of wine. Bill holds a background in nutritional sciences which became foundational in the organic practices of his vineyard.
The Wine Tasting
Sit down at a table, drink an uncompromisingly good wine, or taste several as Bill pours each one into your glass. The conversation may turn to their commitment to organic practices in the vineyard, their LIVE-certified (Low Input Viticulture and Enology) and Salmon Safe standards, or even how they create their art. Perhaps with a little nudge, Bill will graciously tour you through his pottery studio. His passion for superior wine, sustainable practices, and fine art are the important threads to weaving his life's tapestry. Bill's knowledge, commitment, and integrity show in the wine he produces. Potter's Vineyard and Clay Art Studio has won numerous awards for good reason. As Bill says, they strive "to be the very best tasting experience in Oregon."
Their pinot noir, cabernet sauvignon, and chardonnay are always available. Seasonally, they offer a sparkling rosé, white pinot noir, or merlot. Wine tastings with Bill and Sandy are intimate, casual, and friendly, with the goal of "building beautiful memories."
Pro Tip: Tastings include a flight of five wines and cost $20 per person. Add on a tour of the vineyards for an additional $10, and by special request, a tour of the artist's pottery studio can be arranged.
4. Youngberg Hill Vineyards
Heading back towards our home base getaway from McMinnville, we stopped in at Youngberg Hill Vineyards. We heard, through the grapevine, about their stunning views overlooking this rich, enchanting valley. Let's just say, we were not disappointed, even on a rather wet afternoon.
With a tasting of their estate pinot noir in hand, we meandered through their three-story, nine-suite inn awing over the extraordinary panoramic views of the Cascade Mountains in the distance, the Willamette Valley laid out before us, and the surrounding hillside carpeted with over 23 acres of vineyards (the estate encompasses a total of 50 acres). From inside the tasting room, located directly in the center of the estate, we watched the resident highland cattle make their way through the misty rain back up to the barn. It kind of felt like Scotland.
Another impressive feature of this winery is its owner, Nicolette Nickolaou. Youngberg Hill is one of the few woman-owned wineries in the Willamette Valley. Situated farther to the west, the vineyards here receive more cool marine air than other valley vineyards, establishing a terroir representative of this place and region.
Pro Tip: Youngberg Hill offers a walk-in, no-reservation-required tasting of a five-wine flight for $30 per person. For a more personal, direct, and elevated experience, a tasting appointment may be made beginning at $70 a person.
Hotel Oregon
Our home for a few days was at Hotel Oregon in McMinnville. Located in the heart of this wine country, McMinnville offered accessibility for our daily outings with small-town charm. Driving through this agricultural area for the first time, I looked out onto the green countryside and began to understand the attraction to this rich, dense, and diverse area.
Related Reading: