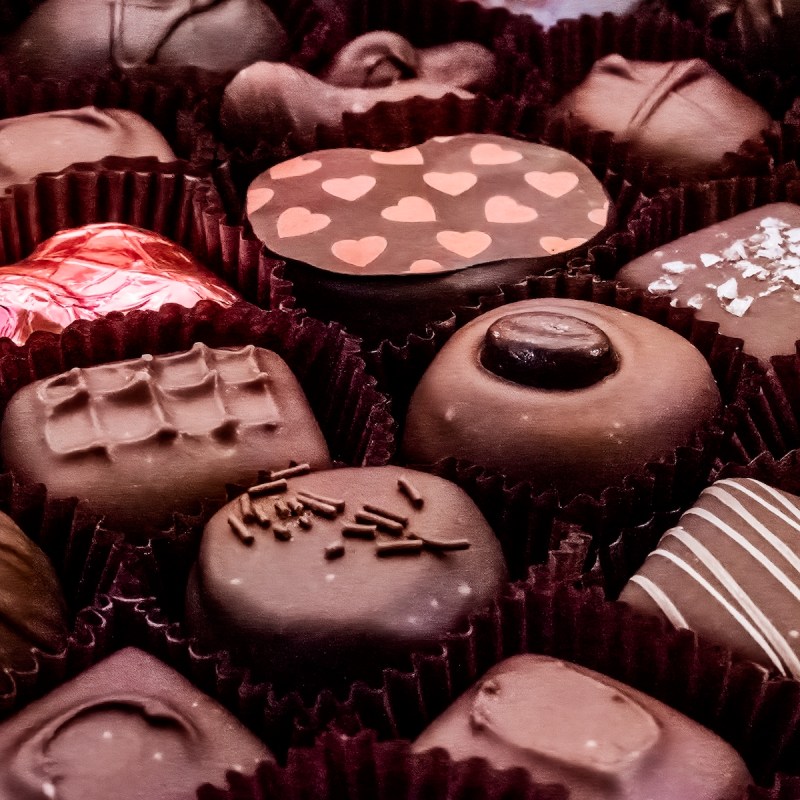 Oregon's Willamette Valley is well-known for its boutique wineries and sprawling vineyards. Less renowned — at least outside the small towns lucky enough to host them — are its petite, artisan chocolate shops.
These local chocolatiers are passionate about chocolate. They ply their craft in back rooms, basements, and converted garages. They use recipes handed down by grandmas and mentors. Cremes and clusters, truffles and solid hearts, buttons, and bars are crafted in small batches, often by the person behind the counter.
To find these exceptional, artisan chocolates in their various shapes and decadent flavors, you can get off the beaten path and wander the backroads, or order online from any except Victorian Chocolate Company (you can order by phone or email instead).
Here's your guide to the seven best chocolate shops in the Willamette Valley.
1. Puddin' River Chocolates And Confections
Chocolatier Teresa Sasse uses recipes handed down through generations and her own creativity to craft more than 35 varieties of truffles, as well as a smorgasbord of chocolates, salted caramels, toffee, and other treats. Among the most popular confections are assorted truffles, toffee, and shortbread cookies with caramel and sea salt dipped in chocolate. The most unusual may be milk chocolate-covered potato chips.
"Chocolate goes with just about everything, so I do a lot of trial and error — but not much error as it's (laughing inside) so good!" Sasse said. "I have such passion for what I am doing, and I love every second that I can produce and make people smile."
For the best selection of Puddin' River Chocolates, stop by the shop in the converted garage at 1438 S Ivy St. in Canby (watch for the chocolate brown banner by the big trees, just before the driveway). The chocolates can also be found at several wineries, Zupan's Markets, the Portland Wine Bar in Portland, Gwynn's Coffeehouse in Canby, and local grocery stores.
2. Burst's Chocolates
Since 1938 Burst's Chocolates has tempted local chocolate lovers from their storefront on Madison Street in downtown Corvallis. Though the owners have changed through the years, the tradition of quality chocolates has continued. Today the shop offers a wide selection of truffles, chocolate creams, chocolate nut clusters (known locally as "beavers" in honor of Oregon State University), solid chocolate bars, and other treats.
The current owner, Patrick Magee, learned the art of creating chocolate truffles and candy on the job more than 20 years ago. All the chocolates are handmade in the basement, where 10-pound bars of Guittard chocolate are melted and transformed into the chocolates sold upstairs. The basement kitchen produces small batches of more than 100 different chocolates, creams, nuts, and chews.
The ganache fillings are made with local ingredients, such as Oregon strawberries and hazelnuts, as much as possible. New chocolate creations, such as truffles made with wine from Lumos Wine Company, Compton Family Wines, and Marissimo from 2 Towns Ciderhouse, keep loyal customers coming back to see what's new. Among the fun finds at Burst's Chocolates: chocolate bigfoots (bigfeet?), chocolate beavers, chocolate-covered caramels, and cocoa bombs.
The shop also hosts special events, such as wine and chocolate pairings.
Pro Tip: McGee also crafts custom chocolates with special flavors, packaging, and molds. For custom orders and holidays, you'll want to order in advance.
3. Victorian Chocolate Company
Lemon Bavarian, rootbeer float, licorice caramel, and Tutti Frutti creme are just a few of the more than 50 flavors of truffles and chocolates in the display case at the Victorian Chocolate Company in the town of Lebanon. The selection is constantly changing as owner and chocolatier Kelly Reetz gets new ideas for truffle flavors. "There's a real creativity factor," Reetz said. "And I enjoy other people enjoying what I do."
And people do enjoy it. For big holidays like Christmas or Valentine's Day, there's often a line of customers out the door of his small, dark fuschia-painted building. Inside, the retail space is brimming with chocolates, truffles, various nut brittles, caramels, divinity, marshmallows, and other sweet treats. Starting with high-quality ingredients such as Callebaut Belgian chocolate, Reetz makes it all made by hand in the back of the shop. "The most automated thing I have is a mixer that runs by itself," he remarked.
Among the most popular chocolates are the nut clusters, which Reetz calls dragon claws. His nut brittles, chocolate caramel sticks, and licorice caramel sticks are popular too.
To try some of his chocolate creations, you can visit the shop in Lebanon (bring cash) or order by phone (541-401-3765) or by email. For the best selection during the holidays or for Valentine's day, be sure to order in advance.
4. Melting Pot Candy
The secret to great chocolates is "quality chocolate and fresh ingredients," said Bonnie Andrews, owner of the Melting Pot Candy shop in the town of Independence. "It comes through in the flavor."
An award-winning chocolatier, Andrews likes to get creative with ingredients. Truffle flavors in her shop include smokey cheddar, pineapple habanero, peanut butter and jelly, and Eola Hills Winery Pinot raspberry, among others. She takes extra care decorating the truffles and buttercreams so they look as good as they taste.
"I change my truffle flavors all the time," Andrews said. "Anytime you walk in, I might have something new."
The candy business started with a 100-year-old buttery toffee recipe. At the encouragement of friends, Andrews began selling the family favorite at farmers' markets and festivals. Today dark chocolate also finds its way into toffee, paired with Oregon hazelnuts or such unusual flavors as jalapeno dark chocolate almond, cinnamon pecan milk chocolate, and white chocolate cashew.
5. Brigittine Monastery
Surrounded by hazelnut orchards about 5 miles from Amity, Oregon, the monks at the Brigittine Monastery are devoted to a life of prayer and work. Fortunately for chocolate aficionados, their work creates small batches of handmade truffles and fudge. Selling artisan truffles and fudge allows the monastery to be self-supporting.
More than a dozen flavors of truffles — in large "royale" and petite sizes — are crafted in the monastery's kitchen. Cool mint, orange, cherry, amaretto, and butter rum are among the truffle flavors available to ship; more flavors are often found in the chocolate shop at the monastery. If you can't make it to the shop, the monks ship boxes of truffles or fudge across the U.S. and Europe.
6. Vadnay Chocolate Company
For owner and chocolatier Joe Vadnay, chocolate is a passion. Formerly in real estate, Vadnay decided to turn his hobby into a business selling handcrafted bars and chunks (sold by weight), salted chocolate caramels, hot chocolate, and other treats. The Vadnay Chocolate Company shop opened in McMinnville in 2021.
All of the chocolate in the shop starts as cocoa beans from Uganda. Vadnay makes the chocolate himself, from grinding the beans to tempering the chocolate and finishing flourishes. He teaches others to make chocolate too. The hands-on classes have been a hit — students start with smashing beans and finish with a bar, learning the process as they go.
Even more popular than the classes are the slabs of untempered chocolate kept in a cooler. This isn't the glossy, smooth chocolate you usually see; it's soft at room temperature and has a rougher texture similar to fudge. One bite and it's easy to see why it's a favorite with Vadnay's customers.
With a sofa and comfortable seating by the windows, the shop in McMinnville invites guests to linger over coffee, hot chocolate, and such non-chocolate favorites as pretzels, hot dogs, and ice cream.
7. Euphoria Chocolate Company
By far the largest producer of small-batch, handmade chocolate confections in the valley, Euphoria Chocolate Company is also one of the oldest. Hand-dipped truffles featuring local ingredients and premium milk, dark, and white chocolate make for hard-to-resist combinations. Wine truffles blend ganache with pinot noir, pinot gris, or syrah. Oregon berry wines and stout beer are showcased in truffles too. Euphoria also crafts truffles in classic flavors, as well as creme truffles, berry truffles, and exotic spice truffles (such as anise and cardamon).
Chocolate, in a dizzying variety of shapes, fills the shelves at the shop. Bars and buttons are just the beginning; you'll find chocolate ducks (in honor of the University of Oregon), hearts (large and small), and dozens of other seasonal shapes, too. In keeping with the idea that everything is better dipped in chocolate, Euphoria also offers chocolate-covered cherries, hazelnuts, cereal, ice cream bars, and cookies.
Founded in Eugene in 1980, Euphoria sells its treats at three company stores (the 5th Street Public Market Alley, on Makers Row; Oakway Center; and the Factory Store) in Eugene. You can also find their chocolate and truffles at the Made in Oregon store, Market of Choice, Natural Grocers, and the Oregon Zoo Gift Shop.
Pro Tip: Several times a year the Euphoria Chocolate Company holds a factory sale, advertised on their Facebook page. One worth the wait: Choktober Fest in October. Stock up on bulk chocolate for the winter!
For more on the Willamette Valley, check out these articles: