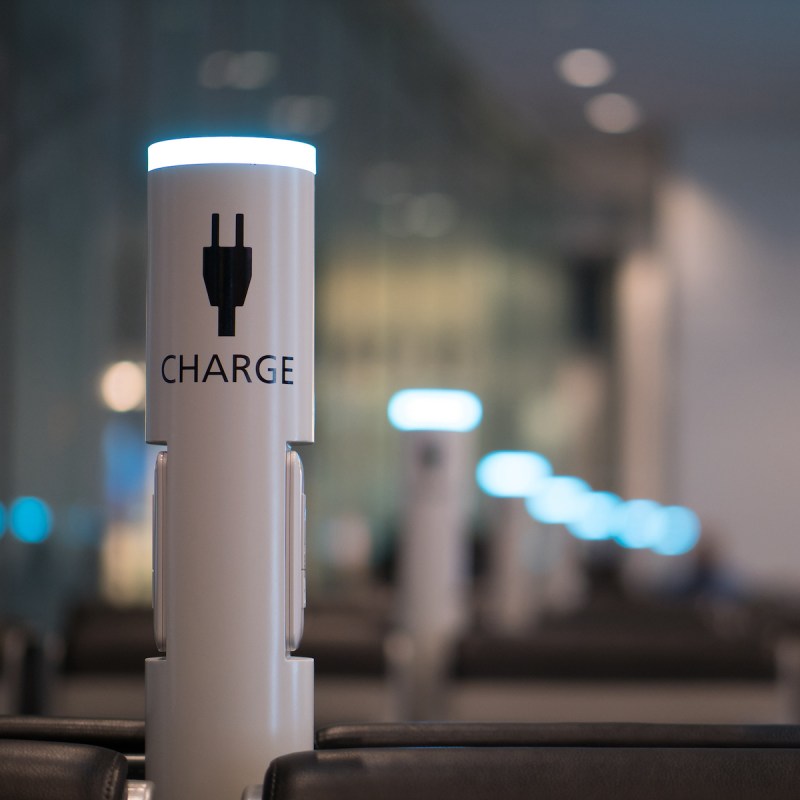 It's understandable if you feel a sense of relief whenever you see a charging station in an airport. After all, that means you can quickly charge your phone, tablet, or other electronic devices before a long flight.
Now, however, the Federal Bureau of Investigation has warned travelers to not use those seemingly convenient charging stations.
Yes, that's right: The FBI.
"Avoid using free charging stations in airports, hotels, or shopping centers," the FBI wrote on Twitter. "Bad actors have figured out ways to use public USB ports to introduce malware and monitoring software onto devices."
Instead, the FBI recommends always carrying your own charger and USB cord so you can securely charge your electronic devices using an electrical outlet.
Public Charging Station Threats
The problem with using public charging stations is that, although they are convenient, their use makes electronic devices susceptible to a type of cyberattack known as "juice jacking." Simply plugging a phone or other device into a compromised power cord, power strip, or charging station puts the device at risk of being compromised.
The Federal Communications Commission (FCC) has issued warnings about juice jacking for several years.
"Cybersecurity experts warn that bad actors can load malware onto public USB charging stations to maliciously access electronic devices while they are being charged," according to the FCC. "Malware installed through a corrupted USB port can lock a device or export personal data and passwords directly to the perpetrator. Criminals can then use that information to access online accounts or sell it to other bad actors."
What's more, there are reports that criminals intentionally left compromised cables plugged in at charging stations. And, there have even been reports of infected cables being given away as promotional gifts, the FCC continues.
Other Cyberthreats For Travelers
While the FBI did not provide context on why it issued an alert about public charging stations, this type of warning isn't uncommon. Indeed, the FBI regularly provides reminders and public service announcements.
For instance, the FBI has previously warned travelers and others about the risks of using hotel wireless networks for telework.
"Attackers target hotels to obtain records of guest names, personal information, and credit card numbers," the FBI explains. "The hotel environment involves many unaffiliated guests, operating in a confined area, and all using the same wireless network. Plus, guests are largely unable to control, verify, or monitor network security. Cyber criminals can take advantage of this environment to monitor a victim's internet browsing or redirect victims to false login pages."
The threat doesn't stop there, either.
"Criminals can also conduct an 'evil twin attack' by creating their own malicious network with a similar name to the hotel's network," the FBI continues. "Guests may then mistakenly connect to the criminal's network instead of the hotel's, giving the criminal direct access to the guest's computer."
How To Stay Secure When Traveling
As the FBI notes, it's important to avoid using public USB charging stations. Instead, always carry your own chargers and USB cables.
You can learn more about avoiding cyberattacks at the FCC's Wireless Connections and Bluetooth Security Tips consumer guide and the FBI's On the Internet: Be Cautious When Connected webpage.
For more about being safe and secure, be sure to also read our safety and travel tips content, including: