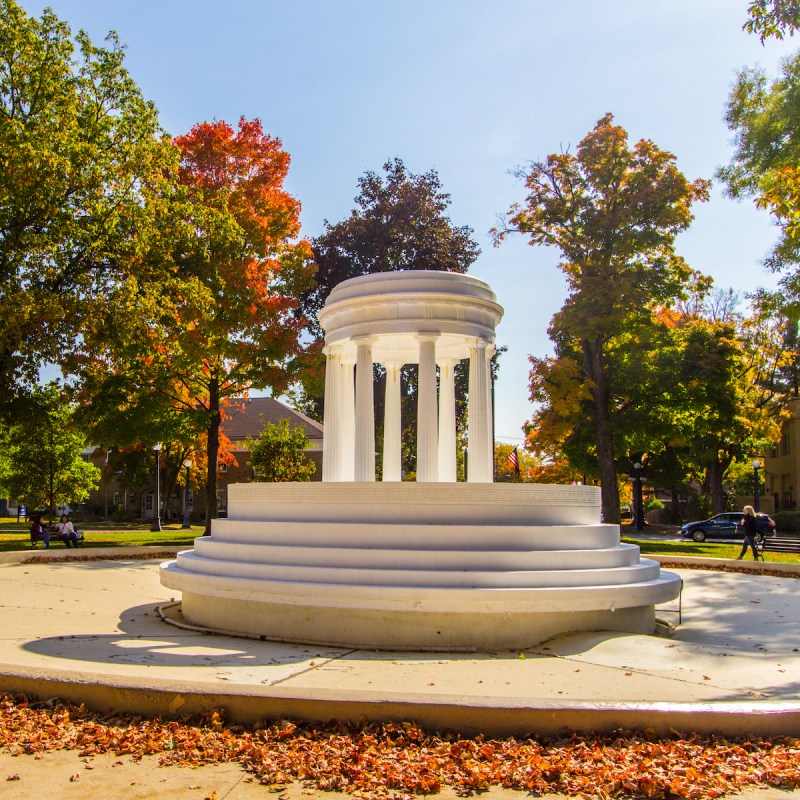 The town of Marshall sits at the intersection of Interstates 69 and 94 in the southwest section of Michigan's lower peninsula. The positioning makes it convenient for those traveling from both Chicago and Detroit.
The National Historic Landmark District has hundreds of buildings constructed with 19th-century architecture. In addition, the National Trust of Historic Preservation named Marshall one of its Dozen Distinctive Destinations in the United States — many activities focus on history. As a result, history buffs and architecture enthusiasts will have plenty to discover in Marshall.
With self-guided walking tours, a dinner theater, and museums, you'll find more than enough to keep you busy for a weekend. Here are my recommendations for six things to do, plus where to eat, in Marshall, Michigan.
1. Self-Guided Walking Tours
Marshall showcases many of its unique characteristics through self-guided walks. In addition, the town has 39 state-approved historical markers that tell the stories behind many of the buildings and sites.
These walks incorporate nature, architecture, history, and just plain fun.
Historic Capitol Hill Walk
Officials almost named Marshall Michigan's Capital City. Even though Lansing won, they had already begun to prepare by constructing a Governor's Mansion. Today, you can explore the 0.35-mile-long Historic Capitol Hill Walk, which includes a visit to the Governor's Mansion, Capitol Hill School, and Calhoun County Fairgrounds.
Marshall Historic Home Tour
While you'll find specific architectural styles on this home tour, the paper map features a 1.5-mile excursion of over 100 historic structures.
Nature Walking Tours
Take the Distinctive Trees Walk to discover Marshall's many remarkable trees. The 1.6-mile Marshall Riverwalk features elevated boardwalks, a paved walkway, and historical points of interest.
Fun And Games Walking Tours
Contrasted with the other walking tours, the ones in this category are modern. The first is the Selfie/Influencer Walk which provides ideas for incorporating historical Marshall into your modern social media. The second is the photo walk which offers hints and tips for making images that you can use anywhere.
Pro Tip: Stop by the Welcome Center and grab a map with a list of stops on all the walks.
2. American Museum Of Magic
The American Museum Of Magic features the most extensive collection of magic open to the public in the Western Hemisphere. The two-story museum takes visitors through the evolution of magicians from street performers to center-stage stars.
Walk-in visitors can opt for a guided tour of the museum's exhibits, ranging from the 16th century to current day. The oldest object on display is the first edition of The Discoverie of Witchcraft from 1584, the first printed English book explaining how to perform magic tricks. A modern exhibit includes suits worn by magicians Penn & Teller. You can even try to squeeze into a replica of Harry Houdini's oversized milk can, used for the Milk Can Escape trick. You can even try on costumes and practice your magic talents on the Magic Box Theater stage.
Pro Tip: On Saturdays at 1 p.m., the museum presents a complimentary magic show as part of your paid admission. You don't need a reservation for these family-friendly shows.
3. Cornwell's Turkeyville
As children, we visited Cornwell's Turkeyville when our family met our aunt for a cafeteria-style turkey dinner. In recent years, my cousins and I have been reliving memories of our aunt with a tradition of attending Cornwell's Dinner Theatre.
Cornwell's Dinner Theatre
While they didn't have Cornwell's Dinner Theatre back then, we still enjoy memories of the turkey dinner, which they serve as part of the theater experience. The company of professional actors offers a complete season of Broadway musicals and comedies. The 150-seat theater has unobstructed views, so you won't find a bad seat anywhere. Check out their website for information on the 2023 Season.
Even if you don't take in a musical, you can stop by for dinner or enjoy an ice cream treat in their shop.
Camp Turkeyville RV Resort
Camp Turkeyville RV Resort is a good option if you prefer camping over hotels or inns. In addition to the 134 back-in sites and 40 pull-through sites, they have showers and onsite laundry facilities. For those who aren't ready to go off the grid, they offer free Wi-Fi.
4. The Honolulu House Museum
Abner Pratt — former U.S. Consul to Hawaii and Michigan Supreme Court chief justice — built the Honolulu House in 1860. He created it to remember his time in Hawaii, even painting tropical murals on the home's walls. In 1887, a subsequent owner renovated the interior to a high-Victorian style.
The home is now known as the Honolulu House Museum, where the building's architecture is a stunning blend of Gothic Revival and Italianate with some Polynesian influences. Built of Marshall sandstone with vertical battens and boards, today, the home's exterior matches the 1885 color palette of ivory, three shades of green, and Jamestown red.
Pro Tip: A ticket to the Honolulu House Museum also includes entrance to the Marshall Historical Museum at GAR Hall.
5. Walters Gasoline Museum
Walters Gasoline Museum, located in the former Marshall Interurban Railway Depot, is a homage to Michigan's car culture. The building, built in 1903, remains as it was over 100 years ago. The museum exhibits car-related memorabilia, signs and advertisements, and other auto-related artifacts. In addition, you'll find an original gas pump.
Pro Tip: Tour appointments can be made from the end of May through the weekend after Labor Day.
6. United States Postal Service Museum
Located in the basement of the United States Post Office on East Michigan Avenue, you can enter on Madison Street. Second in size only to the National Postal Museum in Washington, D.C., the United States Postal Service Museum offers six rooms of exhibits covering 2 centuries of history. You'll discover how mail was transported in times gone by: horse-drawn mail buggies from the early 1900s, a 1931 Model A mail truck, and the inner workings of a railroad mail car. Another interesting exhibit is the window units and lock boxes from an old post office.
Pro Tip: The museum is open by appointment only. Call ahead to schedule an appointment.
Best Restaurants In Marshall
Marshall offers a wide range of restaurant styles. From casual sit-down venues to fine-dining establishments, you'll find the right restaurant for any occasion.
Free Range Pancake House
Free Range Pancake House is a cute chicken-themed restaurant offering breakfast and lunch daily. With a nod to their theme, they offer plenty of egg options — Benedict, scrambled, omelets, and the house specialty, homers. They also offer classic French toast, waffles, and pancakes. If you're in the mood for lunch, they feature sandwiches, salads, soups, and platters, like fish and chips or mac and cheese. They serve the entire menu all day, so no matter when you want breakfast or lunch, you can have it.
Pro Tip: The owner's family is Greek and they sell olives and olive oil from the Stamatopoulos family farm in Greece, which they bottle in Michigan. They also feature various flavors of balsamic vinegar available to purchase.
Schuler's Restaurant & Pub
I've been going to Schuler's Restaurant & Pub for over 50 years, and I still love the fine-dining experience. Located in downtown Marshall, they've served upscale dinners for over a century. While they're famous for their Schuler's barbeque meatballs and the Schuler's classic roast prime rib of beef — with all the trimmings — they also serve equally delicious pub food. For example, the classic Winton's pub burger or French dip served with French fries are favorites.
Grand River Brewery
On the weekends, Grand River Brewery is the go-to place for brunch. I always opt for a mimosa, which features the house sparkling wine and my choice of juice. However, the loaded bloody Marys look like a complete meal.
When I'm in a brewery, I tend to order food that puts a spotlight on the beer. So, I highly recommend the award-winning, hand-cut Kennebec fries topped with Cambridge cheese curds and the Small Town Brown Ale Gravy. They sprinkle the top with scallions for a little added color.
Pro Tip: Many of Marshall's attractions are seasonal, open April through December, so be sure to check online to see if they're open when you plan to visit.
For more destinations near Marshall, check out these articles: