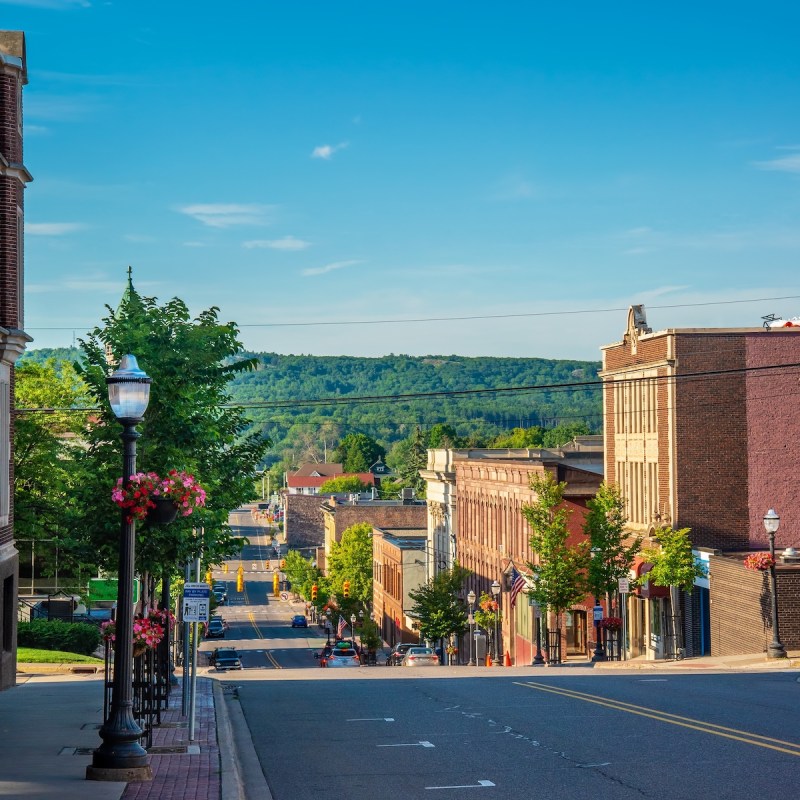 Marquette's restaurant scene is bursting with tons of flavor. From fine dining to cafes, breweries to bakeries, and Cajun and Creole to German, you can dine around town and experience a world of food within a few blocks. Marquette's hospitality is evident in the charming and friendly staff we chatted with at every restaurant, pub, and cafe.
I recently had the opportunity to explore Marquette's culinary delights and I relished every sweet and savory bite.
Some information was obtained during a hosted trip, but all recommendations are my own. The restaurants are listed in no particular order.
1. The Delft Bistro
Located in an old theater, The Delft Bistro is a busy, chic casual American fare restaurant. With a nod to the former Delft Theater, there is a giant screen covering a two-story wall playing an assortment of movie entertainment to enjoy while you dine. You can even call ahead to see what's playing.
What To Order At The Delft Bistro
It is difficult to get past the first dish on the menu — cheese curds — tempura battered Wisconsin cheddar curds with a sriracha ranch sauce. Follow that up with the unctuous mushroom risotto for a soul-satisfying meatless meal.
If you prefer a heartier dish, I recommend the ribs. The perfectly crafted sriracha and maple glazed pork ribs are hands-on eating at its best. The fried Brussels sprouts accompanying the ribs are a wonderful foil to the rich porky goodness.
2. Lagniappe Cajun Creole Eatery
Down a back alley called Jackson Cut at number 145 there is a set of purple stairs, and up a flight is where you will find Lagniappe Cajun Creole Eatery. Oh, and what a find. If you love Southern Creole food — something with a little spice and a little heat — you will love their extensive menu.
What To Order At Lagniappe Cajun Creole Eatery
The special is always a good choice because you know it's one of those items the chef wants to make but hasn't added to the menu yet. I think you get a peek into the essence of the chef's personality when you order the special. When I was at Lagniappe, it was a fried pork rillette. Crispy on the outside, the silky shredded pork interior had a slight heat. It was plated on a creamy sauce and topped with crunchy vegetables. It should definitely be on the menu — amazing with its sweet heat and textural variety.
Their extensive selection of po' boy sandwiches will leave you dazed and confused with over a dozen options. and don't forget the fried boudin balls; they are a great plate to share — or not, it's okay to be a little stingy.
3. The Cellar Restaurant At Zephyr
The Cellar Restaurant At Zephyr is just the spot for a romantic dinner for two. You step down a flight to the wine cellar where curtain-framed booths and tables for two offer an intimate dining experience. The cellar's warm decor juxtaposed with the stone walls and rows of wine bottles is a feast in and of itself. Then there are the food and wine pairings.
Open Friday and Saturday night, the small dining room requires advanced reservations.
What To Order At The Cellar Restaurant At Zephyr
The four-course, chef-driven prix fixe menu is an opportunity to experience the kitchen's best dishes of the night. For our visit, the starter was a cheesy cacio e pepe followed by a pickled carrot and beet salad. The entree was a plate of beef Barolo on a base of creamy polenta. For dessert, a lemon/orange olive oil cake finished the night off with a lightly sweet ending. The wines offered in the pairing were lovely and complemented each dish in turn.
4. Steinhaus
The minute I entered Steinhaus, I was transported back to a restaurant in rural Germany. The walls are covered in fun artwork, the staff is chatty in a neighborhood spot kind of way, and the food — delicious.
What To Order At Steinhaus
First, a stein of beer — the best accompaniment at any German table. Then they bring out the sourdough bread, two thick slices lightly toasted with a side of soft, creamy butter and finishing salt. I could eat that as my entire meal.
I did eventually order the jager schnitzel topped with a fried egg and served over red cabbage and spaetzle with a creamy mushroom sauce. The juicy pork cutlet was encased in a gorgeous, crunchy breading; the serving was so big, I couldn't finish it. Many of the guests left with boxes full of tomorrow's lunch.
Another outstanding option is the sauerbraten, one of Germany's national dishes. The soft braised beef and shiitake mushrooms swimming in a red wine gravy will take you right back to the motherland.
5. Bodega
Just off the main drag in a charming Marquette neighborhood is Bodega, a neighborhood cafe where the slow-food standard and homemade offerings taste like mama made it. Each plate is prepared with local ingredients, reflecting the upper peninsula seasons and imparting the freshest regional flavors.
Bodega serves breakfast all day along with their tasty sandwich, burger, and entree menus.
What To Order At Bodega
Whatever your order, make sure it comes with bread — their bread is the perfect combination of firm and chewy. When grilled or toasted, the texture and savoriness are perfect. Any of their served-all-day sandwiches will fuel you up. The house-made soup of the day is almost a requirement to fend off the Marquette winter months.
It's a good thing I don't live in Marquette. I would be eating their bread every day!
6. IronTown Pasties
Negaunee, right next door to Marquette, is the home of IronTown Pasties. If you have never sampled a pasty, then you must venture to IronTown Pasties to sample a perfect version of this British hand-held pie. The pasty, thought to originate from Cornwall, England, is filled with meat. However, you will find all types of tasty fillings at this pasty purveyor.
What To Order At Iron Town Pasties
Pasties, of course, need to be on the menu. Choose from the traditional beef version, or go off the rails a little and expand your repertoire. The Bierocks, filled with beef, cabbage, spicy peppers, and cream cheese are soaked overnight in beer! You need to call ahead and reserve these little gems — they fly out the door.
7. Crow's Nest
Perched on the sixth floor of the Landmark Inn — one of the highest spots in Marquette — is a cozy cocktail lounge, the Crow's Nest. It is the perfect gathering spot for a before-dinner craft cocktail with stunning views of Lake Superior and charming Marquette's historic waterfront district.
What To Order At Crow's Nest
The cocktail menu offers seasonally inspired adult beverages. I am a bourbon girl, so the Port of My Heart, an Old Fashioned-inspired bourbon, Croft port, maple syrup, and cocoa bitters concoction did indeed steal my heart. Another enticing option is the aptly named When Hell Freezes Over — scotch, mezcal, Averna Amaro, Aperol, elderflower liqueur, and smoke liquid courage will help you navigate Marquette's frigid temperatures.
8. 906 Sports Bar & Grill
With views of the Iron Ore Dock, the 906 Sports Bar & Grill is a spot where locals gather to watch TV and enjoy delicious pub grub.
What To Order At 906 Bar & Grill
I almost never pass on poutine — fried potatoes, cheese, and gravy — what's not to love? Served up with your local brew of choice; it's a satisfying lunch. If you are in need of something more substantial, their extensive menu of burgers, wraps, and sandwiches will give you plenty of options.
Breweries In Marquette
Every foodie town has a brewery contingent, and Marquette is no different. You can wet your whistle at several brew pubs. The taps are primed and ready to serve you in a warm and friendly atmosphere of Marquette, Michigan, friendly conversation.
The RateBeer award-winning Barrel + Beam Brewery produces fabulous barrel-aged beers, rustic ciders, and honey meads. Blackrocks Brewery's mission is to build on two ideals — "make the best beer possible and always have fun while doing it." Sounds like they have found the secret to success. Drifa Brewing Company is a cooperatively owned microbrewery and taproom ready to serve up a frosty mug of local goodness.
At The Vierling Restaurant and Marquette Harbor Brewery, you need to try the Yooper Red, just because you are in Yooper country. A "Yooper" is a friendly local native to the Upper Peninsula of Michigan. Lake Superior Smokehouse and Brewpub offers a self-pour tap system — no barkeep required. Over in Negaunee is the Upper Peninsula Brewing Company, uniquely located in an old brick meat processing facility.
Exploring a destination through food is an insightful way to experience local culture, flavors, and people. In Marquette, particularly in winter, there is a dining-out culture that brings friends and families together. Gathering indoors for great conversation, delicious food, and fun libations helps to brighten winter days or enhance sunkissed summer adventures.