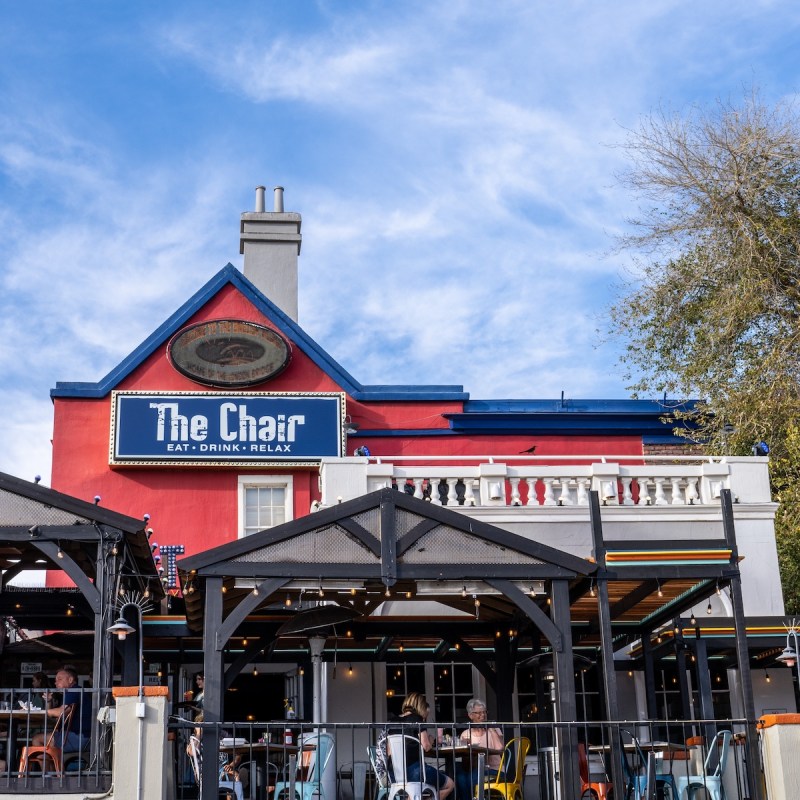 Situated along the shores of the Colorado River-fed Lake Havasu in the region known as Arizona's West Coast, Lake Havasu City is well-known among spring breakers and snowbirds for its abundant water sports, sunset river cruises, and all-around fun in the sun.
Owing to its riverside location, Lake Havasu shines in another area as well: Its many dining spots that offer stellar water views. It turns out that when it comes to dining with a view, there are few things that set Lake Havasu City apart.
Many of the city's restaurants look out onto the 1800s-era London Bridge — a British landmark that once spanned the River Thames but was purchased from the city of London by an enterprising Lake Havasu real estate developer in the 1960s and relocated to the Arizona desert. Outdoor patios abound in Lake Havasu City, and here are nine places to get a great view of the river, and what to order when you're there.
My stay was hosted by Go Lake Havasu tourism, but my opinions are my own.
1. Javelina Cantina
Restaurants don't get much better access to the London Bridge than Javelina Cantina, a fun spot located right next to the bridge and overlooking the Bridgewater Channel. Javelina specializes in Sonoran-style Mexican cuisine and features a tequila bar and unique margaritas.
The inside of the restaurant is cozy, but the star of the place is the large outdoor patio that is perched right near the water. Even in January when I visited, Javelina's patio was warm and comfortable.
Javelina has an extensive menu that includes virtually any Mexican cuisine favorite you can think of, from ceviche to quesadillas to fajitas to tacos. For a refreshing lunch, I loved the Baja shrimp cocktail — a spicy mixture of shrimp, cilantro, tomatoes, onions, cucumber, and avocado, all marinated in citrus juices and served with tortilla chips.
For a special occasion, consider Javelina's massive molcajete bowl that features grilled chicken, grilled New York steak, lobster, and jumbo shrimp served over peppers and onions with rice, beans, cheese, guacamole, and salsa. The bowl is huge and is definitely designed for more than one.
What To Order:
Baja-style shrimp cocktail
2. The Chair
With a fun patio that looks right out at the London Bridge, The Chair restaurant offers a tantalizing mix of island, British, and Arizona fare.
The restaurant is located in Lake Havasu's British Village, which also includes the Lake Havasu City Visitor Center, along with a picturesque fountain and a vintage gate from an English castle.
Playing into the Britain/Arizona theme that is on display all over Lake Havasu, The Chair's menu includes a classic fish and chips entrée alongside The Big Kahuna sandwich, which features sweet-chili pulled pork, pickles, sweet slaw, hoisin sauce, pepper jack cheese, and grilled pineapple on a toasted bun.
Along with the patio's colorful tables and bar stools is The Chair's signature feature — an oversized blue chair that faces the London Bridge.
What To Order:
Fish and chips
The Big Kahuna sandwich
3. TüKûKAN Restaurant
Billed as Havasu's best-kept secret, the waterfront TüKûKAN Restaurant is located across the lake at the Havasu Landing Resort & Casino on the California side. For a small fee, a ferry takes guests from the Bridgewater Channel in Lake Havasu to the casino and resort that is operated by the Chemehuevi people.
For me, a big part of the fun was the 15-minute ferry ride across the lake. The large boat leaves and returns hourly. I was able to catch a sunset cruise and arrive just as the lights of Lake Havasu were illuminated across the water.
TüKûKAN features Southwestern fare, such as the Chemehuevi taco served with homemade fry bread, seasoned ground beef, refried beans, shredded lettuce, cheese, salsa, and the Sonoran Fritos pie that combines ground beef with smoked achiote pork, Fritos chips, beans, cheese, and red chili sauce.
House-smoked barbecue is also a specialty, and I enjoyed the smoky flavor of the barbecued chicken entrée served with hearty mashed potatoes and cabbage slaw.
4. Burgers By The Bridge
As the name implies, Burgers by the Bridge offers a range of burgers and fries, along with other beachy options such as seafood buckets, chicken wings, and pizza. It's all served up under a thatched roof. A heated patio offers some of the community's best views of the London Bridge.
The go-to menu choice appears to be burgers and fries. Burgers by the Bridge offers a range of options, such as an Angus burger, a cheeseburger, and a bacon cheeseburger.
For me, hot chocolate with whipped cream was the perfect pick-me-up for viewing the holiday lights that were still glowing on the bridge on a cool early-January night.
What To Order:
Angus burger and fries
Hot chocolate
5. Makai Café
Dining-with-a-view options are available on all four corners of the London Bridge and the Makai Café is a great choice on the Island Mall side of the bridge. Located on the bottom floor of the Island Mall, Makai's outdoor patio offers an up-close view of the bridge.
With a cute island theme and décor, the café serves up excellent breakfast and lunch choices. Among the favorites are the "world famous benedicts," which include a classic eggs benedict with Canadian bacon, as well as an Irish version with corned beef, a salmon benedict with a salmon filet and fresh spinach, and a veggie version with avocado, tomato, and fresh spinach. For a decadent brunch, try the banana nut French toast that comes with rich banana nut sauce, sliced bananas, and toasted pecans.
For lunch, the popular choice appeared to be the colorful sunburst salad, piled high with spring greens, tomatoes, red onions, cucumbers, mandarin oranges, strawberries, cranberries, pecans, and gorgonzola cheese.
What To Order:
Banana nut french toast
Sunburst salad
6. Barley Brothers Restaurant & Brewery
The Island Mall features several dining options with views, including the Barley Brothers Restaurant & Brewery, which serves up a range of pub favorites, including burgers, salads, onion rings, pasta, and California-style pizzas and calzones.
For a treat, check out the lobster ravioli, featuring large ravioli stuffed with lobster and ricotta cheese in a red pepper cream sauce and topped with lobster meat and parmesan. Top it off with a glass of the JennaGrace Hefeweizen wheat beer, the restaurant's "most thirst-quenching and refreshing beer."
What To Order:
Lobster ravioli
Hefeweizen beer
7. Martini Bay At London Bridge Resort
Billed as offering an "elevated dining experience," the Martini Bay At London Bridge Resort occupies a prime spot along the Bridgewater Channel, looking out onto panoramic views of the channel and the bridge.
The menu offers creative versions of fine-dining standards, such as a tableside Caesar with romaine lettuce and cornbread croutons dressed tableside with a signature dressing, and the Caprese halibut entrée that features pan-seared Alaskan halibut served with parmesan and garlic couscous, rich vodka sauce, and an heirloom tomato and burrata cheese topping.
Living up to its name, the restaurant also offers a range of martinis, including the Grasshopper, a beautiful creation of green crème de-menthe, mint, chocolate, and cream.
What To Order:
Tableside Caesar salad
Grasshopper martini
8. Papa Leone's Pizza
For a casual option with stellar views, check out Papa Leone's Pizza place, located in the English Village near Martini Bay.
Using homemade cheese, dough, and sauce, Papa Leone's offers popular pizza choices such as veggie, margherita, meat combo, and Mediterranean, along with calzones with pepperoni, salami, mozzarella, and provolone cheese.
Papa Leone's has a small dining room, but it's hard to beat its outdoor balcony seating that faces directly toward the London Bridge.
9. Mudshark Brewery And Public House
If a fun happy hour is in order, Havasu's solar-powered brewery Mudshark Brewery and Public House is the place to find it. Along with its channel view, the brewery offers a full menu of pub classics, such as oven-baked pretzel bites with beer cheese, skillet mac 'n cheese, and Public House meat lover pizza.
Mudshark also offers a range of local brews, such as the Upriver Light American lager, the Wild Watermelon with a hint of melon, and the Havablue, a crisp and light beer with a burst of blueberry.
What To Order:
Upriver light beer
Pretzel bites with beer cheese
Pro Tip: For a picnic option, consider heading to one of Lake Havasu's plentiful chain fast-food spots, such as In-N-Out Burger, El Pollo Loco, or Wienerschnitzel, and then dine at a table at the spectacular Lake Havasu State Park.The park, conveniently located in the town along the shores of the lake, is known as one of the best spots to catch a sunset. Day-use entrance fees apply.