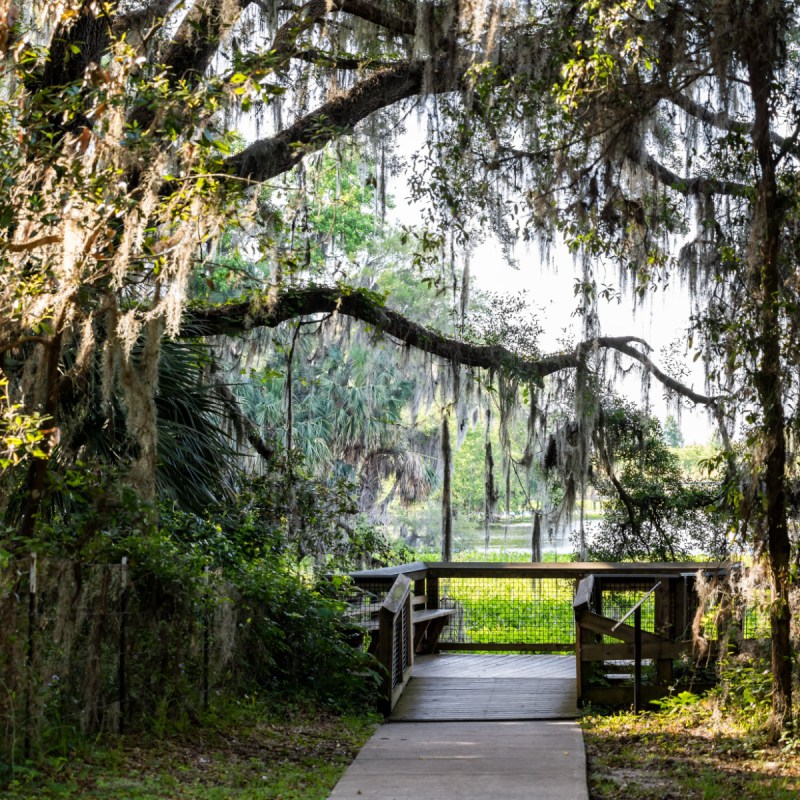 A day spent in Micanopy is like stepping back into another century. At over 200 years old, Micanopy claims the honor of being the oldest continuously inhabited inland town in Florida. Its oak tree-lined Cholokka Boulevard is home to dozens of antique shops and some unique dining spots. Micanopy is Florida's self-proclaimed antique capital. The entire town, with a population of under 1,000, is designated a historic district and is on the United States National Register of Historic Places.
Cholokka Boulevard, the main street in historic Micanopy, is only a few blocks long and contains most of the places you'll want to see. This is a very walkable destination. It's also one of the most pet-friendly towns ever.
1. Herlong Mansion Bed & Breakfast
Herlong Mansion began as a simple two-story pine "cracker-style" farm home in 1845 when Zeddy Clarence Herlong and his wife, Natalie, moved from Alabama. When they built their original home, what is today Cholokka Boulevard was an Indian trading route. Florida was in between the second Seminole War, which ended in 1842, and the outbreak of the third war in 1855. Herlong became wealthy in the lumber business and transformed his home into the brick classic Greek-revival mansion there today. In the 1880s, it became a bed and breakfast and is now on the National Register of Historic Places.
The present owner, Kim Shore, is continuing the heritage. From the moment we entered the spacious parlor with its front-facing windows, wood-paneled walls, and hardwood floors, I felt we had stepped into the 19th century. There are 11 rooms (four are suites), along with Pump House Cottage and Carriage House. Each room is unique and has its own bathroom and shower. Many have ball-and-claw tubs for great soaking. The cottage and Carriage House are pet-friendly. Herlong Mansion has all the modern conveniences blended in.
We had a special treat when Shore took us for a spin in the mansion's 1930 Ford model A.
2. Paynes Prairie Preserve State Park
Paynes Prairie Preserve State Park, with its 50-foot-tall observation tower, lets you see wild horses, wild bison, cracker cattle, and up to 300 species of birds in the park. This was Florida's first state preserve in 1971 and is a National Natural Landmark.
A young deer greeted us in the middle of the road as we drove in. His mother was watching from the brush. We spotted a few wild horses in the distance from the observation tower. The visitor center is a mini museum worth a visit. If you are camping, the park has 50 RV spots with hookups and 33 primitive camping spots.
3. Micanopy Historical Society Museum
The first thing that drew my eye at the Micanopy Historical Society Museum in the old Thrasher warehouse was the 1930 Coca-Cola Mural on the north wall. The historic warehouse-turned-museum is filled with artifacts telling Micanopy's early history. It was built in 1890 and used by J.E. Thrasher, Sr. as a warehouse of storage for his general merchandise business. When his original store burned in 1911, he used the warehouse as his own store until 1923 when it was rebuilt.
The Thrasher Store exhibit felt like I was buying supplies in the 1800s. Other exhibits, like the old round icebox and wash tubs with a washboard, reminded me that a woman's chores were much harder back then.
It got into the politics of the day with the Seminole Wars exhibits. There's a 6-pounder cannon used in the Second Seminole War at Fort Micanopy. So many exhibits fit into a building that's a part of history itself.
4. Micanopy Native American Heritage Preserve
The town's name comes from Seminole Chief Micanopy, so it's only fitting that this preserve commemorates the Native American heritage. There's a hiking trail and a mound structure dating to the Mississippian period (AD 750–1565). This was the site of the 1836 Battle of Micanopy, where the United States Army clashed with Seminole warriors. There is also a Mississippian-period Alachua Burial Mound here. Across the street is Tuscawilla Preserve, once home to native Americans. From the parking lot, I spotted one of Micanopy's three Big Bat Houses. If you're there just after sunset, watch for the bats to come swarming out.
5. Micanopy Historic Cemetery
The Micanopy Historic Cemetery was founded in the early 1800s by Dr. H. Lucious Montgomery Sr. He died in 1914 and he and his wife are buried here. James William Martin was the first recorded burial. He was born 1737 and died 1826. The moss-laden oak trees and azalea bushes make it a beautiful spot to relax.
6. Cholokka Boulevard
Cholokka Boulevard is filled with antique shops, making it a perfect setting for movies. Doc Hollywood was filmed here. There's House of Hirsch Antiques, in what was the 1911 Fontaine home, that became the hospital in Doc Hollywood. Outpost Antiques, next to the tiny log house, was a garage in the movie. Delectable Collectibles, once Micanopy's first bank, played the bank.
Parts of Cross Creek were filmed here, too. Wren Wood Antiques was the hotel in Cross Creek and the butcher shop in Doc Hollywood.
Many have their own story. The Little Story House, now Antiques Plus, was once the children's section of the library. What was the Sherouse Garage in 1932 is now a shop called The Stagecoach Stop. That's just the start of fantastic antique shops along Cholokka Boulevard.
7. Dining In Micanopy
Coffee n' Cream
Many of the dining spots combine some antiques and art for sale along with delicious food. We had lunch at Coffee n' Cream. Musician David Menefee played guitar and sang some memorable old songs. They share the building with Shady Oak Gallery and Studio.
My stuffed tomato with Aunt Sherry's chicken salad was fantastic. My friend had owner Kelly Harris's famous chicken n' dumplings and loved it.
Old Florida Café
We had an early dinner at Old Florida Café. At 30 years old, they lay claim to being Micanopy's oldest restaurant. There's a patio or inside dining. Inside is filled with art and antique glassware for sale along with the food.
Their claim to fame is their Ruben and Cuban, but what stole my heart was their original recipe key lime pie.
Mosswood Farm & Bakehouse
Mosswood Farm Store & Bakehouse is a good choice for a light afternoon snack or take-out. They have been housed in a 1910 cracker-style home next to the museum since 1907. They stress organic and have a full espresso bar and micro bakehouse. Seating is available in the patio outback. Be sure to check out the old stone oven in the back as well.
Other options: Blue Highway Pizza and Pearl Country Store and BBQ. A good nightlife choice with a nice drink selection, live music, and pizza, sandwiches, and snacks is Depot Restaurant and Speakeasy. It's housed in a historic train station built in 1881. They moved here — outside the historic district — in 1978 from the nearby town of Reddick.
8. Micanopy Fall Festival
Each October (usually the last weekend), the tiny town's population swells by the thousands during its free Fall Festival. There's music, contests, and unique crafts.
The Festival has been entertaining families for nearly 50 years. It is a non-alcoholic event, but you can get your fill of sweet tea.
Related Reading: