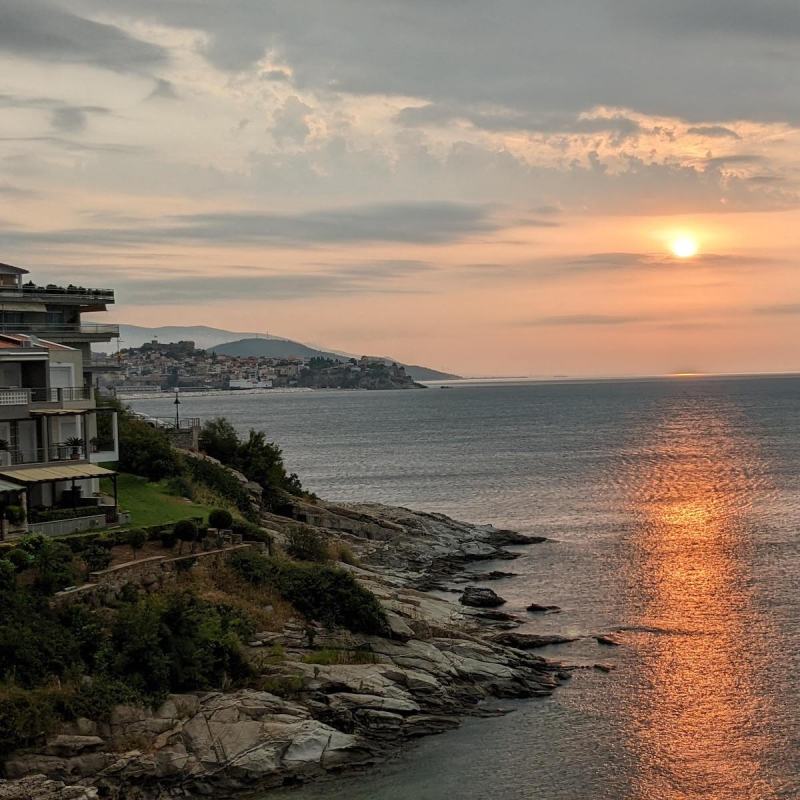 Last August and September my wife and I had the pleasure of traveling throughout northern Greece on two wheels. We rented our BMW 310GS motorcycle, Max, in Romania, a few months earlier, and over the course of 31 days, we visited 15 different cities and walked in the footsteps of Alexander the Great, Aristotle, Paul the Apostle, and many others. As beautiful as every city was, I suggest these as the top five places in Northern Greece that you must visit.
1. Kavala
We spent our first night in Greece in this charming seaside town just 2 hours west of the Turkish border, and much of our route took us along what is called the Via Egnatia, which was the original super highway traversing Greece from east to west. It was built 2,000 years ago by the Romans and much of today's highway follows the exact route.
Getting There: Since Kavala is a port city it offers several ferry routes to many different islands, including Mykonos and Syros, as well as into Athens, for those looking for alternative ways to traverse between the cities.
Kamares
I think the best preserved Roman aqueduct I have ever seen is Kamares. It is one of the prime attractions in this city with the intimacy of a small town but the attractions of a much larger one.
Kavala Acropolis And Fort
The castle on the hill is called Kavala Acropolis and Fort, and it is a moderate hike up to the top of the hill, but well worth it. It offers a panorama of the harbor and the entire city, as well as views of the Kamares Aqueduct from a different perspective. You can walk from the port to the shopping areas to the fort in less than one hour.
Museums And Historical Sites
The Archaeology Museum of Kavala is worth a visit and is not overwhelming in size, yet can be toured in less than 90 minutes.
I recommend you drive just 30 minutes north to the Archeological site and Museum of Philippi, and The Holy Shrine of the Baptistery of Saint Lydia, which were amazing and historical. This was the site of the first Christian baptism in Europe by the Apostle Paul in the river Zygaktis. You can actually sit there by the stream, put your hand in the same waters, and visualize this event from two millenniums ago.
Pro Tip: Summer travel in Europe can be challenging since July and August are the prime holiday months. Even though we arrived in the third week of August, Kavala was easy to negotiate, and not overly crowded. Because of the port access, this would be a great place to visit for several days or more and then launch into your next location.
2. Thessaloniki
Even though Athens is the governmental capital of Greece, Thessaloniki, the second largest city, is considered to be the cultural capital. It has 15 UNESCO sites, the most in any one town internationally, and is also a college town, so it offers a great selection of music, the arts, and coffee shops. There are also so many tattoo parlors and funky boutiques it would take weeks to make a dent.
Aristotle Square
Thessaloniki was not crazy busy, and the waterfront is a terrific place for strolling and whiling the time. The city's Aristotle Square is considered to be one of the landmark rendezvous places to meet for coffee or gelato. The city was founded in 315 B.C.E. by one of Alexander the Great's generals named Cassander, who named it after his wife, Thessaloniki, who was also Alexander's half-sister. Alexander's footprints loom large in the town and there are statues of him as well as another Greek icon: Aristotle.
Church Of San Demetrius
On our first day in town, we walked 6.5 miles and had a chance to visit several noteworthy locations, including the Church of San Demetrius, which was stunningly beautiful with painted murals and artwork galore. It is the city's largest church. Under the main floors are catacombs which have been remodeled and renovated over the many centuries since they were first built.
Other noteworthy stops include the Rotunda, which was built around 300 A.D. and is one of the city's most recognizable sites due to its shape, and the White Tower, down on the harbor, which was built in the 15th century, and over history has been a lighthouse, part of a fortress, and a prison.
Museums
For museum lovers, the Archaeological Museum of Thessaloniki is a must-see as is Jewish Museum, which highlights the long and significant history of the Jewish population in the town, along with the atrocities they dealt with through the Holocaust.
Pro Tip: Thessaloniki and Athens go together like a burger and fries, and they are conveniently connected by rail for a cost of about $12 USD/€10. The trip takes 5 to 6 hours. It travels through the mountains near the town of Larissa and passes by the biggie: Mount Olympus. Driving time is about the same and covers just over 500 kilometers (300 miles).
3. Edessa
Karanos Waterfall
Edessa is called the City of Waterfalls, and the Big One, called Karanos, is as impressive as any falls I have ever seen. At 70 meters (230 feet) high, it is the highest in Greece, and though there are bigger waterfalls in the world, few of them are like this!
Pro Tip: It's not a secret, but few people know about it or do it, but there is a path that takes you behind and below the Karanos Falls! We noticed a walkway below, but weren't quite sure how to get to it, but if you walk to the left side of the falls there is a road going down to the hydroelectric plant, and if you continue onward you'll find the walkway. Great pictures can be taken below, and you can walk back to the top through the falls, which is much more direct. It is not dangerous, nor particularly strenuous, but you will get soaked and you must watch your footing!
Lamda Waterfalls
Though Karanos is the main waterfall, immediately adjacent are two more called Lamda, and what makes these waters unique is that they contain travertine minerals that actually increase the height of the falls and cause them to grow over time. And the flow of water ionizes the air which makes it refreshing to breathe.
Museums And Shops
In the downtown park, there is a reptile museum, craft shops, and a mill where you can learn about the history of the main crops in the area, including sesame seeds and cherries.
Just outside the city itself (a 15-minute drive) is the Ancient Edessa Archaeological Site of Longos, which you can walk through.
4. Meteora And Kalabaka
Some places in the world look surreal and make you question if they really exist: Meteora fits on that prestigious list. It combines the best of nature, carving out rock like a sculptor and rising hundreds of feet into the sky. The ingenuity and back-breaking work of man are also at play here, where churches have been built in places that seem impossible.
Meteora is about two things: Monasteries and views; and there are plenty to take in. When you first arrive you may wonder, "How do you get up there?" but the road up is almost effortless and can be enjoyed by walking, on a bike, via tour bus, or, in our case, on Max, our trusty BMW bike.
Getting There: There is a train from Athens to Meteora (Kalabaka) which would save driving time. It takes 4 hours and is quite scenic.
Great Meteoron Holy Monastery Of The Transfiguration Of The Saviour
The Great Meteoron Holy Monastery of the Transfiguration of the Saviour or The Great Monastery, for short, is the one most people know, and one of the easiest to get to, but it does require you to climb quite a few stairs. It is not wheelchair friendly and you must know that it can be a strenuous walk. Inside is a museum with scores of exhibits from the Byzantine periods, and since these buildings were so inaccessible, many items that would normally have been destroyed during WWII were kept safe here with the monks.
Monastery Of Varlaam
The Monastery of Varlaam was next on our list and was easier to access but no less inspiring. These monasteries were built in the 13th and 14th centuries, and there used to be 24 of them. As you walk through, it is pure evidence of the ingenuity of mankind that these structures were built so beautifully using primitive tools and by hoisting material from the bottom or using a cable across the ravine.
Pro Tip: These monasteries have strict dress codes, especially for women, and you must cover your hair and legs.
This area is a hiker's paradise and worth at least 3 days or more to see it all. Even the less energetic could enjoy Meteora for several days and not get bored.
5. Halkidiki
More than a city, Halkidiki is actually a region and encompasses three peninsulas: Kassandra, Sithonia, and Athos. They jut out from the northern part of Greece like the letter M, and each landmass sticks out into the lovely Aegean Sea. Between the main body of land and the three fingers, Halkidiki has over 500 kilometers (300 miles) of coastline.
The entire Halkidiki area is a nature lover's dream! It offers wooded forests, miles of water and coastline, fishing, and camping. But it also offers amazing history.
Olynthos
One of the best options for history lovers is the Archaeological site of Olynthos, which was a substantially large city, well laid out, and founded about 3000 B.C. It was advanced for its time and was built with efforts to make it energy efficient. It was home to a two-story design and advanced sewage systems.
The capital of this area, Polygyros, recently opened the Archaeological Museum of Polygyros, which was exquisite in its design and layout.
Pro Tip: For anyone who has time to take an extended vacation or getaway, the Halkidiki region would be a great place to spend most of that time. You'll enjoy beaches galore, mountains, lakes, rivers, and everything in between.
Related Reading: