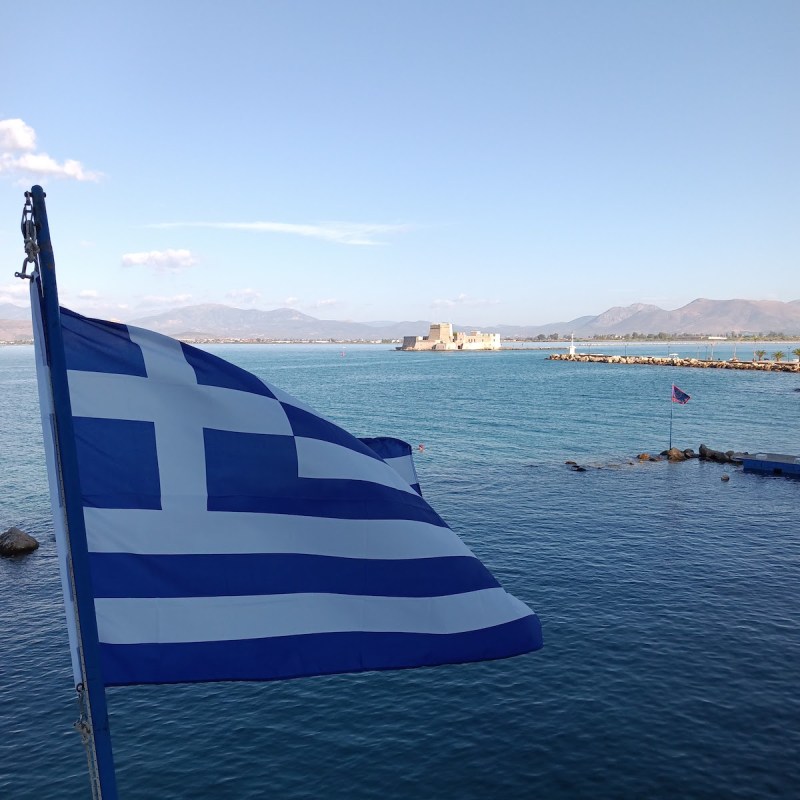 I thought I was super prepared for my first trip to Greece. I did lots of research and read all sorts of blogs. I had visions in my head of ruins and seas and delicious food. Yet, there were still a few things that surprised me once I finally started exploring the country.
1. The Beaches Aren't Sandy
Are you dreaming of beautiful crystal-clear water and sandy beaches? They exist, but a lot of them don't have the super fine sand you might think of when you think of Greece. Instead, many beaches in Greece have pebbles.
At first, I was disappointed. This wasn't the image I had in my head of what a beach is supposed to be. Sandy beaches were all I knew. However, after a few days on the shores of Greece, watching the sun set on those pebbly beaches, I was sold.
The pebbly beaches in Greece often also came with quite a different landscape than I was expecting. On the island of Kefalonia, for example, many of the beaches I visited were surrounded by forests. I remember hearing bells and searching through the trees to find a herd of goats making their way toward the beach. I'm not sure I ever would have expected to see goats on a beach, but I wasn't mad about it.
Pro Tip: Not all of the beaches have pebbles. In fact, one of the top-rated beaches in the world can be found in Greece. Elafonisi Beach, located on the island of Crete, is famous for its pink sands.
2. Free Dessert And Ouzo
As a solo budget traveler, this was a very welcome surprise. Turns out, many restaurants, mostly tavernas, offer you free dessert and/or ouzo at the end of your meal. My first reaction was a very confused look accompanied by a hurried explanation that I didn't order dessert.
The friendly waiter gently responded with an idiom I'm sure he was quite proud to have learned, "It's on the house." Well, well. A budget traveler's favorite words.
These desserts ranged from a simple fruit plate to baklava to Greek yogurt with local honey to lemon cake. There wasn't one I didn't happily eat up. The ouzo, on the other hand…
I'm simply not a fan of anything licorice flavored. Ouzo and raki, the latter found mostly on the island of Crete in lieu of ouzo, are licorice flavored. Not to worry if you aren't a fan, or if you don't drink alcohol. I found that most waiters usually asked if you would like the small drink, or if you might prefer, say, a small coffee instead.
Of all the surprises I encountered during my time in Greece, this surely was the most delicious and wallet-friendly. And while I wouldn't expect this from every restaurant you dine in, you may be pleasantly surprised to find a waiter approaching with a plate full of yumminess on the house.
3. The Cats
There are a lot of cats in Greece. A lot. They are everywhere — in the streets, in the shops, on the chair across from you at a taverna, lounging on top of a motorcycle. Everywhere.
These cats are mostly strays, though they have found their "home" in the various shop and restaurant owners who set food and water bowls out for them (nearly as plentiful as the cats themselves).
I never encountered an unfriendly cat in my 35 days in Greece, and because I was missing my cat back home, I found their presence comforting. But if cats aren't your thing, it's easy enough to ignore them. They will quickly find someone else to befriend and leave you alone.
The sheer number of cats in Greece can be a surprise. Being aware of this phenomenon before you go can help ease the shock of it.
4. Different Showers
I'm sure I've encountered these showers elsewhere. Perhaps it was the length of my trip that made me come to immediately inspect the bathroom upon my arrival at my hotel room. I'd do a little happy dance any time it contained a shower I was used to at home. (Note: I only did that happy dance twice.)
Showers in the Greek hotels I stayed in nearly always consisted of a very tiny space, often not delineated from the rest of the bathroom, and a handheld showerhead. Sometimes there was a hook from which to hang the showerhead, but this often did not keep the water inside said tiny shower space.
Showering in Greece, for this reason, was not a pleasant experience. I may have flooded my bathroom and entire hotel room a time or two. No curtain was sufficient enough to keep the unruly water from escaping its meager boundaries.
I'm certain I only took one enjoyable shower while in Greece. It had a rainfall showerhead that was fitted above where one stands. It was hot. It had great water pressure. It was the longest shower I took on my trip.
The rest of the time, I experimented with different ways to hold the showerhead above my head whilst trying to rinse the shampoo out of my hair. I tried turning the water off while I lathered up so I could use both hands. I froze. I tried the hook. I tried angling it. Nothing worked.
Pro Tip: While it's unlikely this would ever stop someone from visiting Greece, it is something to be aware of before you go. Perhaps in the nicer hotels, they have showers like you are used to. But, as a budget traveler, I wouldn't know.
5. Freddo Cappuccinos
I am not a coffee drinker. I'm not a tea drinker either. I don't like hot beverages. Enter the Freddo: the loveliest of coffee concoctions and the drink that made me a coffee drinker.
In my research and blog reading before traveling to Greece, I learned a lot about these Freddo guys. Every blogger that ever went to Greece recommended drinking a Freddo in a crowded sidewalk coffee shop. I resisted. For two weeks, I resisted.
Then, whilst in Kalamata, I decided I'd give one of the numerous coffee shops filled with mostly older Greek men a go. I brought my book and I ordered a Freddo cappuccino with sugar. Here's the thing — it comes over ice, so it's not a hot beverage. Win number one.
That first sip through the straw was a shock to the system to be sure — it is two shots of espresso, after all. That strong espresso is mixed with cold, frothy milk. Over the length of the drink, I realized I was enjoying my Freddo, along with my book and the people watching. Win number two.
You can also get a Freddo espresso if that's more your fancy. But here I go, just like those bloggers: I really must insist you enjoy the coffee culture in Greece and treat yourself to a Freddo or five. You won't regret it.
Pro Tip: If you find yourself in Kalamata, Greece, and want to check out the coffee shop that changed everything for me, go to Blossom Owl Coffee Shop. You can linger there for hours people watching and Freddo drinking.
6. Anywhere Is A Good Place For A Swim
On an early morning walk in Nafplio, Greece, I stumbled upon one of my favorite memories of my trip. Walking along a sidewalk by the water in full view of Bourtzi Fortress, I discovered a sort of natural swimming pool in the sea. Rock wall dividers created the boundaries, while pool ladders into the sea provided easy entry. I admired a handful of Greeks in swimming caps having their morning laps.
For some reason, this filled me with joy. Who needs a pool when you have an entire sea? Throughout my trip, I would see this occurrence over and over. Not the natural pool, but the swimmers anywhere.
I would ask my hotel owners where the beach was, and they would point me in all sorts of directions. Turns out the beach is really just anywhere you can swim. And it turns out, you can swim pretty much anywhere.
I saw people dipping in off hiking trails, near boats and harbors, and from secluded rocks. So I joined in, and you can, too. While in Greece, don't hesitate to take a swim whenever and wherever you fancy.
7. You Don't Need A Car
As a budget traveler, this was pretty important to me. While I understand that it's pretty easy and relatively cheap (but not cheaper than a bus ticket) to rent a car, if you're hoping to travel Greece without a car, you're in luck.
In Athens: Buses, Ferries, And The Metro
In my 35 days in Greece, I traveled to the islands of Crete and Kefalonia, as well as the mainland Peloponnese. I did this all via buses and ferries and the metro while in Athens. I never even had to take an expensive taxi.
While it's certainly not as convenient as having your own car to take off whenever you want and stop wherever you want, it was still easy enough. Schedules were easy to find using the KTEL bus website. Times and frequency were very decent in the shoulder season and I imagine even better in high season.
Bus stations were often located near the center of the town. I found it easy enough to find accommodations within walking distance of the station. The accommodation owners, as well as employees in the bus station, were always friendly and helpful with any questions I might have about locations or schedules.
Greek Coach Buses
Buses I traveled on were always big coach-style buses with comfortable seats. There was usually air conditioning and they were very clean. There were often two doors to enter and exit and there were stairs to climb. I never saw one with a functioning toilet, though this was never a problem as the longest ride I took was only 3 hours.
If you're hoping to travel Greece without a car, rest assured, it is possible and easy.
If you are planning your first trip to Greece, these are a few of the most surprising things to be aware of. Some are good, some not so much, but they'll all add up to give you an unforgettable experience in Greece.