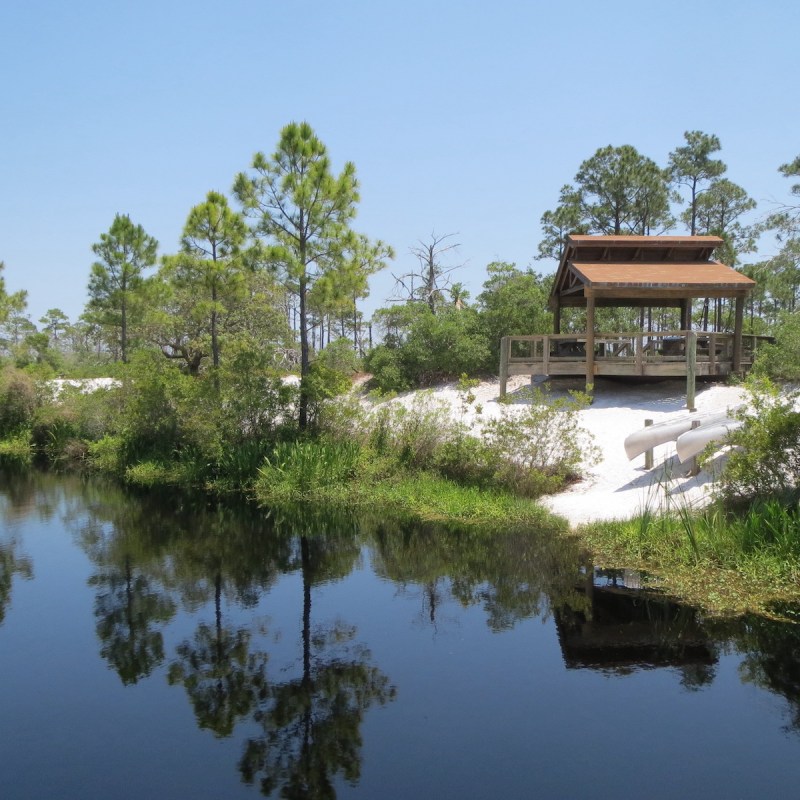 Whether you are a novice or a seasoned hiker, the U.S. Gulf Coast is normally off the radar for a hiking destination, especially when thinking about hiking in Florida. What could Florida possibly offer? There are no mountains. There are no canyons. But get that thinking right out of your head. Florida offers some incredible hiking experiences, especially along the panhandle from Tallahassee to the Alabama state line where beautiful and unexpected natural wonders will be found around every bend.
When traveling the I-10 corridor across the Florida panhandle, take time to pull off the highway and visit one of these six incredible hikes — you won't regret it.
1. Leon Sinks Geological Area
Tallahassee, Florida
4.4-mile moderate loop
While Florida may not be known for rugged mountains, it does offer some unique geology to explore. Located in the Apalachicola National Forest, the Leon Sinks Geological Area provides hikers with a chance to view what is known as karst geology, a large area of soft limestone that is porous and that has been cut over the centuries by the elements to form sinkholes, natural bridges, and streams that disappear underground.
This erosion has created massive sinkholes, some over 300 feet deep, that are filled with crystal-clear water. The erosion has also created the longest underwater cave system in the United States.
While you can't explore the watery caverns, you can view the beauty nature has created from above ground by connecting three trails. Use the Sinkhole Trail to visit several beautiful watery "ponds" including Hammock, Big Dismal, and Black Sink sinkholes. A short connector trail, the Crossover Trail, connects Sinkhole to the Gum Swamp Trail for incredible wildlife viewing over boardwalks through a cypress and gum swamp.
Pro Tip: There is a small day-use fee per vehicle for entry into Leon Sinks. Trails are easy to follow using paint blazes to show the way and have informative interpretive signage along the route that describes the geology and the wildlife you will find here in greater detail. The larger sinkholes have viewing platforms that overlook the shimmering waters.
2. Garden Of Eden Trail (Apalachicola Bluffs And Ravines Preserve)
Bristol, Florida
3.3-mile moderate to difficult out-and-back with loop
One of the more difficult and challenging hikes in the Sunshine State, the Garden of Eden Trail at the Nature Conservancy's Apalachicola Bluffs and Ravines Preserve is a roller coaster of a walk that starts along a wiregrass and pine tree-lined trail then makes its way steeply down and back up ravines to an unbelievably beautiful view of the Apalachicola River from the top of Alum Bluff.
If hiking this trail in the spring, say March or April, the path comes alive with a splash of color provided by red Florida anise blooming trailside.
Pro Tips: This is an environmentally sensitive area and as such, dogs are not allowed. Due to the difficulty rating of this trek, be prepared to spend at least 2 hours on the trail. Bring plenty of water and snacks for this one as well. There is no admission fee charged.
3. Ochlockonee State Park
Sopchoppy, Florida
2.6-mile easy loop
At the confluence of the Dead and Ochlocknee Rivers, there is a beautiful little out-of-the-way park: the 543-acre Ochlockonee River State Park. Its small size is more than made up for with a hike along the banks of the park's beautiful namesake river over a trail lined with tall pine trees and swaying savannah grasses punctuated with patches of saw palmetto.
This hike uses two trails — the Ochlockonee River and Pine Flatwood Nature Trails — to create this loop where you will undoubtedly meet white tail deer, hawks soaring high above, and maybe even a gopher tortoise. A real highlight of this walk through the pines is a visit to Reflection Pond, a beautiful grass pond with a dazzling mirror-like surface that reflects the deep blue Florida sky and passing puffy white clouds.
There is a small per-vehicle entry fee charged. Swimming is allowed at the designated location on the banks of the Dead River.
Pro Tips: There are some truly unique events held in the small town of Sopchoppy including the annual Worm Gruntin' Festival held each year on the second Saturday in April. "Worm gruntin'" is a traditional method of using a couple of stakes to make a noise in the ground that drives worms to the surface to use as fishing bait. Besides worms, the festival features live music and plenty of delicious local food. And each month, local talent is showcased at the Sopchoppy Opry.
4. Wiregrass Boardwalk Trail
Chipley, Florida
2.0-mile easy to moderate out-and-back
A waterfall? In Florida? You bet, and it's found at Falling Waters State Park.
Once again, the karst geology I mentioned earlier is at play here forming a 100-foot deep, 20-foot wide cylindrical sinkhole that's impressive to view from an observation. But this sinkhole is different. It has a 73-foot cascading waterfall that plunges down its vertical limestone walls before disappearing into a hidden underground cave. It's not the only waterfall in the state, but it is definitely the highest.
To access the waterfall, use the park's Wiregrass Boardwalk Trail which will lead you to two viewing platforms. The upper platform gives you a bird's eye view of the falls from above while the second one heads down to a spot below the rim of the sinkhole where you will feel the cool mist of the water on your face.
Pro Tip: Keep in mind that this is in the South, and as such, waterfalls are seasonal — meaning that they may disappear altogether during the hot months of summer and times of drought. There is a small per-vehicle day use fee charged. A park brochure with a trail map is available online.
5. Rocky Bayou Double Loop
Niceville, Florida
2-mile easy double loop
Rocky Bayou is a finger of Choctawhatchee Bay in Niceville, Florida. Here, nestled along the banks of the bayou, is a small 357-acre state park, the Fred Gannon Rocky Bayou State Park (better known to locals simply as Rocky Bayou). It provides travelers with a beautiful easy walk in the woods along a route I call the Rocky Bayou Double Loop. And that's what this hike is — a peaceful and calming walk where you can relax and let the troubles of the world melt away.
The loop actually uses two trails. The first is the Rocky Bayou Trail that takes you through a sand pine scrub forest and coastal flatwoods and is lined with bright green deer moss. You will have plenty of opportunities to visit the tranquil bayou itself via short side trails. Along the route, you will see numbered signage. Be sure to pick up a brochure at the kiosk at the trailhead that will identify what you're looking at.
The second trail, the Sand Pine Trail, is a 1.1-mile loop through a magnolia, pine, and hardwood forest. When I first hiked this trail, I was excited to visit a pond along this trail called "Puddin' Head Lake." I mean, who wouldn't want to see a lake with a name like that? Well, Puddin' Head ain't no more. Instead, it is now Puddin' Head Stream, having been returned to its original state to protect a unique and rare habitat for many species of animals and reptiles such as cooter turtles, soft shell and box turtles, deer, raccoon, and plants like the Florida anise and pitcher plants.
A park brochure with a trail map is available online.
6. Big Lagoon State Park Trails
Pensacola, Florida
5-miles of easy walking, interconnecting trails
To say that the trails at Big Lagoon State Park are picturesque is an understatement. The 5 miles of sandy trail found here all interconnect giving you seemingly endless options as they wind their way between and around the park's Long Pond, Grand Lagoon, and its namesake Big Lagoon. Along these paths, large blue herons stand stoically as they wade in the shallows, wildflowers adorn the trail in season with a rainbow of colors, kayakers will be seen plying the waters as they head out into the Intercoastal Waterway, and the sunsets are simply gorgeous.
The highlight of a visit to the park is a climb up the famous four-story Big Lagoon Observation Tower where you will be rewarded for your effort with spectacular panoramic views of the park, Perdido Key, and the Gulf Islands National Seashore.
Pro Tip: Big Lagoon State Park is a birdwatcher's dream come true. Known as the "Gateway to the Great Florida Birding Trail," the park is a prime destination for wintering and migrating birds and of course their normal yearly residents such as king rails, great blue heron, cardinal, and nuthatches. Binoculars are available for loan at the ranger station.