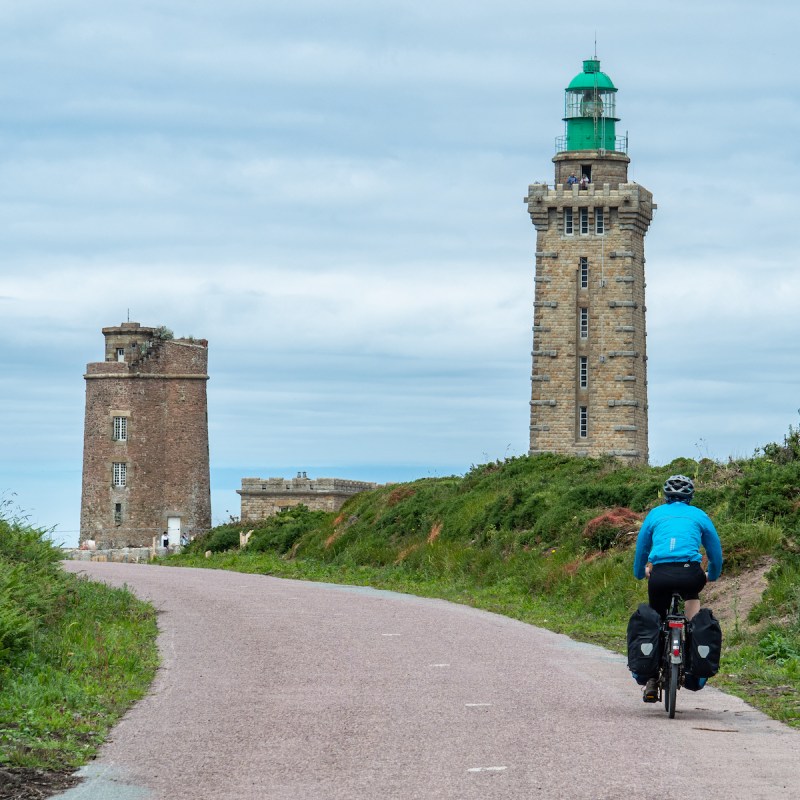 EuroVelo's network of marked trails covers 19 cycling routes across Europe. Today, there are more than 27,000 miles (45,000 kilometers) of well-marked cycling paths, dedicated bike lanes, and remote country lanes included in the EuroVelo. Each route looks enticing making it a challenge to select an itinerary for a cycling vacation.
It is possible to cross the European continent — north to south, east to west, or a combination of the two — on the EuroVelo. Narrowing your selection to a country you wish to visit may take some time as well. There are 42 of them through which EuroVelo passes.
My wife, Patty, and I covered a small portion of EuroVelo 1, labeled La Vélodyssée in France, during our fall cycling adventure. On a crisp Monday morning, we set out from the harbor of La Rochelle beginning our 6-day, 166-mile (267 km) journey to the quays of Bordeaux.
Here are the tips I'd like to share to help you prepare for a European cycling vacation.
1. Choose A Route
Much of our route was on dedicated bike paths. Some were converted rail beds and other portions were created specifically for cyclists. During our 6-day ride, rarely were we compelled to cycle on a busy road. We shared lanes of crushed stone with a few pieces of machinery tending to the grapes of the Medoc wine-growing region. If not on a bike path, we were mostly on country roads where we encountered little traffic. It was by design that we traveled along the ocean and relatively flat terrain.
The breadth of routes EuroVelo offers presents a challenge to identify your best route. Start with an honest assessment of your current cycling fitness. If mountain passes and steep hills are not a good fit, look for sections along rivers, canals, or the ocean. There is generally less challenging elevation.
We encountered a few hills on our shortest day, 22 miles from Royan to the port town of Mortagne-sur-Gironde. Patty was able to zip up the steepest grade on her e-bike. Fortunately, the steepest was an 18 percent downhill grade that ended along a pasture of curious calves staring us down as we recovered from the thrill of our rapid descent.
Are you looking for a trip in a remote area or are you attracted to the bright lights of the city? It is possible to enjoy both.
Though never far from the Atlantic and eventually the Gironde Estuary, EuroVelo 1 treated us to a variety of scenery. The ocean glistened next to us during the first leg of our journey, but over the course of the week, the sounds and landscape varied. We wound through the shade of a scented pine forest, passed through a marsh, and dipped into historic coastal towns.
What is your level of comfort riding in the city?
We were apprehensive knowing that our journey ended in the middle of Bordeaux, but found the 9th-largest city in France amazingly bike friendly. After passing through the suburbs, separated from traffic in our designated bike lane, we ended our trip on a sunny Friday afternoon, cruising Bordeaux's broad quays along the Garonne River.
2. How Much Help Do You Want?
Decide upon how you wish to travel. Would you like a guided trip with a group you assemble, or with a group the company puts together? How about a self-guided tour using a company to provide bikes and equipment, lay out your route, book lodging, and arrange to haul your baggage from point to point?
A third option is to plan everything on your own. We've decided to construct our own 2023 European cycling adventure. This will allow for flexibility but require some work. It is not a daunting task given the wealth of information available about EuroVelo and the abundance of bike rentals and tour operators dotting the routes.
EuroVelo is very well-marked, so staying on the route is easy. Signage pointing riders in the right direction and providing kilometers to the next town is frequent. The number of inadvertent detours on our trip was limited.
Navigation was not complicated. The tour company provided a road book and set up the route on the Roadbook app. My phone was on the handlebars, talking to me as Roadbook announced every turn and provided an introduction to the cities we entered.
Pro Tip: If you plan to rely on your phone to guide you, take along a charger. Navigation apps drain a phone's battery over a 5- or 6-hour ride.
3. Find A Tour Vendor
Unless you have the confidence to get your bikes to the starting point, plan your route, and book accommodations along the way, identify a reputable touring company. There are many choices. You can start your search on the EuroVelo webpage which offers booking services. Vet them well and be sure all your questions are answered to your satisfaction before you book.
4. To E-Bike Or Not To E-Bike
First, appreciate that an e-bike requires the rider to turn the pedals and assist with the machine's forward momentum. The battery's power helps the pedaling rider. An e-bike will not climb a hill without the cyclist cycling. You will really enjoy the e-bike if you are out on a windy day — so might your traveling companions. I drafted Patty on her e-bike several times during our trip, saving my lungs and legs which were struggling when challenged by a steady headwind.
Our longest day was 42 miles along relatively flat terrain. You'll not have to navigate mountains if you plan to bike along a canal, river, or ocean. It would be wise to engage in a few weeks of riding, 2 or 3 days a week, before jumping off on a 150-mile ride. Renting an e-bike will help make a multi-day cycling trip doable — and enjoyable — for travelers not wishing to spend weeks in training for their vacation.
5. Pack Light
A fancy wardrobe does not need to accompany you on a bike trip. Since you will be moving almost every night to a new town, you won't stand out if you wear the same outfit at dinner a couple of times or more. Even if your luggage will be transported from point to point while you are riding, pack light.
6. Plan Your Lunch
There may be days when the route takes you to remote places, or you may lollygag on your morning ride and be hungry before making it to a recommended restaurant. Pack snacks or a light lunch. A sandwich and some fruit won't add much weight to your panniers. You'll be happy to be carrying a light repast if hunger strikes and you're miles from the next restaurant.
Patty and I enjoyed a quiet path on one morning's route through the dense Foret de la Coubre. Another day white horses grazed and swans gracefully floated along as we navigated the quiet road through a vast marsh during one afternoon ride. Each provided quiet corners for a rest and a shaded spot for lunch, fuel for the afternoon's upcoming cycling.
7. Do A Little Research
As you narrow down possible routes, investigate what you'll be passing as you cycle along. There are paths that will take you through some of Europe's largest cities. You can plan a more remote route if you wish to visit the attractions of a big city another time. Once you identify the type of scenery you wish to enjoy, discover what the towns and villages along the way have to offer. You can then plan where you may wish to stay over an extra night allowing you to visit and explore a bit.
Our first night was spent in Marannes, world famous for the oysters coming from the beds nearby. They were on the menu that evening.
The strategic value of the Côte Atlantique during the reign of Louis XIV is still evident. We rode past a barracks and an arsenal built in the 15th century along a river bank in Rochefort. Our trip took us alongside well-preserved fortresses constructed by Vauban during the same era at St. Martin de Ré and Blaye.
8. Plan Time For Rest And Sightseeing
Next trip, we will budget more than one night in towns with sites we are interested in visiting. After breakfast, it was time for us to start riding to get to the next town on the itinerary. After pedaling for 5 or 6 hours, relaxing with a book in the hotel's garden was appealing. Hiking up steps to visit a castle was not. If you must move along every day to your next night's hotel, it is difficult to do much, if any, sightseeing. Also, your legs may appreciate it if you set aside an extra day of non-cycling activities at several stops along your route.
When To Go
Consider scheduling your trek when summer vacationers are at work. We have learned to check the French school holiday schedule. Finding accommodations is easier, and we are not a nuisance to throngs of families enjoying their time together when we travel while school is in session. It is a plus that spring and fall often yield pleasant weather for meandering the back roads of France on a bicycle.
A bonus to a fall trip in a wine-growing region is the opportunity to witness the vendange (harvest). Winding through Medoc, we followed wagons teeming with grapes as man and machine relieved the vines of their fruit and carted it to awaiting vintners to be turned into this year's vintage.
When finished we had pedaled 204 miles (328 km) in 6 days. Some of our friends were wowed, thinking this a great feat. No reason to disabuse them of this notion, but it was not a daunting trip. We are already planning which part of EuroVelo we will take on next year.