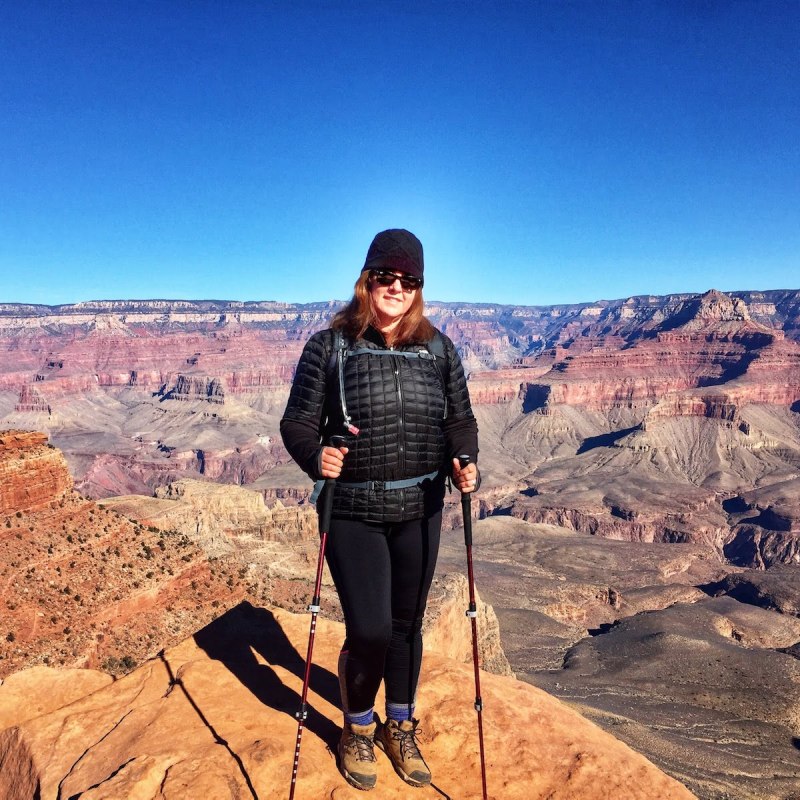 I think I'm going to hike the Grand Canyon.
The words felt preposterous as they tumbled out of my mouth at a pre-holiday girls' night out. But they also felt true. The only thing more surprising than this sudden verbal outburst was when a friend, Carver, said she'd join me.
Maybe the fact that I had turned the page on my 40s and was stepping off into my 50s weighed on my mind. Perhaps it was the fact that I was a soon-to-be empty-nester. Regardless, I couldn't stop thinking about trekking to the bottom of the canyon.
That evening, armed with a glass of Cabernet and aided by a Google search bar, I made the necessary reservations to stay at the Phantom Ranch, reachable on foot or by mule, almost a year to the day later.
Have I mentioned that I had zero hiking experience at the time?
I began preparing for the trek with weekly training hikes. As it turns out, the trail is an excellent teacher. Here are nine lessons I learned as I prepared to hike the Grand Canyon.
Be Prepared
According to the National Parks Foundation, hiking to the bottom of the Grand Canyon — or a Rim-to-Rim hike — is a classic bucket-list adventure. An adventure that can end in catastrophe for the unprepared. The site offers assurance that the trek is well worth it for those who have appropriately trained, have the correct gear, and know what to expect.
Since I was new to hiking, I joined a couple of online hiking groups; one was specifically for folks contemplating a hike into the Grand Canyon or having completed one. Many of them were locals with loads of intel about the area. And all of them were happy to share logistical information, training tips, and how to stay safe on the trail — a particular concern for me as a woman traveling solo.
These days, it's easy to find a group for practically any endeavor you can imagine. Take advantage of the many people who have been there before you and are willing to share.
Hiking Boosts Mindfulness
Spending time in nature without devices and distractions helped me become more mindful and in the moment. I felt genuinely alive. Placing one foot in front of the other, over and over, I began to notice my breath and bodily sensations while becoming more aware of my intention to connect with something bigger than myself.
I turned down the constant chattering of my inner monologue and put physical distance between myself and the hectic pace of everyday life while enjoying the beauty and majesty of the great outdoors.
Reconnecting With Nature Is Good For The Soul
I knew it when I was a kid. I'd just forgotten.
We are meant to explore and be outside, not stare at a screen for most of our waking hours. Venturing out and immersing oneself in nature is a proven stress buster. I learned (or rather relearned) to slow down and notice my surroundings, taking pleasure in the tiniest details.
No one can take in a panoramic view, listen to churning water as it tumbles over rocks, watch a blazing desert sunset, or gaze upon a field full of wildflowers without feeling more connected to yourself and the universe.
By reconnecting with nature, I reconnected with myself.
Hiking Is Better Than The Gym
Hiking is an excellent exercise, offering both cardiovascular benefits and muscle strengthening. As with any good cardio workout, you'll lower the risk of heart disease, improve blood pressure and blood sugar levels, and help to control weight. Hikers burn anywhere between 400 and 700 calories per hour depending on their size and the terrain. The bonus is that this all happens with lovely views, fresh air, and the sounds and smells of nature. It has been proven that people who exercise outdoors are more likely to stick with it.
How about a mood boost? "Research shows that walking outdoors has a positive impact on combating the symptoms of stress and anxiety," says Gregory A. Miller, Ph.D., president of the American Hiking Society. "Being in nature is ingrained in our DNA, and we sometimes forget that."
Kick Fear To The Curb
Don't get me wrong. Some concern is a good thing; it can keep us safe. But it can also be crippling.
My hiking buddy, Carver, had to bow out of the trek unexpectedly. It wasn't until the last minute that I reluctantly made the trip solo after nearly a year of preparation. As I stood on the rim the night before my hike, the canyon stretched out before me, at once breathtaking and formidable. I began having doubts. Panic swelled in the back of my throat as fear crept in. I took a couple of deep breaths, reminding myself of the training I had put in — all of the preparation.
What if, just this once, I trusted the training? Once I made the conscious decision to do so, like magic, those negative thoughts disappeared, and I had an incredible experience.
Solo Travel Is Incredible
Admittedly, the idea of traveling for a week solo and embarking on a serious hike was scary. In fact, it was downright terrifying. But I did it and discovered the pure joy of solo travel. For me, a trip in which all decisions were made solely by me, with no one else's opinions or preferences to be taken into consideration, was pure unadulterated joy.
Get up at 5 a.m. to catch the sunrise in Sedona? No problem. Moroccan food at 9 p.m. after an afternoon hike? Delightful! Going solo allowed me to travel at my own pace and do exactly what I wanted when I wanted, even if that meant doing nothing at all at times.
Pro Tip: If you are apprehensive about solo hiking, remember that popular trails, such as the Bright Angel Trail and South Kaibab Trail I used, are usually quite busy. It was rare to go more than 10 or 15 minutes without seeing another hiker. Be sure to let someone know what trails you'll be using and when you expect to be back.
Nothing Meaningful Is Easy
It's just not. Think about it. Have the most meaningful moments or things in your life been given to you, or have they been earned?
We all live in a culture of fast fixes and instant gratification. On the trail, I worked hard for those views, for the chance to experience things that few do. I braved the elements, logged the miles, and climbed the mountains.
It wasn't always easy, but I conditioned myself to sit with discomfort for a short period to achieve my goals. Once I'd learned to sit with some discomfort, I could move forward, knowing it was only temporary and would pass. That I will attain my objective.
Even now, 5 years later, when faced with a difficult task, I can look back and know I can do hard things.
One Step Is Progress
No matter how small that step is, it's progress if you move forward. If it's hard, take one step. Then take another. Keep moving in the direction of your desire. It doesn't matter how long it takes. Progress is progress.
After my hike out of the Grand Canyon, I was asked by another hiker how long it took me to complete my trek. Overhearing the question, a woman at the bar piped up, "Who cares how long it took? This morning she was down at the bottom; she is now, this afternoon, drinking a beer at the top!"
You know what? She was right! Who cares how long it took? I did it.
And at the end of the day, that's all that mattered.
Don't Forget To Look Up
It's easy to become so single-mindedly focused on the goal that we miss the entire journey. Head down, heart-thumping, pushing through, we rush to the end with dogged determination.
I learned to stop and look up now and then. To take it all in. After all, wasn't this what I'd come for? Sometimes it was discouraging to look ahead and see how far there was left. When that happened, I learned to turn around and look behind me. I was always astonished at how far I'd come.
I've found that the lessons I learned during my hike are equally applicable in everyday life.
Hiking the Grand Canyon reminded me that nothing is impossible, that I can achieve anything.
The hardest part was deciding to go.