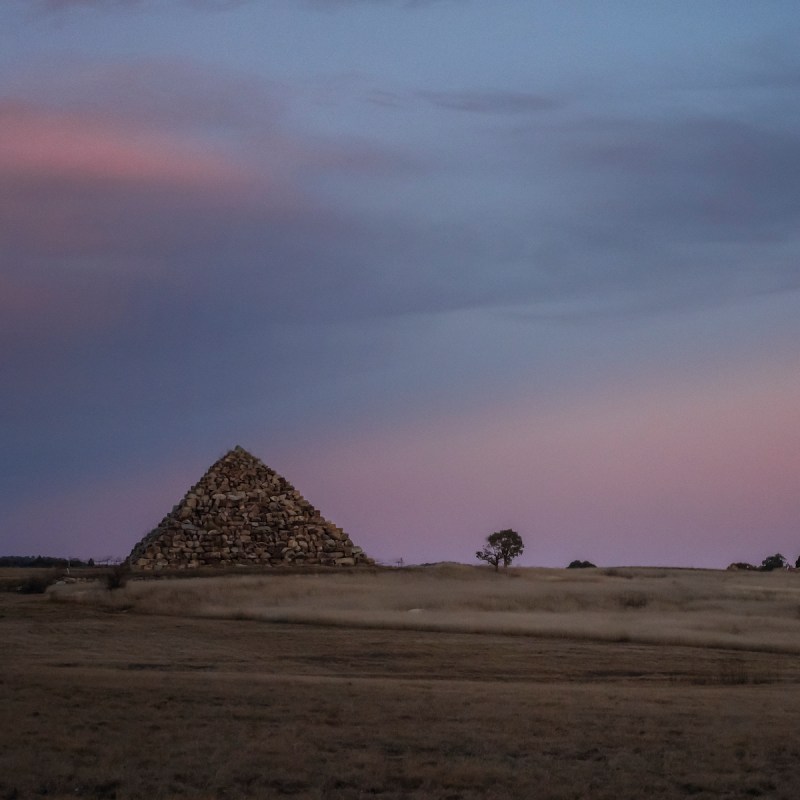 Let me introduce Australia's best-kept secret. Even many Australians don't know Queensland's Granite Belt exists — or didn't until recently.
Like the U.S., Australians experienced out-of-state travel restrictions during COVID and needed to holiday in their own states.
There was no shortage of options for Queenslanders: the Gold Coast for bright lights and idyllic beaches, Cairns and the Great Barrier Reef for the wonderment of the tropical North, and the Sunshine Coast for vibrant beach culture.
But having ticked off these gems, they turned their attention to the Granite Belt, a region 2.5 hours southwest of Brisbane. It's part of the Southern Downs, with Warwick and Stanthorpe the largest townships. They found so much to do they kept returning.
I'm sure you will also love this area that even Australians are only now discovering.
1. Be Bowled Over By The National Parks
Like Arches National Park, boulders balance here in gravity-defying positions. At Girraween National Park, relive the Greek myth of Sisyphus. Zeus condemned Sisyphus to roll a boulder up a hill for eternity. Hikers take photos pretending to push boulders uphill. Do an easy circuit walk to the Granite Arch (a 30-minute return) or strap on your hiking boots for the Pyramid Walk (2-hour return) to Balancing Rock.
Camping is available, or you can stay at Girraween Environmental Lodge, architecturally designed chalets set on 400 acres of bushland. 
Pro Tip: Experience rainforests and waterfalls at Main Range National Park. Visit Bald Rock National Park to see the second-largest monolith in Australia after Uluru (Ayers Rock).
2. See A Pyramid
You can view an Egyptian-looking pyramid simply by stepping out of your vehicle. Ballandean Pyramid is man-made. Over a few bottles of red, the landowner asked his mates for suggestions on how to use up the surplus rocks in his paddock. 8 months and a quarter of a million dollars later, 7,500 tons of rock lie stacked into a pyramid. All that's missing are the camels. Perhaps over the next bottle of red, they'll get some in.
3. Winning Wineries
Australia is famous for wine-growing areas such as the Barossa and Hunter Valley.
The Granite Belt wine region slips under the radar. And local winemakers like it that way, as they can experiment with unexpected drops rather than the usual suspects or shiraz and chardonnay, Australia's most planted varieties.
At approximately 3,285 feet above sea level, The Granite Belt is a retreat from the heat, 5 to 7 degrees cooler than Brisbane. The winemakers can create cold climate wines — including tempranillo, saperavi, marsanne, and nebbiolo.
These "Strange Birds," as they call them, are varieties representing less than 1 percent of total vines in Australia. Follow their Strange Bird Map — 31 different tasting rooms offering rare wines.
Granite Belt wineries offer more personalized cellar doors tastings. The person who pours your wine is likely the same person who planted the vines. So you get to meet the makers.
Bent Road Winery is a prime example. The passion that Glen, a former research scientist, and Andrew, a sommelier, have for creating natural wines is inspiring. I saw Andrew kiss a piece of winemaking machinery. He's quite a character!
The pair have shipped in qvevri — European Georgian terracotta vessels, which they half bury in the ground in an ancient wine-making process used in Georgia dating back 8,000 years. The wine reacts to changing conditions in the earth, granting the wine a strong connection to the place. As Andrew says, "rustic, organic and very sexy."
Bent Road Winery is "a bit of a secret squirrel," but Glen and Andrew welcome visitors by booking ahead for their weekend sessions at 10:30 and 2:30 for no charge. They see this as a chance to engage with people about the wine-making process.
Andrew has hauled an old church onto the property as a tasting room. It seems almost sacrilegious to drink in a church. And it's hard to get over the centerpiece on the table — a skeleton. But then one of their labels is La Petite Mort which they describe as "unusual, confronting and a little left of center."
Pro Tips: There are over 50 wineries in the Granite Belt. Try saperavi, a full-bodied alternative red at Ballandean Estate. Opposite Golden Grove Estate was the 2019 Queensland Winery of the Year. Mike Hayes, the winemaker at Balancing Heart Vineyard, won Australian Winemaker of the Year in 2018.
4. You Can Wine And Dine And Not Drive
When tasting wine, it's great to imbibe and not drive. Crisps Coaches offer transport from Brisbane.
At Vineyard Cottages Ballandean, Simon and Errol take guests to local wineries as part of the service. I met two couples on their fourth consecutive holiday at the cottages because they loved the accommodation, food, and service.
Filippo's Tours arranges food and wine tours. They pick up from accommodation within a 20-kilometer radius of Stanthorpe.
Or take a cycling tour where a support van carries your wine purchases. Granite Belt Bicycle Tours are modestly priced; as well as visiting wineries, you can ride through an apple orchard, visit Donnellys Castle (a granite bushrangers hideout), and explore forests to spot kangaroos. They also offer e-bikes.
VeloRoo has multi-day packages for serious bike riders. Luxury accommodation and complimentary return transfers from Brisbane. Check out their Granite Belt Gourmet Gravel Adventure.
Pro Tip: There are plenty of other tour options.
5. The Marriage Of Food And Wine
While only there for 2 days, I enjoyed memorable integrated food and wine experiences.
Heritage Estate Vine + Dine Journey began with a Vineyard Walk & Talk while sipping glasses of sparkling wine — a chance to smell the roses at the end of the vines. Owners Robert and Therese Fenwick demonstrated their innovative drone technology. It convinces birds not to feast on their grapes, a bit like the flying monkeys in The Wizard of Oz.
Inside was a wonderland — a sea of glassware. Our rosewood oval table had once seated the Executive Council when Queen Victoria declared Queensland a colony in 1859.
Five dishes were paired with the perfect wines. As an example, we had a Strange Bird, a Fiano 2020, with our dish of amuse-bouche tostada roasted capsicum and anchovy with ginger chili tomato Quetta and tapenade.
Dinner at Whiskey Gully Wines was like being a guest in someone's beautiful old home, as Beverley Homestead is one of the oldest homes in the area. Our hosts were John and Denice Arlidge. John is very much the face popping up everywhere. We glimpsed him in the kitchen, baking a massive sourdough rosemary and gruyere focaccia. He proudly presented this to us on a platter, and we chorused him with "oohs" and "ahs." It was raised and perfect with a slightly salted crust with fresh butter — yum.
The evening continued like a dinner party rather than a sterile restaurant experience. Except for those with special dietary needs, we ate what John had cooked. If you didn't want the dish served, you swapped it with a neighbor who might have the other option. I wouldn't have swapped my delicious curry with anyone.
Each dish was matched with Whiskey Gully Estate's wines, including Bon Blanc Colombard perfect with my curry. And a blissfully deep purple-red 2019 Black Rod Shiraz.
Like a good host, John then entertained us by pulling out his guitar.
6. She'll Be Apples
The Granite Belt has many descendants of Italian migrants who came to Queensland as cane cutters from the 1920s onwards.
At Nicoletti Orchards, we met third-generation apple growers. Some of the trees on the property date back 70 years. Daniel and his wife Toni grow Royal Gala, Pink Lady, Sundowner, and Fuji on their 100-acre farm. Pick your own during apple season (February through April). There is nothing like crunching into an apple you have just picked. And how do you tell a good apple in a shop? "Look for the greener stalks," Daniel taught us.
Vincenzo's Café is also run by Italian descendents. You can't miss it. There's a Big Apple outside on a pole that's great for photos. Try the waffles with ice cream and applesauce or the Big Apple Breakfast. The homemade Italian pizzas, pasta, and salad are fresh and delicious. Their huge deli stocks Granite Belt products. So if you don't have much time in the region, this is a one-stop-shop.
Pro Tip: Sutton's Farm apple pies are legendary. 24 apples are in each and they're served with spiced apple cider ice cream and fresh cream. Eat under the orchard's apple trees. Here are other great apple-related experiences.
7. Graze For Days
A few food experiences to get you started. Pop chocolates into your mouth at Heavenly Chocolates and sample artisan cheeses at Stanthorpe Cheese. At Jamworks Gourmet Foods Cafe & Larder, try boozy rhubarb and pinot gris jam, mandarin and passionfruit marmalade, or Rosella jam. Pick your own strawberries in season. Join the hunt at Folly Truffles when the dogs sniff out French black Perigord — or out of season, enjoy Tea with A Truffle Farmer.
8. History In The Baking
For a unique country-style high tea with butterfly cakes and scones, visit Glengallan Homestead. Prebook for Wednesday to Sunday. There's nothing like country baking.
Do a self-guided tour of the Circa 1867 Glengallan Homestead, which was once the finest home in the colonies. The restoration work is a tribute to the dedication of the volunteers. Don't miss "Mummified Myrtle"; a cat found perfectly preserved beneath the floorboards. There is an East Anglian custom where builders placed a cat under the floorboards to protect the building from "witches, warlocks, fire and evil spirits." The family went bust. Did Myrtle have her revenge?
9. Australia's Downton Abbey
Abbey Boutique Hotel in Warwick is a Victorian-gothic sandstone building built as a convent and school in 1891 for the Sisters of Mercy. Now it's a couples-only retreat with massive four-poster canopied beds and deep claw baths.
Mark Cains and Sonia Hunt lived on the Gold Coast and dreamt of renovating a historic building in Britain. Searching online, they came across an abbey they thought was in Warwick in England.
"We were shocked to find the price was in Australian dollars. Here was the historical building of our dreams, only a few hours away," said Sonia.
The couple purchased the property in 2010 and transformed the convent into 16 magnificent guestrooms.
They offer murder mystery and food and wine weekends and can incorporate trips on the Southern Downs Steam Railway. The Abbey has hosted a stream of dignitaries, including the president of Ireland, Michael Higgins.
But the celebrity you'll most want to meet is Basil, the resident cat. His name is a reference to Basil Fawlty. If you love cats and don't mind their eyes staring at you, stay in the Basil Suite decorated with huge pictures of Basil.
10. Country Stays
High-rise and corporate are the antitheses of what this community offers. Instead, stay amidst the vines in family-run wineries such as Whiskey Gully Wines and Heritage Estate.
Azjure Studio Retreat is Australia's most highly awarded couples accommodation.
Many locals have built cottages or extensions so city folk can stay. We enjoyed the king-sized beds and a garden setting at Accommodation Creek Cottages & Sundown Suites. A neighbor dropped over with a few bottles of her wine tucked under her arm. Our hosts, Jayne and Bevan, had built a bar in the garden for just such an occasion. The locals love to get together over a new wine. And if they can haul a tourist in for a tasting, the more the merrier.
Pro Tip: Helpful planning websites include Granite Belt Wine Country, Southern Downs and Granite Belt, and Southern Queensland Country. The Southern Downs and Granite Belt Visitor App is a free resource.
For more ideas and inspiration on Australia, explore these articles: