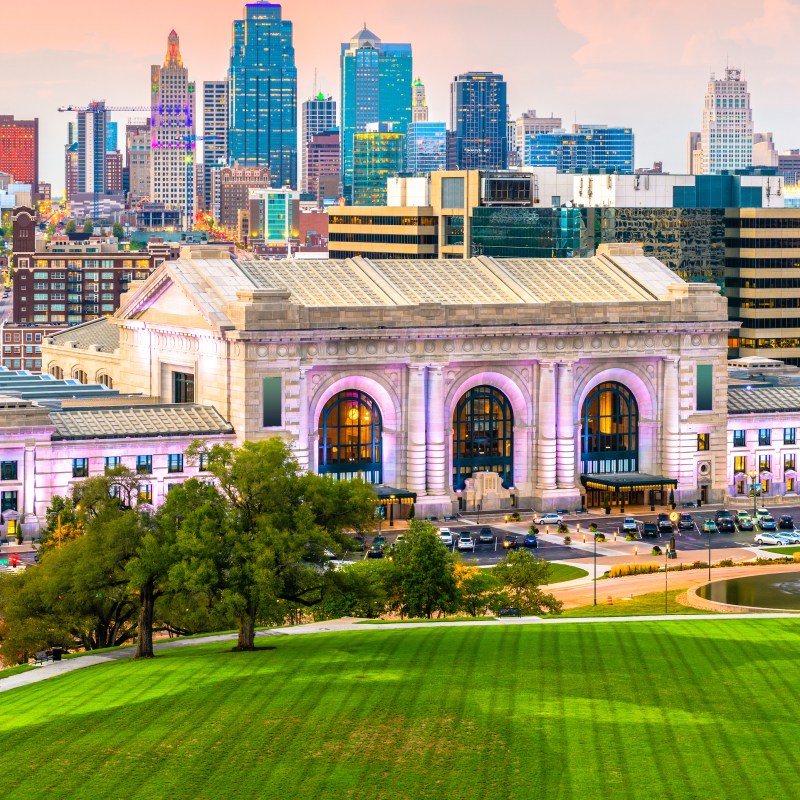 Kansas City's Union Station is a fully restored 1914 landmark — a bustling center for culture, education, and entertainment, and the second largest working train station in the country. With changing exhibitions and theater performances, the halls of this 850,000-square-foot space are filled with locals and tourists alike.
There's so much to do in and near Union Station. Taking in the Grand Hall's 95-foot ceiling with three 3,500-pound chandeliers is just the beginning of what can be done inside.
Step outside Union Station and you're just a few steps from the Kansas City Streetcar, which provides free access to nearby destinations like the Crossroads Arts District, the Power and Light Entertainment District, and the River Market area. Or take a short walk from the station to enjoy art galleries, Crown Center, the National World War I Museum, parks, top-notch dining options, and more.
Step Back In Time At Union Station
The Model Train Gallery is a fan favorite that attracts more than 200,000 guests annually and is newly remodeled. See what 8,000 square feet of toy trains looks like. You'll take in everything from tiny N-scale model trains to the large G-scale trains of the model train world. The exhibit is free to attend.
The Museum of Illusions opened last October and kids of all ages enjoy the visual, sensory, and educational experience of illusions. Tickets prices are $15 for adults, $12 for seniors, and $10 for children 6 to 13 years of age.
You can also find a sense of wonder at Science City. This interactive science center features traveling exhibitions, the Arvin Gottlieb Planetarium, Regnier Extreme Screen Theatre, and more than 120 hands-on displays. The Arvin Gottlieb Planetarium combines interactive astronomy education with public shows and night sky viewing opportunities. Admission prices vary: Science City is $13.25 for adults, seniors, and children; the Arvin Gottlieb Planetarium is $7 for all; and Regnier Extreme Screen Theatre tickets are based on show and showtime.
Cross The Walkway To Explore Crown Center
Take the walkway between Union Station and Crown Center to discover the shops and entertainment on the other side.
Since 1979, The Coterie has given over 13,000 performances of 285 productions on its mainstage for approximately 2.2 million people. Forty years of children's productions and its mission remains the same: to open lines of communication between races, sexes, and generations.
Children and their families are also invited to be creative and have fun at Kaleidoscope. Hosted by Hallmark, Kaleidoscope is a place for children to make art using materials from Hallmark's manufacturing processes. The materials are always changing, and so are the projects.
You'll find an interactive aquarium at Sea Life, which is home to thousands of aquatic creatures and also boasts interactive touch pools and a 180-degree ocean tunnel. General admission tickets are $17.95 for children 3 to 12 years old and $21.95 for adults.
Named the Ultimate Indoor Lego Playground, LEGOLAND Discovery Center gives children and adults a chance to play and create with this beloved toy. You'll find two rides, 10 LEGO build-and-play zones, a 4D cinema, and more. Be sure to check out their website for details on pricing as well as package deals with Sea Life located in the same complex.
Learn About World War I History
The National World War I Museum and Memorial of the United States is located in Kansas City, Missouri, just up the street from Union Station. Opened to the public as the Liberty Memorial museum in 1926, it was designated America's official museum dedicated to World War I in 2004 by the U.S. Congress. The Vietnam War: 1945 to 1975 special exhibit opens November 8.
After visiting the museum, take a stroll around Penn Valley Park. The trails in this urban park overlook downtown Kansas City, Missouri.
Explore Kansas City's Vibrant Arts Scene
The Todd Bolender Center for Dance and Creativity offers community programming that includes workshops, an educational talk series, tours, and free yoga. Home to the Kansas City Ballet, you can also take a tour of the company's historic facility and observe the dancers at work. Tours are at 10 a.m. on Saturday and Sunday. Admission is $25.
Also nearby is the Belger Arts Center. The art gallery on the third floor is free and open to the public. Classes are also held throughout the year for youth and adults. The Belger's ceramics teaching studio also provides classes and workshops for the community at large. Stop by during their regular hours — 10 a.m. to 4 p.m. Wednesday through Saturday.
The Kauffman Center for the Performing Arts, also nearby, is a performing arts center in downtown Kansas City, Missouri, at 16th and Broadway, near the Power and Light District, the Sprint Center, and the Crossroads Arts District. Its construction was a major part of the ongoing redevelopment of downtown Kansas City. Here you can catch performances by the Kansas City Symphony, Aspen Santa Fe Ballet, Lyric Opera of Kansas City, and more. Ticket prices vary.
In the nearby Crossroads Arts District, every first Friday thousands gather in the streets for First Fridays. Art galleries, studios, and local businesses offer a Friday night party with art shows, live entertainment, food, and drinks. First Fridays are free to attend.
While you're in the Crossroads, take a Kansas City Graffiti tour — a two hour walking tour of murals and street art for $25 per person. You'll get an intimate look at the art and artists who've shaped the area and see Kansas City murals and street art up close.
Eating In Kansas City
Inside Union Station you can go as simple as a croissant and cafe au lait at Parisi Cafe, or opt for the stylish decor and fine dining at Pierpont's. Have a cocktail and appetizers at the bar — the mussels served with their fresh bread for sopping up the juices are a favorite — or go for a full dinner in the restaurant. If having dinner, well, you are in Kansas City, so try the Kansas City Strip, a 12-ounce cut grilled over apple and hickory wood. Whichever you choose, this Kansas City classic delivers fine dining with flair. If you want something in between, there's also Harvey's At Union Station for breakfast, lunch, and Sunday brunch.
You can also Walk over to Crown Center for a variety of dining possibilities. This shopping destination has lots of family-friendly options like Spin! Pizza and Fritz's Railroad Restaurant, where a train will deliver your burgers to your table. For fresh and locally sourced seasonal cuisine, stop by Unforked. If you're wanting a seasonal treat, try their pumpkin pie concrete. They take freshly made frozen vanilla custard and blend it with a whole piece of pumpkin pie, then top it with whipped cream. Decadent.
If you take the pedestrian walkway from Union Station, you'll arrive at Freight House, a historic railroad building that's home to three award-winning restaurants: Fiorella's Jack Stack Barbecue, Grunauer, and Lidia's. Kansas City photographer, Roy Inman, says the walkway, the Michael R. Haverty Freight House Bridge, is a great spot for train watching as 300 trains a day pass on the tracks below. He says it's also a good place to view the Kansas City skyline.
Jack Stack is a Kansas City institution known for its extensive barbecue menu plus steak, seafood, and lamb ribs. You can also enjoy authentic Austrian and Central European cuisine at Grunauer. I'm forever craving an authentic schnitzel and the Jager Schnitzel Vom Schwei, a pork scallopini with mushroom cream sauce served with spatzle that's the best I've tasted. Rich, savory, and comforting, it reminds me of the summer I spent in Europe.
Lidia's is a Kansas City staple serving Italian dishes in a sustainable environment. Everything is delicious, but you'll never go wrong ordering Lidia's signature dish, Lidia's Pasta Trio, an unlimited daily pasta selection served tableside. Those in the know suggest happy hour at Lidia's where, from 4 to 6 p.m. in the Taverna, you'll find specials on appetizers, wines by the glass, and cocktails.
There are a myriad of restaurant options nearby, so I'll narrow the choices by suggesting some worthy newcomers. You won't be served any bones (or meat, for that matter) at Pirate's Bone Burgers. This 100 percent plant-based restaurant serves vegetarian and vegan options like the Beet Burger slider. Served on an activated charcoal bun, you'll savor aioli, greens, a grilled beet patty, guacamole, pickled cabbage, and sesame seeds for a modest $4.50.
Another new arrival is Fox and Pearl, a Midwestern bistro by Chef Vaughn Good in Kansas City's historic Westside neighborhood. Chef Good utilizes traditional preservation techniques, a smoker, and a live-fire hearth to create his rustic and soulful cuisine. Try roasted pumpkin tortelli served with cider brown butter, roasted hazelnuts, and parmesan for $14.
Affare isn't new, but their wine bar is. Enjoy seasonal food with a German twist in the dining room, or meet up with friends for a glass of wine at their European-style wine bar with small plate dining. Happy hour is hosted daily from 4 to 6 p.m., and you can enjoy live jazz during brunch on Saturday and Sunday.
Spending more time in the Kansas City area? Check out these 15 things to do on the Kansas side of Kansas City, eat at one of these seven popular Kansas City barbecue restaurants, and read up on finding the best tacos in KCK.