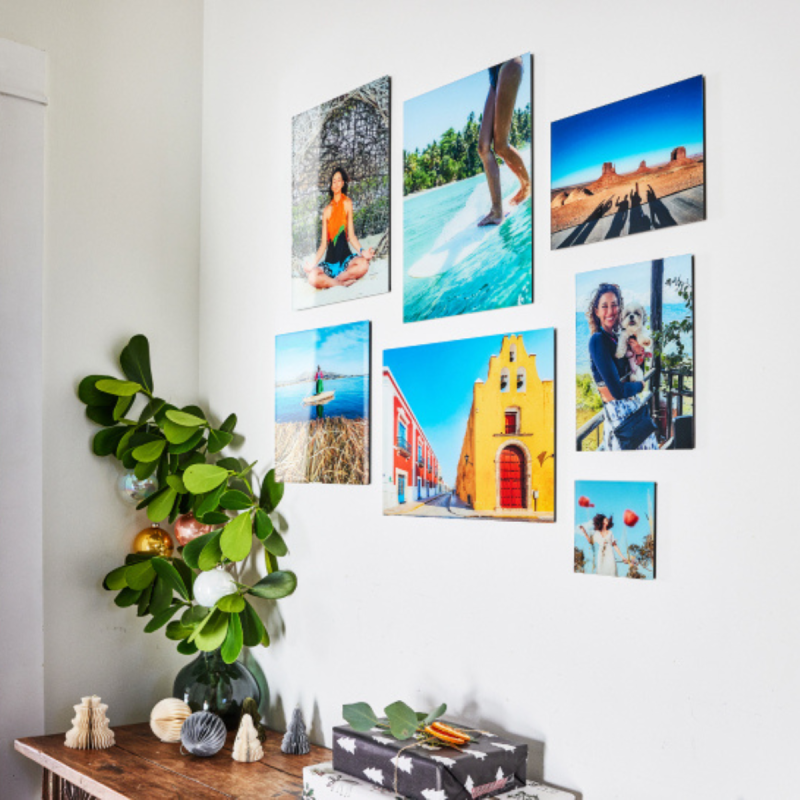 My garage is full of outdated frames and photographs. If I want to use the frames again, eliminating the old prints is hard. It's a bonfire waiting to happen.
As a professional photographer and exhibit artist, I have many years of experience framing and displaying artwork. I've done my share of family portraits and created wall art from my travel photography for clients and myself. I began using gallery wraps to display my travel photos and avoid the costs of framing a piece, but that process isn't accessible to everyone.
Enter Fracture, a Gainesville, Florida-based company that's been turning digital images into simple, frameless works of art since 2009. Fracture offers made-in-America products that are uncomplicated and easy to understand. The pricing structure is straightforward, and the online ordering process is clear-cut and effortless.
Note: This Fracture product was sent to me to review. I used my photograph and worked through the process on the Fracture website. Following is what I discovered, and all opinions are my own.
What Is A Glass Photo?
Fracture has a detailed video showing its hand-crafting process of printing photos on shatter-resistant glass. Watching their process and learning about how much care they put into their product and delivery, I gained confidence in their ability to meet my standards.
After the glass is cut to size, the edges are polished. Then…
To print photos on glass, Fracture scores it and applies colored ink, except for white, directly onto the glass. The Fracture process doesn't involve any photo prints stuck to glass. After the colors are UV cured, the final step in the photo printing process is the application of an opaque white coating to the back to seal all the colors and make them pop.
Fracture Glass Photos: The Perfect Gift
How It Works
First, set up an account on the Fracture website. Then, explore their offerings. Or you can jump right in and hit the "Upload a photo" button. The button is located above the fold on the Home page. It is intuitive and easy to follow. You can also select the "Get Started" button at the top of every page.
Select and upload the image or images that you want to print. Drag and drop your photos in various shapes and sizes, including square, horizontal, or vertical. Create a gallery with three, four, five, or six prints.
Place your order, decide on the shipping method and delivery timing that you prefer, make your payment, and receive confirmation. The entire process takes a matter of minutes. I completed it on my iPhone.
Editor's Note: Right now, TravelAwaits readers can save 20% with code: TRAVEL20.
Shipping Process
I was eager to see how my Fracture package would arrive. The packing process doesn't use bubble wrap, Styrofoam, or packing peanuts. Fracture's commitment to responsible manufacturing with carbon-neutral sustainability and reduced waste is impressive.
The innovative shipping container, made of strong cardboard with an interior channel, holds the print securely. The glass print has a rigid mat board affixed to the back and is tightly strapped onto another piece of sturdy cardboard.
Fracture's advanced shipping process is effective. Fracture wants its customers to love their prints, and the packaging plays a crucial role in delivery. 
What It Costs
While a Fracture picture may seem pricey, it is an innovative, cost-effective option for getting your memories out of your smartphone or computer and onto your walls without the added cost of framing.
You might ask yourself, "Is it worth it?"
The cost is reasonable when you consider the cost of a high-quality professional print with finish, matting, framing, hardware for hanging, and possibly hiring someone to hang it for you. Everything required to display your Fracture prints, including the printed wall gallery template, comes in the package.
Prices range from $25 small prints (5"x5") to $179 extra-large prints (21.6"x28.8"). The medium prints (7.2"x9.6") are the most popular at $50. Print sizes on the order page show small, medium, large, and extra-large options.
Pro Tip: Another cost-saving option is to create a Photo Wall and replace individual photos in the months or years to come for a gallery update of sorts. Your Photo Wall will become a living artwork display that you can change readily and confidently thanks to the Fracture process.
My Fracture Picture Review
When evaluating a new photo product, I wear two hats. One is as a professional photographer, where I advise clients about their portrait wall art and we discuss finishing and framing options. With travel memories, I consider how to display the images for the best viewer impact. That means getting them out of the digital realm and into a physical display or gallery.
The density of the image is an important feature. Is it too dark or too light? I found the Fracture photo to be the perfect density.
Sharpness and detail in the finished product are a result of file size. Is the Fracture photo as sharp as the original, or did it lose resolution when it was enlarged for print? Sharpness is an issue that I discuss in further detail below.
The second hat I wear is as a consumer, where I decide what goes on the walls of my home.
A collection of my favorite travel memories will always be in my home. A concern is ensuring printed photos fit with the decor in the house. Without frames, you don't have to match furniture or style.
Lighting plays an essential role in your Fracture pictures. I like a sharp, glossy finish on my photos. However, the matte finish diffuses light, reduces glare, and gives it a soft look.
Can I size my print so that it prints edge to edge, or am I a slave to the printer size, which is not uncommon? A Fracture print is simple, so it doesn't need to fit into a standard-sized, bulky frame. 
When I held the Fracture picture in my hands and examined it thoroughly, I was pleased with the quality of the production and realized just how durable the picture was. 
Fracture Print Gifts
A physical or digital Fracture gift card makes a unique and welcome holiday gift. Travelers will love to showcase their memories with Fracture prints. A Fracture print or gallery is perfect for growing families, travelers of any age, and children and adults who love to take pictures. 
A Note On File Preparation
Preparing your file will be the most time-consuming part of your photo-ordering process. Delivering a high-resolution digital file to Fracture or any photo processing lab, e.g., 20MB versus 5MB files, is essential.
Resist enlarging your photos to avoid noticeable pixelation. A high-resolution file should be free of pixelation, otherwise known as noise. If you pay attention to this step, sharpness will be maintained throughout the enlargement process, which will be taken care of on Fracture's end. 
The Fracture ordering process is easy. The innovative packaging and quality control are unparalleled. I appreciate the 60-day guarantee, the eco-friendly production, and that Fracture prints are made in America.
What are you waiting for? Finish your Christmas shopping with one of these thoughtful gifts from Fracture today!
To continue your gift shopping, check out: